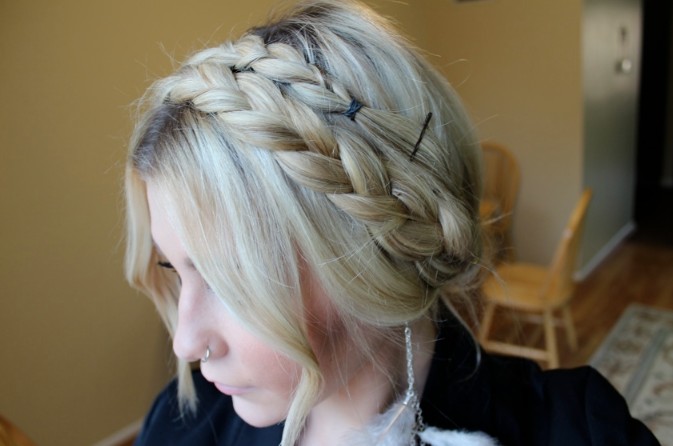 This popular hairstyle has gone through a lot of changes and today's fantastic new gallery will bring you totally up-to-date! We've come a long way since the days of country milkmaids, who would be amazed to see the edgy purple, pink and pastel-blue version below! Today's trendiest styles have varied braid textures, loads of bright, or subtle, new colors and are definitely the most elegant milkmaid hairstyles ever!
Rich russet with blonde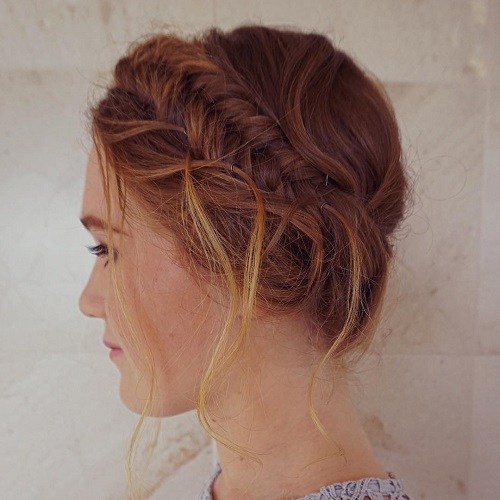 If you don't want to go the whole way and have a blonde ombré on your dark copper, why not try this blonde balayage.  Carefully selected strands are lightened gradually to golden blonde. This light touch accentuates pretty texture in the fishtail braid and lovely loose strands for effortless, casual chic.
Beautiful beige-blonde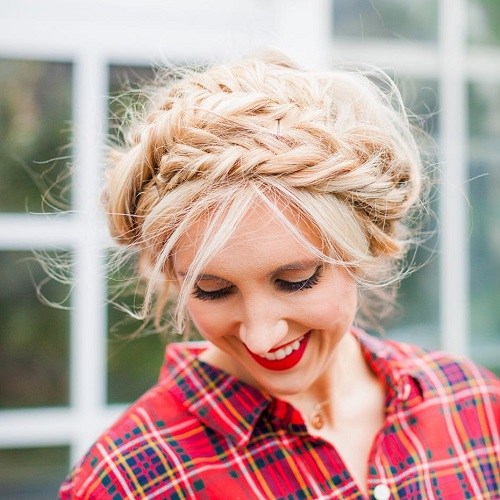 Here's another style with a distinctly messy, rural look.  There are several shades of blonde here, including beige-blonde highlighted by white over hazelnut roots.  Just add a checked shirt and denim skirt and you're all ready for a barn-dance!
Supersized 'goddess braids' in copper and brown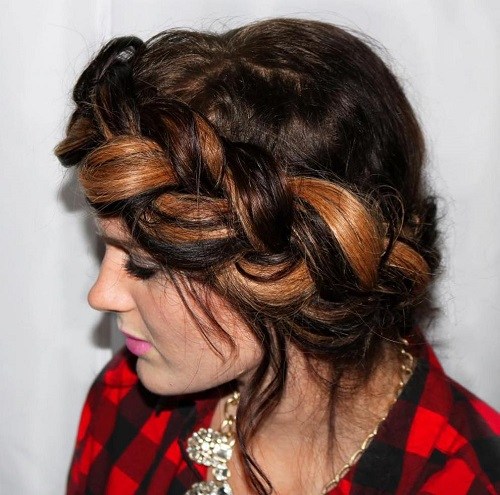 If your hair isn't long enough for an elegant braided milk maid style, fake it!  Ultra thick and extra large goddess braids are a hot new trend.  These hair extensions are added to your hair just by braiding them together, so there's absolutely no damage done to your natural hair.
Amazing ash brown braids on fine hair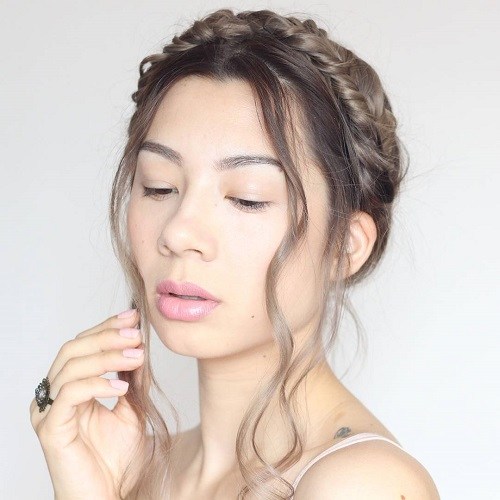 If your hair is quite fine and silky in texture, you can still achieve very attractive braided upstyles.  This image shows how soft and pretty dark blonde or mousey hair can look when tinted in a trendy, light ash-brown shade!
Windswept brunette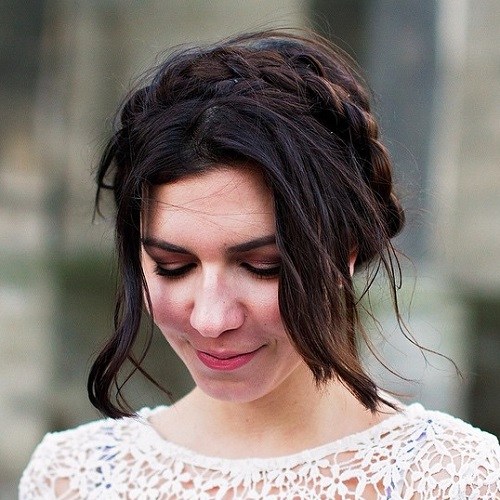 There's no doubt that we love messy, casual upstyles.  They help you create a relaxed, but stylish image.  Taken to extremes, however, like this wind swept look on dark-brown hair, isn't always a flattering idea.  This style would look softer with a few copper highlights!
Cute centre parting & mahogany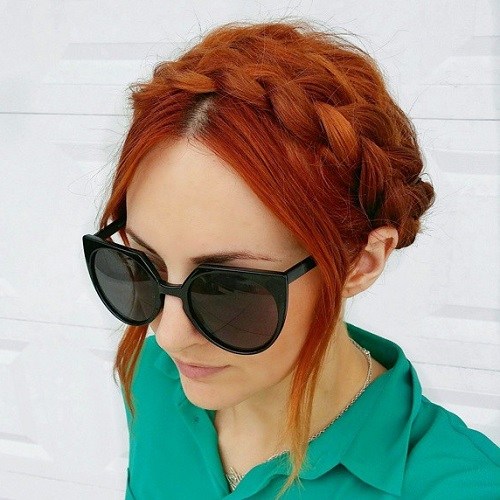 Rich mahogany is a very attractive shade to choose if you have a warm complexion or during the summer when you're skin-tones are bronzed.  This style adds a little extra height on top and has a short centre parting and layers framing the model's oval face.
Urban chic herringbone braiding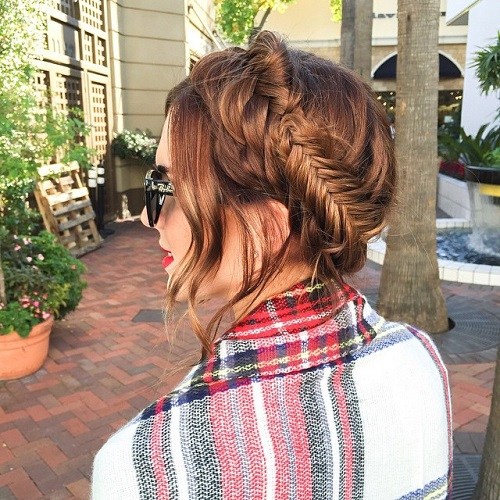 Here's an expensive looking milkmaid style with a carefully thought out design.  The hair has several different textures including the herringbone technique and the loose braid hair knot set asymmetrically on one side.  In beautifully-judged shades of old gold, this is a fantastic Boho upstyle!
Gorgeous dark golden-brown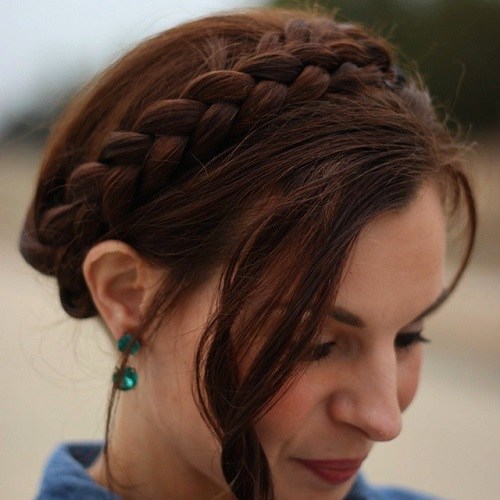 If you want to change your image without going 'over the top', or need to cover grey hairs, golden-brown is an excellent colour choice! And this neatly braided milkmaid style, with a long twisted section softening the line, strikes the perfect balance between messy and formal!
Fantasy milkmaid look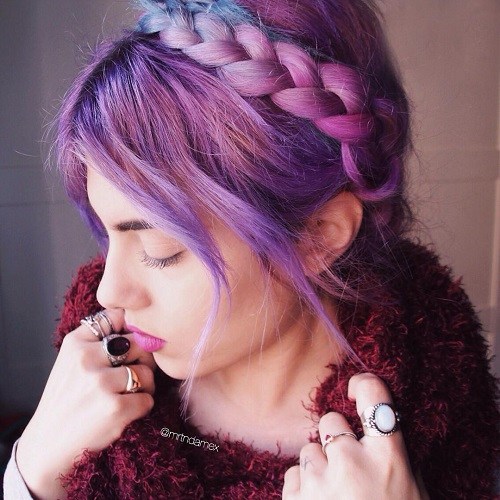 On the other hand, if you're looking for a hairstyle that's ultra-trendy and futuristic, try this!  I love the expertly blended shades of lilac, purple and light-blue in this artistic, fantasy hair colour idea!
Raunchy bed-head redhead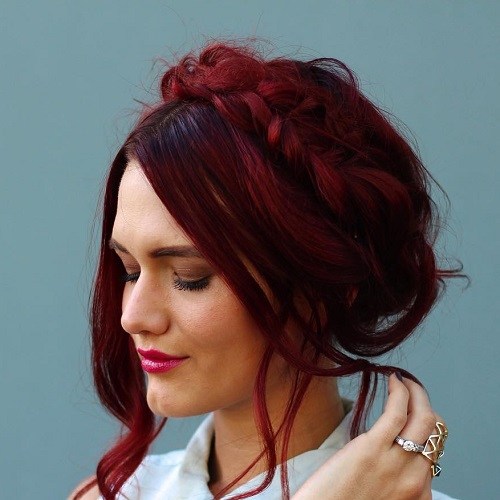 This intensely pigmented deep red suits medium and darker skin-tones, which have a warm undertone.  Generally speaking, that's anyone with brown, hazel or honey eye-color.  This messy style features a centre part with a lot of hair pulled down to frame the face in a sexy bed-head look!
Super semi-formal up-do in rich copper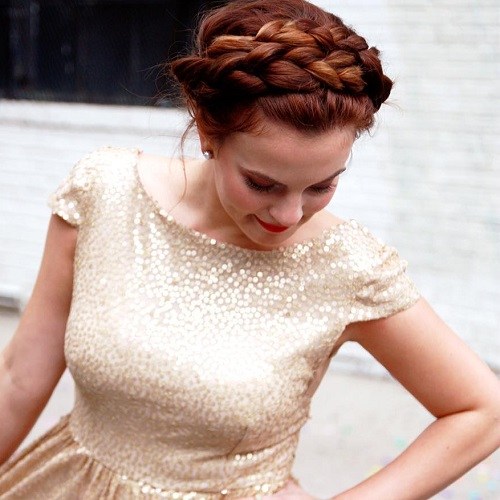 This is a great style for a semi-formal occasion, because it's neatly, but not strictly, styled with just a few strands of hair softening the line.   Thick braids across the top create flattering height that suits a round face shape.
Natural look in hazelnut shades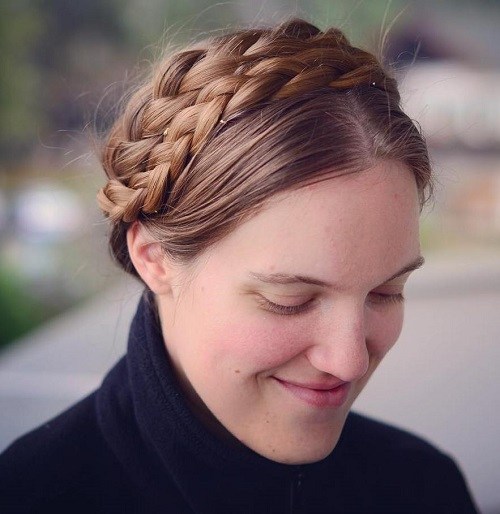 You don't have to be Amish to prefer a natural look! This simple upstyle reminds us the beauty of light-brown hair colours, which are definitely under-represented in hair fashion images.  Soft-beige and hazelnut shades could be just what you're looking for!
Elegant scarf braid on fine hair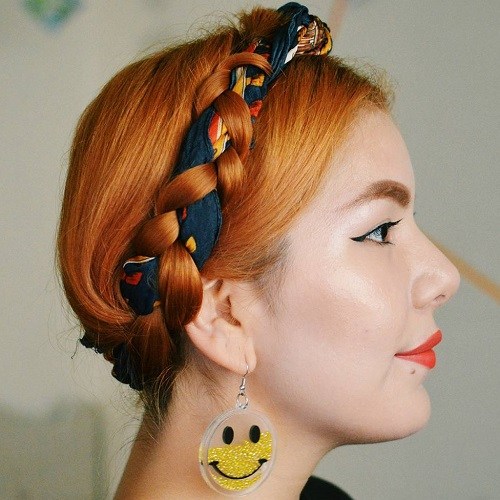 This vintage nineteen-fifties milkmaid hairstyle is a clever way to add volume and colour to an informal  updo.  Choose a scarf-colour that will contrast, but complement, the colour of your hair.  The navy-blue scarf is perfect for accentuating bright copper!
Gorgeous black goddess braids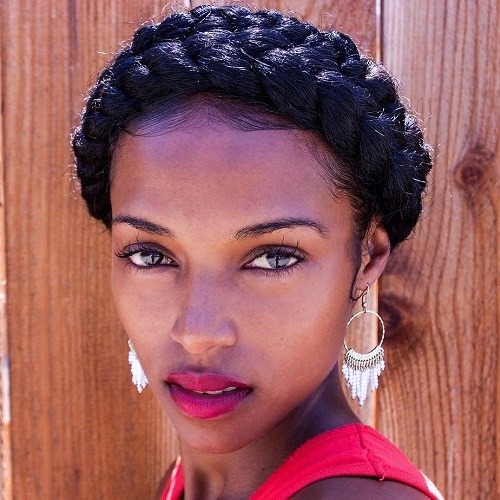 This super-elegant braid style is inspired more by the fashion styles of ancient Greece, than milkmaids!  It's a really sophisticated look you can achieve with synthetic hair, if your own hair isn't long enough.  And the best part is – goddess braids protect your hair!
Glamorous golden goddess braids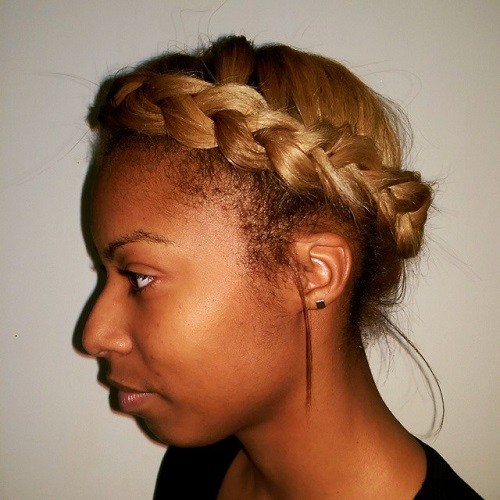 Goddess braid hair extensions are available in a a wide range of colours, including rainbow shades, and this lovely gleaming gold.  Medium-blonde shades flatter darker skin-tones with a warm undertone beautifully, as you can see on this model!
Soft red & trendy textures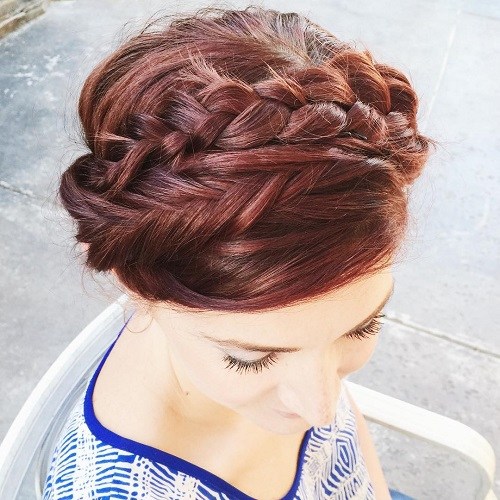 This romantic style has every trendy feature from the rich, deep red hair color to the mixture of different textures.  The smooth 'bangs' soften the forehead line and contrast with the fantastic herringbone- and regular-braid on top.
Puffy braids & bouffant crown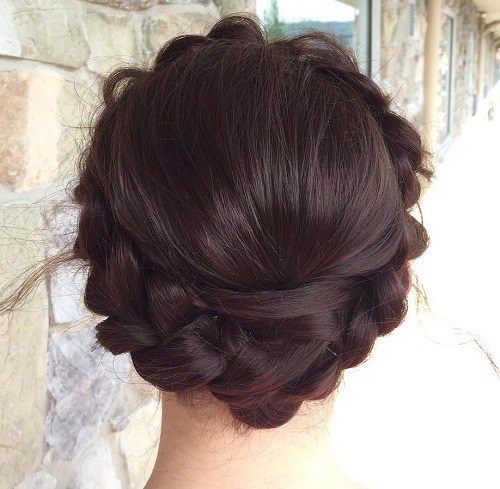 This is the perfect style for an evening stroll to a pavement café and a glass of fruity red wine!  It gathers up thick hair into a loosely braided circle around the head.  The crown is lightly teased for height and there's a pretty overlapping detail at the back.
Extra texture & back parting for round faces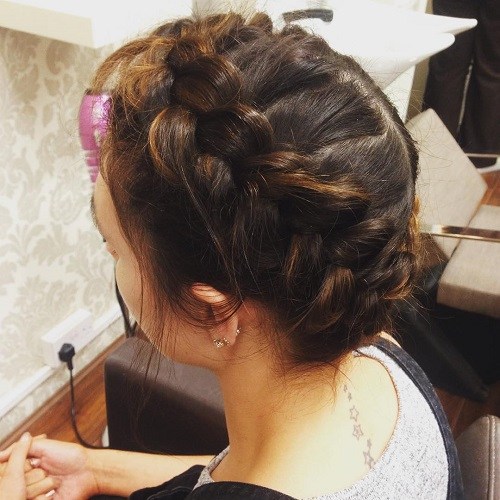 As an alternative to the bouffant crown, try this center parted milkmaid braid design. It has less side-volume next to the face, for sleeker sides, which is good for round faces. The lovely copper balayage really highlights the texture in the braids and across the back section.
Natural copper crown braids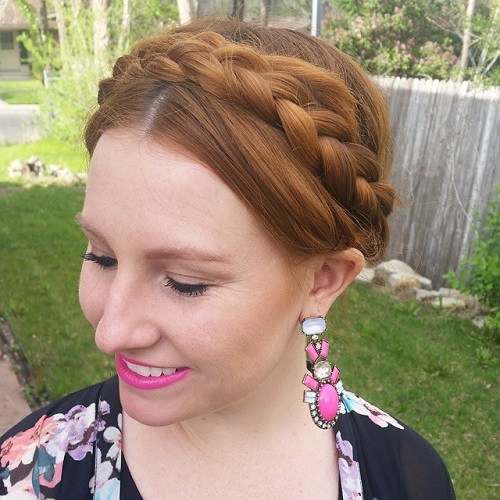 All shades of copper are hot this season from gleaming orange to this naturally auburn shade!  Milkmaid styles are a quick and easy way to lift hair off your neck when the weather is hot. I'm sure this model will look cool and elegant for her special occasion, when others are wilting!
Milkmaid braids with bangs for long/thin faces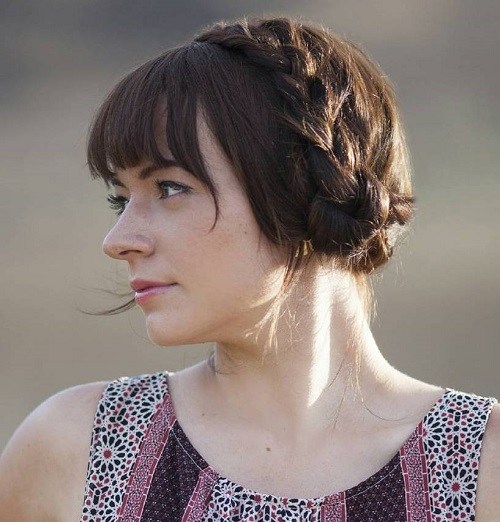 Everyone can wear and milkmaid hairstyle, it's just a matter of choosing a shape that will flatter your face.  Long faces can be 'shortened' with long bangs and thin faces gain 'width' when you have volume at the sides of the face.
Milkmaid hairstyles can be as elegant as you like with a hair accessory for a formal event, messy chic for semi-formal occasions and make excellent daily hairstyles for a fashionable, but professional image!