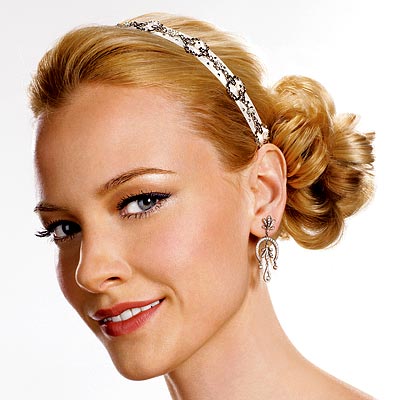 Grab a small section of hair from the ear forward and use a clip to keep the hair together. Pick about 2 inch section from the crown of your head, lift it up and backcomb. Apply hairspray to hold the volume. Pull the section to the back and soothe the hair. Make a low side ponytail, using thin hair band in a natural color to anchor it. Use the sharp end of the comb to pull up the hair at the crown of your head, but be gentle and do not pull any strands out.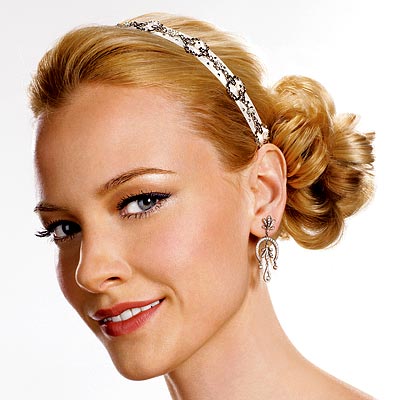 Divide hair in the ponytail into small sections and using curling iron, one by one, curl each of the sections. Once the section is curled, twist it around your finger to create a loop and pin it to the hair at the back of your head. If you have short hair you can skip the looping and just pin the sections to the back of your head. Try to keep your hairstyle disciplined and pin the loops around the base of the ponytail. If you want to add more volume to your hairstyle or if you have long hair you can pin loops on top of the loops. You can also leave loose two or four hair sections from the ponytail, it will make your hairstyle more chic.
Finish styling with unclipping the sections in the front of your head, pull them to the back and try to hide them by pinning them under the base of the ponytail. Make sure you pinned them tightly and they won't slip out. Finally, apply some hairspray to keep your hair in place and use ornamental hair pins to decorate the hairstyle.
This updo is very feminine and romantic, so it is an excellent choice for a date hairstyle. Decorated with flowers this updo evolve into elegant coiffure and is one of those great party prom updo hairstyles, which turn every girl into a classy woman.