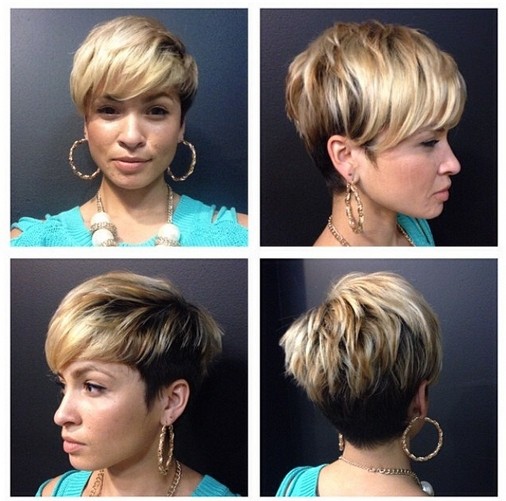 Summer hair idea: chic layered short cut with bangs
Cute and fashionable this short-cut features a full fringe that brings out the eye-color of this trendy young woman. Not everyone has the nerve to go short, but during the last year the Hollywood celebrities, like Halle Berry, Taylor Swift, Charlene Theron and many more have shown us how much better you can look when your hair is short and your face is 'center-stage'.
This chic short hair style offers a nice 'half-way house' between long and short, with the forward combed fringe that is long and can be worn straight or curled for a different look. The sharply pointed side-burns offer a well defined profile on the shorter side and a softer profile made with the blonde fringe on the other side shake it up for a trendy asymmetric cut.
The two main colors are contrasting golden blonde and dark brown with some added copper highlights around the crown. The cropped shape at the back is emphasised by the dual colors in a hot new look that can easily be adjusted to flatter many face shapes and a range of hair types! You can check this short cut from different angles, from front, back, and two sides.
If you want to steal this short hairstyle, why not take this photo and show your stylist? A picture worth thousands words. Find more hairstyles on hairstylesweekly.com!