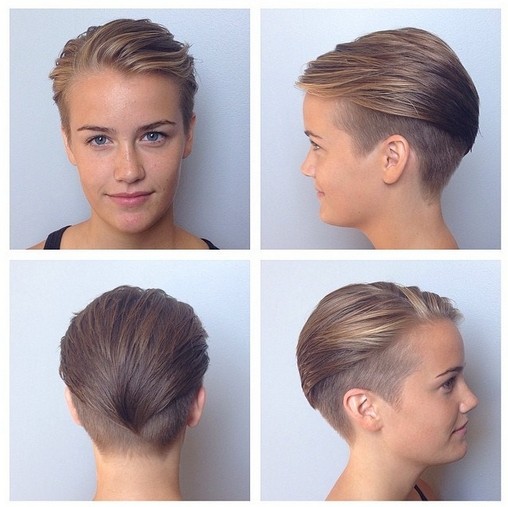 This simple short haircut is both innovative and easy to style, making it a good choice for confident, lazy girls!
Undercutting, with shaved sides, is now part of mainstream hairdressing for young women and not a shocking, extreme look any more. However, this short haircut demonstrates the next step in edgy hairdressing, the rise of grey shades in a natural, but interesting cut and colour that's full of contemporary style.
Start with a basic short back and sides boy-cut, with plenty of length left on top and around the crown. Part of this look is the pattern made by the shaved hairline around the head. It's a series of curvy lines accentuated by the side-points, with a straight line at the nape.
Another contemporary feature is switching the focus to the back of the head, with the V-shaped, smooth section hovering just above the hairline. The base colour is a soft grey tone, which brings out the lovely blue of the model's eyes, highlighted with some delicate strands of pale, golden blonde around the top and sides!