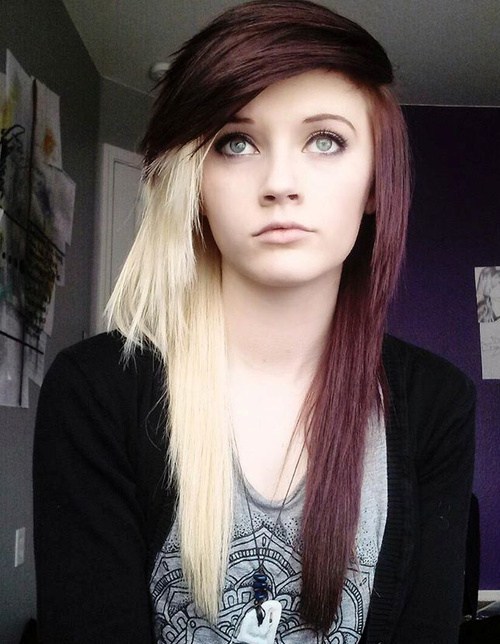 Two-tone hairstyles are super chic and trendy, and can be anywhere from a striking platinum and neon blue blend to a subtle balayage of browns. These styles will ensure you're showcasing your blend of shades while leaving you with a breathtaking hairstyle that will look great.
Curled Ends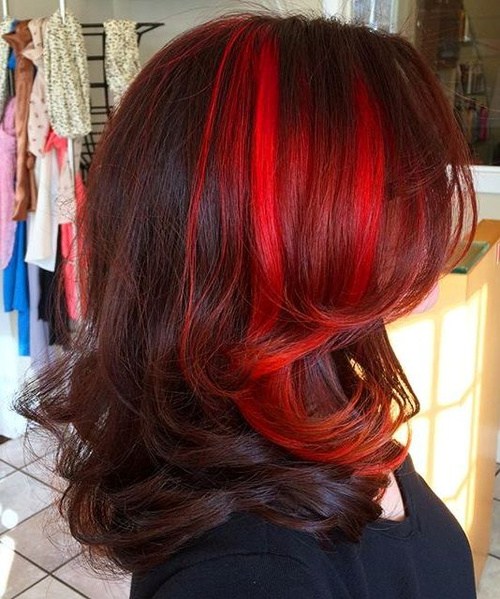 There is something so undeniably alluring about fierce red against a jet black base. It's mysterious, sultry, and with a sexy gothic chic appeal that everyone can admire. Her saucy mane is tousled with a few fiercely red highlights, and curled ends captures a sense of femininity and sophistication that can't be ignored.
Crimped with Baby Bangs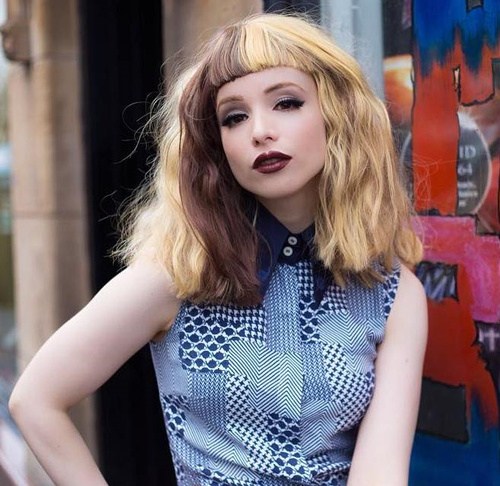 Edgy, artsy, and obnoxiously cool- these are just a few of the words we'd use to describe this amazing hairstyle! If you've went out on a limb and fixed up your mane with a feisty blonde and brown combo, go extra daring by chopping your bangs to a retro baby bang style and volumizing with tons of crimping.
Octopus Ringlets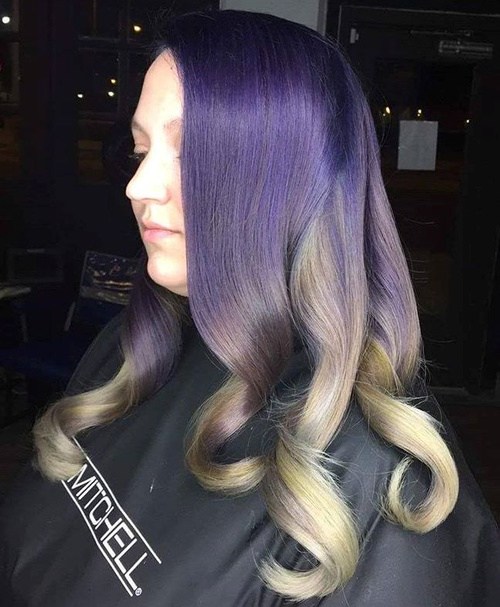 There's so much mystery and magic wrapped up into the two-tone shade of this hair, from the mermaid deep purple hue to the delicate blonde tips. But what really brings out the nature of the sea in this style is those striking octopus ringlets. Simply stunning.
Roots!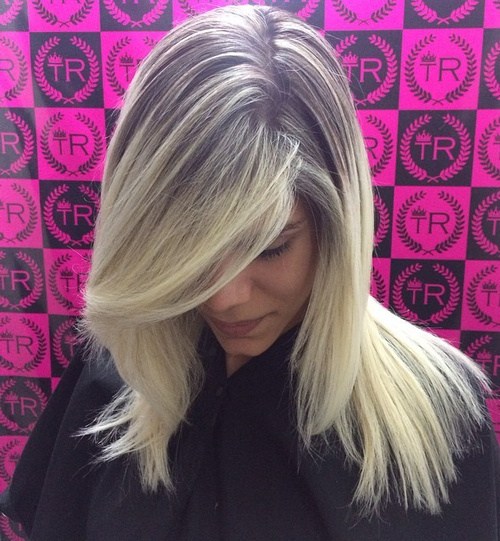 Instead of contrasting with one shade on top and one shade on the bottom, intertwine the bottom halves color a bit up top to create a more flowing and natural style. This is a great choice for older women who want the two-tone color combo but need something a bit more mature.
Balayage Brown Ringlets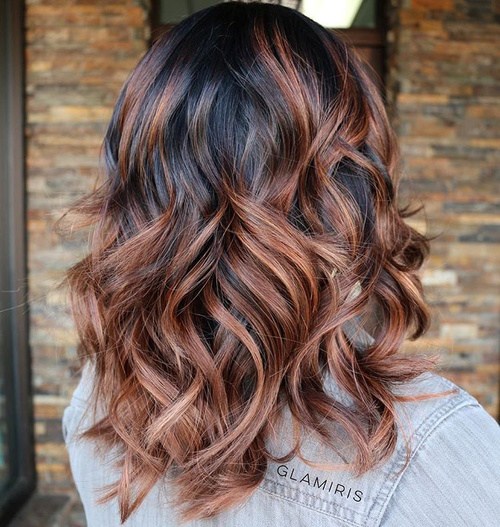 Oh, that creamy and sensational blend of black and brown; isn't it delightful? It's such a glorious creation as is, but when styled with some glamorous ringlets, this two-tone balayage quickly becomes a striking number that can be worn to prom, a wedding, pretty much any fancy occasion.
Cosplay Pigtail Curls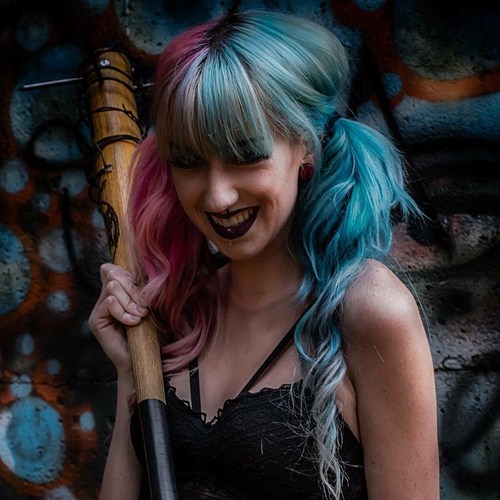 This look has a distinct cosplay appeal that we adore. Blue and pink are two super hot color picks for 2017, and combined in this fierce and rockin' hairstyle, it's a look that's dressed to kill. Wear it to the next convention or, if you're daring enough, rock this look on the city streets; you'll certainly have all eyes on you (and we mean that in a VERY good way!).
Electric Curls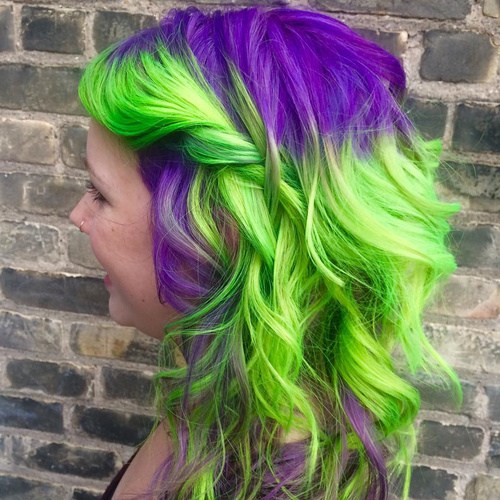 Hey, there's nothing wrong with lighting up the night; and this is exactly what you'll achieve with locks like these! This electric combination of neon purple and green is an exciting style that's given a dose of femininity with lovely curls. Who said vibrant, eye-catching colors couldn't be simultaneously elegant and sweet?
90s Inspiration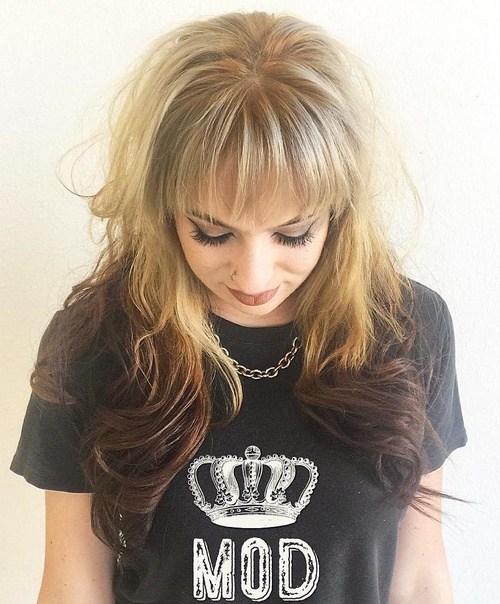 The 90's called- and they said KEEP THAT HAIRSTYLE, because it looks flawless! Wispy bangs loaded with hairspray and body may be a flashback from the 90s, but it certainly looks awesome on this blonde balayage with deep chocolate brown ends. Don't forget to curl the ends away from your face for added bounce and feminine appeal.
Dipped Bangs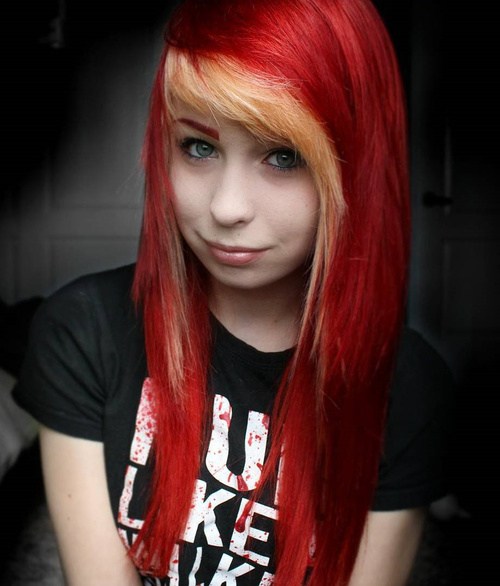 Adding a splash of vibrant color to your mane is as easy as dipping your bangs into the color chart! If you're rocking a fierce, flaming red base like this, your best choice is to dip into some striking golden blonde coloring, or consider black if that's more your scene. Both colors work wonderfully next to each other and really add depth!
Loose Ringlets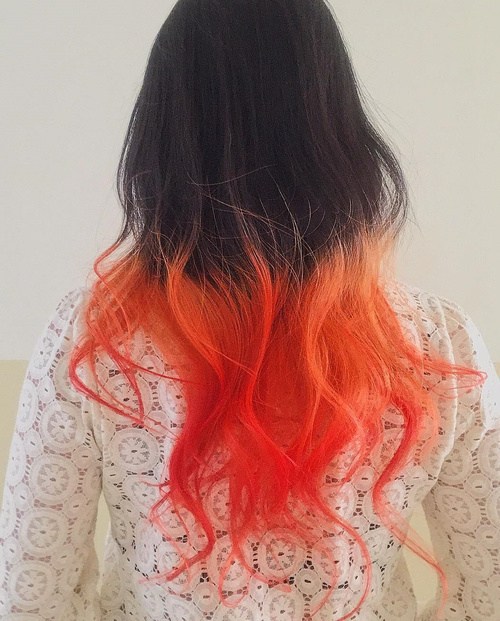 Black, orange, and red? Seriously hot. Let those colors blend naturally and beautifully by adding some incredibly loose ringlets to your style.
Flirty Flipped Ends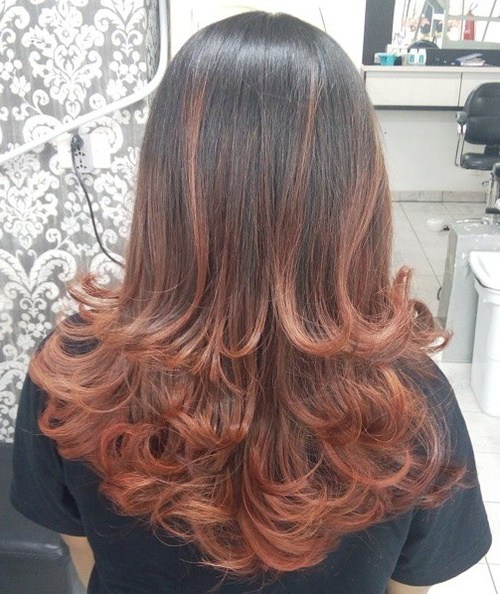 As IF this gorgeous dark brown and copper blend wasn't fabulous enough, she flips the ends generously to create an incredibly flirty bounce that's perfect for catching that cutie's attention at work OR the club!
Straight Pink Lob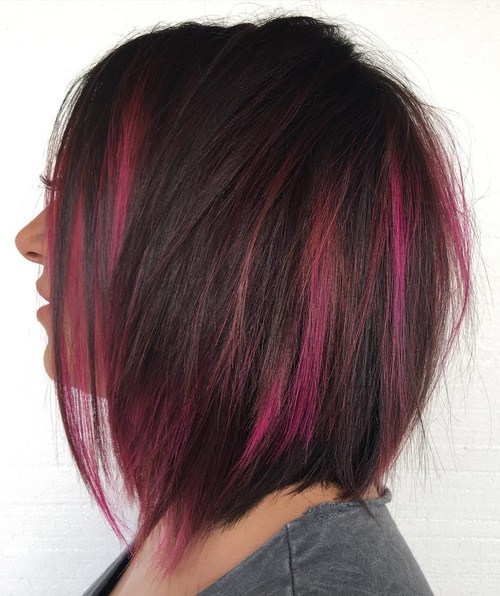 Sometimes simplicity is key when showcasing vivid color combos, and this look proves it. Her charming mix of hot pink and deep brown is glazed with a bit of texturing spray for a glossy finish that makes her glorious hues stand out.
Blunt Pink Fringes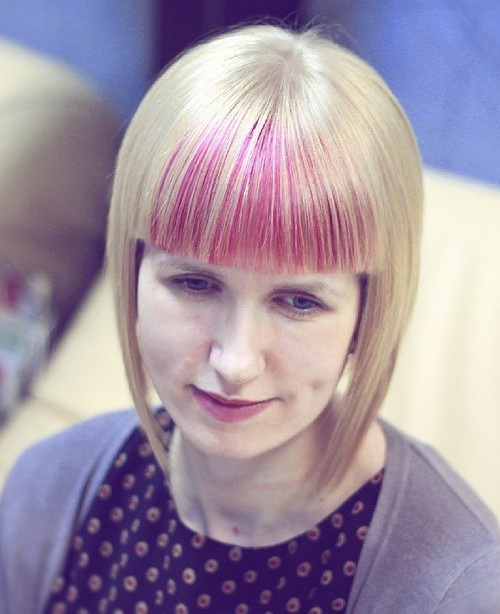 Her pink and blonde color blend may be sweet and feminine, but her blunt haircut is anything but! Striking to say the least, she makes her hot pink locks stand out with some bold blunt cut fringes.
Subtle Blunt Bangs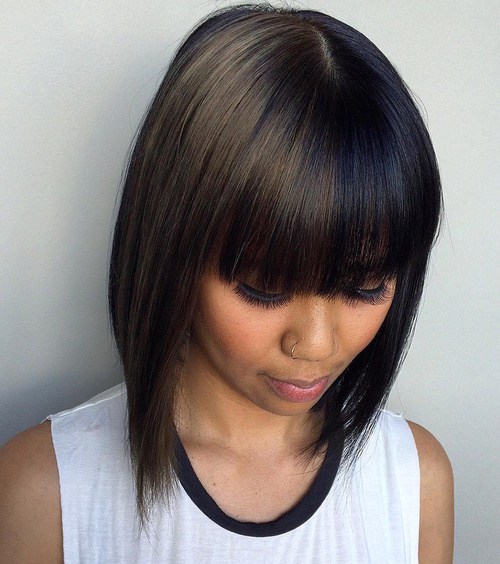 Blunt bangs don't always have to be edgy and out there, they can easily be gentle and elegant as shown here. Her middle part and blunt bangs reflect her color combination perfectly, a warm and sultry half n half duo of brown and gun metal grey.
Flipped Tips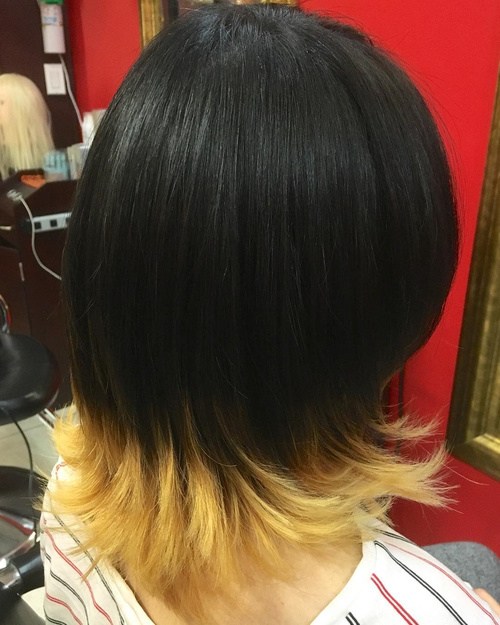 Ah, so you've taken a bold step in the hair color world and doused your tips with a vibrant, contrasting shade; good for you! Now make those funky tips come to life with a cute flip that's both electric and fun.
Two-Tone Topknot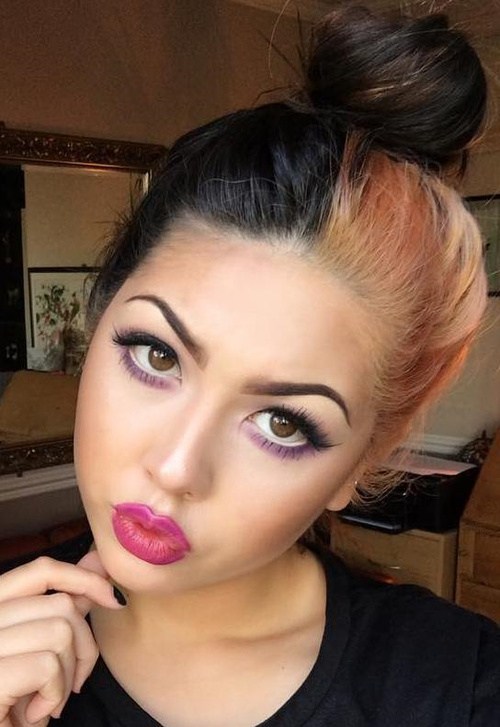 Two-toned hair? Trendy. Topknot? Even trendier. With this two-toned topknot, you can create a trend bomb in under a minute. I mean seriously, how cool does this hairstyle look!?
Striking Undercut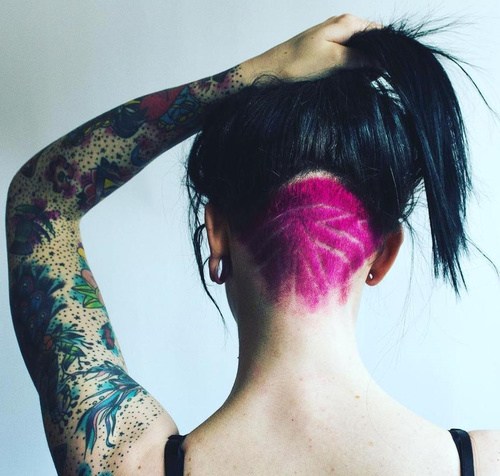 Undercuts are the new hip and cool thing to do with your mane, but why settle for less when you can make that undercut unique and vibrant? This undercut not only features a striking hot pink shade that contrasts beautifully against a jet black base, but it's styled with a dazzling pattern that's sure to turn heads. Edgy? Oh, yes.
Quirky Colored Waves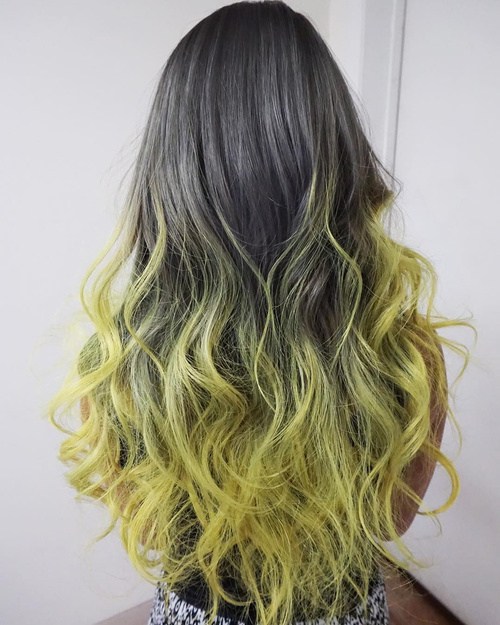 So, gray is unbelievably popular right now; we all know this. But if you really want a standout look that sets you apart from the crowd, indulge in a unique and quirky shade to complement a dark grey base. We especially love this hue of bright yellow, looking extra charming with some elegant loose waves.
Shocking Contrast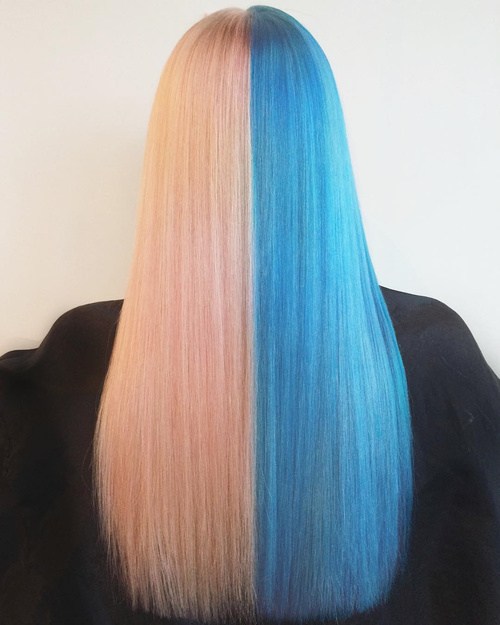 All we can say is WOW! Stop the show and have all eyes on you with shocking contrast like this. Leave your looks stick straight to really showcase that striking duo parted right down the middle.
Side Swept Under-Color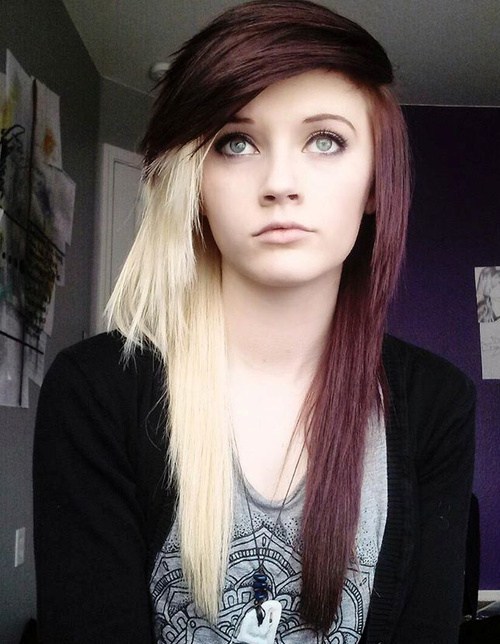 We're in love with everything about this two-tone color hairstyle! The way the coloring is separated is simply flawless- with two different stunning colors on either side, with some trendy side swept bangs intermingling with the other half.
Do you love these two toned hairstyles? If not, here are some great ombre hair color ideas for you to choose from on tricksmag.com