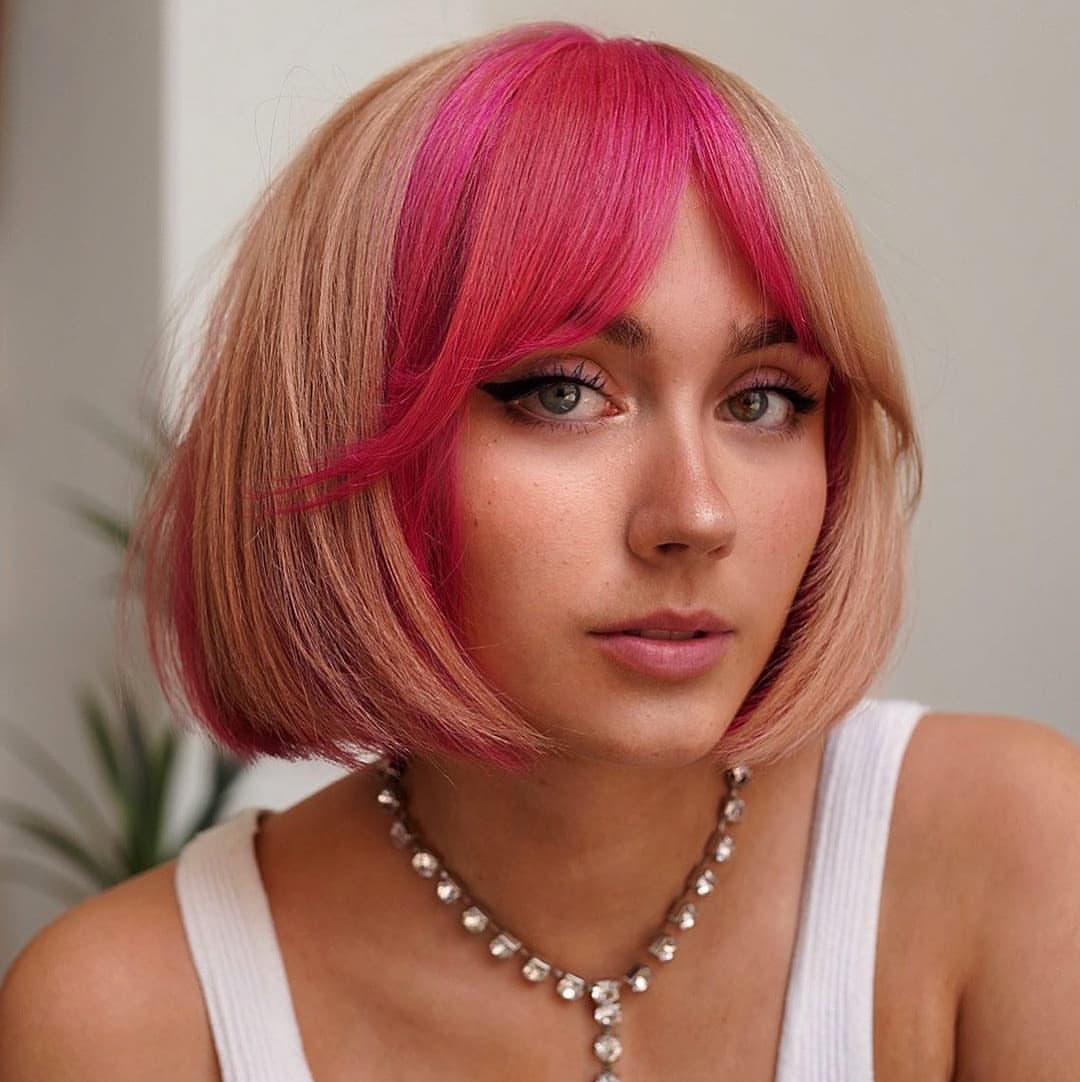 Hey there, hair color enthusiasts! If you're ready for a fresh start, why not begin with a trendy, new hair color? Ideas about your best, new hair color depend on your natural skin tone. And that means matching up the color to your cool, neutral or warm skin undertones. But you can wear almost any color you fancy, as long as your colorist chooses the correct shade to flatter your complexion. Choose from the latest hair color and bob hairstyles now!
1. Cool blonde hair color on the choppy bob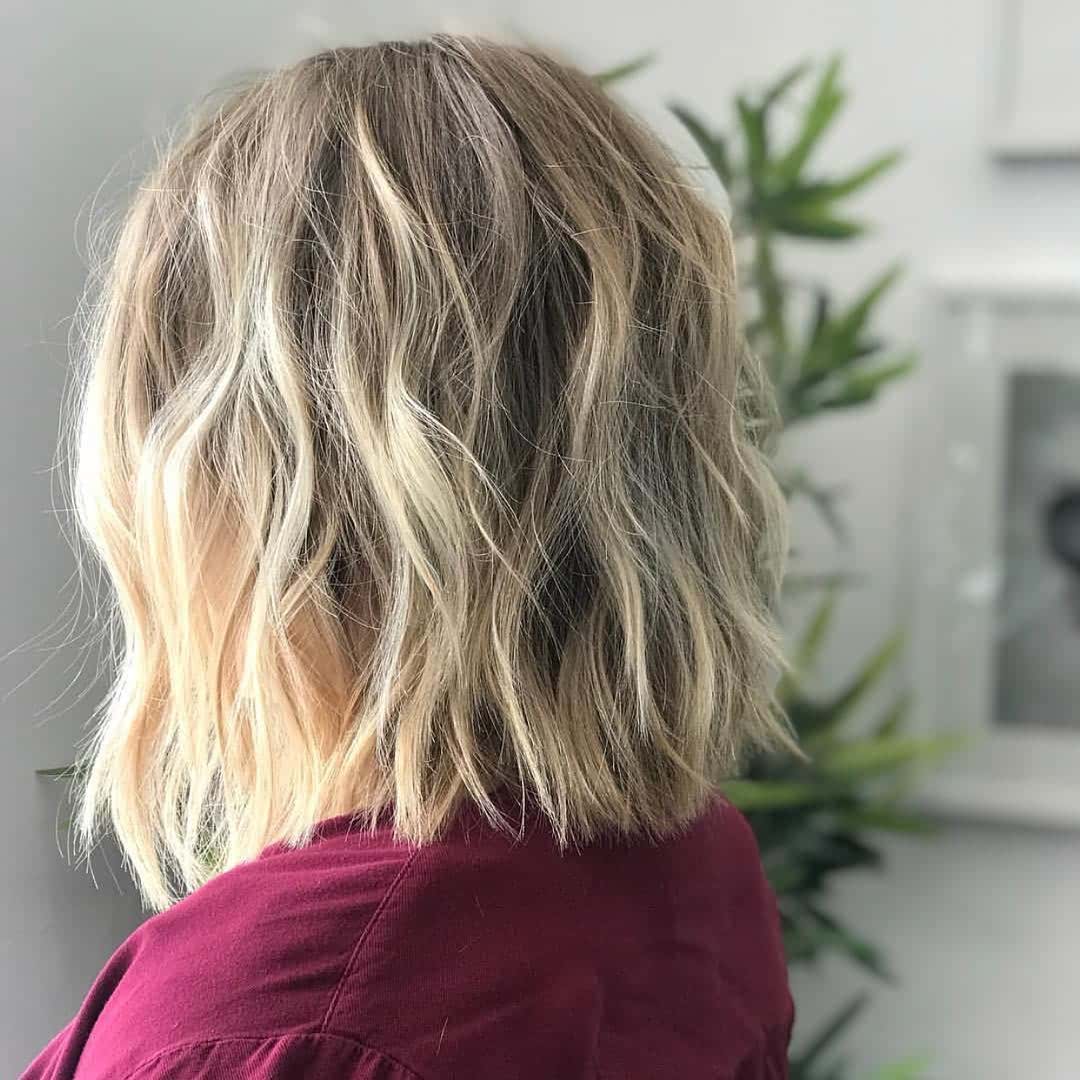 If you're all about that natural, sun-kissed look, balayage is where it's at! This natural blonde balayage hair color is a great example of the latest trend of mixing cool, neutral and warm shades. The warm, light golden blonde balayage is positioned next to the face to complement warm skin undertones. But the colorist has added high fashion ash-blonde hair color at the back.
This hand-painted coloring technique creates a gorgeous, blended effect that's perfect for bob haircuts. Imagine soft, caramel highlights melting into a rich, chocolatey base – yum! Balayage works wonders on both straight and wavy bobs, adding dimension and movement without looking too over-the-top. Plus, it's low-maintenance, which means you can spend more time turning heads and less time touching up your roots. Score!
2. Ash-green & electric-blue bob with bangs hair color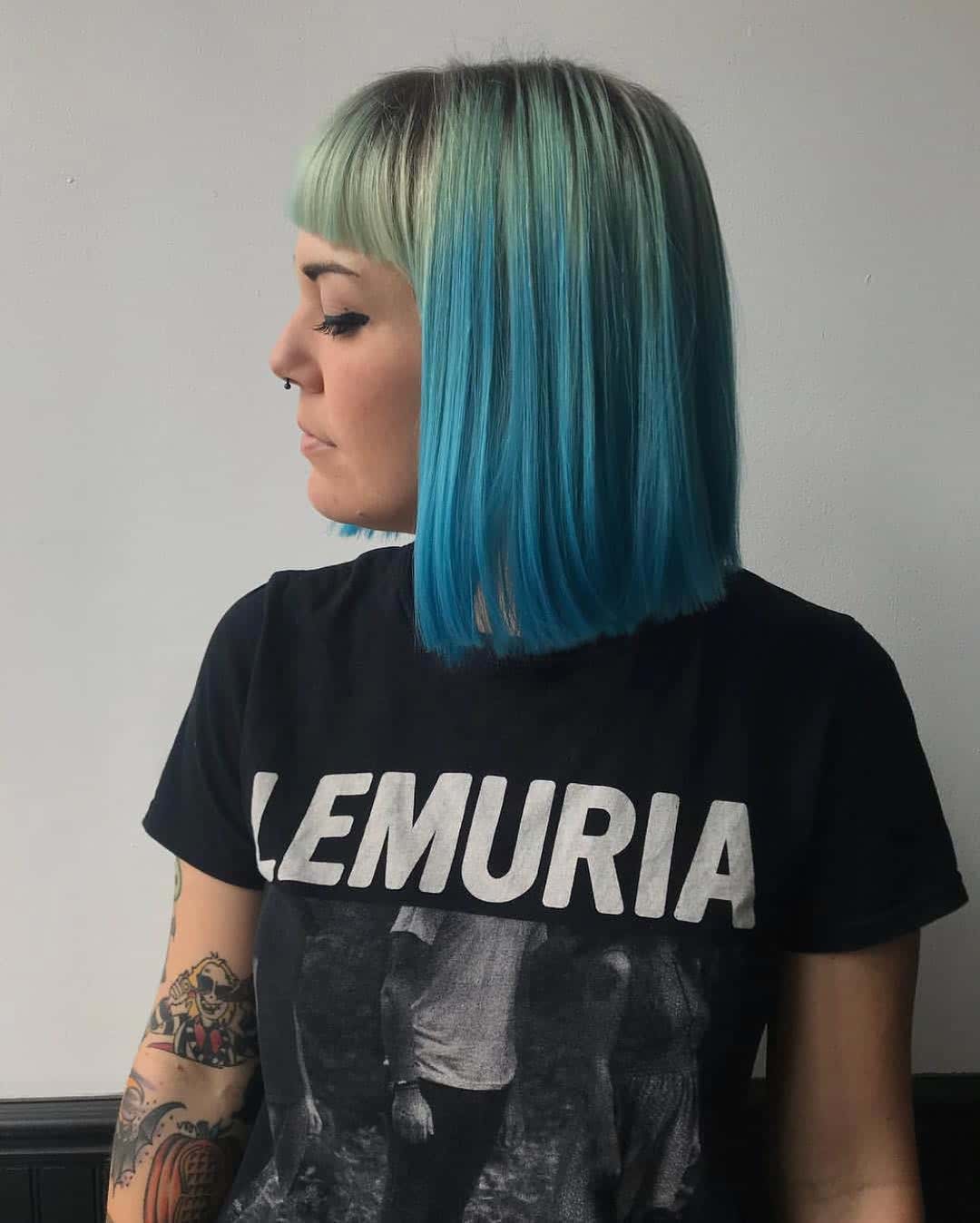 Freed from sticking to natural colors, talented colorists can explore the full glory of rainbow hair color options. This clean straight bob haircut is beautifully tinted in green and blue. Dark gray roots provide the backdrop to totally new, ash-blonde-green bangs! And then move down to a rich blend of electric-blue shades. The result is a simple style that's full of lively color and interesting 3-D textures!
If you're feeling a little more daring and want to stand out from the crowd, why not go for a pretty pastel hue? Pastel shades like lavender, baby blue, and soft pink can look absolutely dreamy on a bob haircut. The key is to keep the color soft and subtle, so it doesn't overpower your cute cut. And hey, if you're not ready to commit to a full head of pastel, you can always dip your toes in the water with some strategically placed pastel highlights or even a temporary color spray. Life's too short not to have fun with your hair color, right?
3. Sea-green to ash-green hair color on layered bob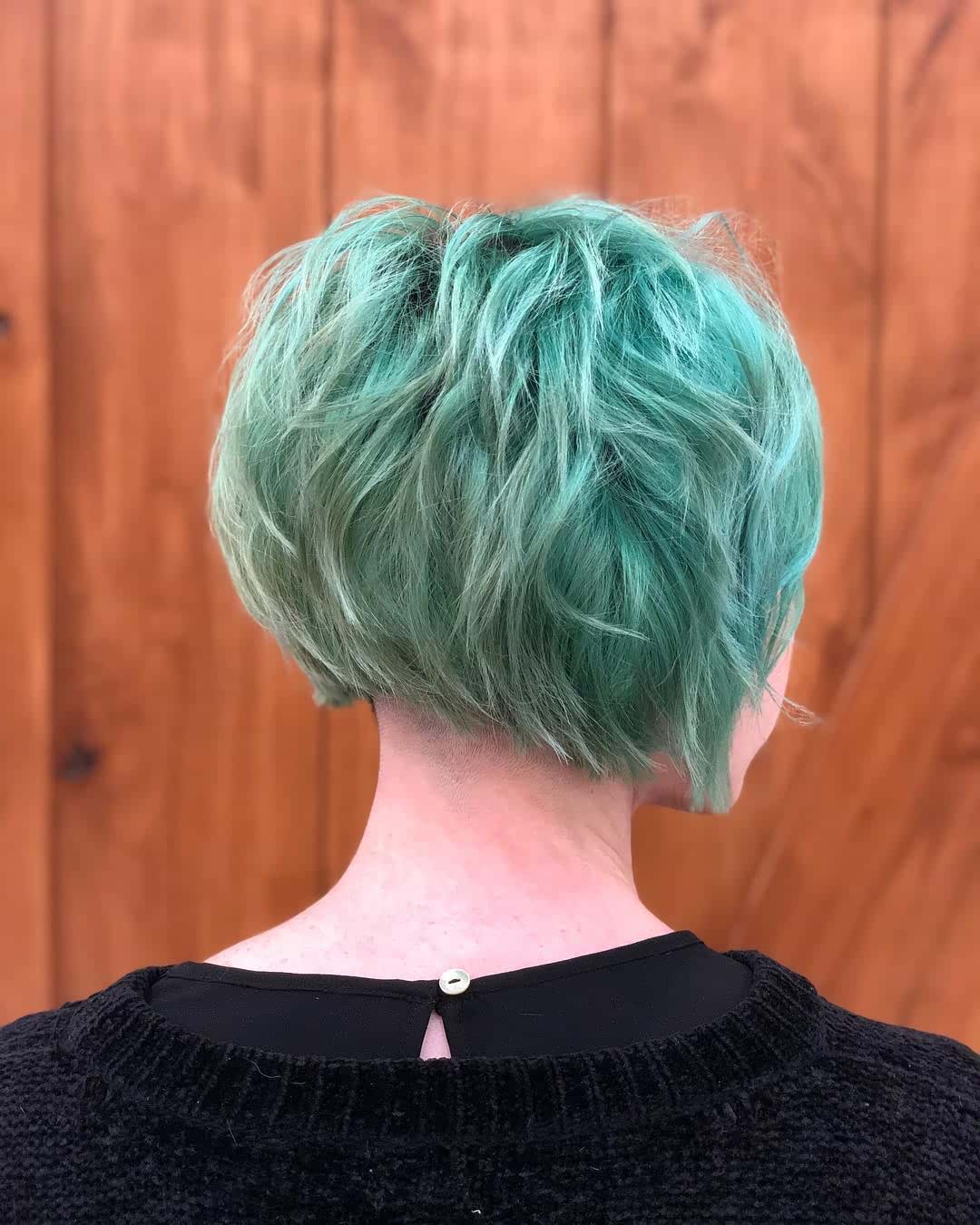 This layered, chin-length bob is a favorite haircut for women of all ages, flattering many different face shapes. It adds volume to fine hair and makes a cute background for exciting color choices. Dark gray roots provide color depth when contrasted with lighter colors, making hair look thicker. And a gorgeous blue-green hair design at the front, gently changes to ash-green – fashionably highlighting the short nape!
If you're the type who loves making a statement, a bold, vibrant hair color is just the ticket! Think fiery reds, electric blues, or even a sassy, deep purple – the sky's the limit. A bold hair color can look absolutely stunning on a bob haircut, especially if you've got some edgy layers or a sharp, angled cut. Just remember to invest in some color-safe hair products to keep your hue looking fresh and vibrant for as long as possible. After all, you'll want to keep turning heads with that show-stopping 'do of yours!
4. Neutral blonde hair color & dark roots on wavy lob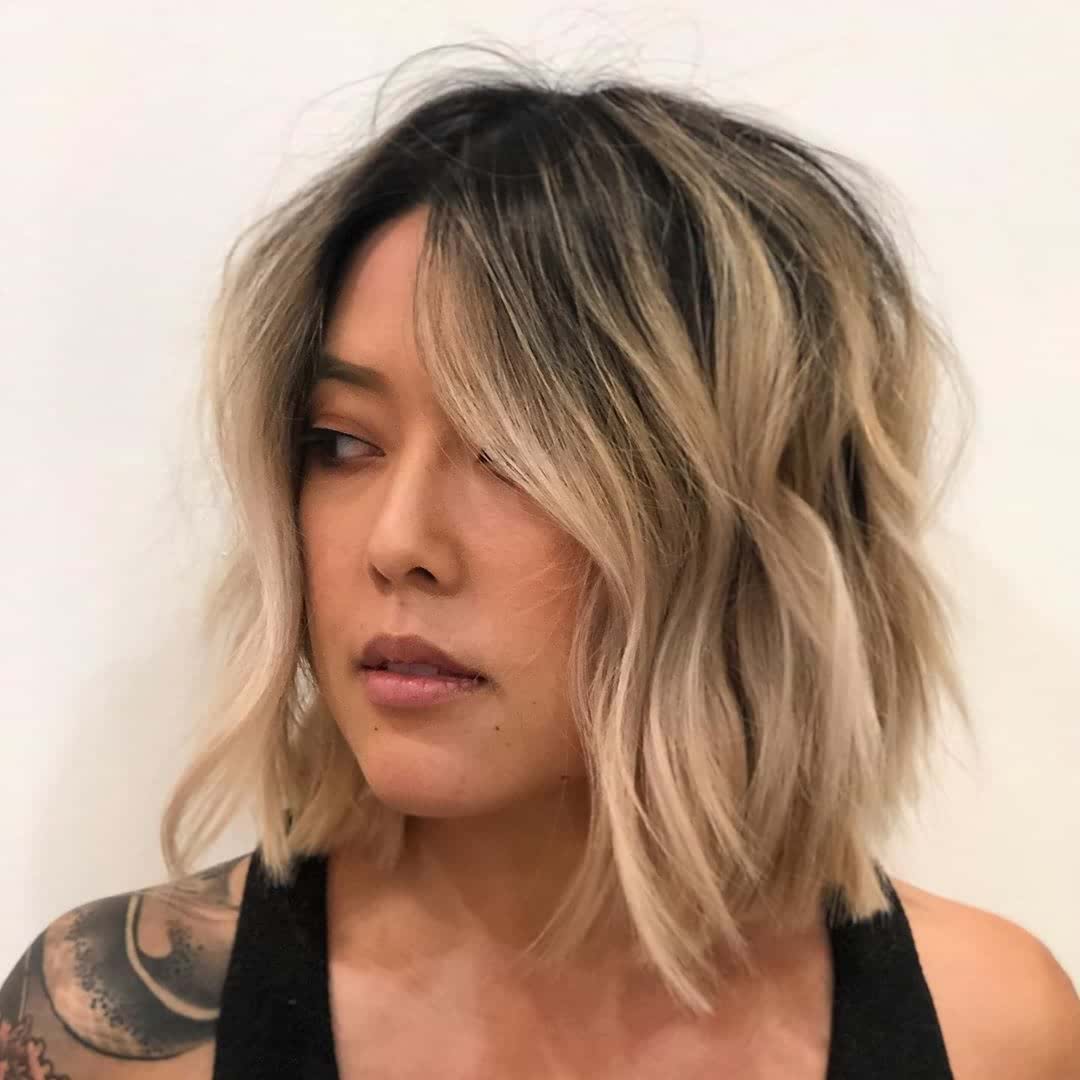 This gently slanted, choppy bob is all about a casual look. The warm/neutral shade of blonde really suits this model's complexion, which has warm undertones. And this is a good shade to complement brown eyes. The slight wave half-way down the hair and tousled, uneven finish complete a 'super-cool' look!
5. Warm golden blonde balayage on brunette hair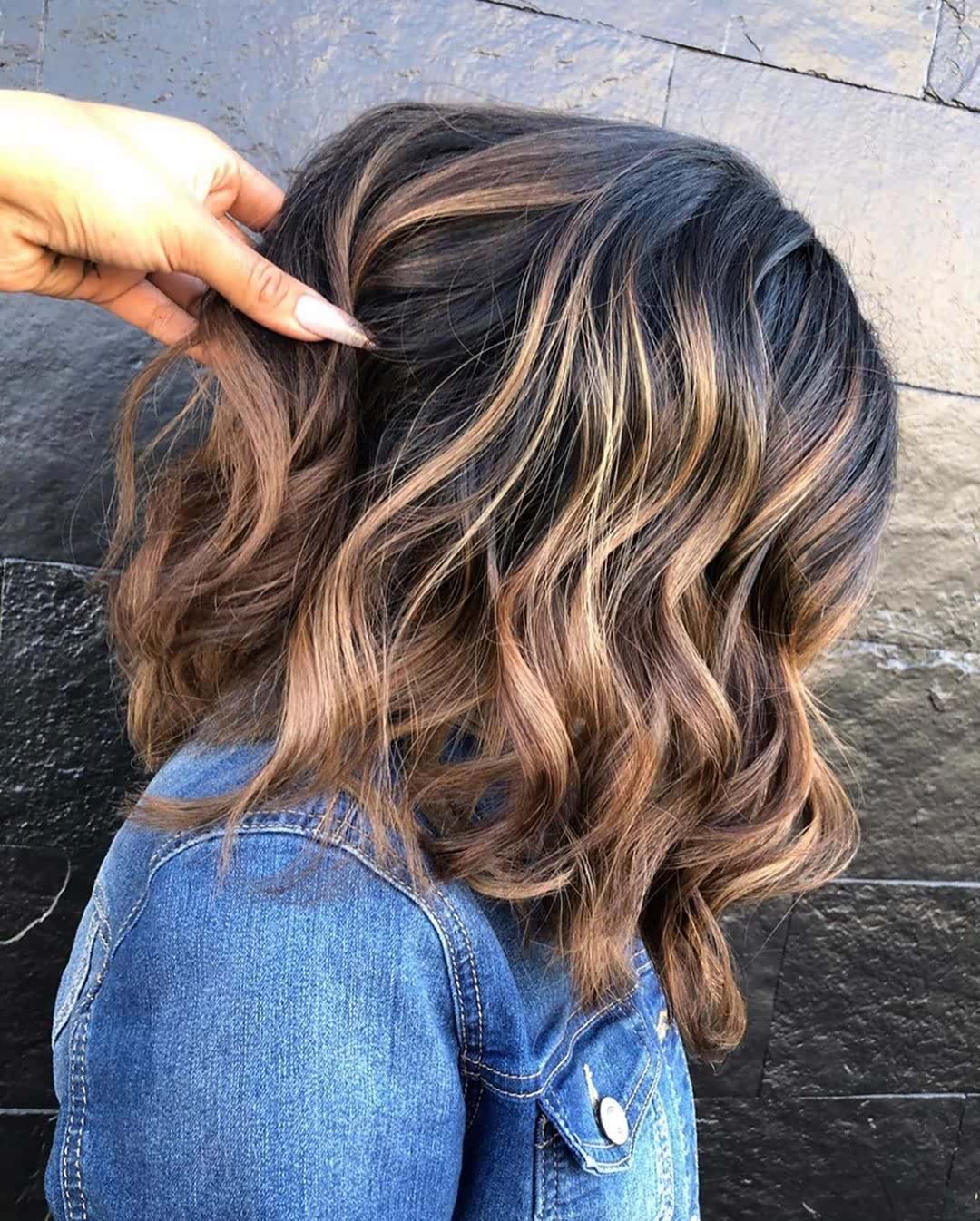 Here's a fabulous way to add mid-blonde glamor to dark hair, in a classy way. The colorist has used at least 5 different blonde and brown shades to create this attractive look. And by matching the blonde shades within one or two tones, you get a soft and natural color design. Tousled, soft waves show-off the balayage highlights shining with reflected light!
Can't decide between two colors? Why not have the best of both worlds with a gorgeous ombre effect? Ombre hair color is all about that seamless transition from one shade to another, and it can look absolutely divine on a bob haircut. Start with a darker color at the roots and gradually transition to a lighter shade towards the ends for a beautiful, multi-dimensional look. You can go for a classic brunette-to-blonde ombre or get creative with some funky, unconventional color combos. The choice is yours, so go wild and let your inner colorist run free!
6. Strawberry & peach balayage on layered bob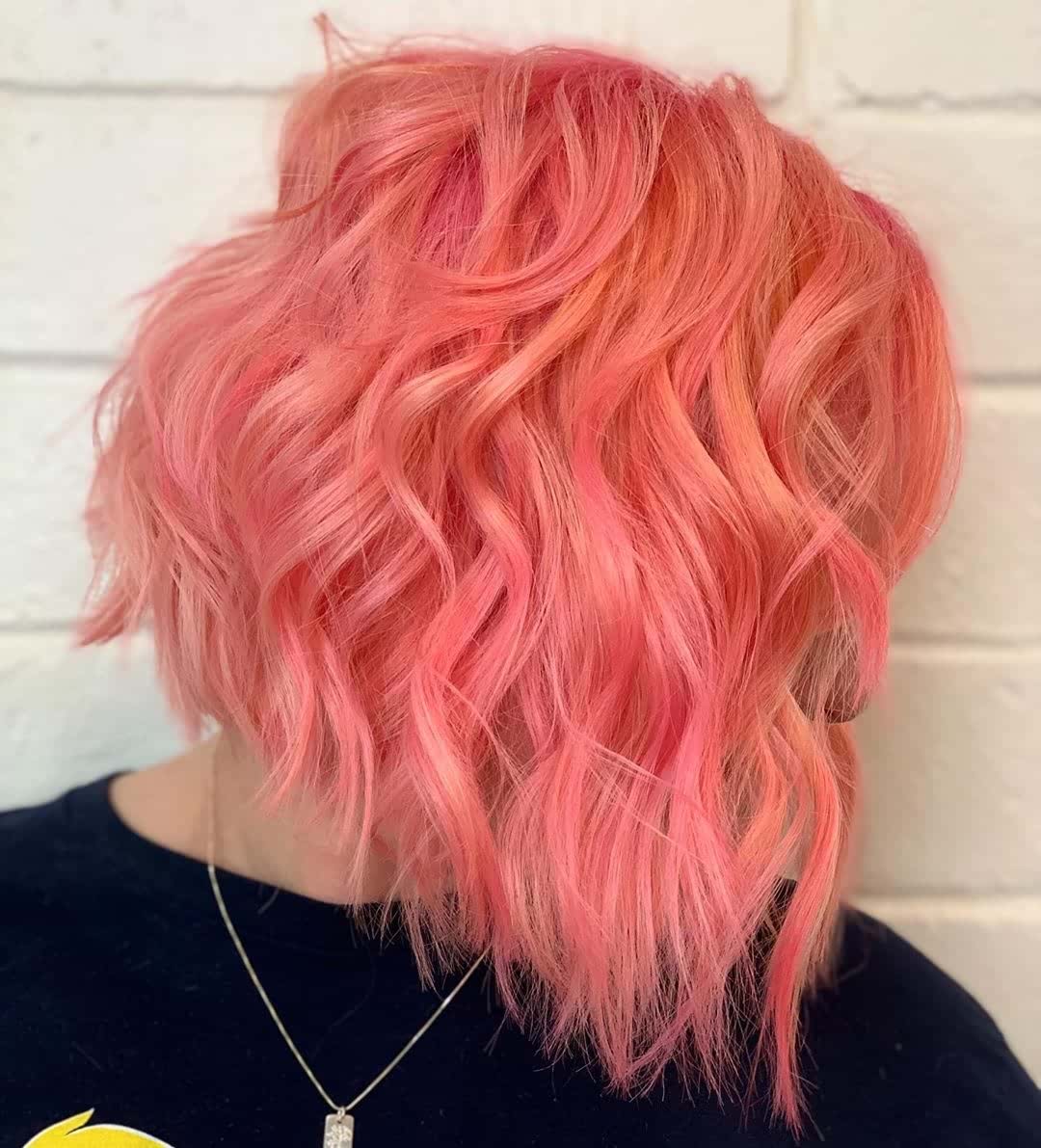 Technically, pink is a cool color and peach is a warm shade. But a talented colorist can mix these colors to create a fantastic, new balayage blend! To complement the model's skin tones, the colorist has placed more peachy and coral-pink shades next to the face. And the shorter nape is highlighted with pastel pink-blonde. All of the colors are gently blended for a lively, youthful fantasy hair color design!
7. Raspberry pink and peach balayage on light brown hair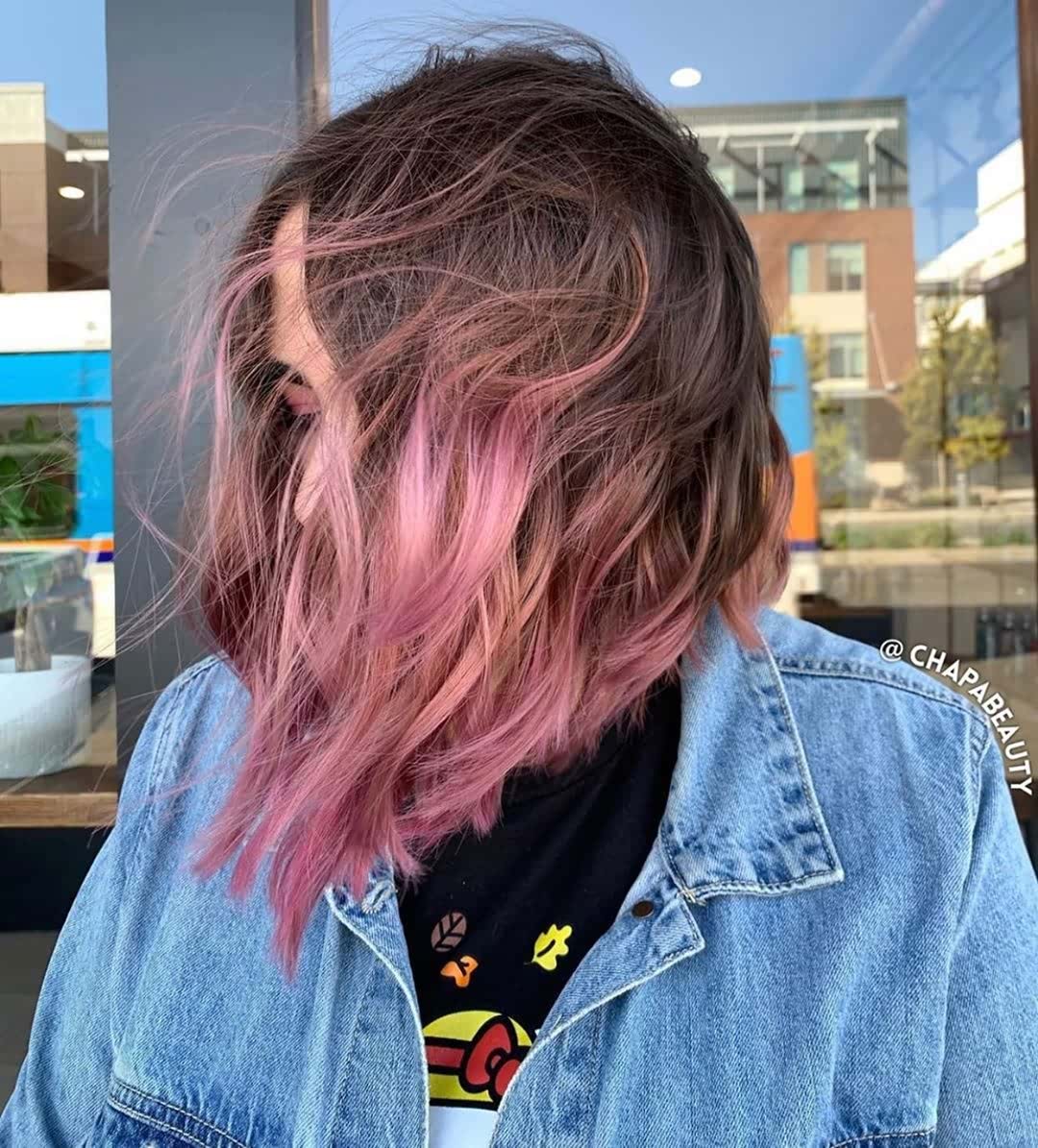 You get more movement and texture in your hair when you add balayage to a layered bob. And if your hair is fine to medium, this long, slanted bob will look thicker from the blend of light and dark shades. This pink has a little more blue in it, making it a cool, raspberry shade that blends with the model's cool brown natural color. Subtle peach balayage adds a lovely touch of warmth, which highlights the beautiful, 3-D color effect!
If you're all about that classic, timeless vibe but still want to shake things up a bit, why not try adding some subtle highlights or lowlights to your bob haircut? This can create a beautiful, multi-tonal effect that adds depth and dimension without straying too far from your natural color. For example, if you're a brunette, you could go for some honey-colored highlights to warm up your look. Or, if you're a blonde, try adding some cooler, ash-toned lowlights to create some contrast. It's a subtle change, but it can make a world of difference in giving your bob haircut that extra "oomph."
8. Sea-green with lime balayage hair design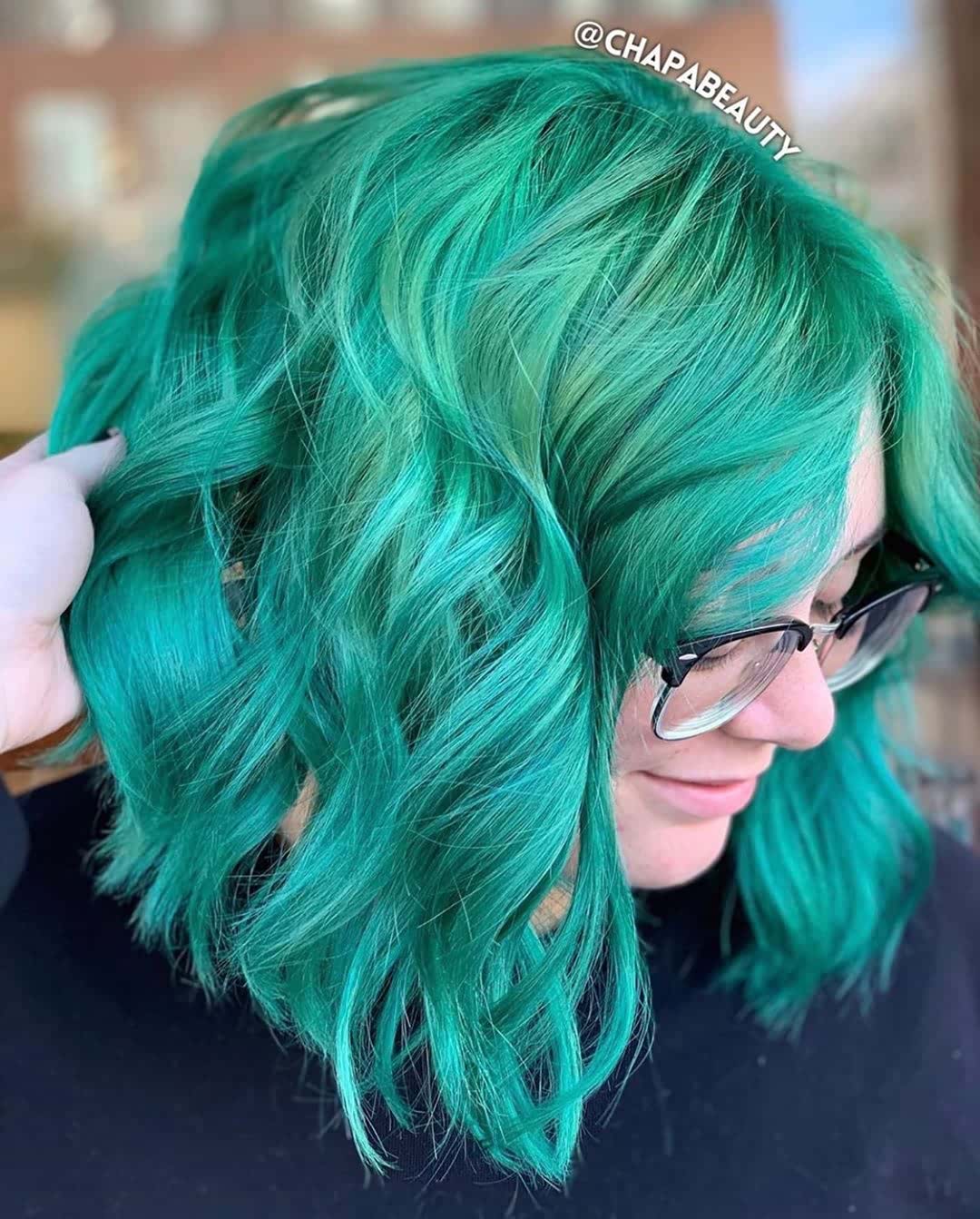 Green hair color first appeared during the 1970's as part of the punk-rock movement. And it was intended to shock and set punks apart from regular folks. But now, green has been welcomed as a gorgeously rich, hair color option. These beautiful sea-green shades are fun and flattering. And they're also a symbol of our rainbow society, where everyone is allowed to be creative and individual!
9. Warm copper-brown with subtle balayage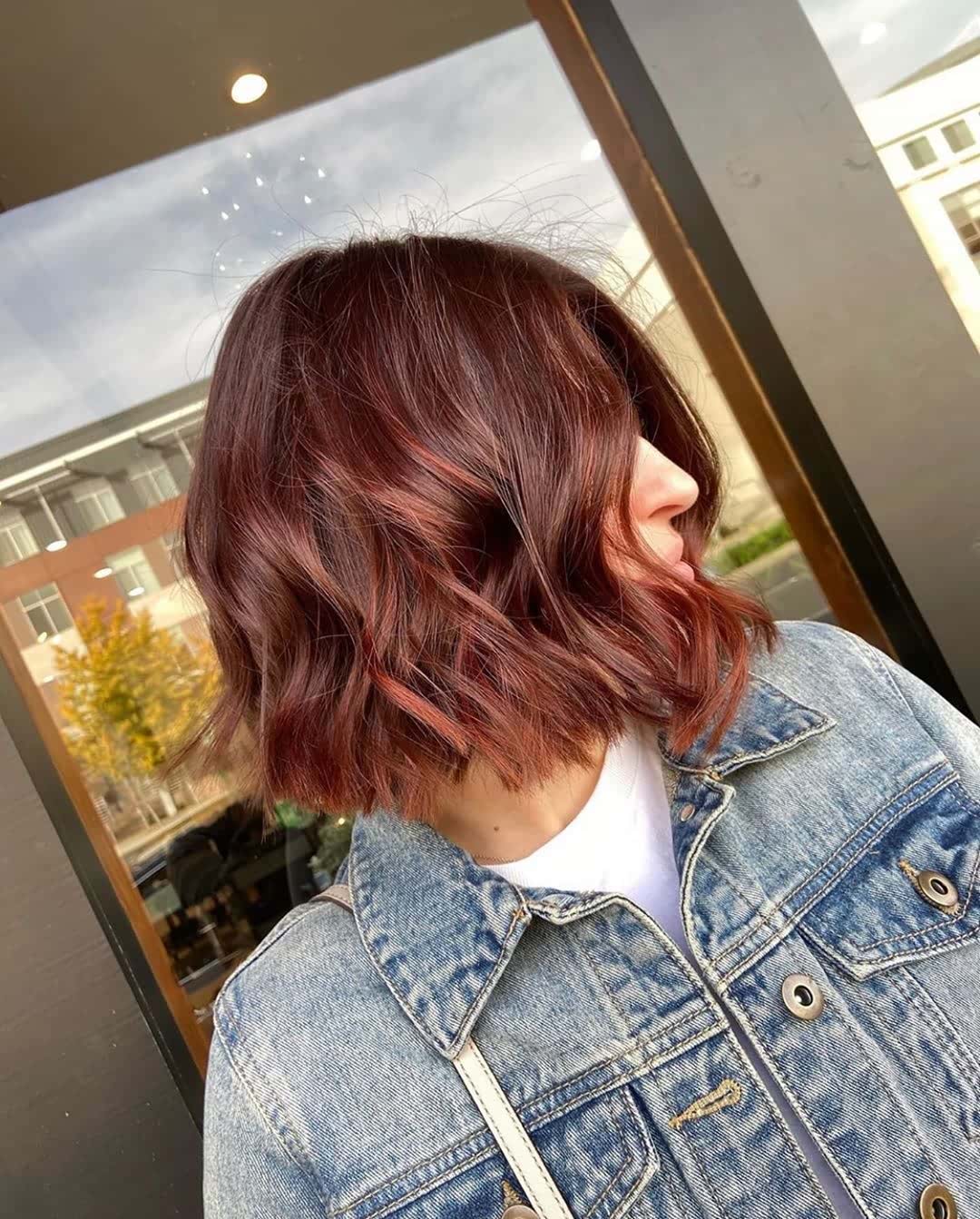 Shades of auburn never really go out of fashion, as they are so rich and attractive. And this centre-part bob with balayage, shows how to add extra movement and texture without being too 'out there'. This medium bob haircut is a good length for fine/medium hair types as it keeps the natural thickness of the hair. It's the same length all around, with trendy, disconnected layers just below the chin. The stylist has created an uneven bottom line and an edgy, modern finish with textured tips.
10. Ash-blonde tousled bob for fine hair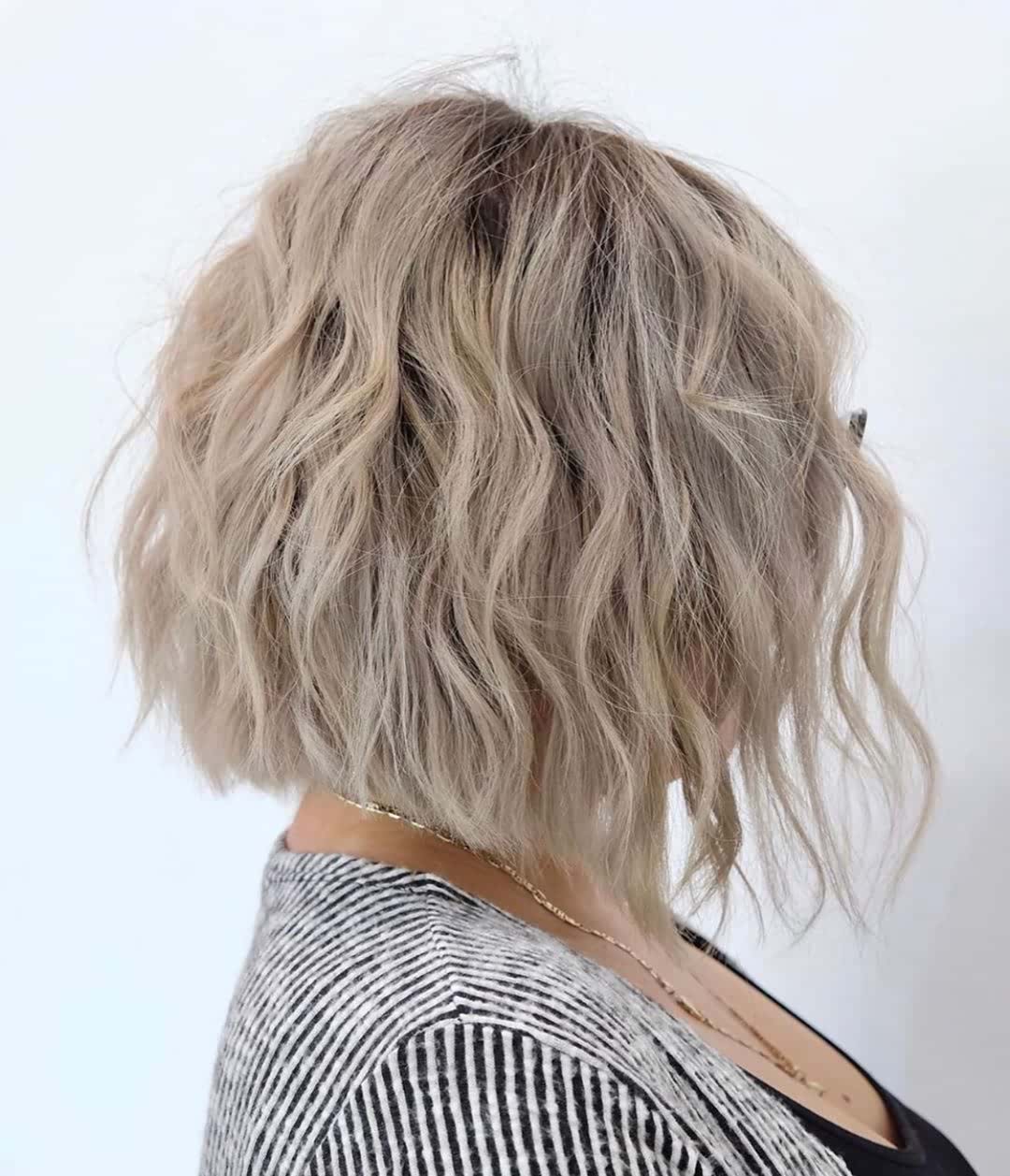 Here's another haircut and color design especially for fine hair. The ash-blonde shade is one of the very lightest Nordic blonde colors. And you can best achieve this level of white-blonde on a fair or natural-blonde base color. Waves, with darker roots beneath add 3-D color depth. And the final trendy twist is warmer, pale gold balayage highlights at the back!
11. Bright Copper bob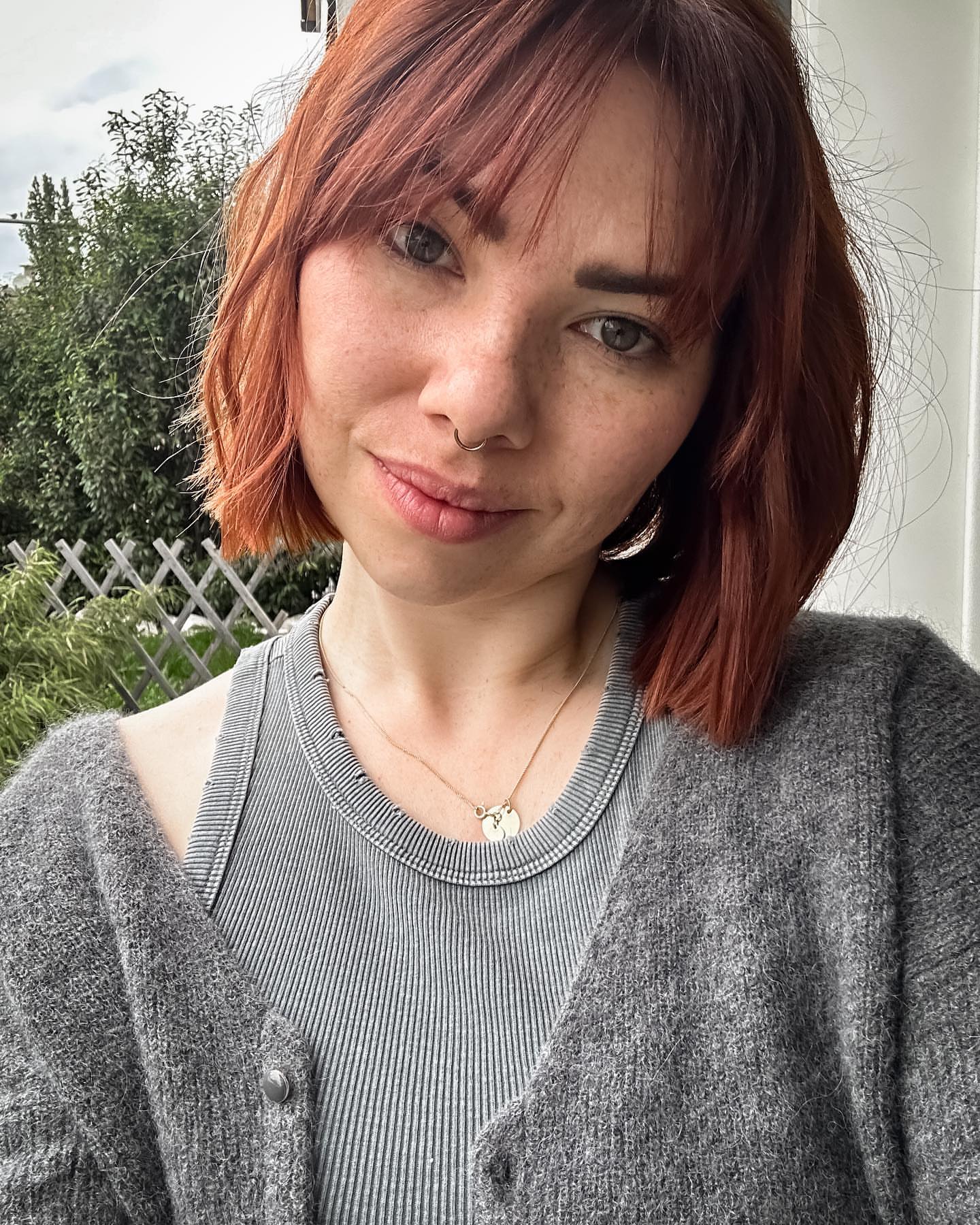 A copper bob haircut is a beautiful fusion of color and style, creating a look that is not only chic but also versatile. This haircut embodies an edgy yet classic style, with the bob cut lending a timeless feel, and the copper color giving it a contemporary touch. Copper, with its warm undertones, brings a fiery charm that can brighten the complexion and add a vibrant touch to any look.
The bob itself is a universally flattering cut, elegantly gracing the jawline and adding structure to the face. It offers plenty of room for personalization; it can be asymmetrical, layered, or blunt, depending on the desired effect. Whether worn straight or with a hint of wave, the bob always exudes a sense of sophistication.
Pairing this cut with a copper color takes the style to a new level. The hues range from a subdued, earthy tone to a brilliant, almost metallic sheen, each offering a unique aesthetic. This combination can bring warmth to fair complexions, intensify the richness of medium skin tones, and provide a stunning contrast against darker skin.
A copper bob haircut is indeed an exciting choice for those wanting to inject a fresh burst of color and style into their appearance. This is the type of haircut that allows you to experiment and express your individuality, whether you're going for a bold, fiery look or something more subtle and understated. It's a hairstyle that truly blends the best of both worlds: the classic allure of the bob cut and the modern charm of copper hues.
12. Light-brown balayage on dark blonde bob haircut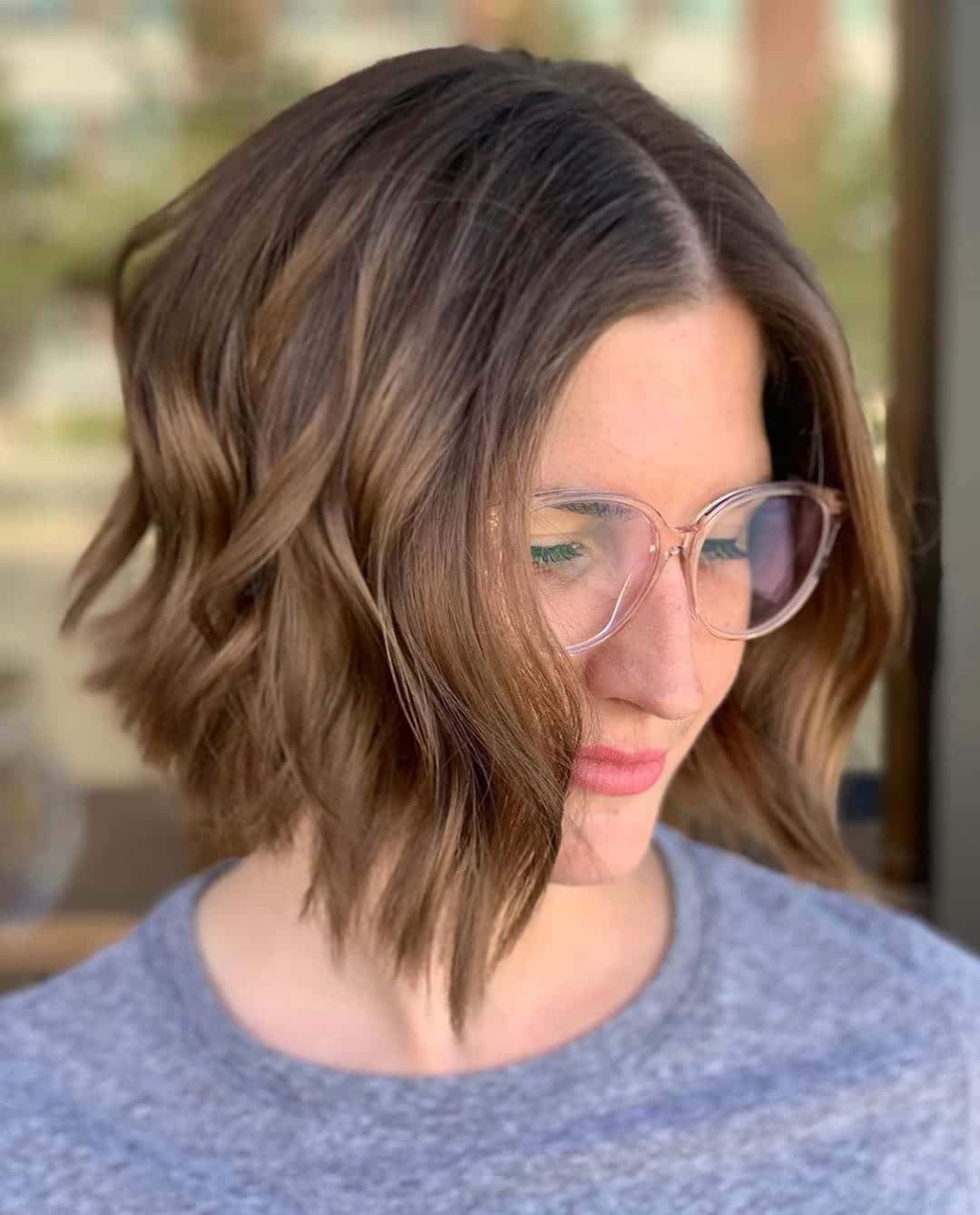 This hair color design is perfect for a totally natural, but fashionable look! It's a great way to give a little more warmth and interest to mousey-brown hair. The colorist has left the roots in the base color, and subtle balayage in a slightly lighter color flatters the model's skin tone beautifully!
If your hair doesn't look at least as good as these fashionable hair color ideas, get on the phone now and upgrade your look!
Styles: Remedy Hair Shoppe
Address: 119 S. HARBOR BLVD ANAHEIM, CA 92805
Phone: 714.780.1115