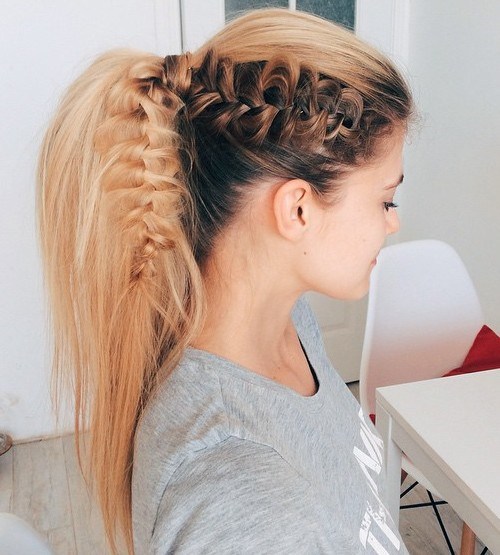 We love our ponytails! In hot weather, a stylish ponytail keeps hair off your neck – preventing you getting hot and sweaty as you follow your daily routine.  On holiday, it offers a quick and trendy way to look good without a lot of effort (and equipment!).  And for special occasions, there are so many new half-up hairstyles to try, you'll be spoiled for choice.  So here are 20 great ponytails for your prom, party, wedding, work, beach, night-club or just vegging-out-in-front-of-the-TV hairdo!
Semi-formal for a cool look at work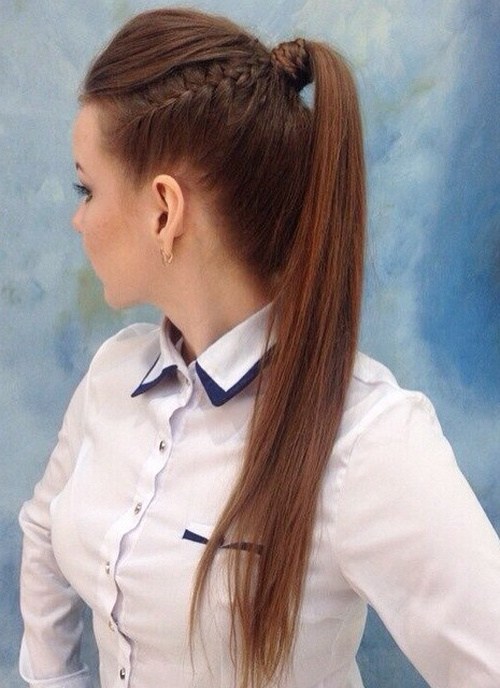 With a teased section adding flattering height to a round face, this pony is a great choice for keeping long hair under control at work, without completely losing the 'swish' factor!  The sides are decorated with attractive head braids, and the pony is lifted by the thick strand of hair covering the fastener.
Adorable bridal half-up style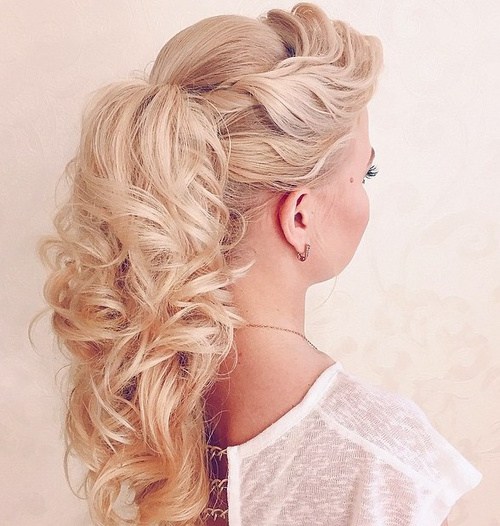 This hairstyle is a credit to the stylist who created such an alluring and modern bridal style!  The hairdo has had a bit of help from a hair extension to lengthen the ponytail.  However, the wavy, twisted sides and tousled curls would work well on hair that's shorter than this.  Love the soft blend of medium-blonde roots and delicate neutral blonde!
Larger-than-life ponytail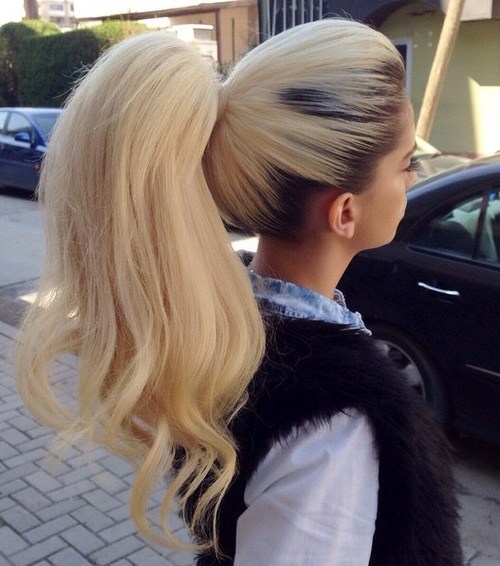 This extra-large ponytail is an amazing feat of hairdressing and needs to be worn with confidence, and strong neck-muscles, I would say!  The voluminous shape is achieved by a lot of teasing (back-combing) on extra-long hair and has a cute wave at the ends.
Simple chic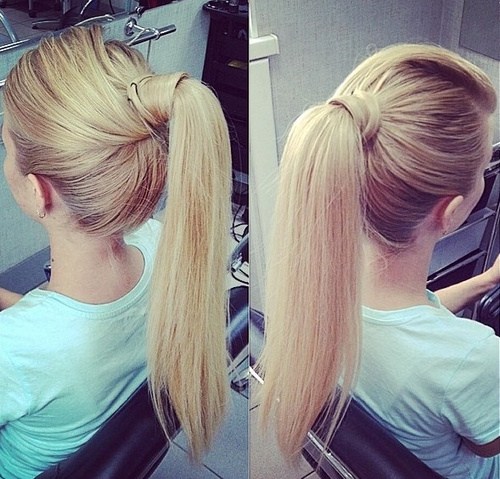 This simple but chic high ponytail is a style you can do at home, but it has some attractive features.  Light-blonde hair with medium-golden roots is a sophisticated color-scheme.  And brushed back in a curve, creates lovely texture and movement.  There's extra curve in the hair above the nape and wrapping hair around the fastener lifts the pony clear of the nape.
Sophisticated evening ponytail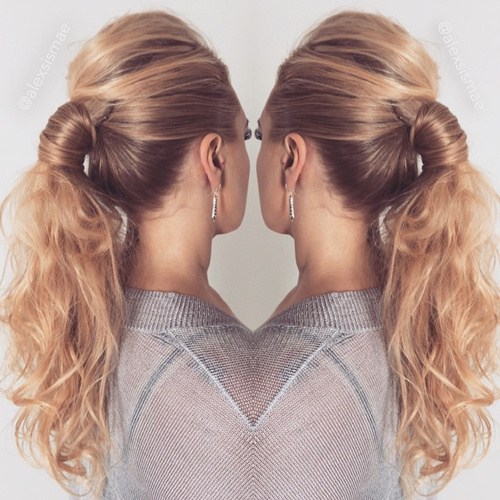 The caramel and honey-blonde shades in this sophisticated half-up style are expertly blended to create light and shadow for 3-D color depth.  The top is teased for height, but the sides are sleek to suit a round/oval face.  The pony emerges just below the bouffant crown, with a wide hair strand covering the elastic, and falls in lively, ruffled waves!
Stunning colors on flat braids & bouffant style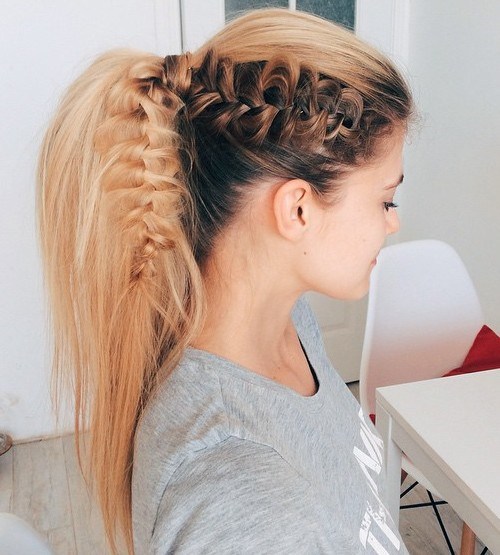 Here's a cutting-edge pony that shows how exotic and fresh, new braid techniques look in contrasting brown and gold colors.  Flat head braids, widened with pulled-out links, are also a good look on fine hair that's not thick enough for fat braids.  Choose this design for an unforgettable and stylish look!
Adorable loop braid top & gold ombré waves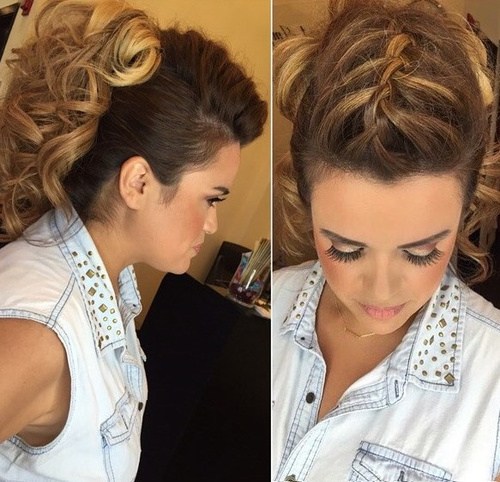 This is a semi-formal half-updo that's suitable for any special occasion like proms, parties and weddings.  The top has another fabulous, new braid pattern that's delicately highlighted by golden-blonde balayage.  And with a bouffant curled ponytail in exquisite gold ombré – this is a gorgeously feminine and trendy look!
Smooth & chic bouffant pony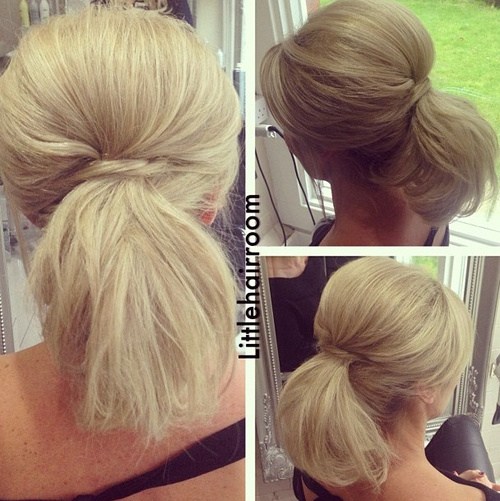 This all-over neutral-blonde hairstyle is an elegant hairstyle for wedding guests and formal evening events.  The bouffant shape creates a nicely rounded silhouette and dual-highlights give color depth and added texture.  The ponytail is lightly curved under and a strand of hair wound around the elastic adds a stylish detail!
Cute small, medium & large bubble pony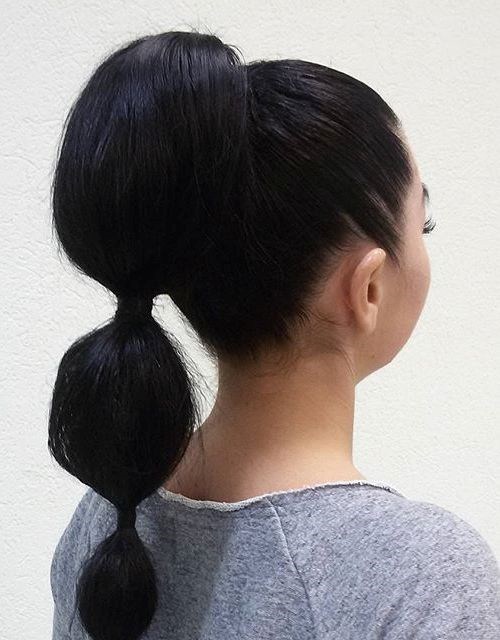 The neat finish of this bubble ponytail on black hair adds to the impact of this attractive and slightly playful hairstyle.  A high pony adds height at the crown which is universally flattering and the round shapes, diminishing in size are very cute.
Smooth, wavy & shaved textures on rich auburn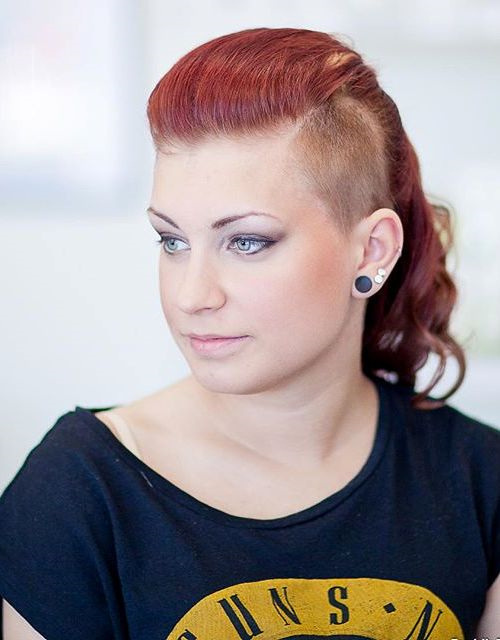 This lovely russet-red hairstyle uses contrasting textures and movement to create an adventurous, modern vibe.  The top is classically styled back from the face and tied into a feminine, waved ponytail at the back.  However, there's an edgy twist in the unexpected shaved sides!  Suitable for round, oval and heart faces.
Elaborate special occasion high braid pony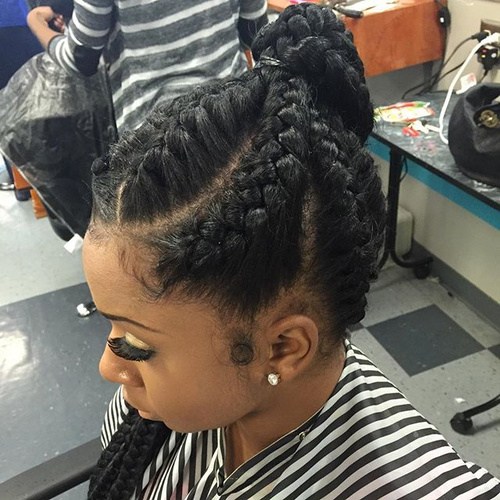 This semi-formal braided look is full of interesting detail and textures!  The braided sections around the head create a 'hill and valley' contour and flattering volume.  The high pony-tail is secured in a thick, braid at the crown, which separates into several thin braids draped over one shoulder.
Casual glamor & gorgeous shades of gold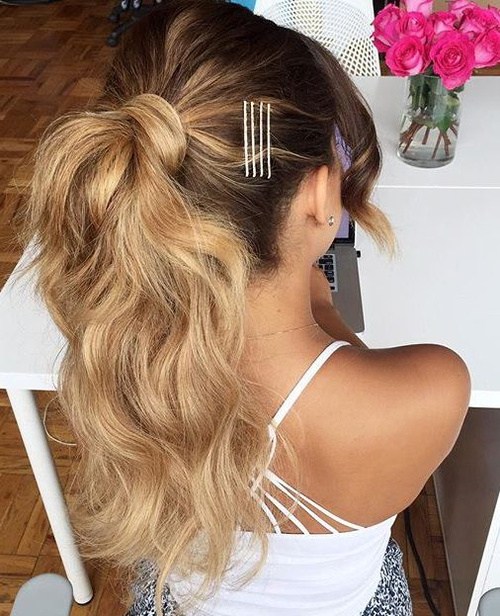 This delightful, long wavy messy ponytail demonstrates the sort of up-styles you can achieve on dark-blonde hair with a light golden-blonde ombré!  It's an impressive ponytail that's casual enough for everyday wear, and glamorous enough for a special dinner date.
Classic look with gold ponytail clip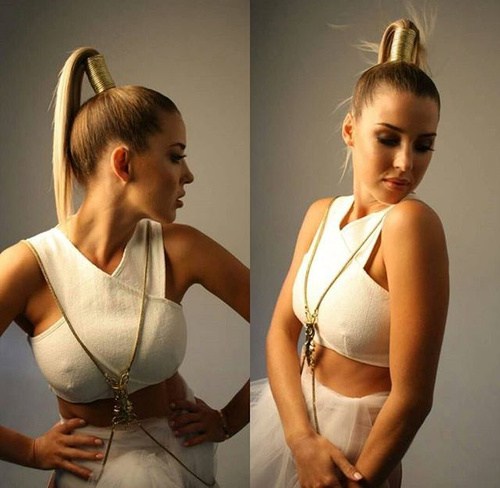 Long, layered fine hair can't produce thick and swishy ponytails, but you can create a highly stylish look with a special ponytail fastener.  This is a simple hairstyle you can do at home in two minutes, but it never loses its glamorous vibe!
Pulled-out links on thick fish-tail braid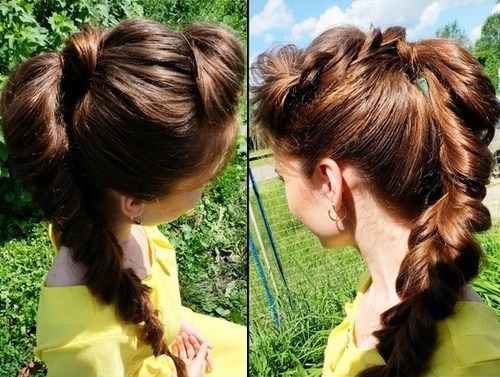 This braid is equally suitable for every day wear or a prom, party or other special occasion.  It's a lovely natural, but fancy, braid for teens that shows off a pretty, chestnut hair color.  The front has a small quiff and an asymmetrical loose head braid and it would look marvellous on highlighted hair, too!
Gorgeously carefree black & gold pony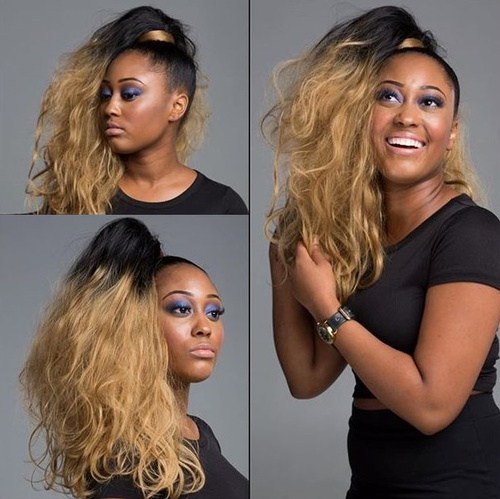 This is a gorgeous asymmetrical ponytail that truly embodies the 'if you've got it – flaunt it!' idea!  The fabulous golden-blonde ombre makes an eye-catching contrast against black hair.  Along with the tousled, wavy volume flowing loose this hairstyle is casual, but also quite a sophisticated look!
Stylized waves in extravagant long pony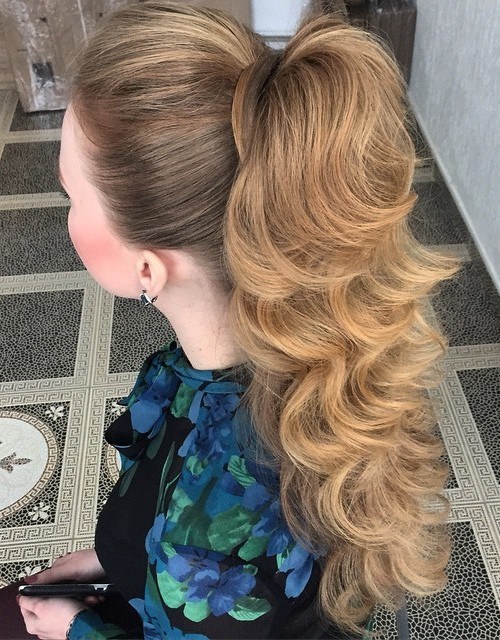 The lovely dual-highlighting on this model's long hair is expertly applied to leave a natural blonde look on mousey hair.  This perfectly waved long ponytail is another great idea for a wedding or semi-formal special occasion, where you want to stand out for your good taste and chic style!
Super-cool long ponytail on natural hair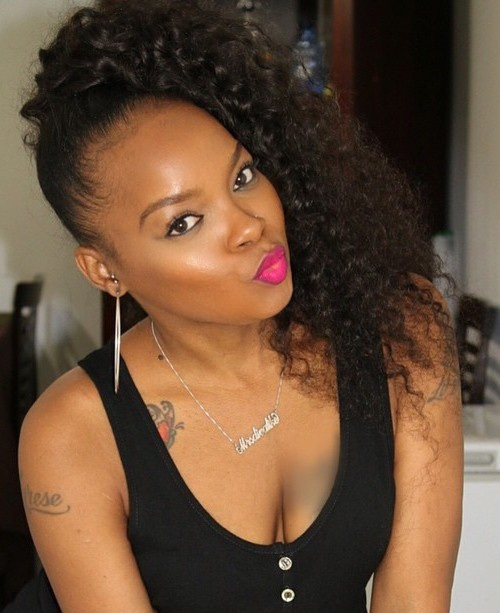 Full marks to the creative stylist who invented this imaginative and alluring new look!  It's a high asymmetrical ponytail divided so that a glossy braid frames the contours of the face.  The extra style comes from a lovely cloud of coffee-brown, frizzy hair creating lots of extra side-volume.
Fabulous upside-down braid & high pony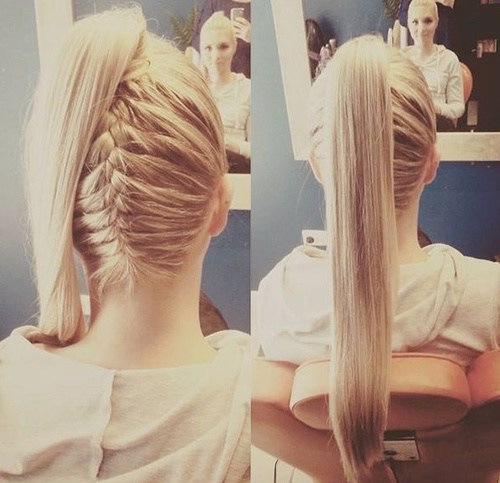 A high straight ponytail is often used to create sophisticated evening hairstyles, but this one has a cute extra feature in the upside-down French braid at the back.  The braiding creates fabulous color, texture and movement in an unexpected way.
Natural glamor on thick, long hair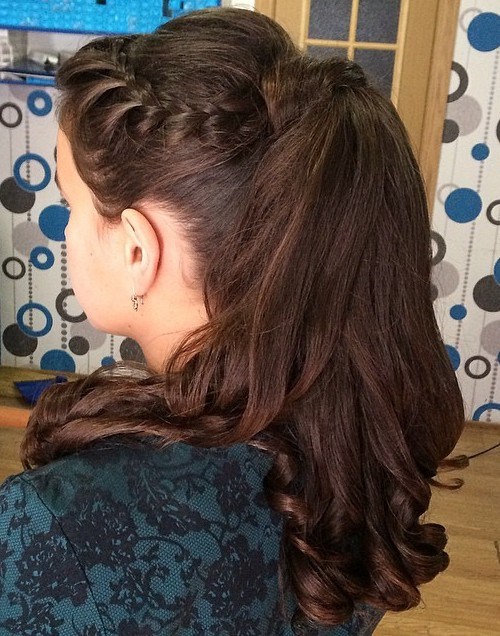 Long, thick hair gives a stylist plenty of material to work with and this hair design, in a natural brunette hair color, is glamorous in a youthful, low-key way.  Clever braiding around the front creates a decorated band around the sides and the ringlets at the ends add fantastic texture and movement!
Big hair for bridal half-up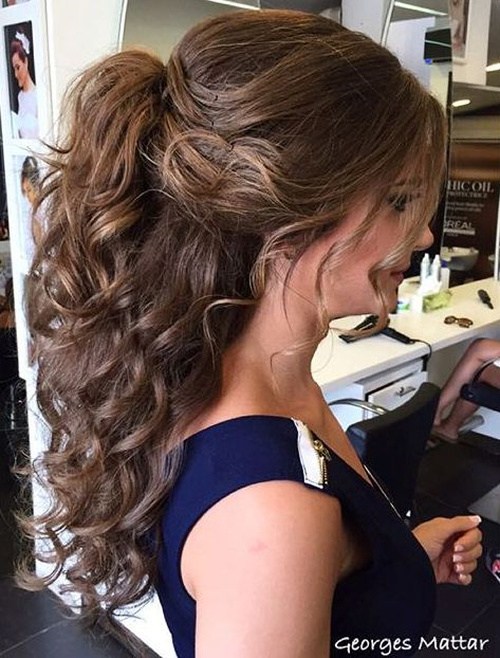 If your hair isn't long enough for a big, bouffant bridal hairstyle – fake it!  This fancy hairdo is teased around the head to create a larger than life silhouette and fastened in a short ponytail at the back.  The thick, cascading waves down the back are hair extensions that complete this model's dream-look for her wedding-day!
These days, there's no reason not to add a little extra help to get the long ponytail design you want, without a long wait.  However, bear in mind that a long hair-piece can be heavy and may heat up your back and be uncomfortable in warm locations.  So always have a practice hairstyle session before you commit to buying expensive extensions for a special event hairstyle.