Here are the latest ways to style your daily and evening ponytails using exciting new head-braid techniques, wave patterns and color trends. Today's gallery's bursting with fresh ideas to pep-up your daily hairstyles and add chic style to evening wear. Light-brown and golden-brown hair colors are finally back in fashion, along with muted orange and subtle copper ombré ideas. Dove-gray's the new 'platinum-blonde' for edgy urban-chic, along with neutral blondes, bronde and . . . . well, perhaps I should just let you look at these gorgeous pics! LOL!
Ombre balayage messy ponytail for summer
Romantic asymmetric tousled ponytail
Let's begin with a romantic low ponytail that's suitable for evenings out. The head braid is loosely woven along one side of the head and there's flattering height at the crown. The ponytail is loosely waved and tousled for a relaxed finish and a few highlights would show the lovely textures more clearly.
Windswept vintage look with bangs – messy ponytail for short hair
The straight-across fringe, coupled with bouffant height fixed in place with hair-spray show this look has a sixties inspiration. However, the spiky ponytail set half-way down the back of the head is a modern twist as are the fine blonde highlights running through the hair to accentuate the movement and roughly styled finish.
Olivia Munn Messy Ponytail
Probably feeling as about as exuberant as George Washington Carver when he turned an ordinary peanut into the delicious treat we know as peanut butter, Olivia Munn has reinvented the classic ponytail into a trippy, flipping fun tail! Olivia's hair is a glorious and glossy black that reflects the glimmer of the lights from the bend of each curl.
Olivia's hair is loosely gathered in the top and secured at the nape of her neck with elastic that is obscured by the riotous mass of her curls. Olivia is wearing a sparling gold-sequined evening dress with a gauzy white hem.
Cute Bed-head high pony with center parting for girls
This is another vintage look back in fashion with an edgy, messy look suitable for young faces or relaxed, boho chic. It's a no-comb look you do with your fingers to create an attractive twist and textured look around the head. The high ponytail adds height at the crown and the face-framing strands accentuate the model's oval face.
Sophisticated top-braid & messy ponytail for shoulder length hair
This contemporary style on black hair has subtle dark-brown highlights to emphasize the lovely tousled texture of the messy pony. The front is styled off the face with a fabulous loose braid creating height, pattern and texture along the top. Suitable for oval, heart and round faces.
Gorgeous blonde balayage with white tips
The asymmetrical fish-tail braiding and dual-blonde balayage are beautifully executed in this impressive, extra-long ponytail. Although this is a fabulous look for a special occasion, it's also quite suitable for other occasions owing to the natural colors and simplicity of the shape. It's another attractive example of the ultra-chic 'bronde' trend!
Romantic neutral dual-blonde blend for girls
This is another romantic and casual look you do with your fingers, rather than a brush. Finger-styling allows you to see the different highlight shades, creating 3-D texture, and adds natural volume. I love the colors in the twist of hair above the nape and the loosely waved side pony is so relaxed and elegant!
Futuristic high messy ponytail in dove-gray-lavender
Pale-gray blonde is taking over from platinum for edgy, urban-chic hairdo's. It's a daring color scheme, but deep purple roots complement gray perfectly, and it's softer than white-blonde/black roots. This off-the-face style displays high cheekbones and the high, messy ponytail looks totally fresh.
Relaxed bronde side-ponytail with long bangs
This trendy color-scheme is mainly blonde around the head and bangs, but switches to a beautiful, brown ombré below! These medium shades are a good choice for a contemporary look, without the extremes of warm copper/gold or cool ash-blonde/brown colors. Side-swept long bangs minimize a high or wide forehead.
Oatmeal-blonde over golden-brown roots
This modern look combines cool, oatmeal blonde with warm golden-brown in a superbly balanced color scheme that includes a lovely golden strand down to the tips. The loose, flat head-braid is asymmetric and continues down to decorate the cute, wavy ponytail fixed half-way down the back.
Super-trendy copper & golden blonde/brown twist
I can't recall ever seeing this innovative ponytail style before and it's a gorgeously fresh dinner-date/party/wedding half-up style to try! The expertly blended color scheme can be achieved on medium to dark brown hair, creating lots of 3-D depth and texture. The tousled, curly ponytail is topped with a pretty twist of hair set on one side.
Loose Low messy ponytail with long bangs for summer
The wheat-blonde of this edgy hairstyle shows it's a chic, contemporary hair design. The style itself relies on simple lines purposely disordered to create an urban-decay vibe around the head and in the low, central ponytail. The profile shows long bangs and disconnected shorter side layers adding to the messy finish.
Light-brown long ponytail with height without bangs
I'm so pleased the attractive light-brown shades are back in fashion again. This casual pony has extra height above the forehead which is a good look for round faces or low foreheads. The formality of the high-top is minimized by the wavy strands softening the hairline and the wavy, tousled pony completes a cute every day style!
Vintage glamor 1950's ponytail for women over 30
This warm brown is another lovely shade that's been dreadfully neglected during the last few years! This pony has a bouffant rockabilly puff above the forehead and side sections pulled back tightly at the temples. The high pony cascades in rippling waves from the crown and there are no loose strands in this carefully styled retro-look.
Cover up gray hairs with blonde highlights
Here's another version of the bouffant-top pony, up-dated with a soft, blonde balayage and tousled finish. Very dark hair often goes gray early, but fine blonde highlights cover them and create a softer color, too. This elegant hairstyle is formal at the front, with tousled waves adding a modern, relaxed vibe at the back.
Semi-formal curly up-do
Here's a super way to wear long, curly hair in a style that's perfect for a special occasion and just the right shape for a pretty tiara! The warm brown hair has subtle balayage highlights that accentuate the curly texture and add depth to fine hair. Long, loose ringlets at the sides frame the face beautifully!
Soft-copper & white-blonde balayage
This casual, contemporary ponytail has a sophisticated edge to it from the muted copper low-lights on a neutral blonde base. The hair has been teased to create extra volume around the head, where you can see the trendy blend of harmonizing shades. The high pony has modern diagonal waves and touches of white blonde create a 3-D depth.
Fresh & playful contrasting braids
Just when you think all the braid styles have been invented, stylists produce another fantastic batch! This sophisticated Boho style has loose, blonde head-braids creating a V-shape, which continue into the low ponytail. The strong contrast between dark brown and neutral blonde create fabulous 3-D color depth accentuating the fab texture and movement!
Chic ponytail with gleaming copper ombré
This lovely semi-formal ponytail is greatly enhanced by the lovely copper ombré on a loosely waved ponytail. Copper's a super idea for jazzing up medium-brown hair in a classy ombré only a few shades lighter! The style has height around the crown and a cute waved strand decorating the hairline in a very stylish look.
Blended copper tones above messy blonde ombré
The glossy copper tones with blonde highlights look great over the model's brunette roots and when you add the lovely blonde ombré, it makes a really attractive and unique look. Balancing the beautifully blended multi-toned color-scheme is a simply styled messy ponytail suitable for straight hair.
Impressive horizontal twists
Semi-formal hairstyles are often based around ponytails and can be worn for proms/parties and leisure activities, too. This is a lovely new look created with twists and loose braids in textured lines decorating the back. With defined casual waves in the ponytail, this is another unique and contemporary design to try!
Gorgeous soft copper curls
Muted orange shades are popping up everywhere this year as trend-setting highlights on brunette hair. This all-over copper-blonde creates a stunning effect on a beautifully waved, semi-formal ponytail. The hair around the head is loosely swept back without brushing, allowing the dark roots to create lovely texture and depth.
Mixed braids & golden glints on thick hair
Today's final daily ponytail is a very creative asymmetrical hairstyle you could wear for just about any social situation or workplace. The two head braids look modern with twisted texture and uneven pulled out strands at the back create a quirky, casual vibe. Golden-blonde highlights match the natural gold glints in the model's hair for a very classy color scheme.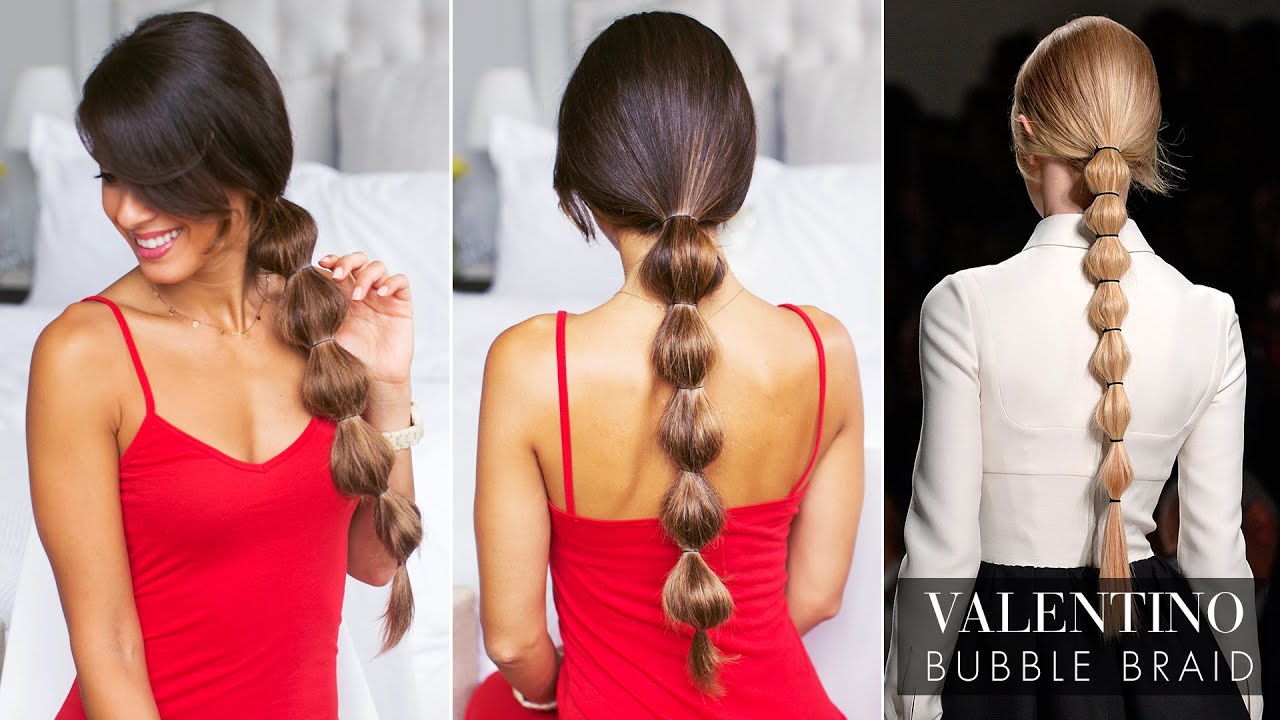 Ponytails are popular with the bubble ponytail showing up on the Valentino models. Holly Fulton's models had slicked back hair using spring-combs to create 'grooves' leading to a straight pony at the back. At Alexander McQueen, the girls wore real corn-rows and Boho braids were very much in evidence at Temperley.
Step by step messy ponytail tutorial
via Cosmopolitan.com
Enjoy using this inspiration gallery to keep you looking fabulously trendy in fashionable and flattering styles for any occasion, and you can find more ponytails on hairstylesweekly.com!