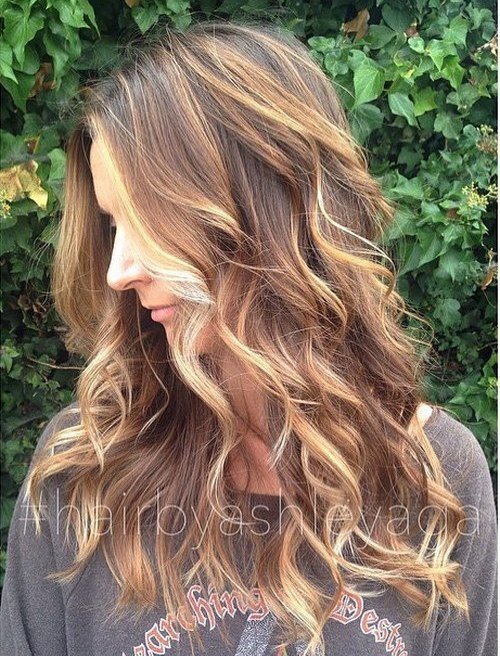 Balayage is the new way to color your hair: it tosses in some highlights throughout the top of your hair, leading down to a full-on ombre. It allows for a more flowing and natural appeal that many women are drawn to.
Whether you are looking for a subtle brown blend or something more brave like bold jet black and golden hues, you will find it on this list- plus much, much more! Adore these balayage hair ideas whether your hair's thin, short, full, or long.
Wavy Dark Brown to Light Brown Balayage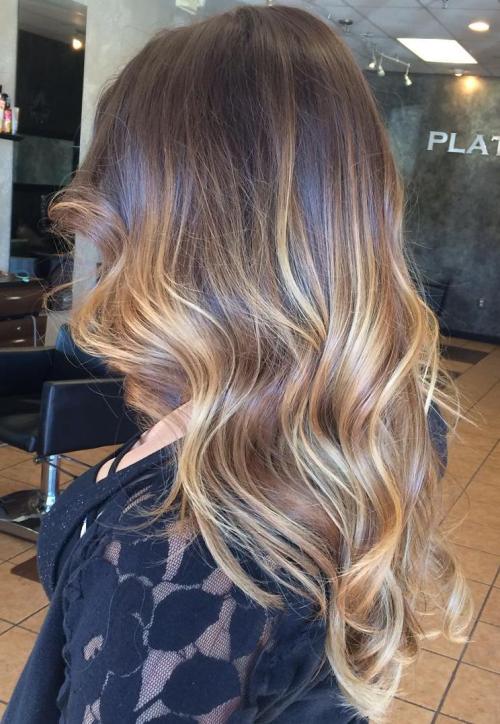 Sophistication and class is key for this hairstyle: darker hues of brown are left on top, leading down to a soft and subtle caramel-y tone that is downright flawless. The two tones of brown meddle together in a classy way that's made effortlessly beautiful with some soft waves throughout.
Sunkissed Brown Shaggy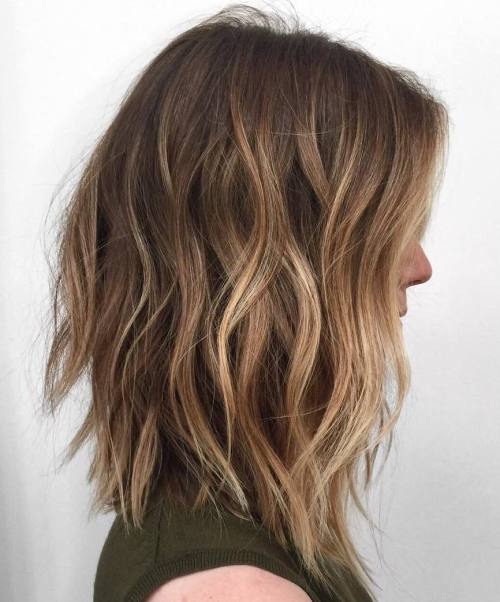 Shaggy cuts are geared for the effortless lady who wants an easy, carefree 'do; to add a little spunk in a way that's still casual and relaxed, consider some sunkissed balayage highlights throughout your mousy brown base.
Sunkissed Wob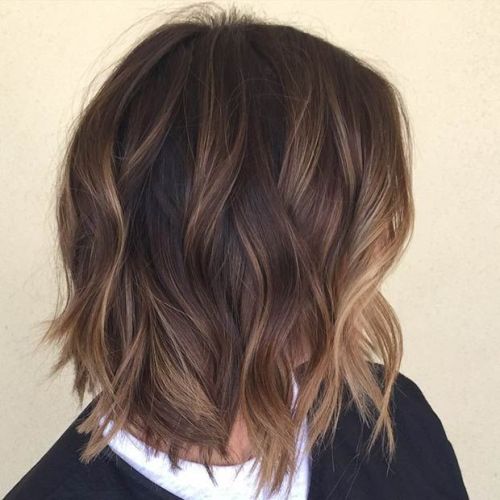 What's a wob, you ask? It's a wavy bob! Her haircut loaded with waves is ridiculously adorable, and to give it that extra pinch of color, she chooses sunkissed highlights that look natural and appealing, flowing effortlessly with every wave.
Toffee Color Melt Loose Waves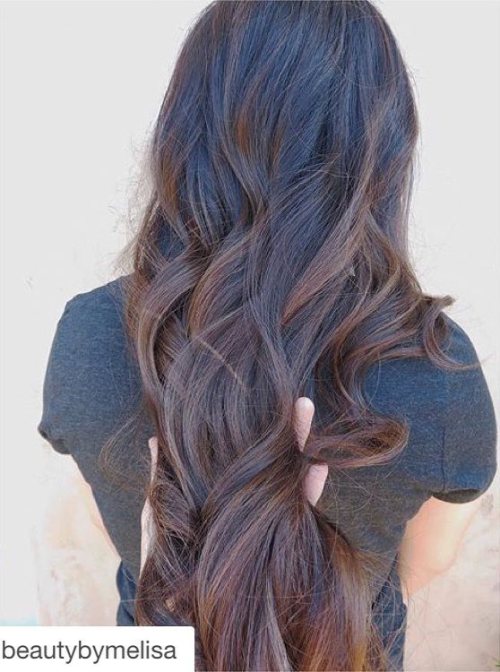 With long, luscious locks like these, it can be a bit mundane to stick with a single shade of dark brown. Amplify your locks and give them an extra boost of flavor with a delightful toffee brown color melt and loose, voluminous waves to match.
Ash Blonde Balayage Waves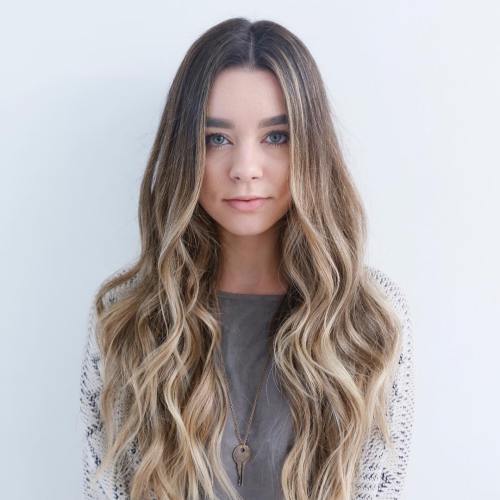 Her lengthy strands are simply stunning, those waves giving her hairstyle a bit of womanly appeal; but what really makes this hair enchanting is those gorgeous ash blonde balayage highlights on top, leading down to a full-fledged ash blonde lower half that's incredibly bright and perky.
Dark and Light Brown Balayage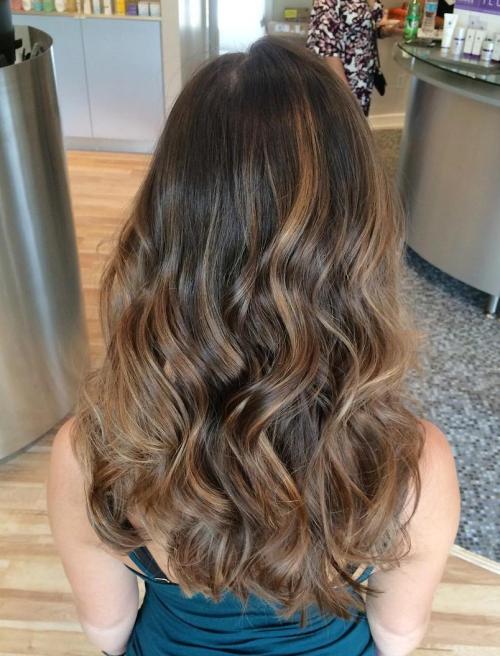 Brunettes love their natural brown hair, so if you want to keep things tame while brightening up your 'do a little, then opt for a lighter brown color than your natural hue. The look is sultry and sweet, with a very natural finish- especially when lightly tousled.
Sunkissed Lob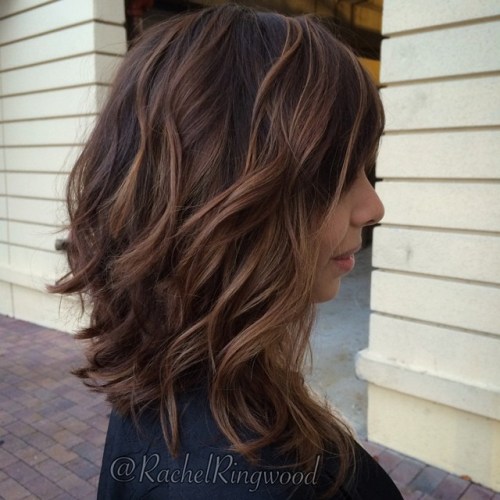 Adorable long bob haircuts are the ideal platform for cute, bouncy waves like these- and sunkissed pieces strewn throughout adds extra dimension and brightness to the overall 'do.
Sunkissed Blonde Subtle Waves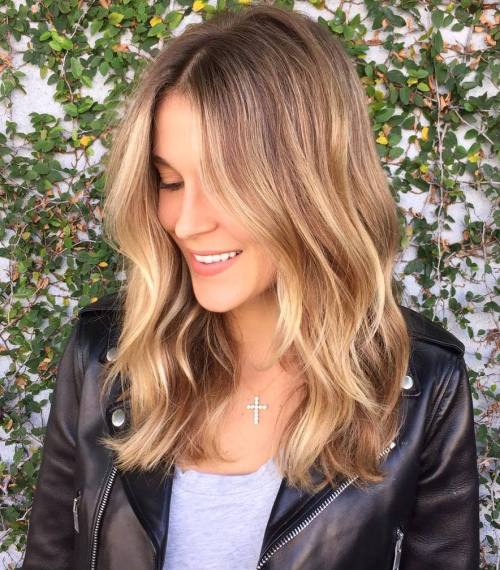 Looking for that ideal hairstyle for summer? You can't go wrong with blonde! Her highlights and lowlights create a divine dimension that's sure to glisten against the sun's rays, while some subtle beach waves give it that beachy feel we all love and adore.
Sandy Blonde Waves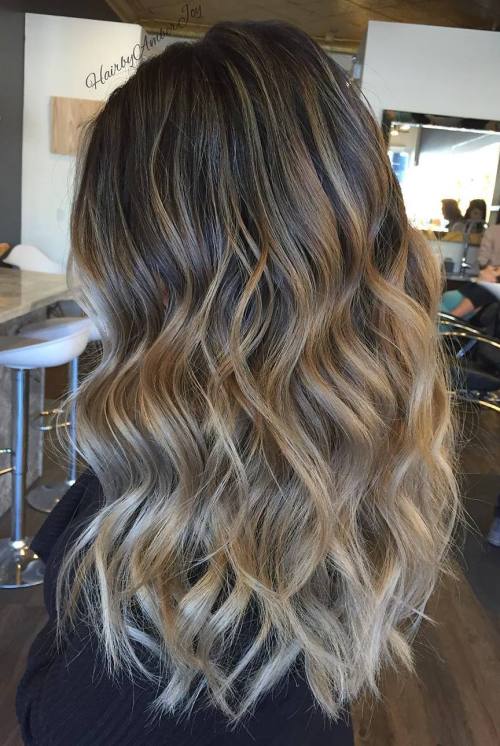 Want to create some serious contrast that's still verging on natural beauty? Sandy blonde pairs well with dark roots for a sexy finish. Play up that color with some voluminous waves that are lightly tousled.
Chocolate Walnut Waves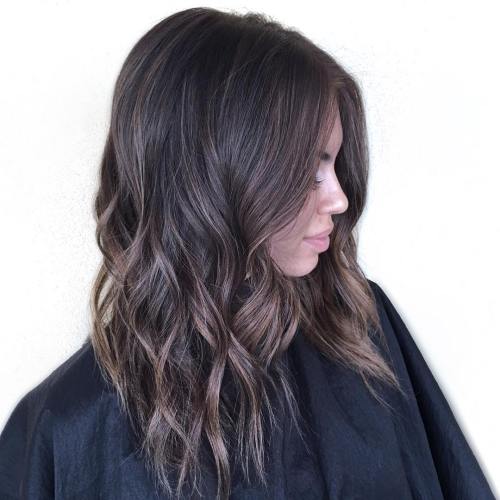 Just a hint of color can go a long way; you don't have to do something bold to draw more dimension and flavor to your hair. If you have natural dark chocolate hues, add in a touch of walnut to enhance your hair in a sultry and natural way.
Asymmetrical Deep Blonde Balayage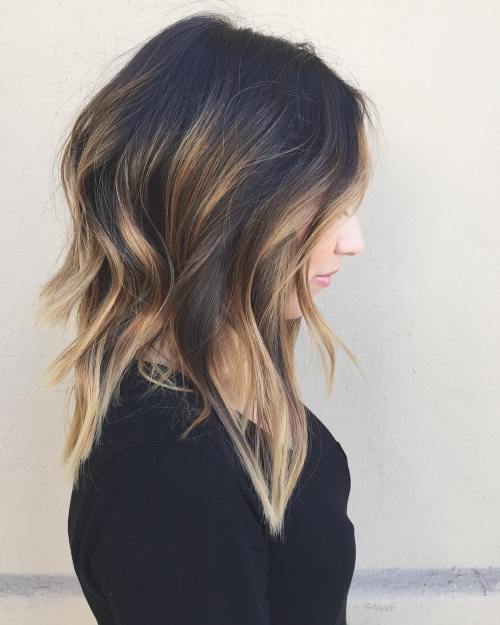 Asymmetrical lobs like these are super trendy and edgy, and they require a hair color that will really bring those unique layers to life. Deep blonde hues against a jet black base ensures there's tons of contrast to bring the layers to main focus.
Soft Brown Balayage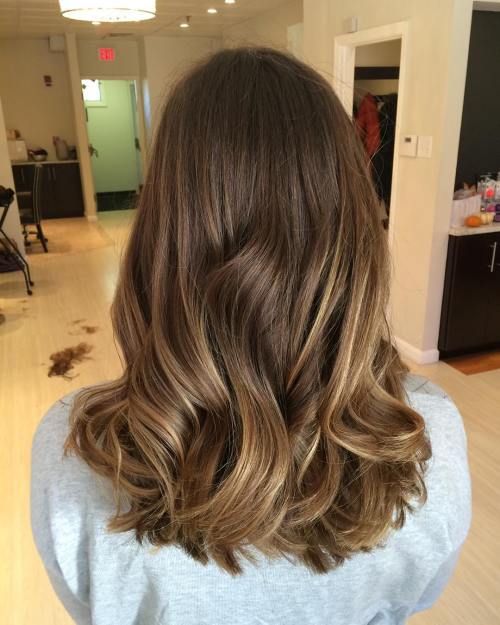 Soft, sweet, and nothing too risky- if you adore your mousy brown hair and want to keep that color strong while adding just a bit of lightness, consider a shade one step above your natural color. They will blend together in a delicate manner that looks as if the sun made those highlights instead of a stylist.
Blonde Babylights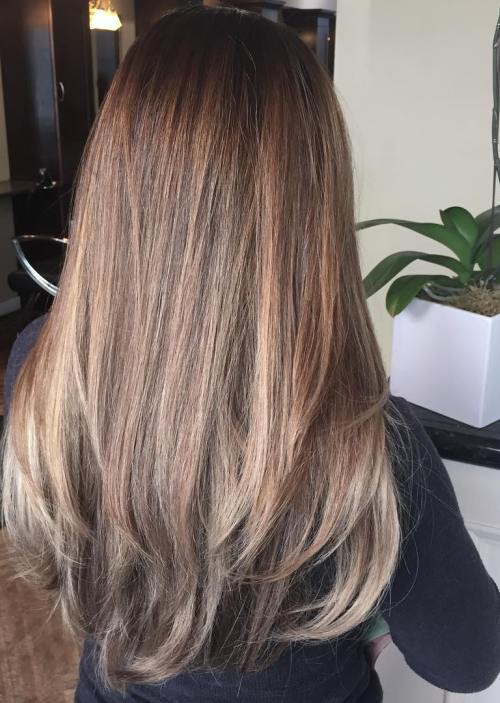 Thick, lustrous manes like these don't need any extra styling to look lovely; by simply tossing in a few blonde babylights into her gorgeous brown mane, she creates a luscious bit of diversity to her strands. Leave it straight and cut some long layers for just a bit of extra bounce.
Jet Black and Caramel Waves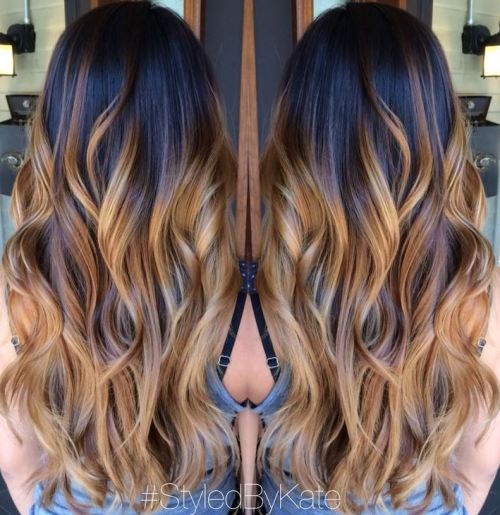 For something more bold, pair up your jet black strands with a striking, bright color. This lovely woman opts for a caramely color that's incredibly contrasting against her black roots, a look that's perfect for the summertime- especially with some voluminous, sexy waves like these.
Soft Light Brown Babylights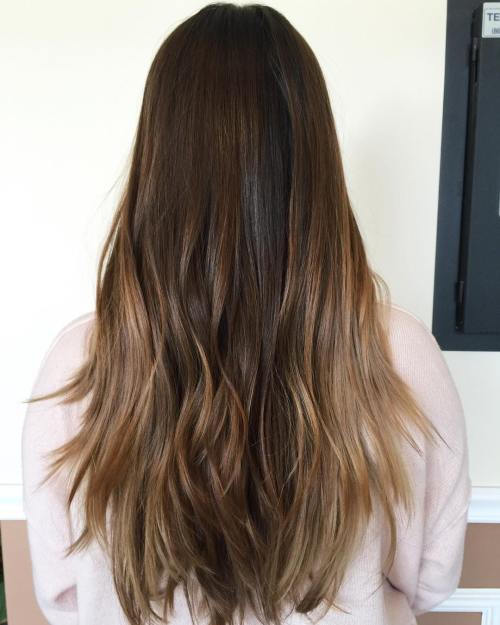 Earlier we took a look at what blonde babylights can do, but now I give you the brown version! These soft light brown babylights are tossed into a darker shade of brown for a sweet, delicate effect that looks completely natural.
Soft Brown Balayage Voluminous Waves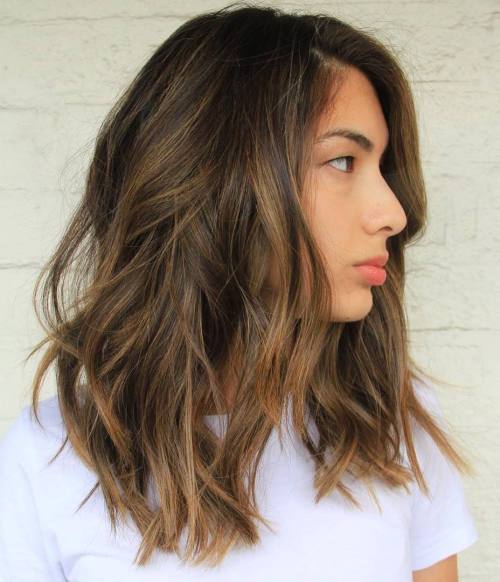 You know what this look is all about? MOVEMENT. It would look lovely if she left her hair completely straight, but we can't get over how much body and dimension is thrown into this lengthy bob haircut. So gorgeous!
Bronze Balayage Waves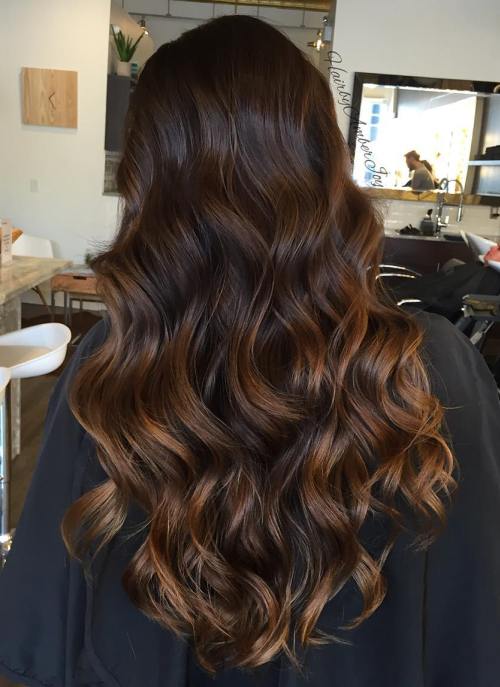 We can't deny the utter sex appeal in this hairstyle: dark chocolate roots with rich bronze balayage coloring- SO hot! And with long locks like these, you're best friend is some tight waves like these. Take this look to date night and he won't be able to keep his eyes off of you.
Fall-Hued Wob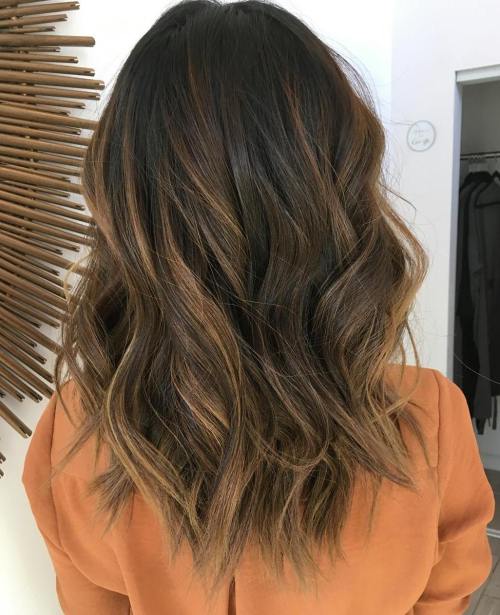 This is the ideal hairstyle for fall, with a combination of fall-hued browns for a very delicate and lovely finish. Add in a touch of waves to your lob to break up the ends and create some movement.
Melted Caramel Ice Waves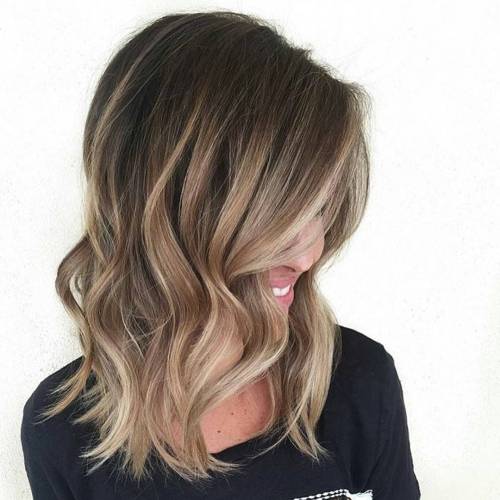 Going from dark to light can be a bold move, so ease into the transition by choosing the balayage hair coloring technique and adding in some caramel ice hues to the ends of your rich dark brown roots.
Blended Balayage V Cut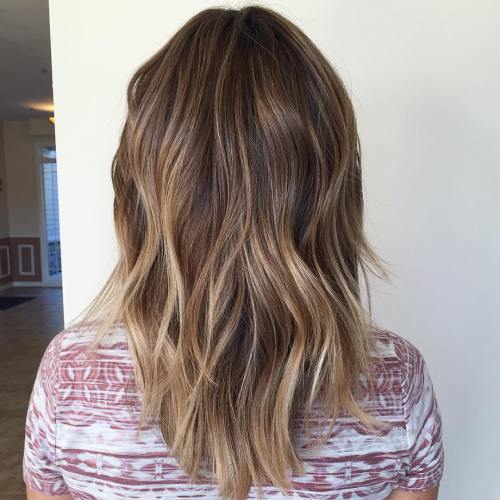 V cuts are ridiculously trendy, with extra length in the back leading to shorter sides. It's a great choice for thin haired gals who want more bulk. And to intensify the bulkiness and cause more drama, consider tossing in some lighter pieces throughout your mane.
Dark to Light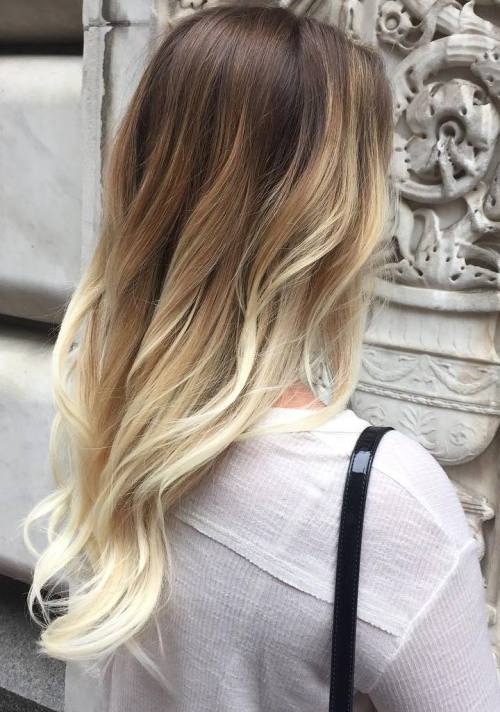 Why settle for only 2 shades of hair when you can look amazing with three? Make your hair a more subtle transition by starting off with dark roots, a middle shade of brown in the middle, and striking platinum ends. The look is fierce, but the colors are natural and flowing.
Very Subtle Balayage Wavy Lob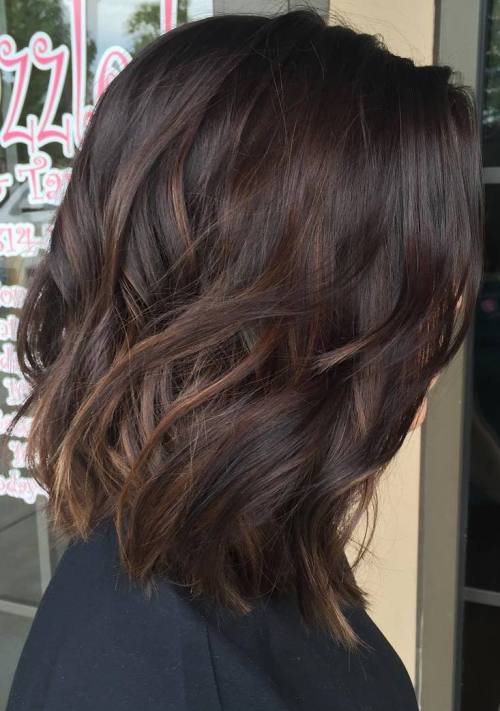 Wavy lobs are probably one of the cutest hairstyles out there, loaded with body and sass; they don't need tons of coloring or styling to look fabulous, but with just a few balayage highlights added in, you take this look from 1 to 10 in an instant.
Baby Blonde Dip-Dye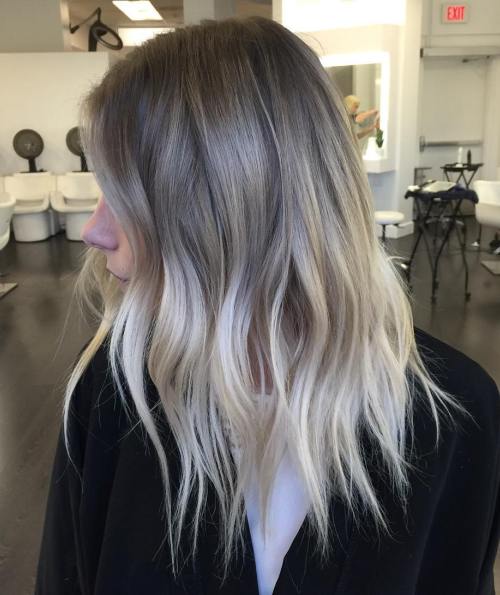 Her locks are tousled- sexy. Her locks are lightened- super sexy. Okay, so obviously this look is daring and sexy, but she tousles it up heavily for a casual look that can be worn anywhere. Love the transition from ash to a striking baby blonde!
Midnight Brone Wavy Lob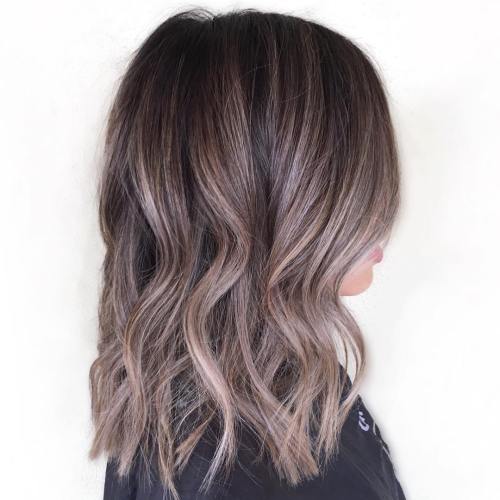 BRONDE. You've probably heard of it before, and it's been a huge hit among women across the world, from celebrities to schoolgirls. Well, if you're dying to take on the bronde trend, then consider some darker shades of bronde for a 'midnight' style.
Blonde Balayage Beach Waves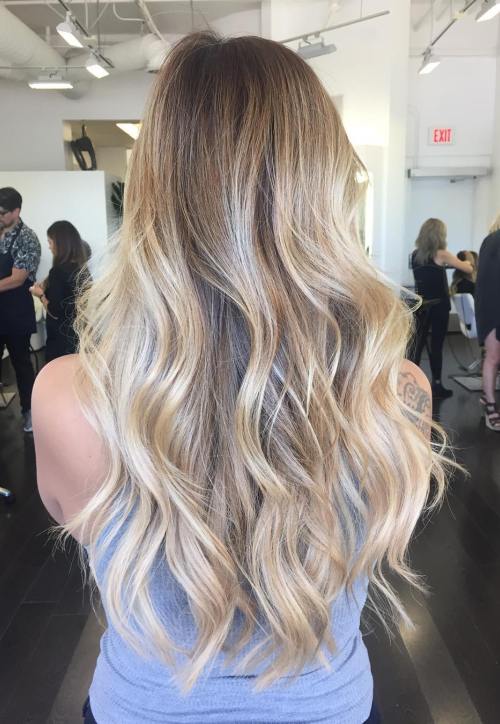 Summer is calling- and this hairstyle is here to ANSWER. Her long, luscious locks are given some brightness with some striking bright blonde balayage highlights, and those voluminous beach waves give us the feeling as if you've been on vacation all weekend long, enjoying your time in the sun. So sexy!
Golden Balayage Waves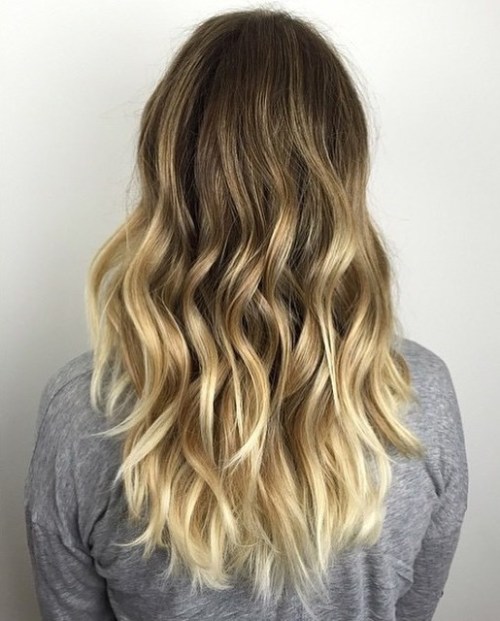 Ladies, you can never go wrong with GOLD- right? It may not be diamonds, but gold is certainly one of girls' best friends. Gold just so happens to look very carefree and sweet next to darker roots for a look that's light, bright, and cheery.
Blonde-Tinted Bob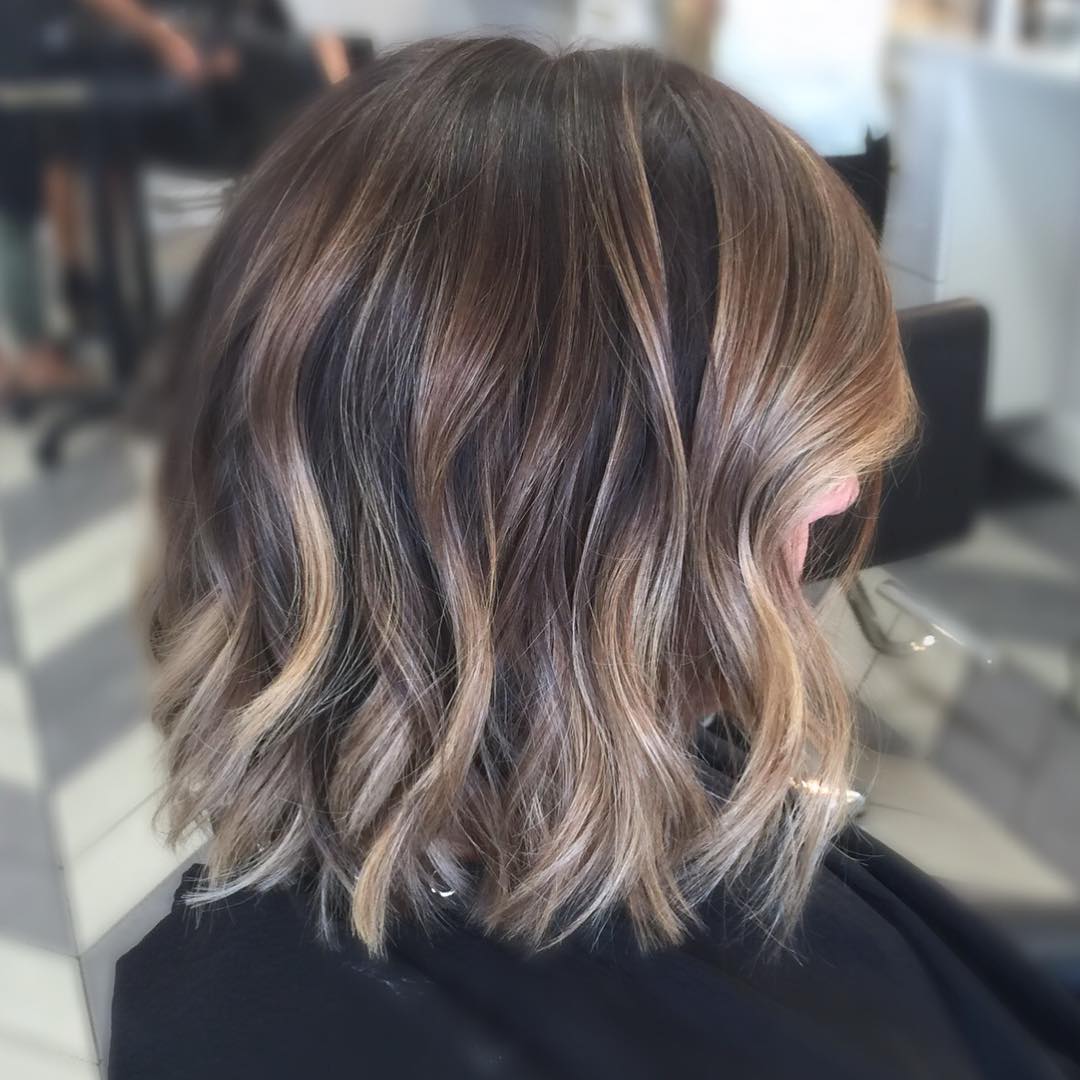 Dip-dye your brown bob into some blonde hues for a frisky and playful hairstyle you can wear anywhere.
Caramel Ombre Beach Waves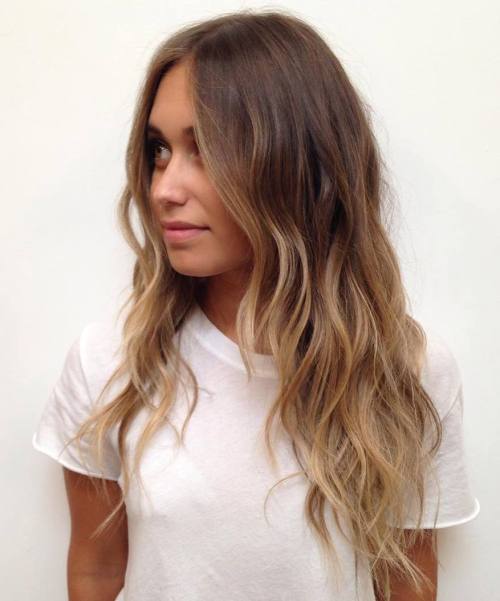 The blend of brown and caramel is flawless; it's bright, but not overly bright, while still giving your hair a lighter makeover. These colors look fabulous against her skintone, and tousling up her waves a bit gives it that beachy feel that's ideal for summertime.
Caramel Color Melt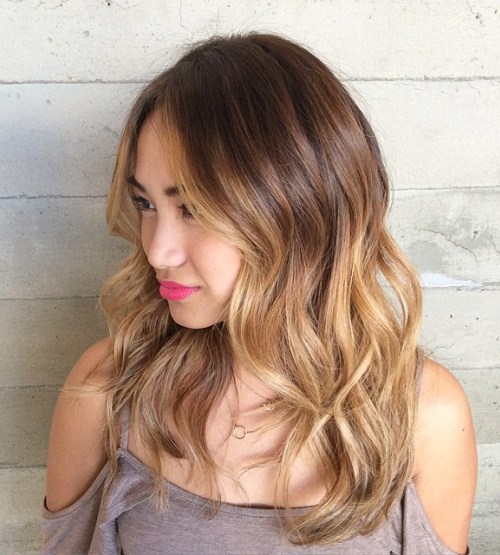 Caramel highlights around the face leading down to a caramel-y lower half: it's fabulous. Seriously, this pairing is as delicious and perfect as it gets! Try on some bright pink lips to really make your appearance POP.
Touch of Blonde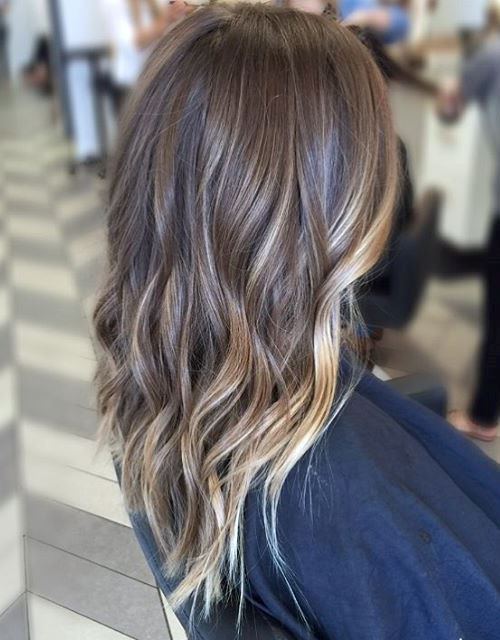 Don't want to overdo it with the blonde, but still want to indulge in a lighter shade a bit? Then simply toss in a few blonde pieces around the face and back of your mane. It brightens your overall complexion in a way that's natural and easy.
Brunette Sombre Waves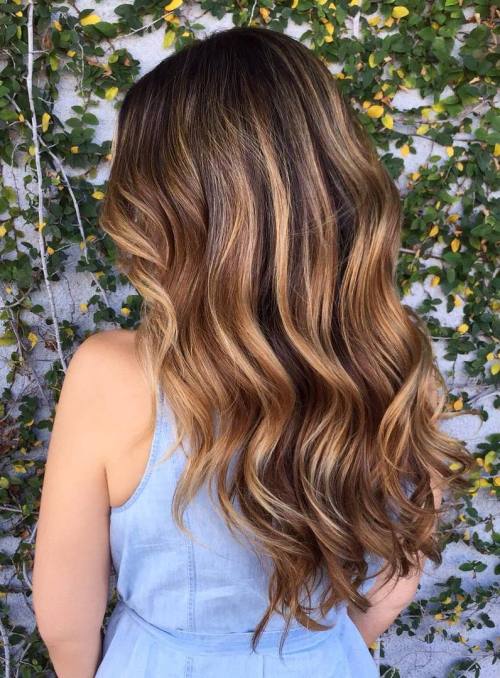 Ever heard of sombre? It's basically a 'soft' ombre that has highlights throughout your mane instead of a bold two-tone contrast. This brunette sombre is very delightful, a sultry blend that can work year-round.
Soft Brown Balayage Voluminous Curls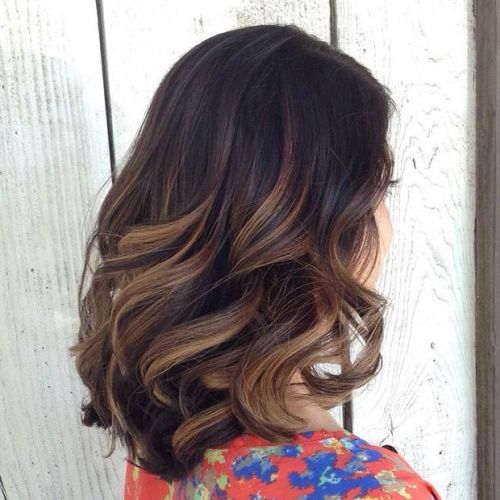 Thin hair doesn't have to be boring- use a large barreled curling wand to give your hair some big, voluminous curls, and don't forget to give your locks a few strands of softer, lighter brown pieces to create flowing dimension.
Textured Ash Blonde Balayage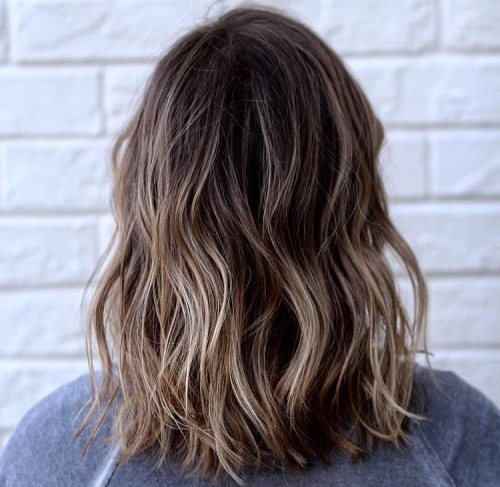 Ash blonde looks great on a multitude of bases, but there is something about dark brown roots and a dark ash blonde bottom that just flows so gracefully. Take this look out and about and texture it heavily for a casual 'do.
Super Bouncy Balayage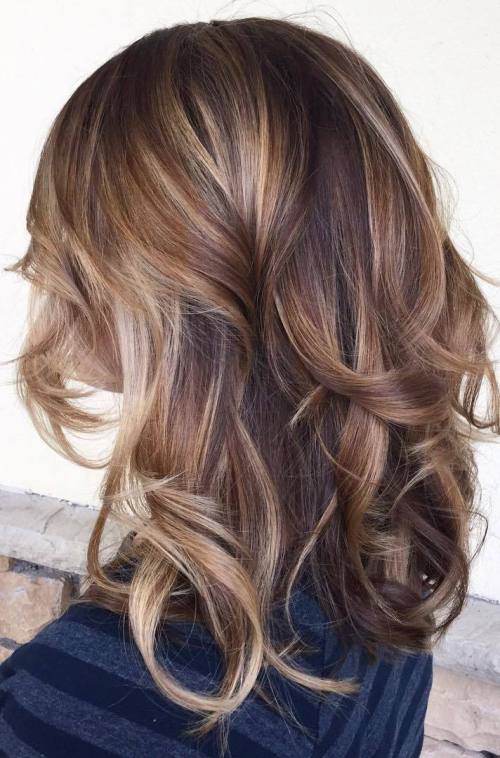 When you go for a balayage color that's bold and bright, it would be a shame not to bring the colors to life. Do some HUGE curls and make them extra bouncy to really knock these colors out of the park.
Bright Blonde Balayage Waves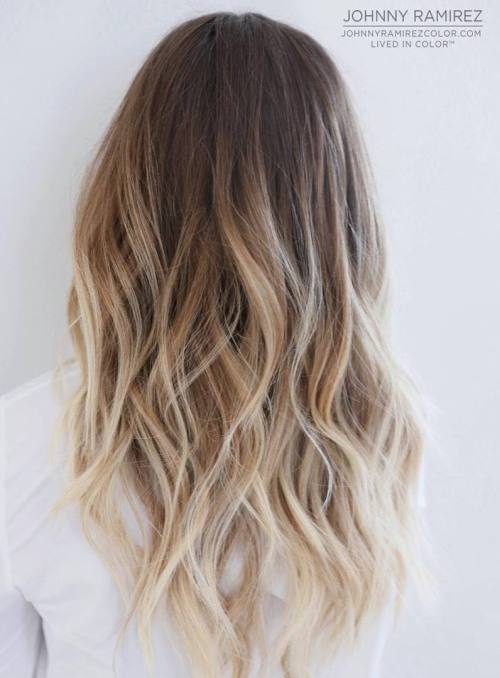 Blondes have more fun- so go bright or go home, right? Her sandy roots on top are perfectly matched up with a super bright blonde lower half. It's striking without going overboard, a bright look to carry you through the warm months.
Brunette with Golden Ombre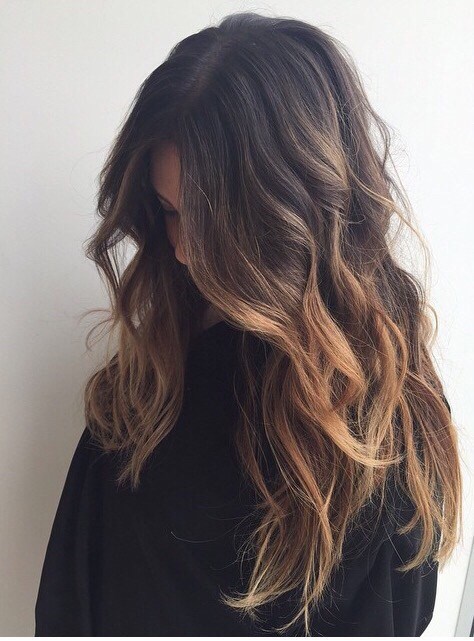 Make your hair a standout number by choosing GOLDEN hues! When you have dark hair on top and want something bold and bright, go for gold. It's a luscious shade that's eye-catching and beautiful, especially when it's charmed up with some extra loose waves.
Ash Blonde Balayage Curly Lob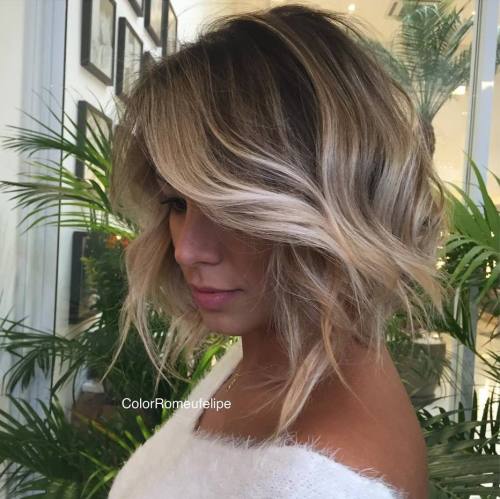 So you're looking for a hairstyle that's perfect for summer, but sexy and chic as well? THIS IS IT. Her short, layered haircut is loaded with volume, and looks extra divine with a toss in of blondes. Curl it, tease it, and hairspray it, and you're ready for a summer wedding.
Ash Blonde Ringlets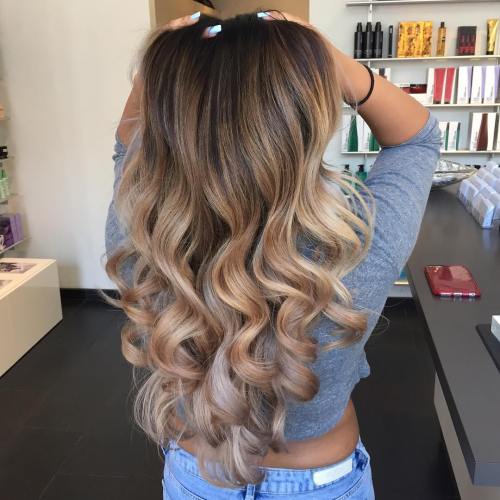 Ringlets. You CAN'T go wrong with ringlets. Especially when they're left precise and polished, so incredibly heavenly. Add even more glow to your hairstyle by introducing some light ash pieces to the lower half of your mane. loans-cash.net
Auburn Balayage Waves
Going from summer to fall is a breeze when you with auburn balayage. Auburn is very fall-friendly and has a rich appeal that pairs well with dark brunette strands.
Touch of Caramel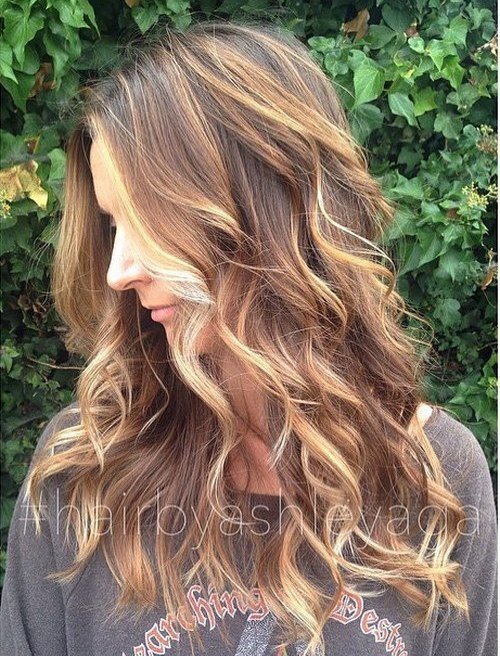 Caramel tossed throughout your entire mane is such a great idea if you're looking for something bright without going overboard. It sparkles in the sunshine and looks absolutely gorgeous. YES.