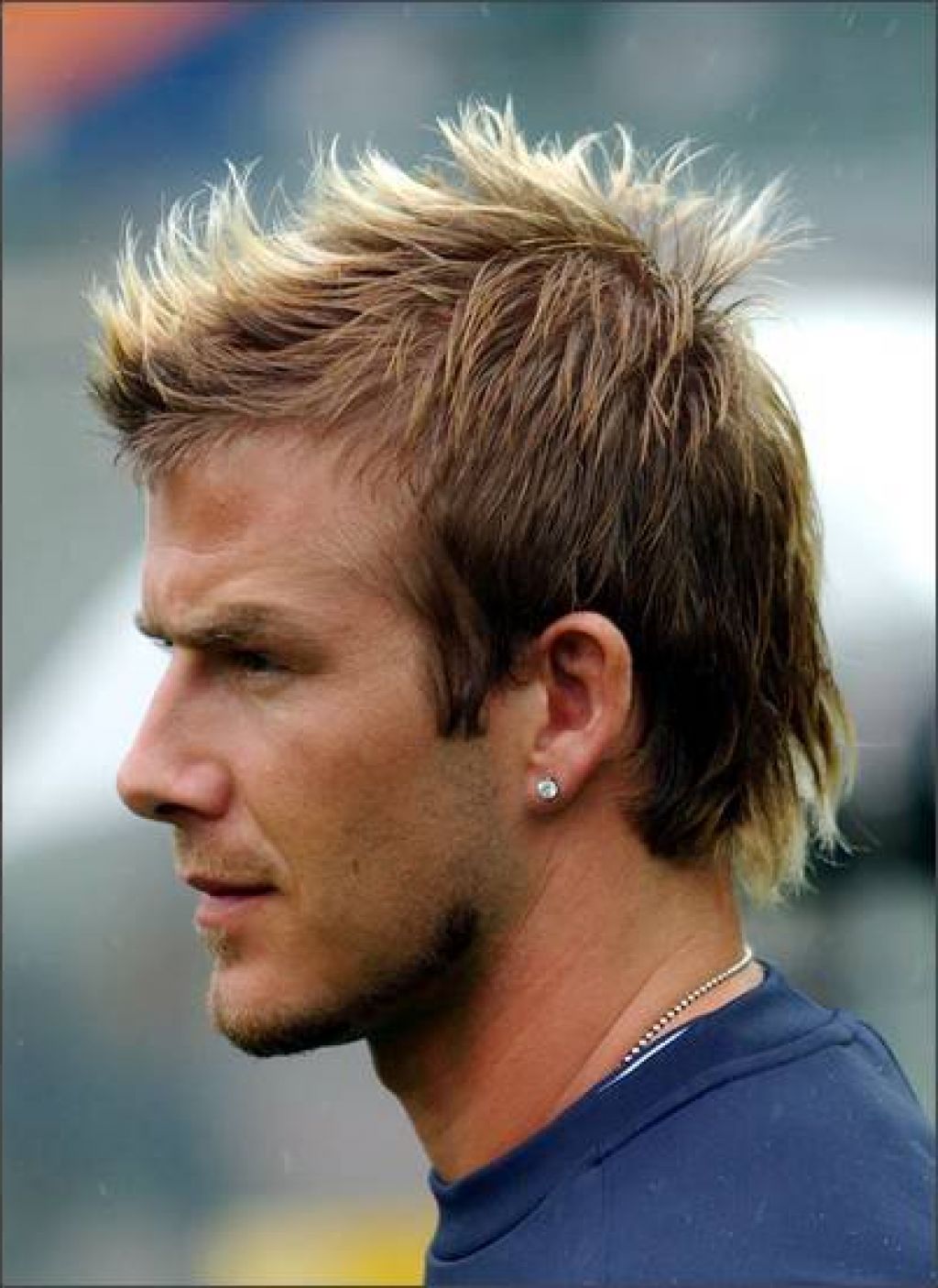 As we approach each new season or change in our life situation, it's natural to mark the fresh start with new clothes and a new haircut!  The faux-hawk is one of the great American hairstyles for men – inspired by the Mohawk first nation and then adopted by the British Punk movement in the 70's. It's part of the mainstream now, but still retains a trendy touch of the rebel.  Today's best faux-hawk haircuts are short, stylish and full of variety – so discover your new look here! (If you're looking for fauxhawk haircuts for women, check it out here.)
Short & sporty with clipped beard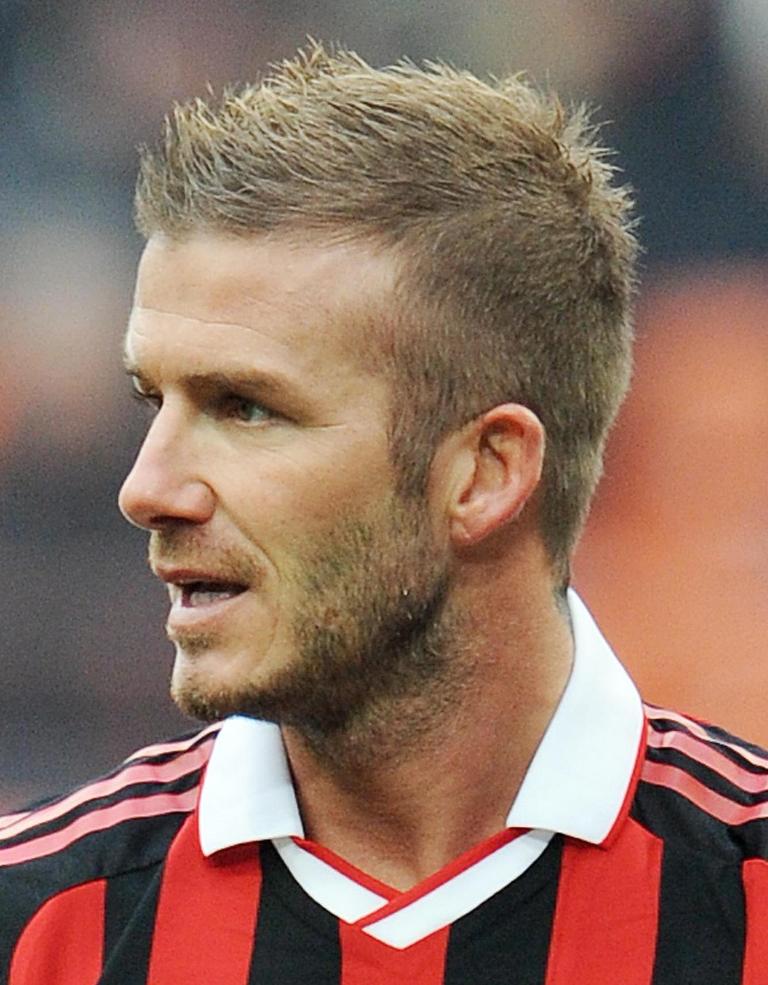 For a sporty guy, this short faux-hawk haircut is a trendy option that needs minimum styling.  It's brushed forwards to a small quiff above the forehead and with side-burns linked to beard growth over the cheeks and neck, it's a cool, masculine look.
Trendy faux-hawk with angled height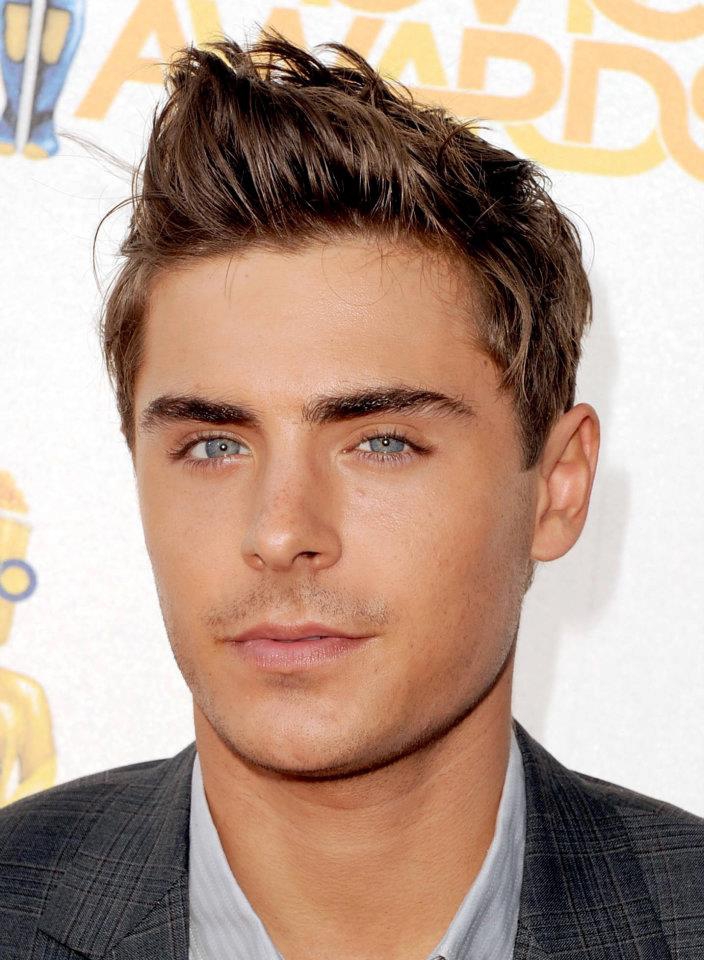 This carefully styled faux-hawk is great for projecting a well-groomed image.  There's individualism in the asymmetric quiff, which also adds height to a low forehead. The side-burns are kept short, so the attention stays on the upper face and those blue eyes.
Controlling coarse black hair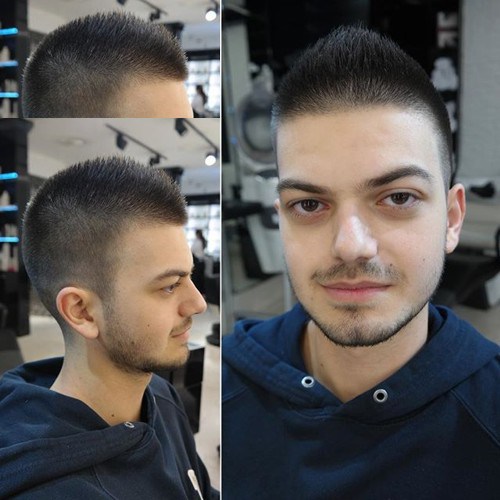 Thick black hair can be too coarse to style into a credible faux-hawk with quiff.  However, cut in this tapered faux-hawk shape, above a short back and sides, virtually no styling is required.  This strong look is completed with short side-burns, a jawline beard plus soul patch, and a moustache.
Disconnected longer layers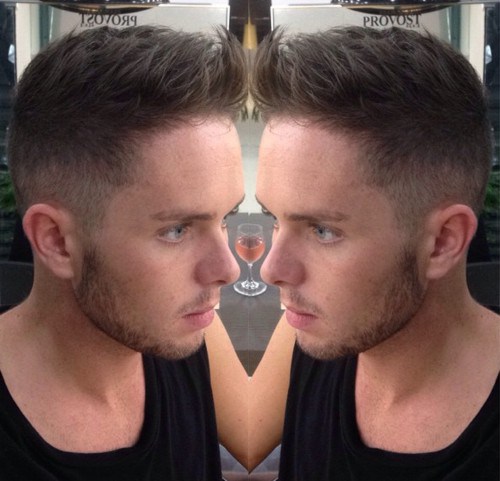 This short back and sides cut has a longer, faux-hawk top with lots of forwards movement.  A disconnected longer layer emphasizes the flipped-back quiff above sides cut in a graduated fade.  Short side-burns link with the beard shaped on the cheeks and along the jawline in a youthful style.
Precision-cut beard & spiky texture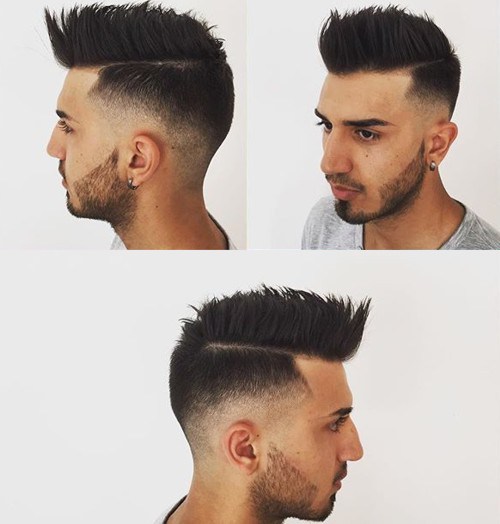 This edgier look departs from traditional styles by omitting side-burns and creating precision-cut, geometric lines on the temples and cheeks.  The beard is shaped at the chin and continues onto the top of the neck. The faux-hawk is styled vertically, with a spiky silhouette.
Triangular faux hawk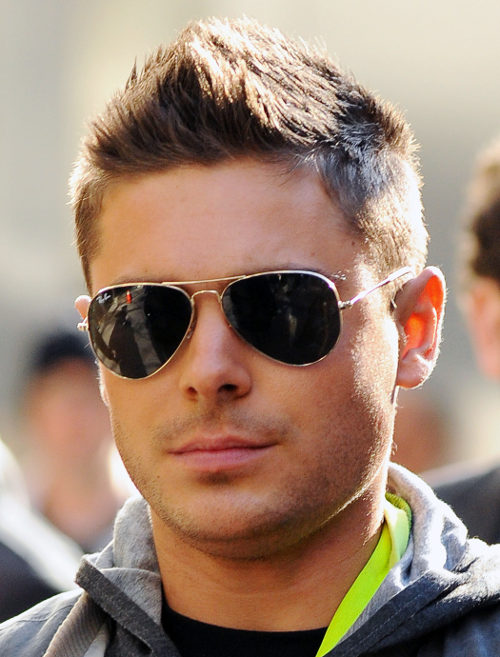 The triangular shape of this contemporary faux-hawk is a refined version of the original 'punk' haircuts.  Thick hair is cut with heavily textured tips that create a tapered effect at the ends.  This is an urban-casual look with light stubble for a relaxed image.
Movement & texture with blond tips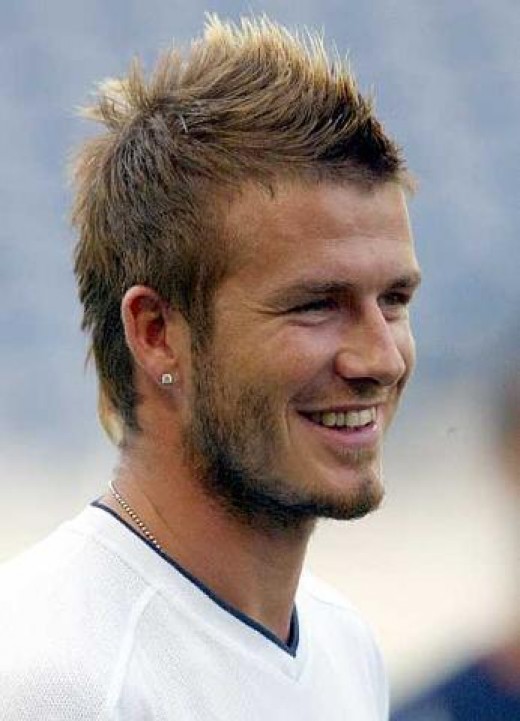 Instead of the contemporary short back and sides, this faux-hawk is longer, especially at the back.  The Mohawk line continues down to the nape of the neck and hair is styled outwards from the crown. The beard is left to grow on the cheeks and neck for a manly image.
Urban hipster 'alternative' haircut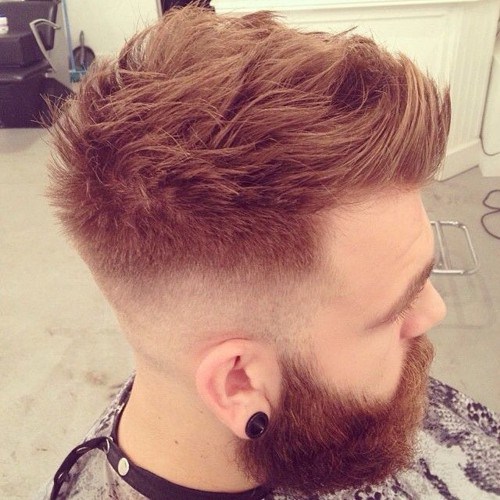 The model's fabulous auburn hair is left longer for an attractive, textured and tousled top with forward movement. The sides are cut in a fade with a gap between the temples and the start of the full, shaggy beard.  It's an amazing cross between 'mountain-man' and urban hipster!
Curled back faux-hawk with long nape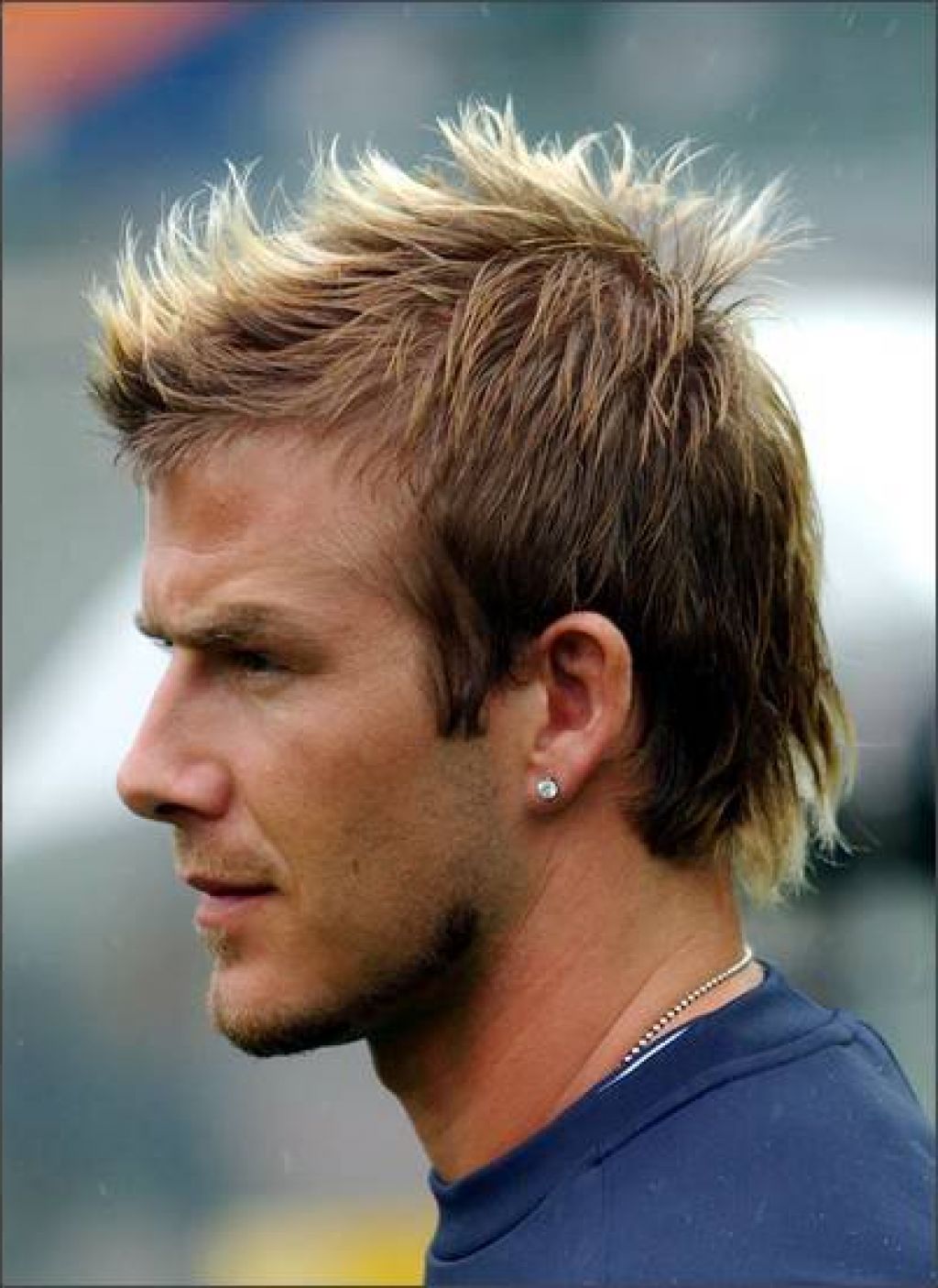 Bleached blonde tips highlight the curled back top that finishes with a spiky crown.  The faux-hawk line continues down to add bulk at the nape, and graduated sides end in medium-long side-burns.  The beard is shaped in a line hugging the jawline and has a soul patch and moustache.
Cute beige-blond highlights on textured fine hair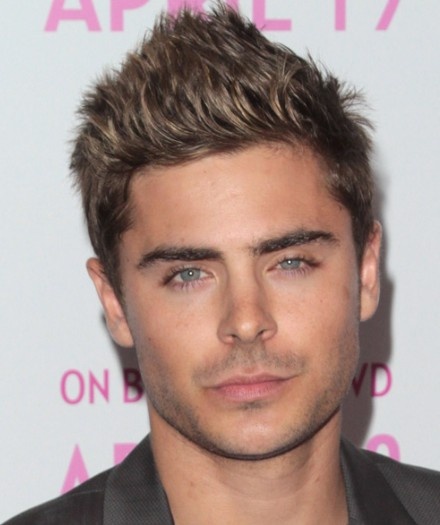 Here's a fabulous new look with contemporary and flattering beige-blond highlighting adding style and depth to fine hair.  To accentuate this model's square-jaw and chin, the top is cut in a 'mirror-image' shape and extra height adds length to a wide face.
Long & laid-back faux-hawk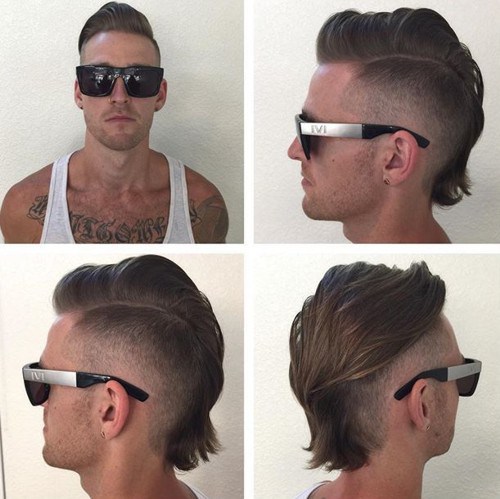 If you're not a corporate, business type and value your individual style, this mix of undercut and asymmetry may inspire you to try something completely different.  Seen from the front, this is a swept-back style, but each profile is different and long back layers are lightly flipped-out at the nape.
Contemporary shaved parting on thick hair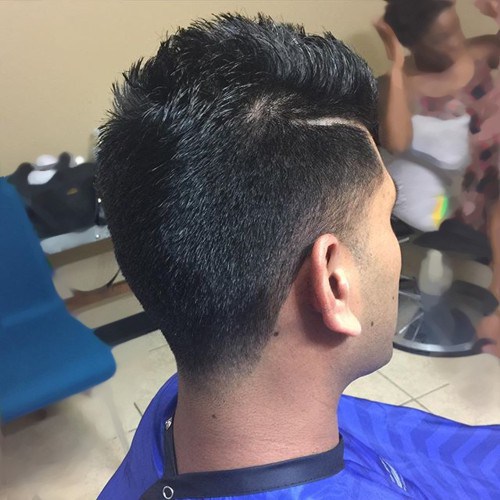 Coarse hair types look good in short, well-controlled styles like this faux-hawk with a slight fade at the sides and no beard growth.  And why not add a touch of contemporary style to a well-groomed, professional look with a shaved parting on one or both sides!
Long top with shaped side-burns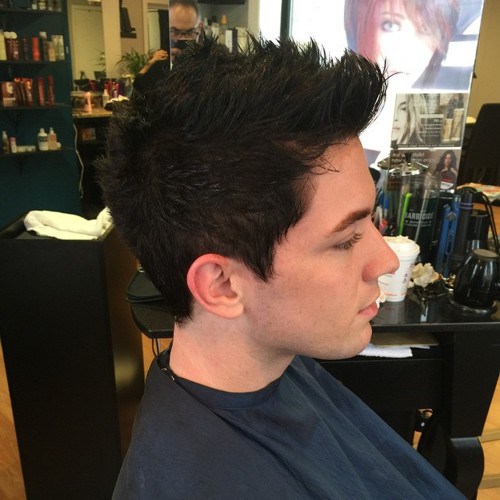 This youthful, fresh-faced look has a smooth hairline moving down from the forehead, creating an attractive face-frame.  The sides are styled forwards and end in short, well-shaped side-burns.  And this is a well-groomed look for a fashionable teen!
Trendy beige-blond highlights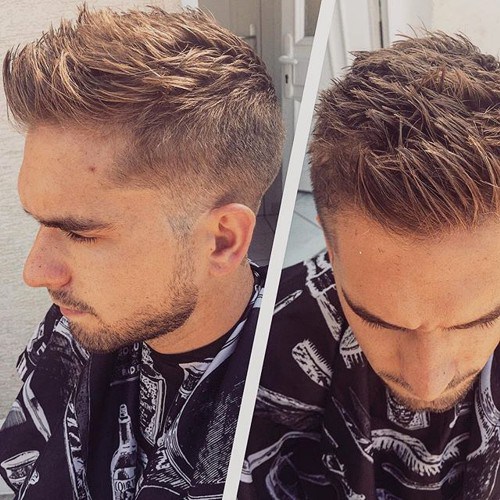 Stand out from the crowd with trendy beige-blond highlights, which look great on mousey or dark-blond hair! The latest hair colors like warm beige, ash-blonde and copper-blonde can really transform your ordinary image into a more attractive, trendy look women love! This faux-hawk also has blunt-cut tips to add thickness to fine hair.
Contemporary crew-cut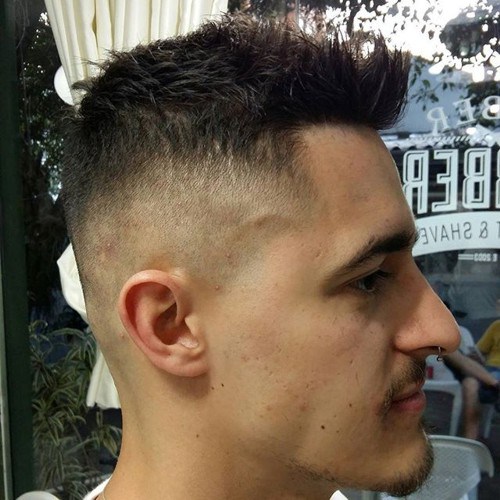 This version of the faux-hawk is a modern take on the classic U.S. crew-cut, with a shaved back and sides.  There's a nice geometric line at the temples and the cheeks are clean shaven.  A goatee minimizes the look of a pointed chin and the slightly drooping moustache draws attention to a nose-piercing!
High fashion blond highlights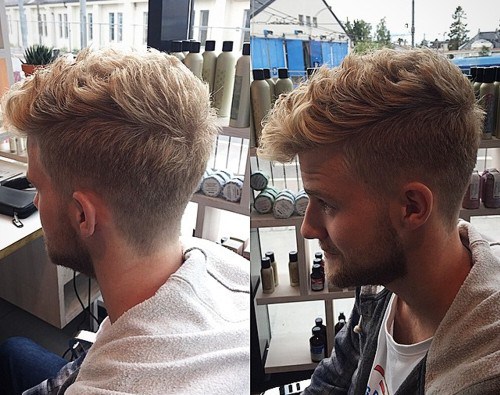 This super-trendy faux-hawk cut is the perfect balance between well-groomed, urban style and square-jawed masculinity!  Blunt-cut hair with a natural wave looks fantastic with lots of fine, beige-blond highlights accentuating the soft texture and floppy quiff.  The square-angle of the beard adds a manly finish to a great new look!
Geometric precision for thick hair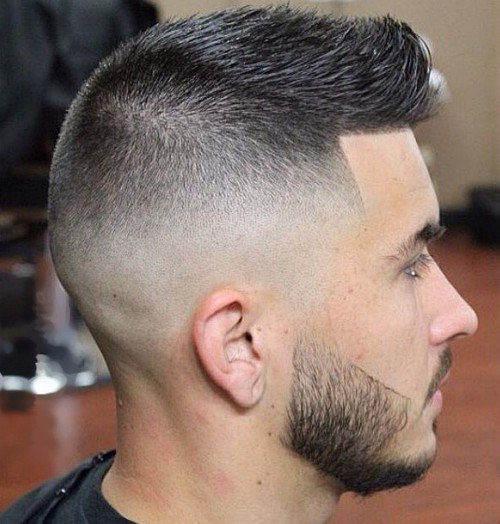 The stylist has used this model's well-defined hairline at the front to create a strong fade with a geometric line around the forehead and temples.  The lack of side-burns emphasizes the edgy cut and forward styled hair is treated with product to give a textured, well-defined look.
Highly groomed with added texture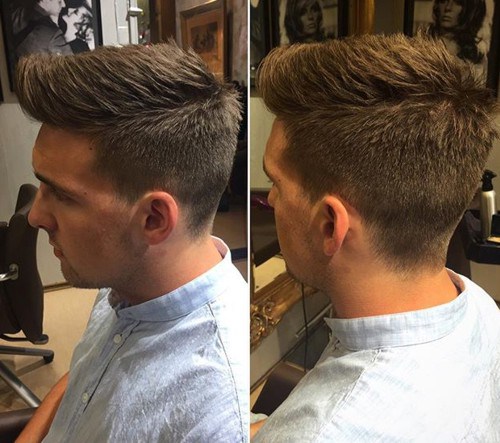 Here's a precision-cut faux-hawk spin-off, with closely-layered back and sides.  Hair is left longer at the front to create a bulkier quiff overhanging the model's forehead.  Fabulous texture is created with styling product and there's just a touch of light stubble, in this clean-cut look.
Full beard & tapered top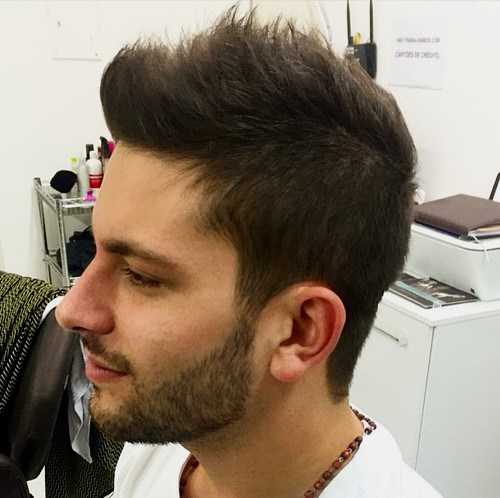 This look is professional and modern, without having any extreme features such as shaved sides.  The back and sides are layered and have neat edges with the beard shaped on the cheeks and under the chin.  Heavily textured tips thin out thick hair to produce forward movement from the crown.
Edgy shaved & V-shaped haircut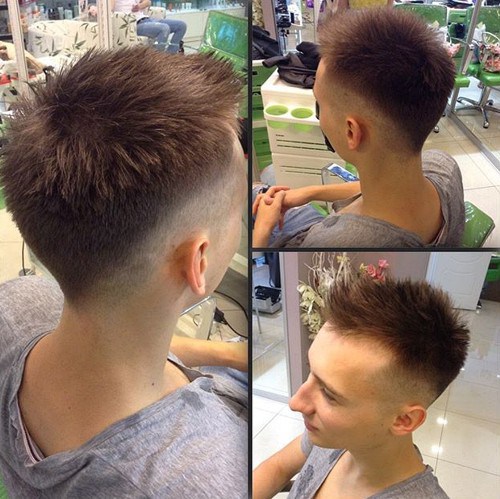 This haircut is a great modern shape with short layers radiating out from the crown and an unusual V-shaped back view.  Shaved sides create an edgy look and the whole look is about different textures and movement!
Fabulous high quiff on full faux-hawk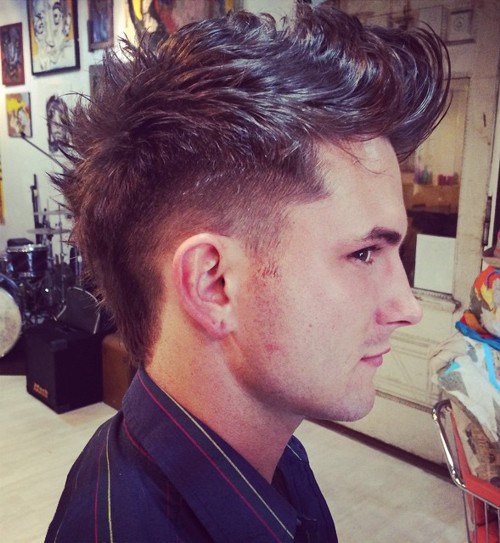 If you prefer to wear your hair a little longer, this haircut will ensure you also look well-groomed and stylish.  The sides are cut in a fade that leaves a buzzed curve around the ears.  Side-burns, beard and moustache are left as light stubble, with clean cheeks.
Exaggerated movement balances a jutting chin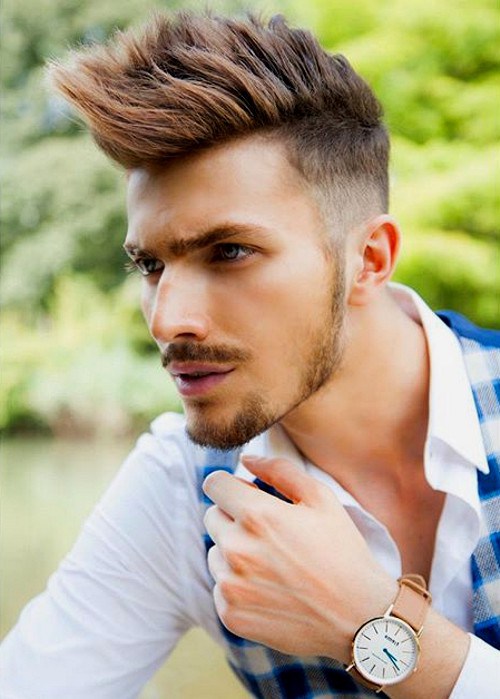 This exaggerated quiff hairstyle is a great haircut idea for a confident guy or creative type to display trendy fashion credentials.  The top is lightly highlighted with a subtle copper shade that accentuates the forward movement.  And this haircut and broken beard-line along the jaw will balance out a large nose or jutting chin!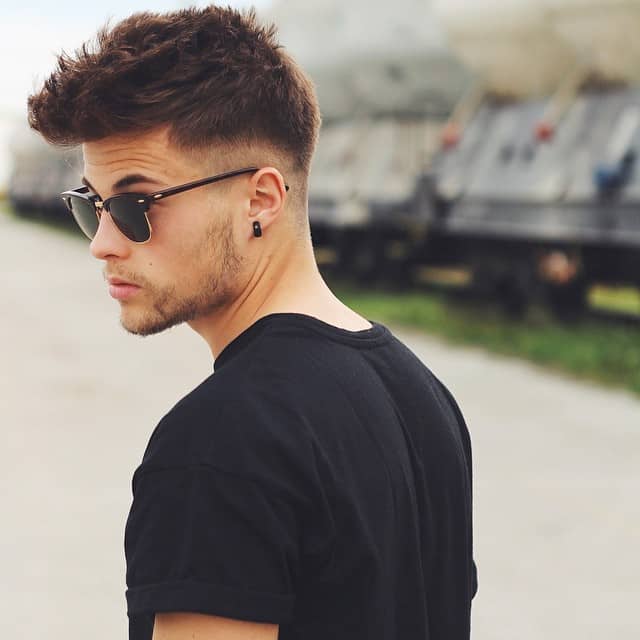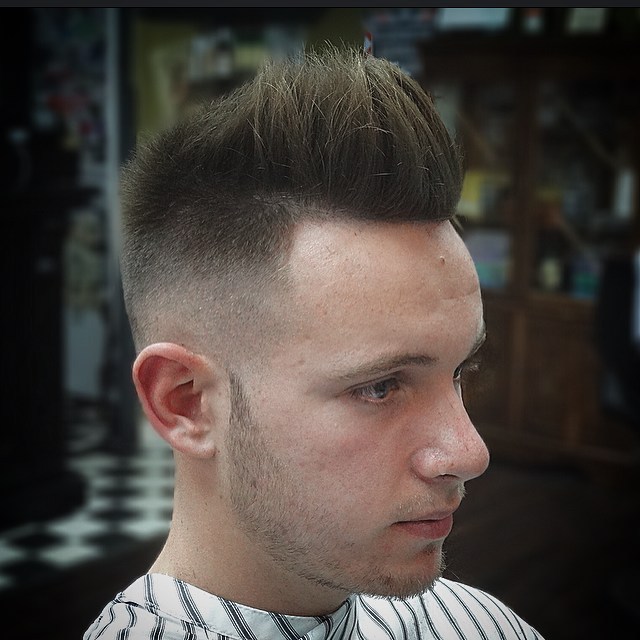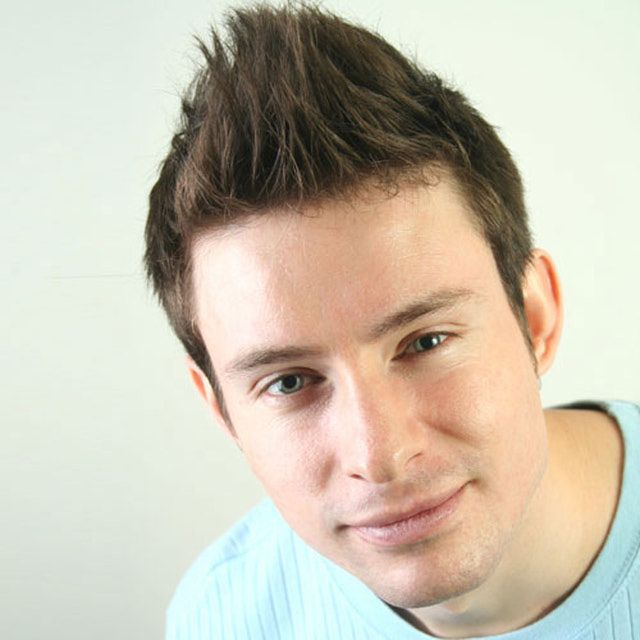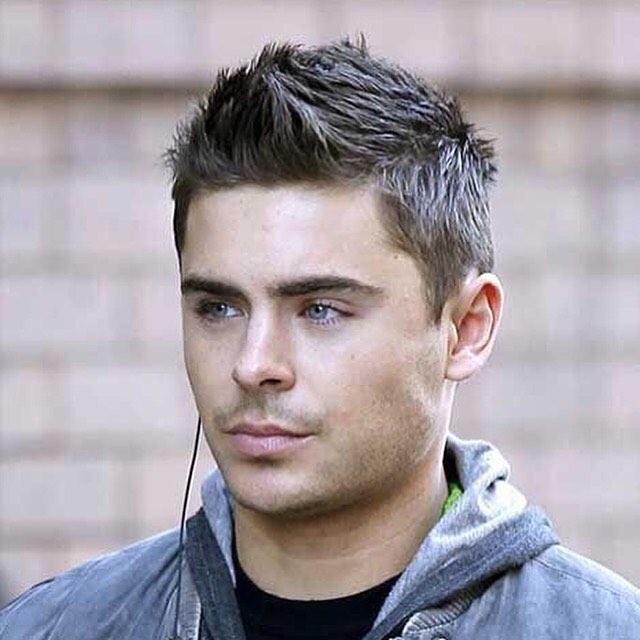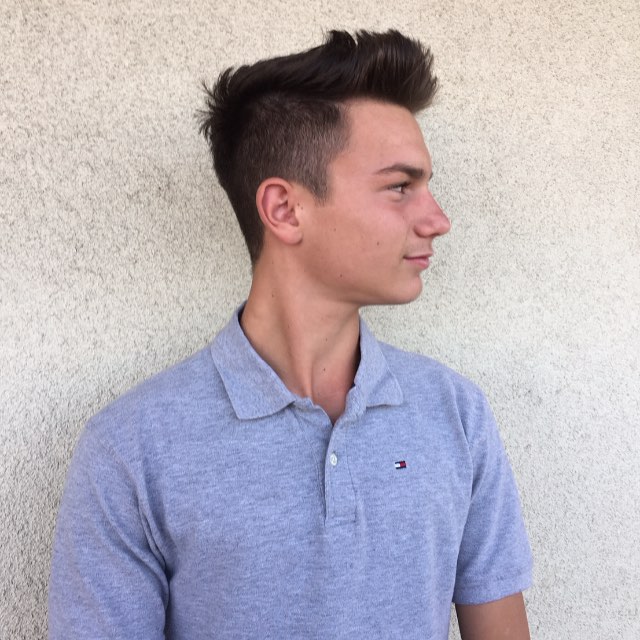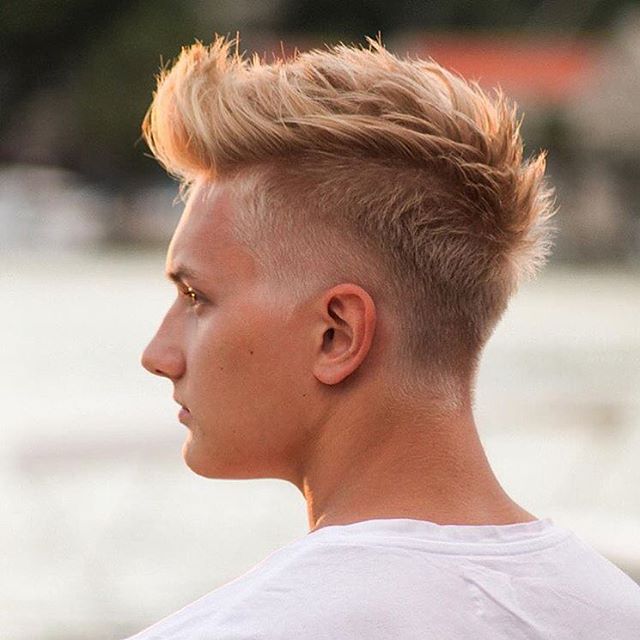 And here are more cool short haircuts for men, check it out here.