Are you tired of wearing the same styles every time you have a big night out? CHI feels your pain. That's why they have highlighted a fabulous new updo style that's perfect for date nights, weddings, and everything in between!
Anna Cantu of CHI Farouk systems has created the perfect messy braid. Ready to get started?
How to create this hairstyle
you'll need:
Hair Clip – ­ A flat hair clip would work best for this particular style.
Bobby Pins­ – Great for keeping in style in place…try to find ones that match your hair color and are easily hidden!
Thin Hair Ties­ – Make sure the hair ties can be easily hidden. Clear or hair color based ties would work best.
CHI Pliable Polish­ – This styling paste allows for styling with movement and definition…exactly what we want with this cascading braided pony.
CHI Infra Texture Hairspray­ – This CHI hair product has fast drying capabilities yet still allows for movement and volume.
Backcomb Brush­ – The perfect brush for back combs and teasing will easily separate your hair for this style.
CHI Enviro Flex Hairspray­ – Use this natural hold hairspray to create the final textures and finishes for this look.
Step by Step braid ponytail tutorial: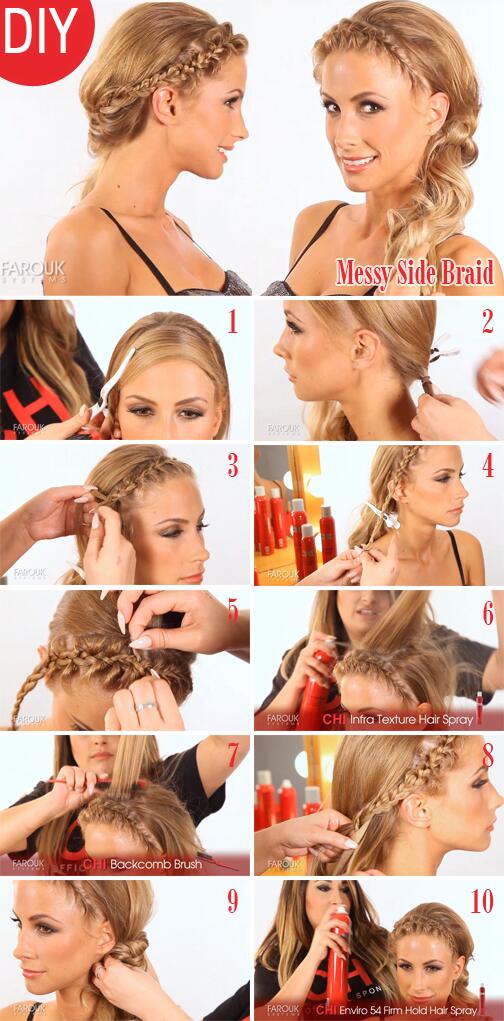 1. Start right around your hairline and begin to section off about a one each section using your Backcomb brush all the way from ear to ear.
2. Once this piece is secured with the clip, go to the opposite side of your hair and take a triangle section to make into a ponytail.
3. Use the CHI Pliable Polish all around the front hairline before beginning to braid. This will help reduce flyaways.
4. Begin to braid. Begin with thin pieces and gradually add more pieces of hair in to increase the size of the braid strands. Continue with the braid all the way down and then secure with an elastic band.
5. Once you're finished with your braid, go in and begin to make it a little messy. Here's the fun part! Slightly tug on the hair to make some pieces appear looser.
6. Now that you've finished your braid, you want to begin to tease and add texture to the top of your hair. Use your CHI Infra Texture Hairspray and begin to tease ONLY on the top crown section of your hair.
7. After applying the spray, use your back comb brush to add tease and lift to the crown part of your hair.
8. Once you've finished teasing, head back to the braid and begin to incorporate the end of the braid into the rest of your hair. Start on the right side and continually work your way toward your secret pony tail.
9. Once you've reached the pony tail, stop braiding, twist, and secure with bobby pins.
10. Now it's time to apply your CHI Enviro 54 Firm Hold Hairspray. This is going to help secure your upstyle so it won't go anywhere.
11. Go and enjoy your day/night with this fabulous hairstyle!
This hairstyle is perfect for a girl's day out or date night on the town – with the help from CHI hair products.