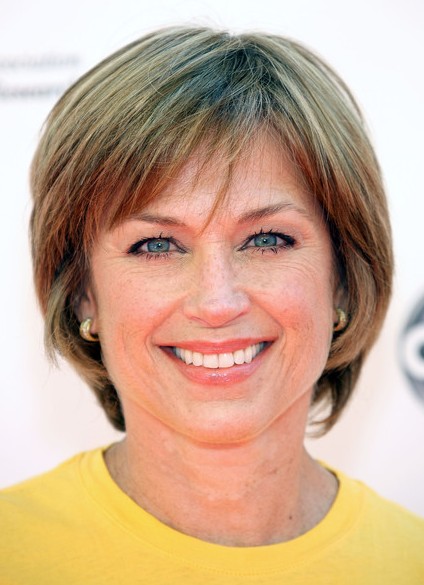 Fashionable short haircut for mature women age over 50 – chic straight bob cut with side swept bangs
As a famous ice-skater and Olympic sportswoman Dorothy has always led the fashion for short, chic bob haircuts, she is a big fan of short hairstyles, no matter short bob cuts, pixie cut, pageboy cuts, she love this cuts very much.
At a more mature age, Dorothy still looks youthful with this slightly longer bob which echoes her love of simplicity and a natural look.  This bob is cut in graduated layers moving down from the front to a longer length along the back.
The ends are expertly textured, creating tapered tips in the flattering wispy fringe, brushed lightly to one side of the off-centre parting.  Dorothy's hair is lighter these days, with the grey attractively converted into golden blonde highlights that accentuate the smooth texture and movement.
With the sides pushed back to show a pair of pretty earrings, this style is great for showing off a happy face at any age!