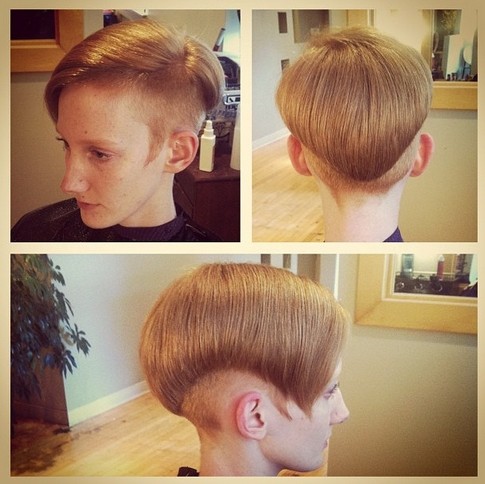 Stylish short boy cut for women
This short haircut is perfect for showing off your daring personality and a face with dainty features. It's a bold 'boy cut' with a sweeping curvy hairline above a razored shadow shape on the lower part of the head. This short hair style is suitable for fine to medium textured hair with the top section left without layers, reminiscent of a bowl-cut – from a bowl with wavy sides!
Asymmetry is a key feature and the two profiles differ greatly. One side is under-cut with a sharp, side-point accentuating the cheekbones and the hair swept over the head from a side-parting. The longer side has a shaved side-point with the hair styled smoothly emphasising the lovely curved shape cut around the ear.
This is a very versatile short hair cut than can look formal and carefully smoothed, as in the photo, or prettied up with big round curls creating bouncy volume or a few waves for a casual, tousled look! Precision-cut styles like this present the perfect opportunity for some strong colour such as platinum-blonde, although the model's natural, strawberry-blonde hair does suit this look perfectly!
Find more cool hairstyles on hairstyles weekly!