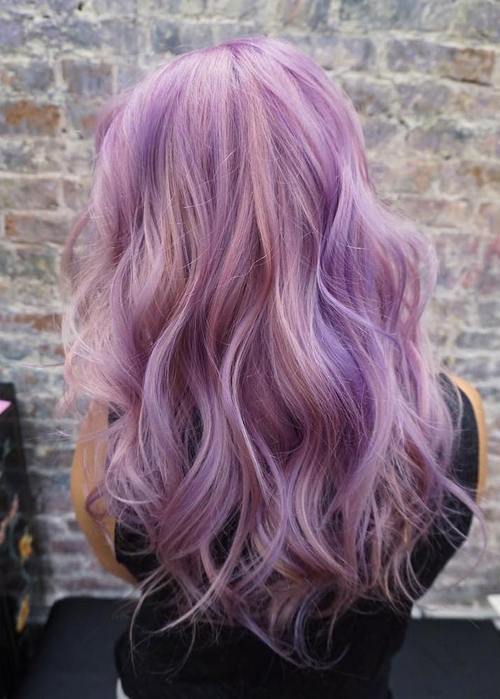 Purple may have started off as a fun hair color for this season, but it's rapidly gained a place amongst sophisticated evening styles, romantic fantasy blends and as a trendy addition to every day hairstyles.  If you like sassy and edgy trends you must take a look at these amazing color blends on modern styles, which I can guarantee you have never seen before!
Gorgeous golden-blonde with purple & faded lilac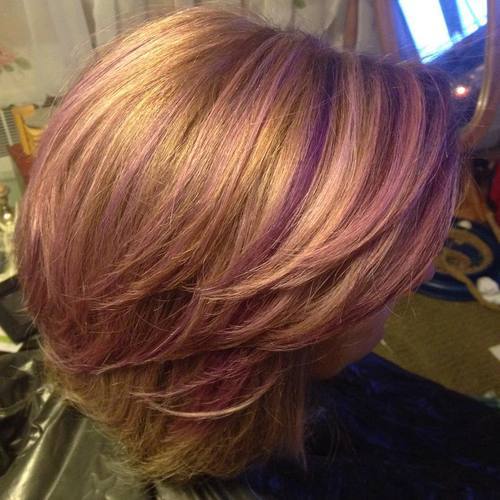 And if you're looking for something radically different – how about this – golden blonde with purple and pretty pink highlights.  It's a fantastic new look to wear for a party or other special occasion where you really want to look ultra stylish!  I love the mixing of soft golden shades with edgy purple.
High-fashion white & purple fantasy on wavy asymmetrical bob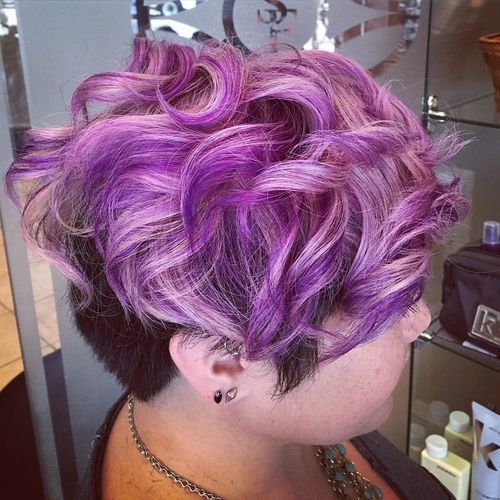 This cut is a geometrical short bob with swept across bangs and lovely tousled waves draped over the top and sides.  Add lots of sassy color and texture to a brunette base with this fantastic shell-pink blonde and vivid violet balayage!
Neon purple & fuchsia chin-length bob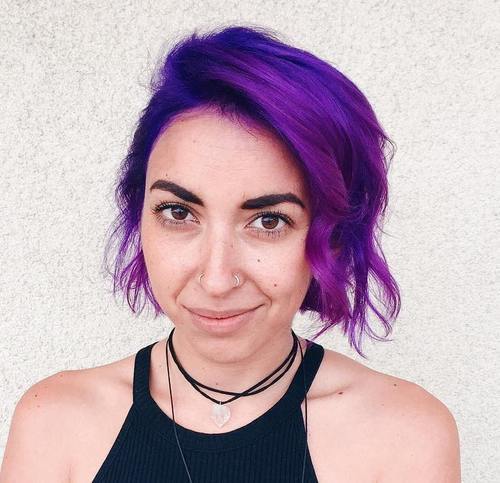 Purple is a great color for intensifying brown eyes and with well defined eyebrows, plus a purple and fuchsia hairdo, you can keep your make-up to the minimum.  This asymmetrical, chin-length bob achieves extra volume with edgy broken waves at the sides above wispy textured tips!
Lovely lilac balayage on blonde bob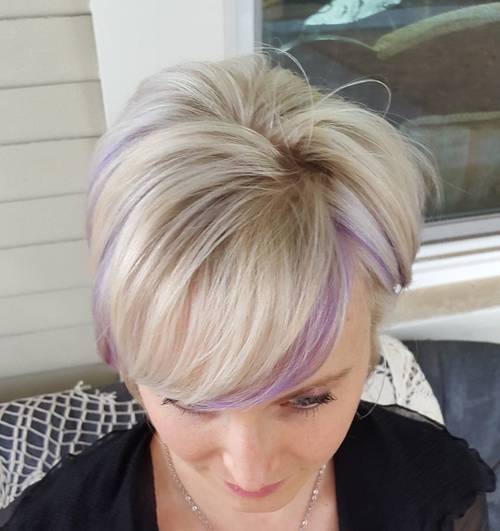 Here's a soft, feminine hairstyle idea with the latest neutral-blonde sparsely highlighted with pretty lavender color accents.  I love the new hazelnut shade on the roots and the cute border of lavender on the lightly curved bangs.  This is a great balayage shade to bring out the color of green eyes, too!
Pretty purple roots & lavender-ash-blonde bob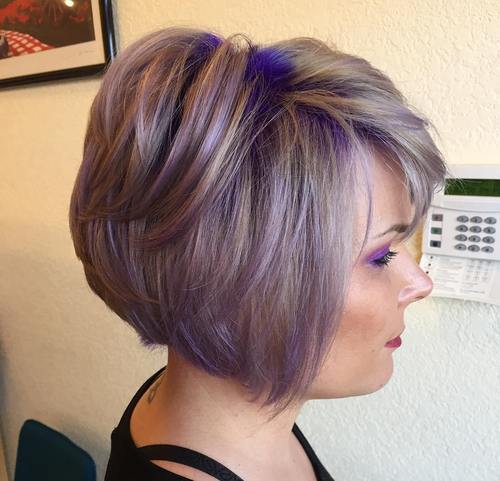 Neon purple roots, on a medium ash-blonde A line bob with purple and lavender balayage is most definitely an edgy new look!  The soft curves of this angled bob with bangs create a face flattering look for heart, long and thin faces and show off a dainty neck tattoo.
Edgy undercut bob in pink & faded orange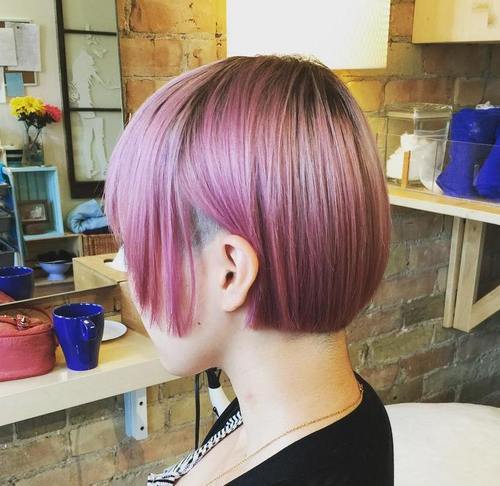 Fine hair can look very cute in a simple chin length bob, but you can get a very edgy look if you add a shaved undercut section!  The back finishes in a smooth line at the nape, contrasting with the graduated layers framing the face.  With a raspberry pink faded look and unexpected dashes of muted orange, you can show your edgy individuality!
Brunette bob with purple & lilac ombré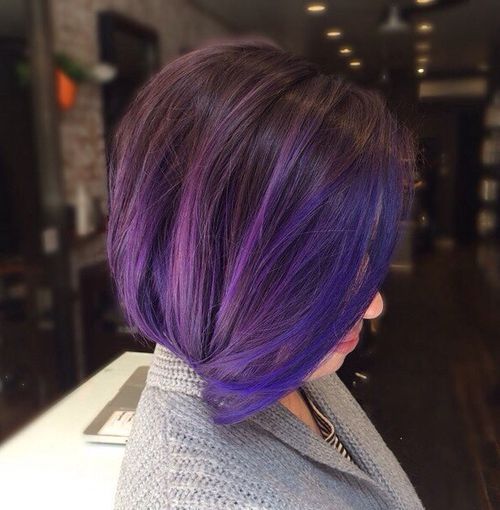 Thick hair has always looked fabulous in a simple A-line bob.  However, if you're up for a bit of adventure why not copy this trendy, new hair color idea?  Instead of having a dip-dye color design graduated down the hair, this fresh trend has deep purple framing the face, with lilac-pink creating a color fade moving towards the back!
Future fashion silver-lilac curly bob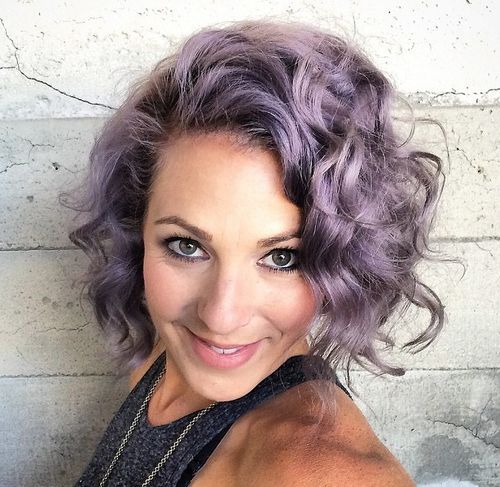 Here's a glamorous look taking advantage of the fact that lavender and purple shades are actually the best hair colors bring out the color of green eyes!  The pretty silver, ash blonde and lilac blend reflects lots of light from the cute waves. This is a great 'side-volume' style for narrow or angular faces.
Sassy plum purple & copper on long angled bob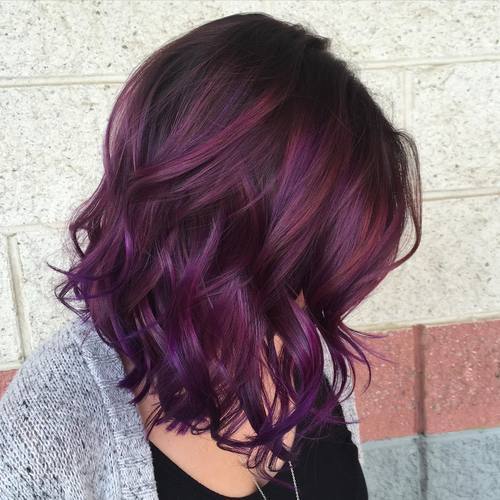 This hot new look is perfect for adding modern edge to a brunette lob on medium/fine hair.  Silky hair needs added volume and these layers of overlapping defined twists are the fashionable way to get movement and texture.  Add in the multi-toned color design and the result is a rich, deep and 3-dimensional look!
Lovely long bob with neutral blonde highlights & purple tips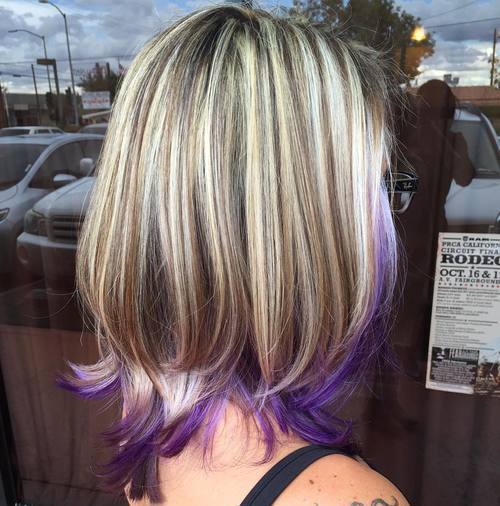 Here's a very contemporary long bob hairstyle for thick hair, cut with long layers. Daring brown and white stripes – plus purple tips – make this hairstyle a 'one-off' original.  Purple is used sparingly on face-framing strands and to highlight the lightly flicked out tips, keeping this look chic, rather than hippie.
Racy orange scarlet & ash-purple on long waves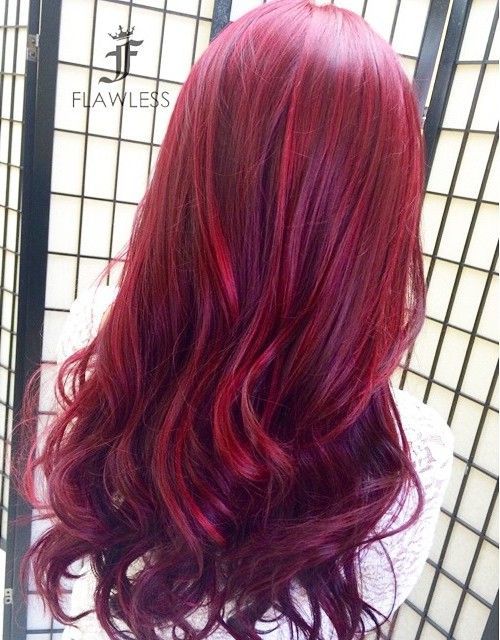 This is one of those hair color combinations that sounds a bit strange! But when you see the effect of scarlet with ash-purple roots and ombre, the effect is spectacular! The various shades of soft orange and red highlight casually tousled waves falling in a breathtaking fantasy in this crazy, edgy and super-sassy new look!
Fabulous lilac & faded coral on long romantic waves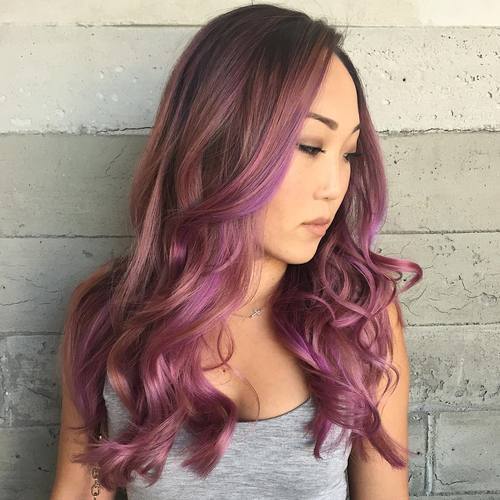 This gorgeous, multi-toned fantasy design creates a softly romantic image on long loose waves. Lilac highlights on the waves around the face complement this model's skin-tone very well.  And ash tones mixed with faded tones show this is a super-cool, up-to-the-minute hair color idea!
Adorable deep purple on brunette wavy bob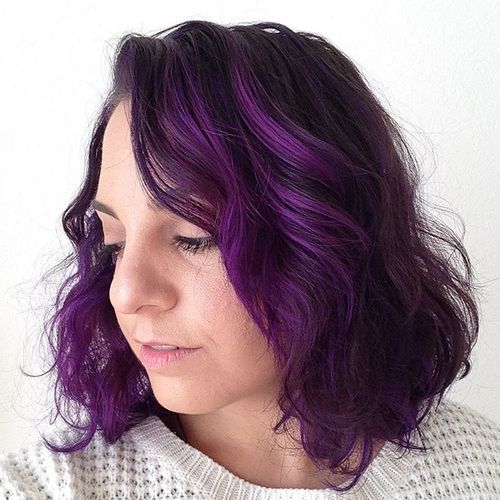 This is a good style to add width to a narrow face and soften an angular face.  Adding deep purple around the face, which then continues towards the back in a faded pink/lavender, is the very latest way to apply color to shorter hairstyles.  And this warm shade of purple is absolutely perfect for bringing out the color of brown eyes!
Sexy Brigitte Bardot look in lilac & faded pink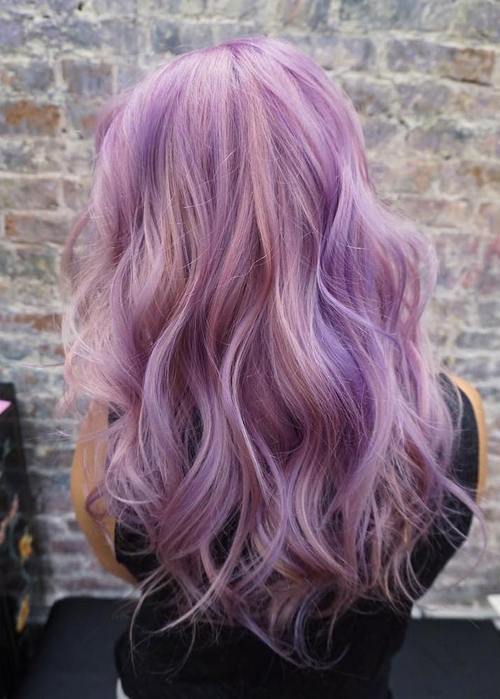 Apart from the amazing colors, this image shows a very authentic Brigitte Bardot hairstyle from the 60's.  The extra-large, loose waves hang in a gloriously tousled V shape, down to the waist.  The pastel colors are fashionably muted to create a trendy faded vibe on this relaxed hairstyle.
Beautifully blended red, purple & indigo-blue on black hair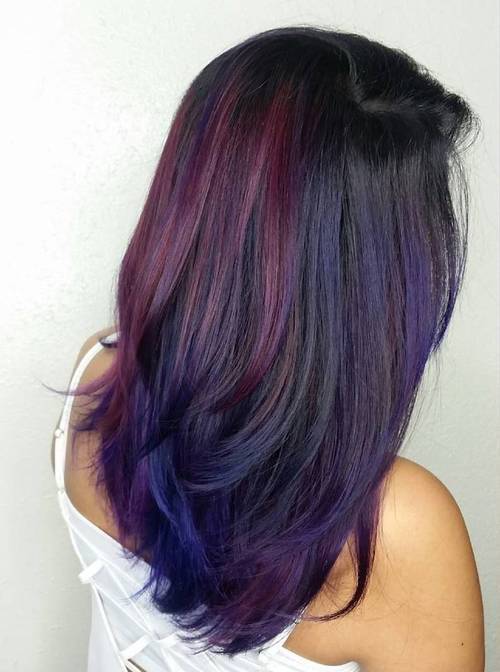 Black hair always seems to have been a little bit neglected in the trend for fashionable balayage. But, as you can see everything has changed and this expertly blended hair color design has launched a hot new trend!  Straight black hair becomes a totally eye-catching look with these rich, deep color accents that complement darker skin tones.
Unique plum-red & purple ombré surprise!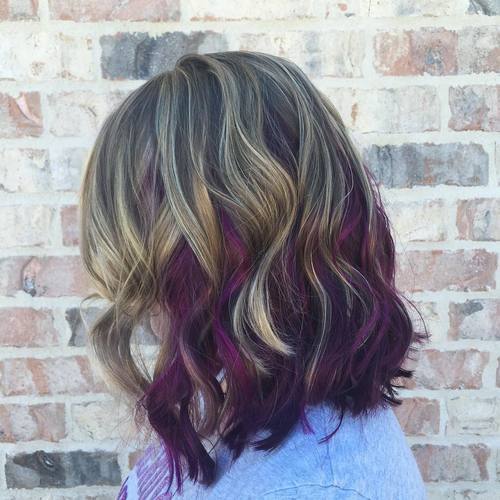 The top section of this modern wavy bob has fairly regular blonde highlights in dark blonde hair.  Nice, but not individual in any way. However, if you add rich, plum-red tones darkening to deep purple in a beautifully blended ombré, your hairstyle becomes unique and unforgettable! And just imagine how great it looks in a ponytail or messy bun!
Appealing long blonde curls with lavender balayage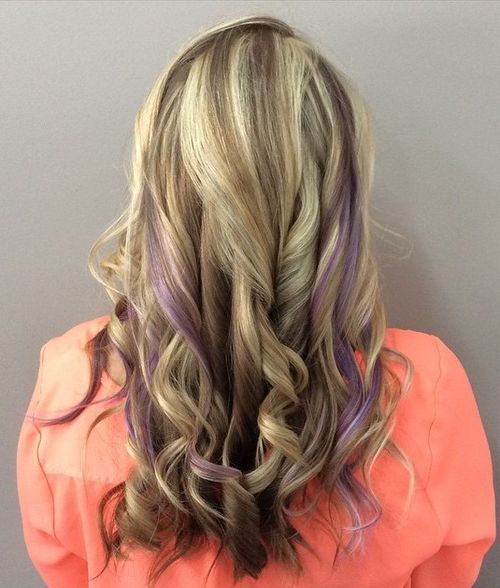 This is a very interesting look, which uses a variety of ringlet styles to create fabulous texture in the hair.  It's one of the exciting, new bronde hair color ideas with an almost equal mix of blonde and ash-brown shades in vertical sections.  With a touch of pretty lavender balayage, this is a great prom, party or bridesmaid hairstyle!
Vivid turquoise ombré beneath pink and peach tones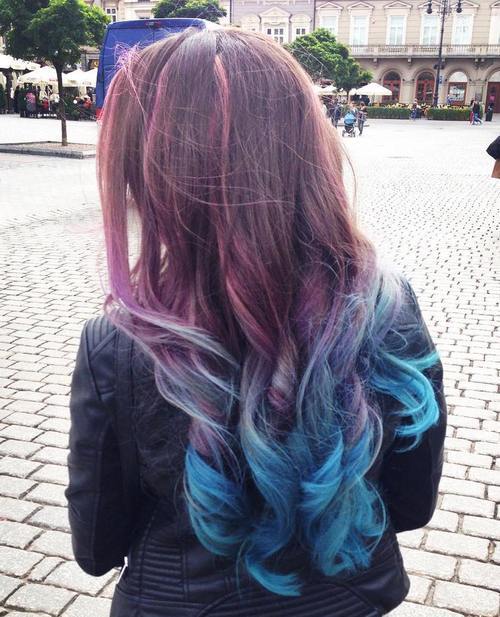 This dual, fantasy-color long hairstyle will be lots of fun to show off to your friends!  As they compliment you on the cute, muted pink hair framing your face, you can turn around and shock them with your turquoise and electric-blue ombré waves!  With this sassy, contemporary hairstyle, you'll definitely be the center of attention wherever you go.
Fabulous green gloss & purple ombré on black waves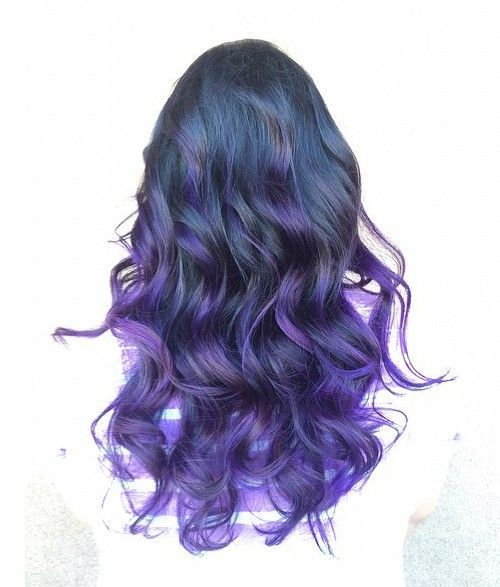 There's definitely something luxurious about the look of purple ombré on black hair!  Looking at these contemporary loose waves in a casual cascade, it's easy to see why, in the past, the color purple was reserved for the garments of kings and queens only!  And to really bring out the richness of the colors, just add a green gloss treatment around the crown.
Carefree coral-pink & lilac fantasy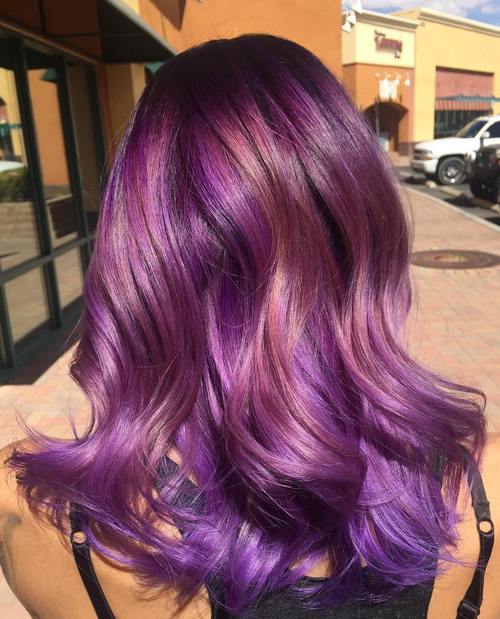 If you're looking for a completely sassy hair color idea to wear at a prom or party, a music festival weekend or night clubbing, this could be just what you're looking for!  While everyone around you will be wearing an ombré color design, and feeling pretty contemporary, when you arrive wearing tones of lilac, coral and ash-pink – everyone will see you're the queen of sassy hairstyles!
The great thing about these gorgeous, outrageous, romantic colors is that anyone can wear them, you just need to choose a tone that complements your individual complexion.  So always consult a professional colorist to get it just right! And to get the most out of a fantasy color hairstyle, you really need to keep your hair well trimmed, and in great condition.  Far from being just summer styles, these hair colours are perfect for wearing at any time of the year! Find more new hair color ideas on hairstylesweekly.com