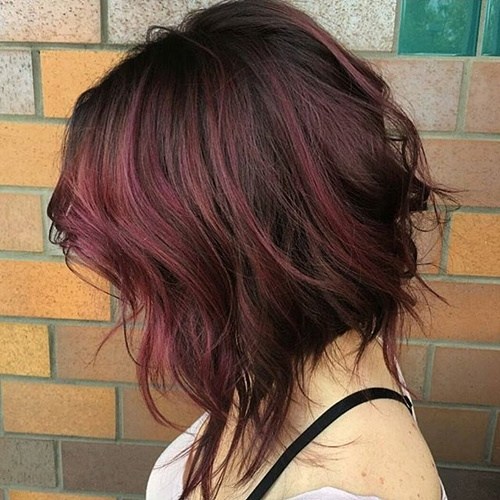 Stacked hairstyles have always been at the cutting edge of hair fashion, so this selection shows the latest cuts with disconnected layers, and the incredible new hair color trends!  Whether you want to jazz-up your current style with some new color ideas or plan a complete makeover – you'll find plenty of great stacked hairstyle inspiration here!
Amazing blonde & brown balayage for fine hair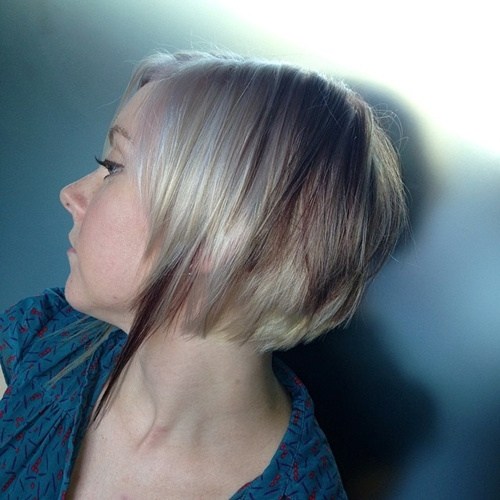 This super-trendy rounded bob is suitable for fine and medium hair, as adding bleached-blonde sections will thicken the hair shafts and create extra body.  It has an ultra-edgy feature in the long, disconnected layer and the almost random application of edgy, cocoa brown balayage!  Great for a unique look!
Authentic 60's Mary Quant bob with fabulous brown ombré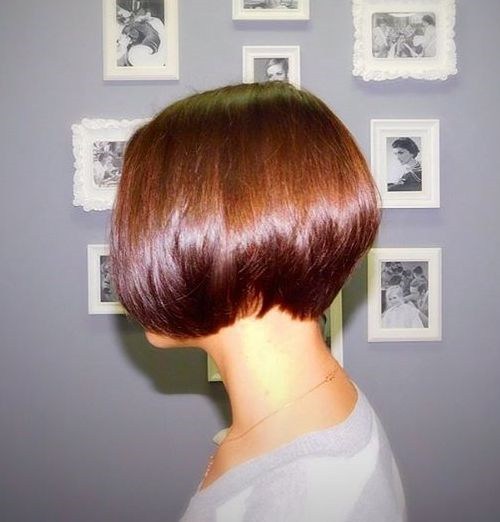 This faithful re-creation of the original bob style worn by Mary Quant in the 1960's is suitable for thick hair types.  Creating a lovely new twist in the copper top and cocoa-brown balayage, the clever stylist has used the darker shade to accentuate the angle of the smooth, stacked back!
Streamlined silver & faded-blue blonde A-line bob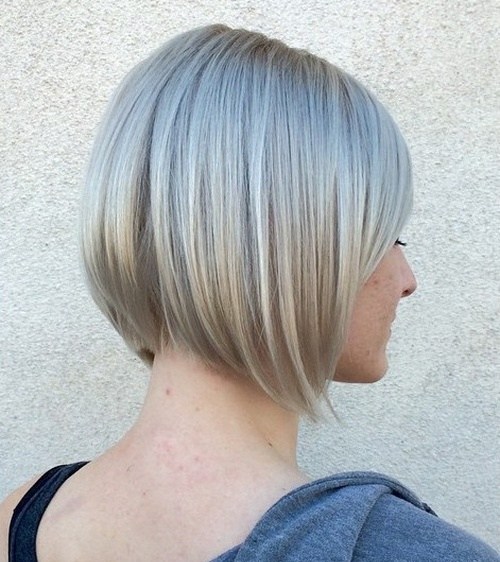 Trendy short haircuts 2018: This smoothly styled bob has an attractive rounded shape that curves in beautifully at the nape and sides.  The hair is almost the same length at the sides, with a slight graduation and cute, tapered tips.  The trendy mix of blonde shades creates fantastic texture from the silver-blue top, the beige-blonde ombré and white-blonde balayage!
Subtle purple gloss on smooth bob with bangs & bouffant back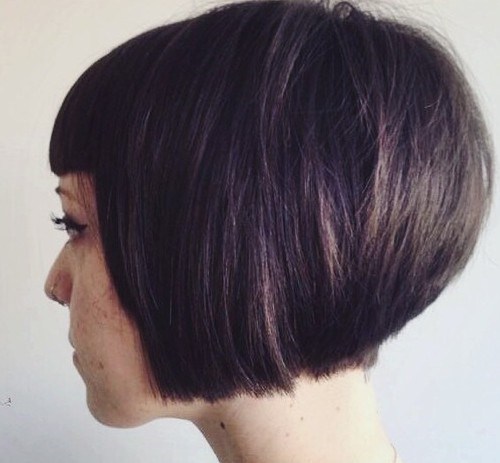 This geometrical bob is best achieved on thick hair, as it relies on density to create the exaggerated round outline at the back.  With full, straight across bangs and sleek sides, this is a great style for round, heart and oval faces.  The subtle purple color adds extra personality in a new twist on a classic cut!
Trendy sharp angled gray bob with purple balayage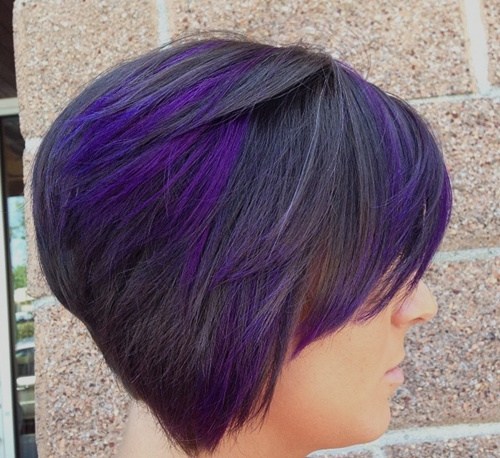 Here's a high-fashion bob with an amazing, sharp angle down to chin level.  The line's graduated up to meet the side swept bangs, creating a fantastic profile!  Very fine lavender blonde highlights change black to graphite-gray (making your white hairs part of the design!), and bold, violet balayage completes a very snazzy look!
Fiery orange with brown balayage low-lights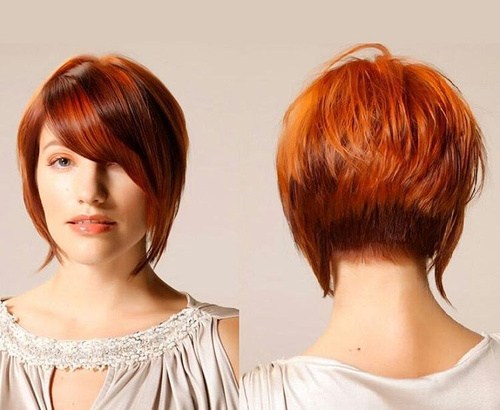 Lift your spirits with a bright and bold orange-flame look.  There is a cute contrast between the stacked back and the long, disconnected layers at the sides.  Trendy bands of brown balayage add even more style to this contemporary look!
Vintage 'bee-hive' angled bob in purple-black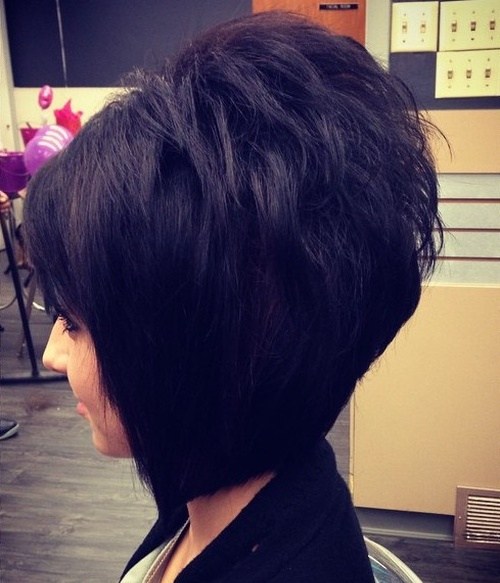 For a totally vintage look, try this amazing beehive bob.  It actually shows what happened at the end of the 1950s and start of the 1960's, when modern bob cuts were first introduced.  Teasing and hairspray were carried-over into the new fashion, before all the emphasis became focused on precise cutting and a natural finish.
Superbly shaped long tousled bob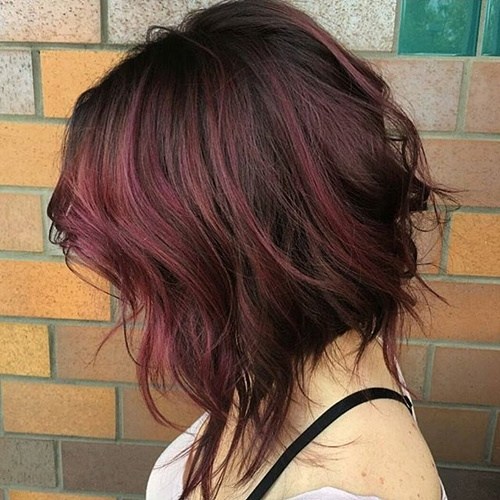 This highly fashionable long bob is a good choice for fine/medium hair, as you get extra texture and volume from this cut and color design.  The under-layers are cut in a line around the back and long, disconnected layers with wispy tips are draped over the top.  And the contrast between a brown base and soft, red balayage waves also makes hair look denser.
Fabulous long blonde bob for thick hair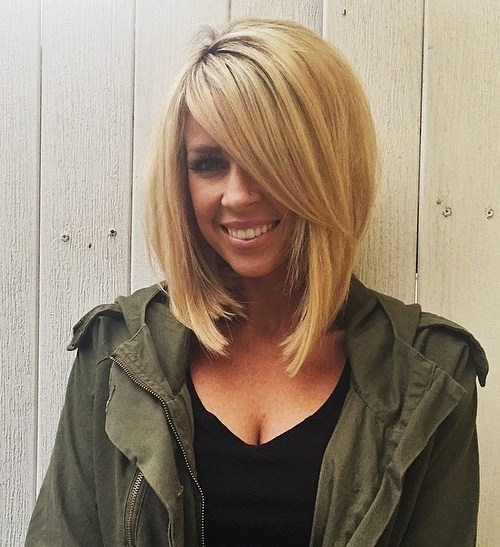 This classic long bob in honey blonde is perfect for anyone with thick, straight hair.  The shape, with a deep, side-parting and long bangs draped diagonally over the face, suits long and thin face shapes.  And blunt-cut tips add a touch of contemporary choppiness!
Dual-color blonde & brown short bob with tousled top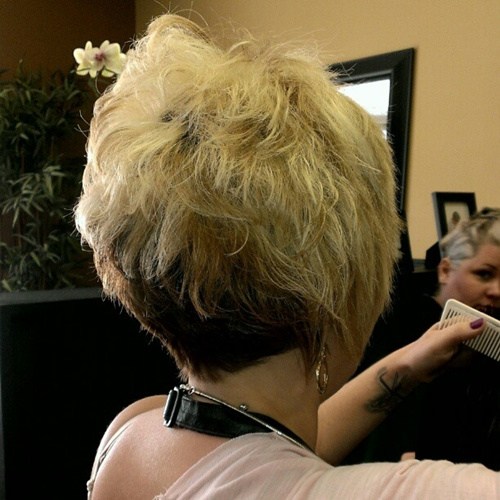 This short bob makes it easier to get volume around the crown on fine hair which isn't thick enough for a stacked back.  Instead, the hair is trimmed in short layers which can be curled and fluffed-up.  Light brown color accentuates the graduated back and a blonde, tousled top completes this pretty hair design!
Gorgeous long angled bob with gleaming gold balayage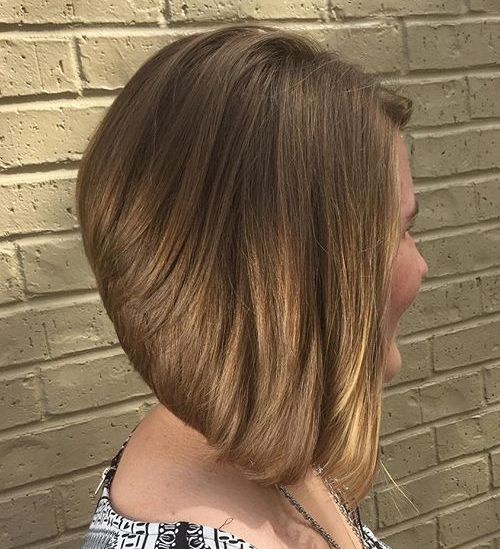 This model's light brown hair has been beautifully highlighted with golden blonde balayage-ombré!  And adding even more style to this chic, contemporary look is the exaggerated angle moving from shorter layers at the back down to the collarbone at the front.
Sexy orange 'tiger-stripes' on straight black bob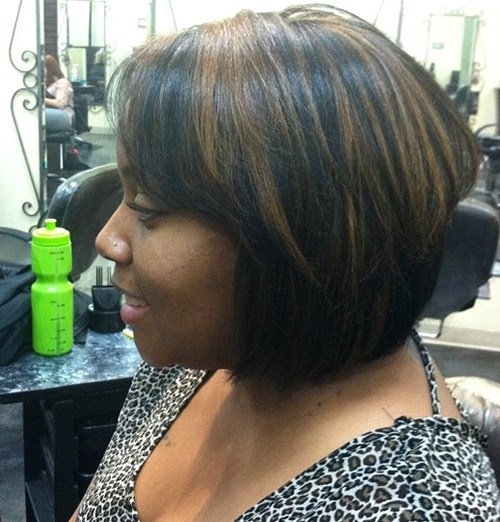 Here's an attractive smooth bob with bangs, that's a great shape to flatter round faces.  And this season' s favorite balayage color for dark brown and black hair is orange.  This fab new idea takes its inspiration from the stripes on a tiger, but with the colors reversed!
Perfectly precise geometric bob with disconnected side layers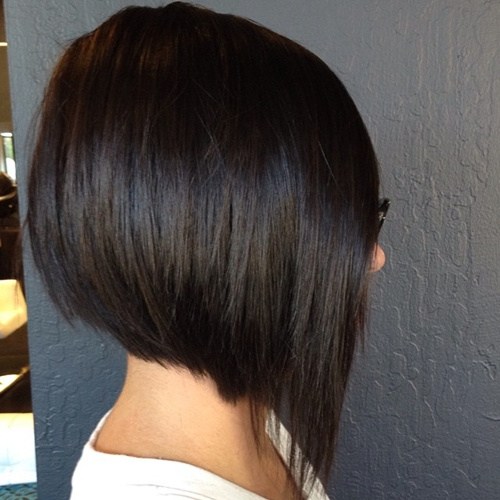 Thick, straight hair with natural volume is really the best type of hair for this fabulous, easy care bob.  Sliced layers leave the ends of thick hair beautifully tapered, creating a lovely rounded profile.  Disconnected layers hang on either side of the chin and complete fabulously, chic contemporary look.
Warm copper-brown A-line bob with beige-blonde balayage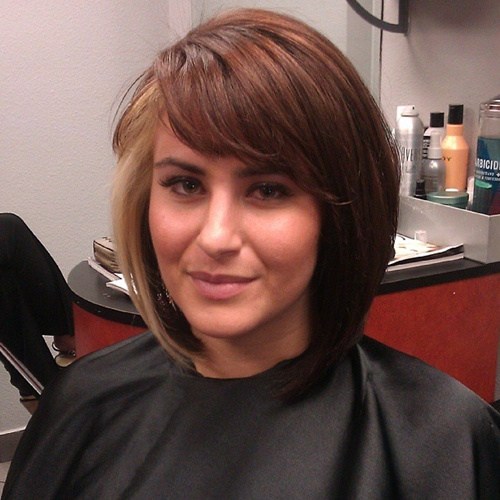 This medium length bob is a very attractive,  classic hairstyle suitable for heart shaped faces.  The side-swept bangs cover a wide forehead and curved layers on either side of the chin add width to create a balanced shape.  I love the contemporary twist added by a thick beige-blonde section next to the face!
Fresh orange & blonde highlighting over brown ombré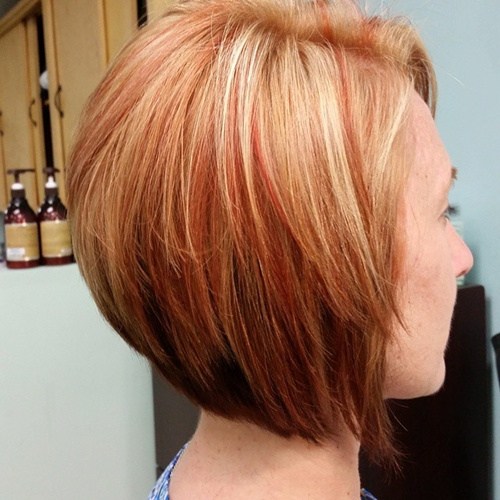 This  heavily highlighted mix of copper, orange and blonde shades will add 3-D color depth to fine or medium hair.  The multi-layered cut has a medium-brown ombré on the under-layers in this fresh and contemporary hair color idea!
Gorgeous lavender-pink balayage on gray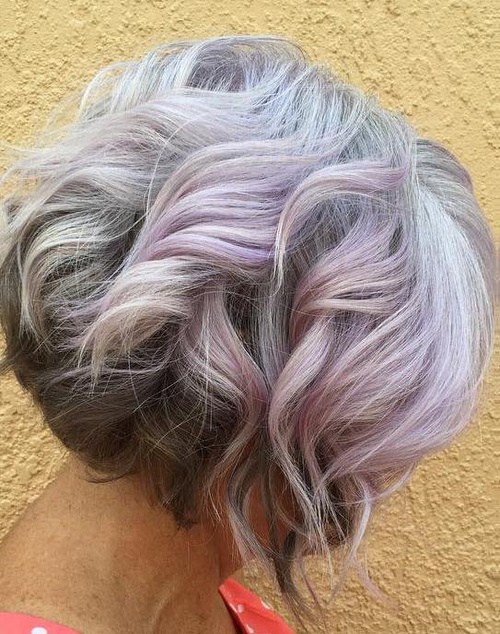 Whether your hair is naturally gray, or you have the latest, silver-gray shades courtesy of your salon, a little lavender-pink can really warm it up!  With white-blonde on top, this is a fabulous wavy bob and up-to-the-minute hair color idea for women over 50!
Warm chocolate-brown A line bob for fine hair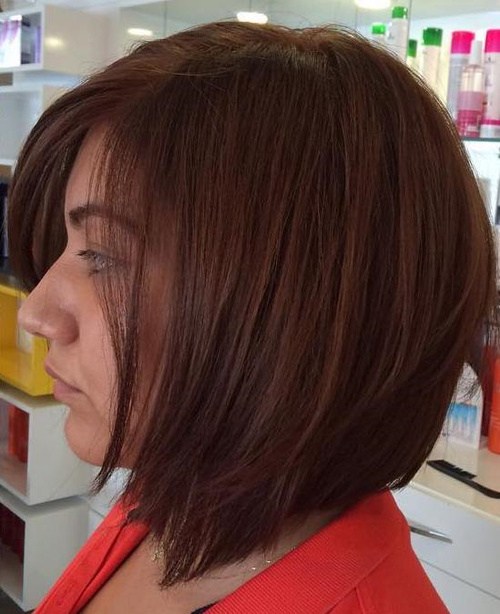 There are lots of new shades of brown on offer this season and here's a beautifully rich, soft chocolate color with just a hint of copper in there, too.  The bob is cut in long layers with just a slight angle from front to back, and shorter layers softening the line up to the chin.  Brushed forwards, this style has a natural and chic image.
Smooth mid-length bob blow-dry on curly hair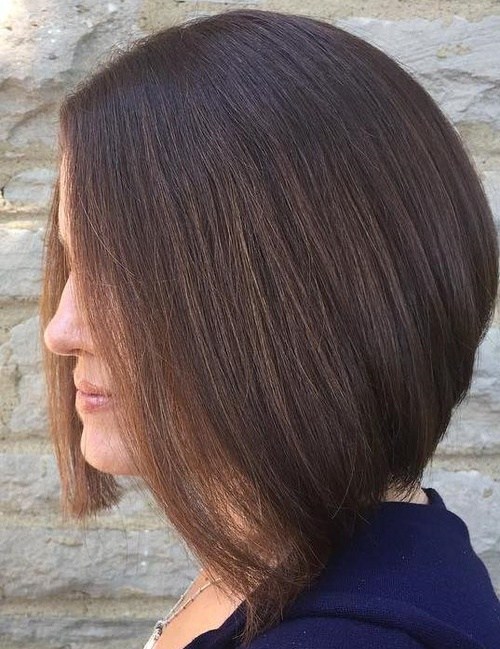 This model's naturally curly hair has been blown-dry into a smooth, angled bob cut in long layers.  The style can be worn with a center-parting for an oval face or a side-parting to suit round, heart or angular faces.  Straightened hair should be styled with attractive curves and not stick-straight, if you want to look classy!
High-fashion steep bob with long bangs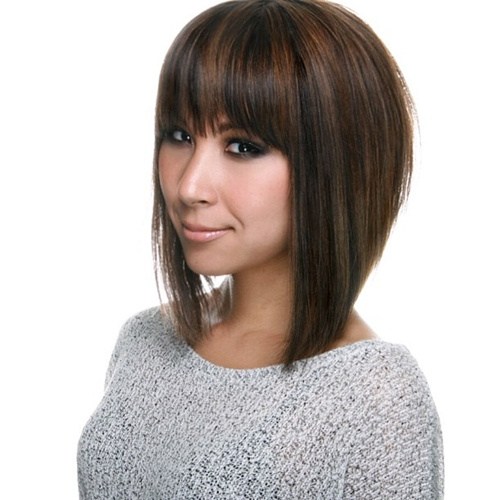 You always get a striking profile with a well-cut angled bob and this steep drop looks even more trendy!  With long, straight-across bangs all the focus is on the eyes, making this a good cut for a heart, oval or round face.  Subtle highlights, including ash-brown ombré at the sides, complete a trendy, flattering cut!
Striking striped multi-tone balayage design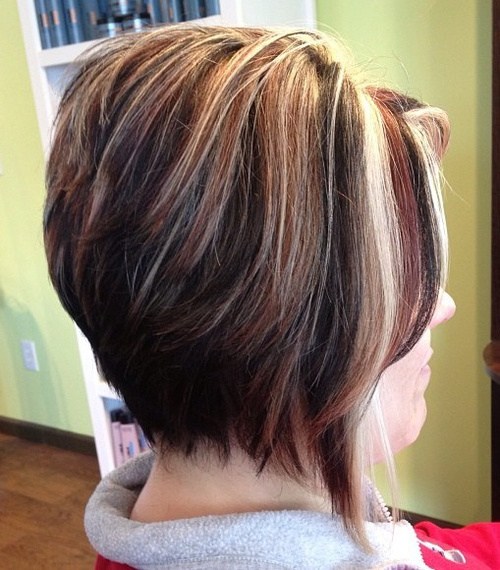 As usual, I've saved something extra special for the last item in today's gallery.  This multi-toned balayage highlighting really jazzes-up a plain, brunette bob cut!  And any design that includes a strong contrast between dark and the light colors will make fine and medium hair appear thicker!
As you can see, there are lots of new highlighting styles and colors you can add to your current haircut.  And if you're ready for a totally new look, you'll find plenty of inspiration here!