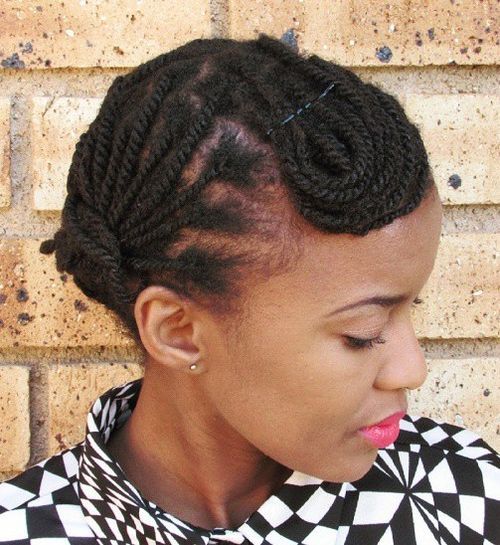 Kinky twist hairstyles for natural hair have become so varied and creative you can look fabulous every day, without lots of special hair treatment! Kinky twists are two-strands of hair woven into perfect spirals with color highlights, length and style chosen by the client.  Now we know how much scalp-damage cornrows cause, all sorts of twists have taken over as the long-lasting answer for trendy, natural hairstyles. So take a look at these Creative Twist Hairstyles for women and girls looking for something new, contemporary and easy-to-maintain from Hairstyles Weekly!
Sensational vintage thick kinky twists in casual bob with copper ombre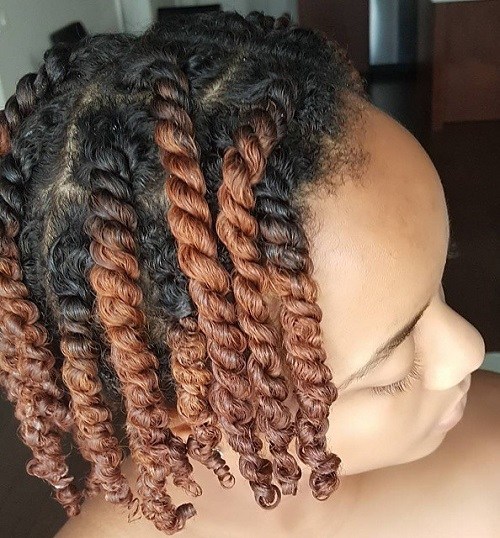 With all the hair styled off the face, this trendy look really shows off a smooth complexion in a vintage natural hairstyle.  The contemporary touch comes from the fabulous copper ombré that complements this model's skin-tone perfectly.  These big kinky twists feel great as they swish around your head!
Stunning special-event half-up kinky twist hairstyles with asymmetry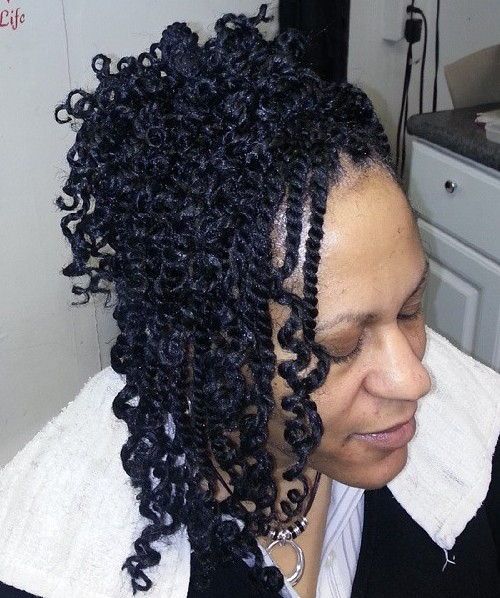 This is an amazing hairstyle for a wedding, party or special event where you need to look fabulous!  The back is styled in an up-do of cute curls for elegance and extra volume.  One profile is short with swept-over hair adding height, before flowing down in a trendy mix of textured twists and curls!
Sophisticated up-do twist hairstyles for women with round faces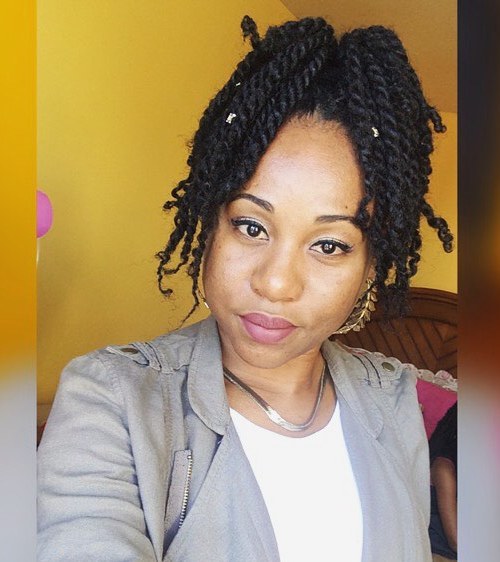 This is a great way to add length to a wide or round face in a very sophisticated look, too!  The big boost of height over the bare forehead draws the eye up to admire the thick kinky twists.  And little or no volume at cheek level minimizes the width of the face and accentuates those lovely eyes!
Contemporary shoulder-length Nubian twists in brown, caramel & honey tones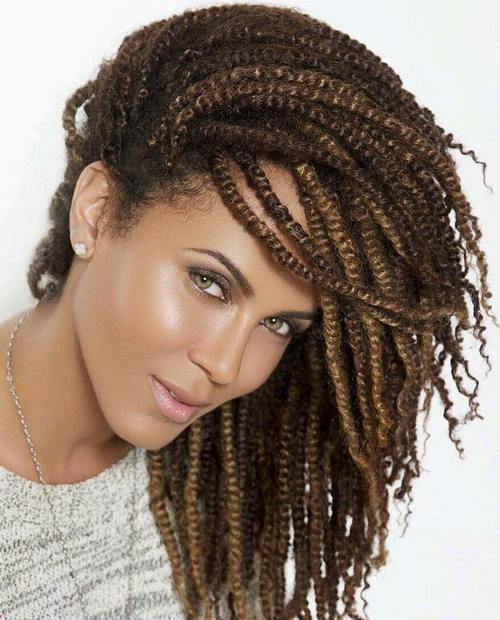 This beautiful head of long Nubian twists tapered at the tips is beautifully highlighted for a chic, contemporary look.  Nubian twists look very soft and light and accentuate the healthy, natural look of this style. With hair color ideas inspired by caramel and honey, this really is a very sweet style!
Elegant vintage kinky twists in fabulous head-patterns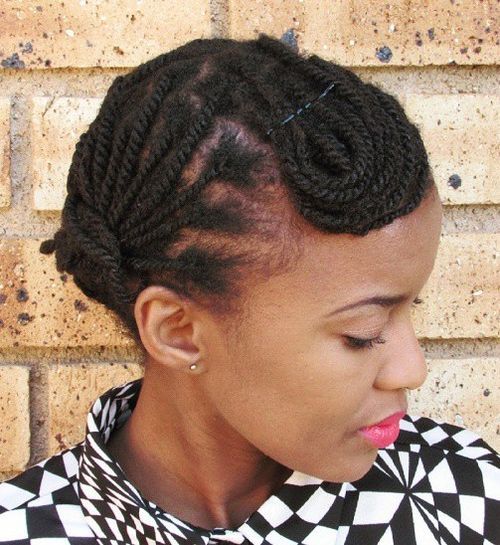 This vintage twist hairstyle borrows head-patterns from cornrows' styles, using elegant rope twists.  The front has a lovely pattern of concentric oval strands creating short bangs on one side of the forehead.  The side has an unusual 1900's setting-sun pattern with twists radiating out like the rays of the sun!
Red-carpet up-do's in natural twist hairstyles for stylish women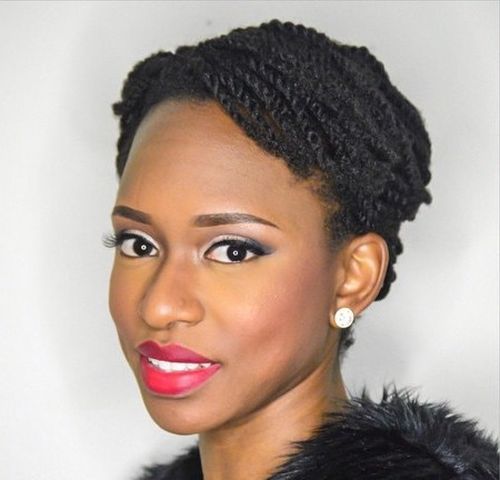 Beautiful women don't need fancy hairdo's to shine and this style can be achieved on shorter natural hair.  The art of this look is in the direction of the twists, which flatter the model's face shape very well to produce fabulous movement and great textures!
Gorgeous textured bun updo with contrasting sides & blonde highlights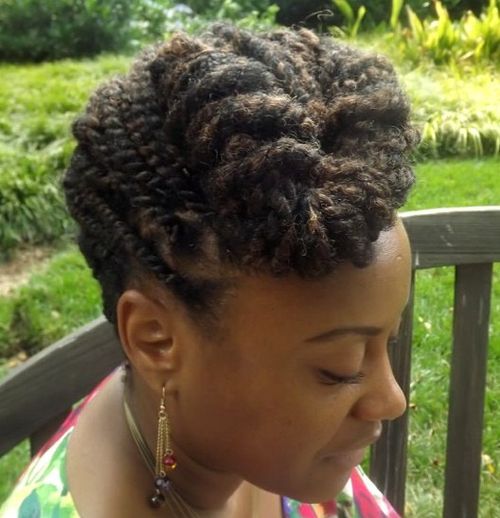 This is a lovely twist hairstyle for women with natural hair that keeps you cool and elegant all day.  But it's also a very sophisticated natural hair idea for a wedding, prom, homecoming, party or celebration.  The fabulous textures in the chignon, set to one side of the forehead, really top off a fantastic hair design!
Spiral rope twists in defined cascade ending in curls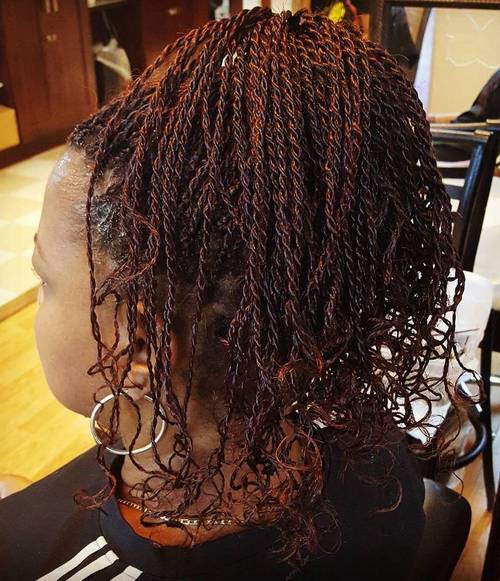 Updo's are great for keeping the neck cool in summer and this trendy twist hairstyle has lovely curly movement at the ends. The twists are secured in a 'pony-tail' above the crown, creating a nice bump of volume on top and a waterfall of twists.
Velvety-rich yellow-ochre & cocoa brown kinky twist hair color trends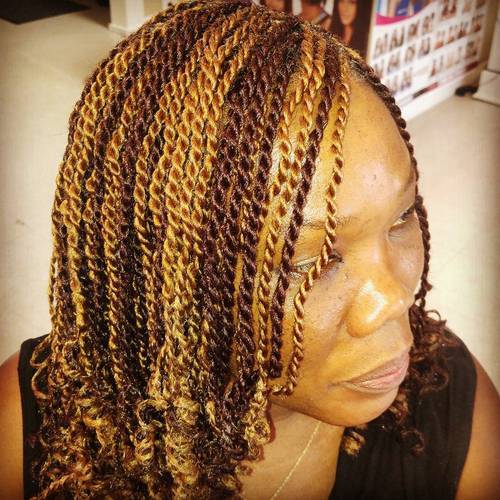 Here's a creative hair color trend to try!  From a side parting, style twisted strands over the head and down with a fabulous striped effect.  The yellow-gold kinky twists gleam with reflected light and the tips are left in pretty curls.  Love the contrasting textures and hair color ideas!
Romantic ringlets contrasted with kinky twists and deep-gold balayage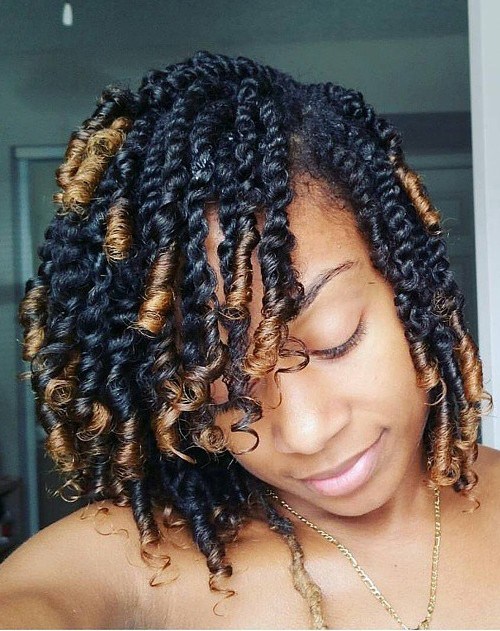 These super-cute springy ringlets let you show your romantic and flirty style perfectly.  Thick kinky twists radiate from a side parting, with long asymmetrical bangs and side-volume that suit a long face shape.  The cute curls highlighted with antique-gold balayage hair color ideas are really playful and eye-catching!
Easy-care kinky twist asymmetric pony-tail hairstyles for round faces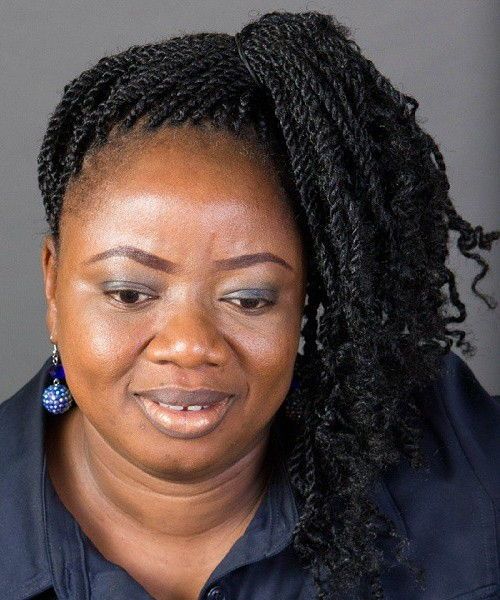 Here's a classic twist hairstyle for women who like to look good, without too much fussing every day.  Extra height from the kinky twists adds length to a round face. And asymmetry breaks up a circular face shape, too.  This cascade of twists with pretty curls at the tips looks professional at work and sophisticated for evening wear!
Ravishing red & maroon angled twist chignon above forehead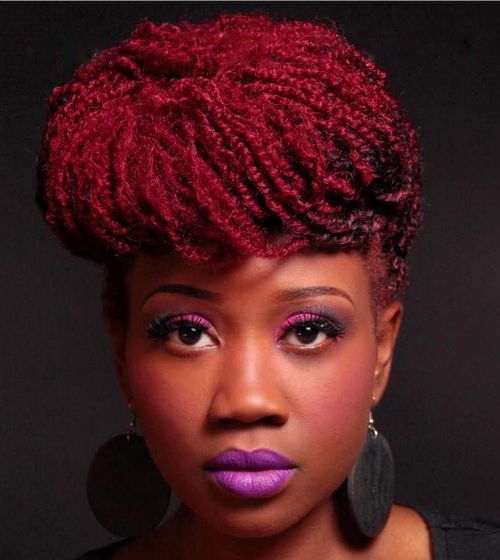 If you're a regular dance clubber, you'll know it's a really creative hairstyle scene.  Make your own style statement with this amazing red, angled, twist chignon that hovers like a trendy chapeau over the forehead.  With a high top and flat sides this is a great style to lengthen a wide/round face shape, too!
Cocoa-brown Nubian twists with honey-blonde highlights on long hair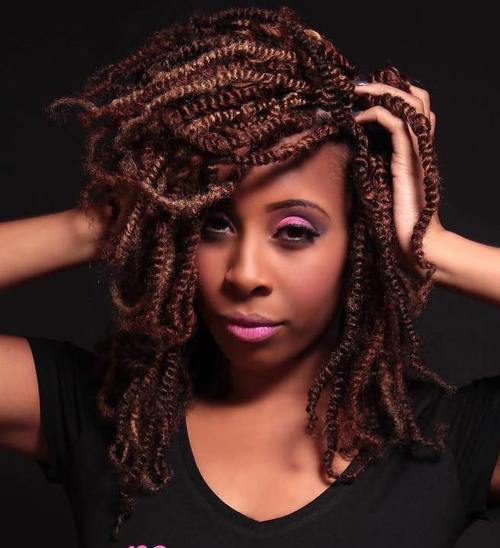 Nubian twists are softer to the touch and more flexible than other twist techniques and that's demonstrated beautifully by this attractive image.  Softer hair color trends suit these natural twists, like warm cocoa-brown with touches of caramel and honey-blonde to complement your individual skin-tone!
Super 'selfie-ready' twist hairstyles for your playful side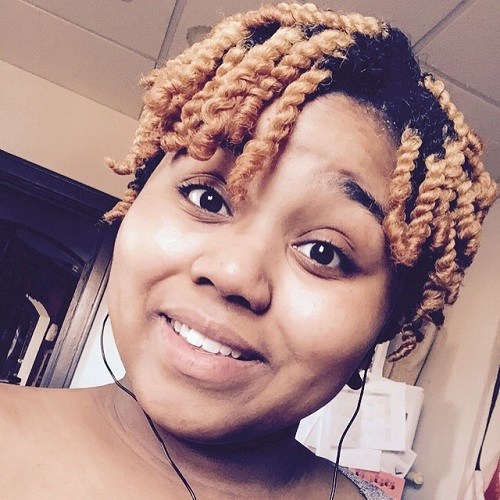 This is a lovely, lively look with naturally springy ringlets featured in cute bangs and all around the head!  The happy expression on the model's face reflects a lively personality that's also projected by her jaunty hairstyle.  With trendy black roots, the cute pale-copper ombré really accentuates the fabulous texture!
Regal Nubian twist hairstyles on long hair with pretty gold forehead accessory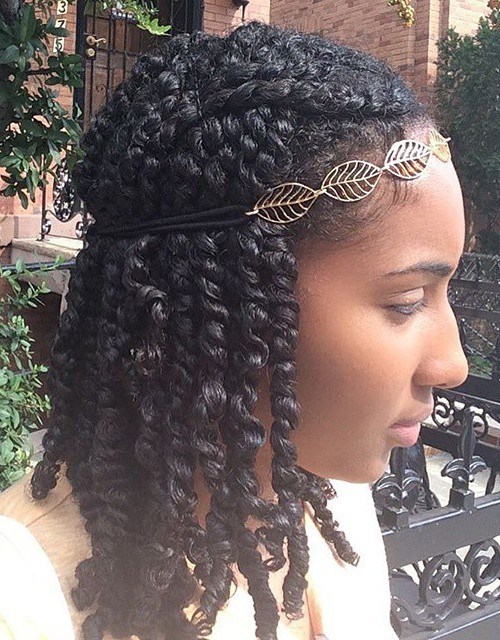 This is a fantastic twist hairstyle with perfectly formed springy curls below and amazing textured twists on top.  This ringlet hairstyle is especially cute on teens looking for a super new style for a prom or party.  With a gold headband accentuating a nicely curved forehead, this look's the bee's knees!
Flattering medium bob twist hairstyles to show off a lovely rounded forehead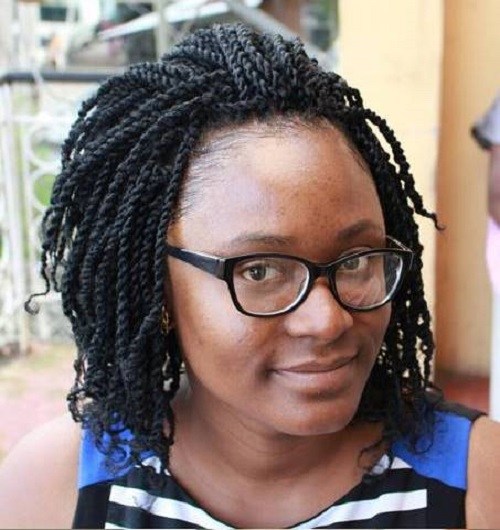 The rounded forehead is a greatly underrated beauty feature!  And if you're lucky enough to have a nicely curved brow, show it off with a swept-back twist hairstyle.  This off-the-face, chin-length bob has extra volume on top and at the sides and accentuates the model's beautifully oval face-shape perfectly!
Sexy & stylish deep-red medium bob twist hairstyles & peek-a-boo bangs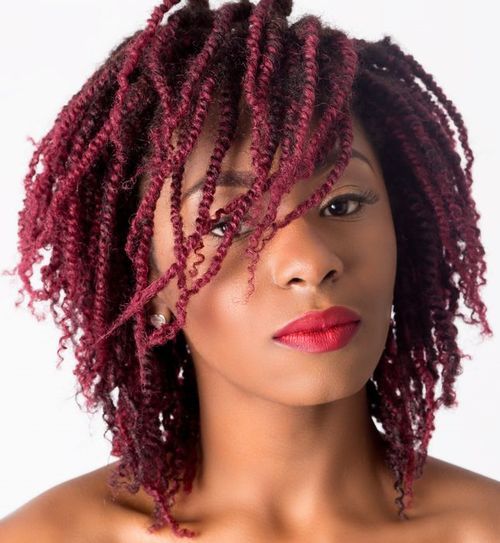 Deep red is a super-attractive choice for olive skin-tones. This sexy red hair color idea's also got trendy black roots and graphite-gray low-lights.  The tapered twists add tons of extra texture and movement to this chic 'urban professional' look (with seductive peek-a-boo bangs)!
Four fabulous twist hairstyles for oval, round, wide & heart-shaped faces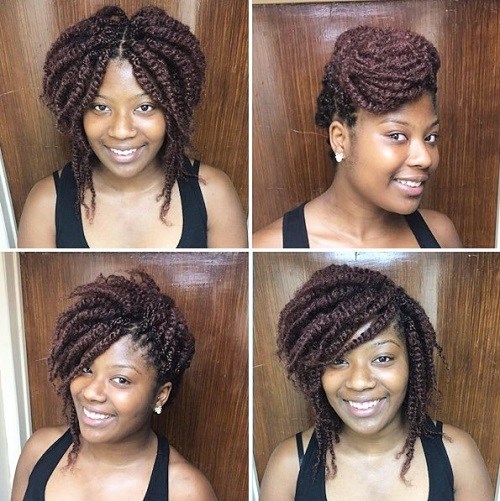 Hairstyle no. 1 is great for oval face shapes that look good with a center part.  No. 2 is an asymmetric up-do from a side part that flatters wide or round face shapes. No. 3 shows off those sassy, tapered twists with lots of movement and No. 4 shows how to minimize a wide forehead!
Trendy everyday twist hairstyles for women with medium-length hair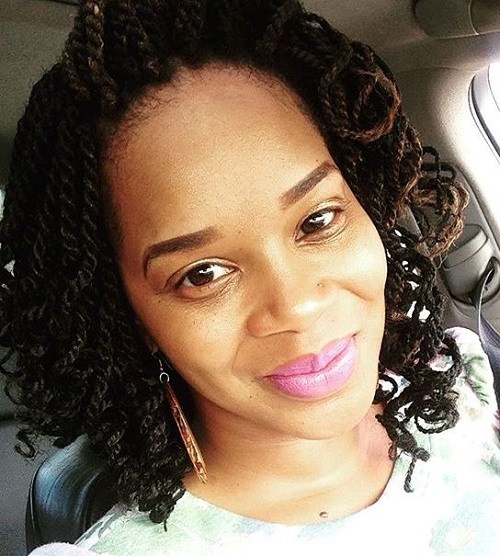 This is a style that stays perfectly in place whatever storms may rock your day!  And it's super-trendy with a fabulous fusion of twists and curls and an asymmetric vibe, too.  The subtle touch of caramel highlighting accentuates the snaking side-waves. And extra volume at the sides flatters thin or long faces.
You can get a salon Kinky Twist hairstyle in about 6 – 8 hours and with care, it will last about three months. Depending on your hair type and budget, kinky twist hairstyles can be done using your natural hair or with added synthetic extensions.  So forget cornrows and get twisted!