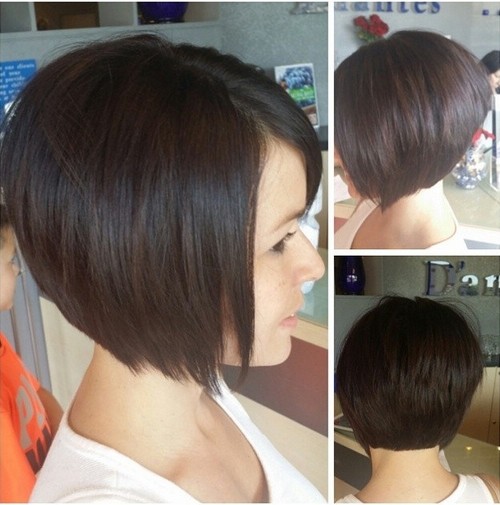 Cute A-line Bob Hairstyle for Girls – Easy Daily Haircuts
This sharp short hairstyle is one that looks great for any occasion. It's strong lines create a very modern look and it's a breeze to style on thick hair! No danger of getting the dreaded triangle shape with this short haircut, as it's is all about height around the crown and clever layering at the ends, making it impossible for your hair to 'balloon out'!
The back is stack-cut to sculpt a bouffant bump of volume just below the crown and a perfect straight line that curves neatly in to the nape of the neck. This is also a good style for showing off the line of a slender neck and it will make a short neck look longer, too.
Seen in profile, the silhouette has the elegance of an updo, but without the effort of long hair! The sides are cut in sliced layers that ensure the hair is thinned-out to lie naturally close to the head, framing the face. Dark hair looks great in sleek, short haircuts with a geometrical edge as it shows off the smooth lines really well!
This simple easy short daily A-line bob cut is great for school girls, if you're looking for a cute back to school hairstyle, this is a great one!