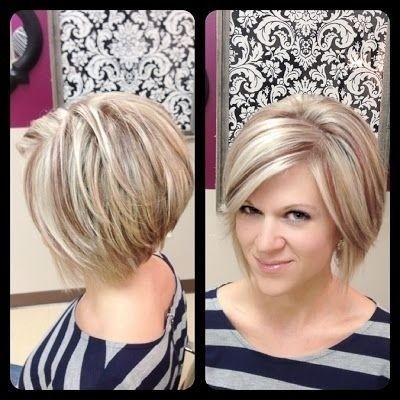 Hot mom's hairstyles
In the middle of every winter season, I'm left thinking 'What can they do next year to improve on this year's great ideas? And every year, (except during the long, straight and flat false hair years!), something fresh and exciting pops up and grabs my attention again!
This is one of the must-have medium-short haircuts of 2015-2016, the stacked-back bob. It's great for medium-thick textured hair as you don't get so much natural volume at the back with fine hair. However, if you do have fine hair and want this look, having some bleached-blonde streaks as in this version, is a great way to thicken-up your hair-strands, so you can 'fake it'!
Last year red was hot and this year cooler shades are to the fore, but this is an inspired colour combination of cool, pale-blonde with warm, dusky-pink lowlights, with the darker roots adding a third dimension.
So – this is a good bob hair style for fine hair and any face shape. In particular, heart-shaped faces will see this look covers the edges of a wide forehead and the front is long enough to add width at chin level. And it's very glamorous, too!
Find more daily hairstyles on hairstyles weekly, and check out the bob hairstyles gallery here.