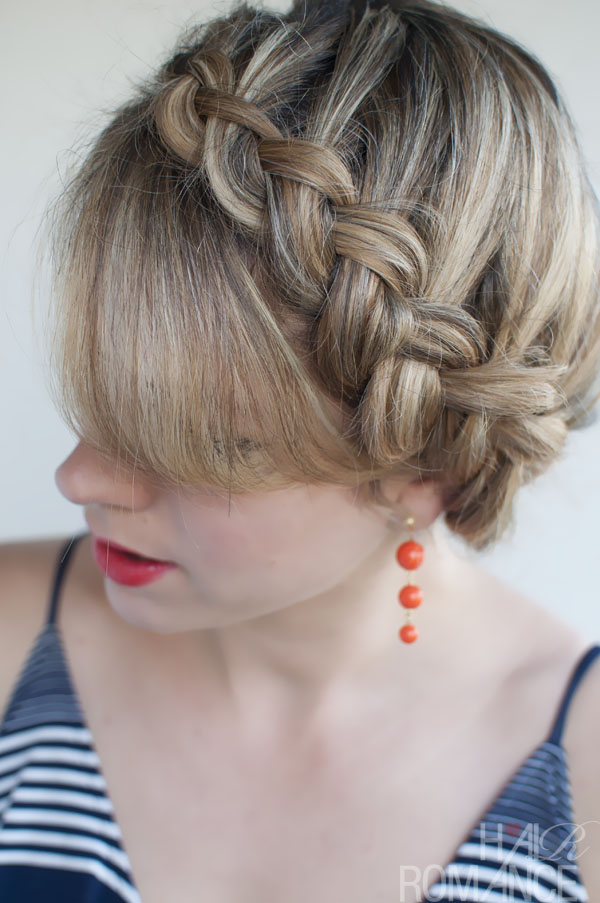 Latest most popular braided hairstyles for female: the simple easy but romantic Dutch Crown Braid!
The Dutch Crown braid is a breath-taking innovation, based on the traditional 'two-plaits pinned around the head'. However, this style is very different. The hair has been used almost like two silk scarves to create a pretty cap of hair, trimmed with a loosely braided decorative edging!
The front has a side parting with an asymmetrical fringe falling gently over one eye. The rest of the hair radiates from the crown, in sections separated by the braiding process to reveal the contrasting dark lowlights. The loose braiding gives the 'links' extra volume which creates a fabulous all-round halo of beautifully woven, multi-shaded blonde hair!
Bravo!
Do you want to know how to style this beautiful Dutch Crown Braid? You can find out the tutorial in this exciting ebook 30 Braids in 30 Days. This cool hair style book has 80 pages of all tips, tricks, cheats and techniques at your fingertips. Inside you'll also find the how-to instructions to the essential braids of this series such as the Dutch braid hairstyle, Waterfall braid hairstyles, Classic braids, French braids, Fishtail braid and the Hair Romance signature Twist & Pin technique. Check it out here.
Images Credit © Hair Romance