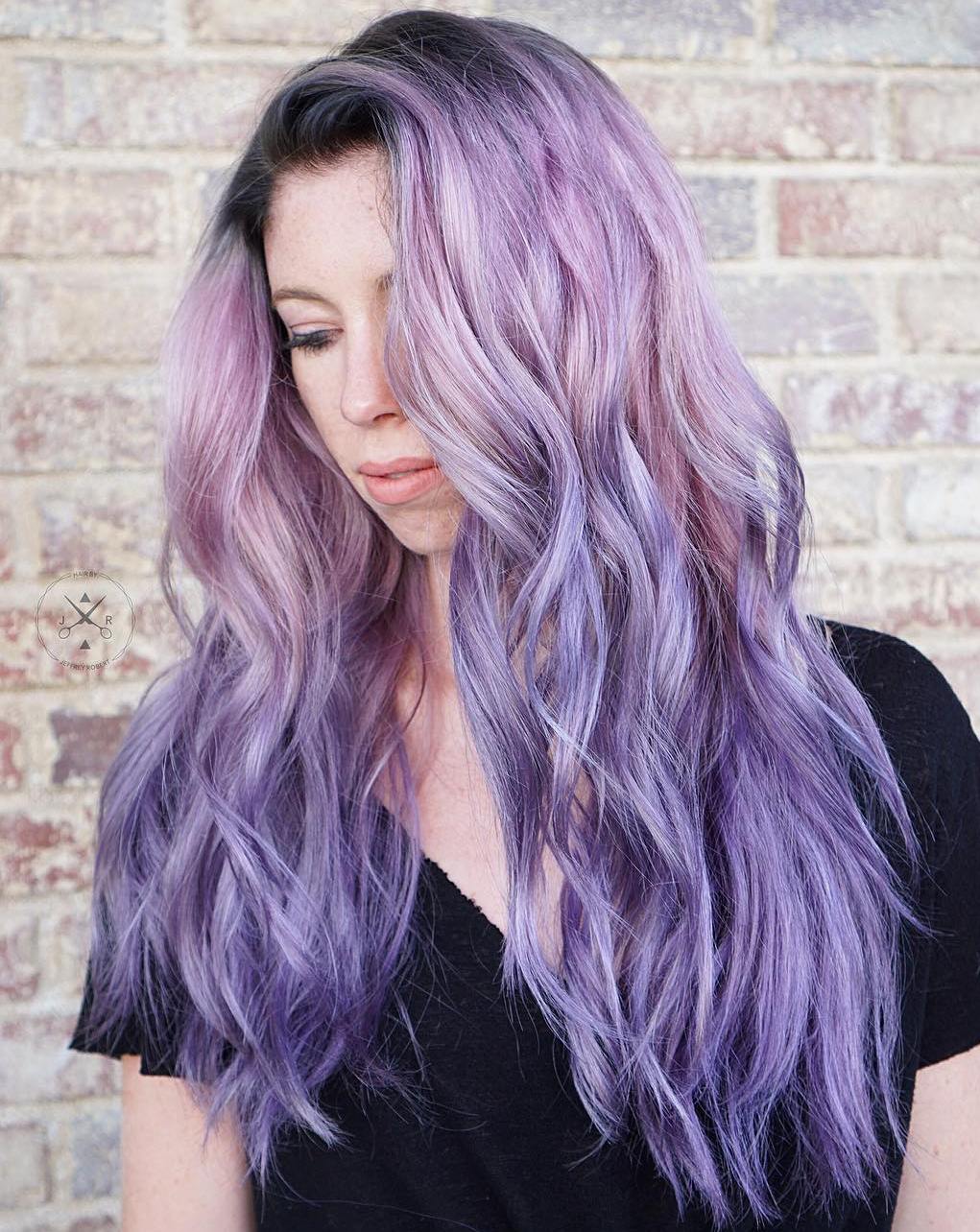 Ombre is a hair trend that has been dominating the fashion stakes for quite some time now. Ombre hair is the ultimate way to add a vibrant and captivating touch to your locks. This natural method of blending two or more colours together so that they melt from one to the other, works for a range of different natural hair colours – and looks gorgeous on any type of hairstyle, which is why we're so smitten with the style.
Let's explore the latest and most popular ombre hair colors, reasons to choose ombre hair, and tips to maintain your mesmerizing mane. Our curated gallery of ombre hair color ideas showcases an array of stunning shades that are bound to mesmerize – looks that we simply cannot get enough of. Which one will you use as your inspiration?
1. Classic Blonde Ombre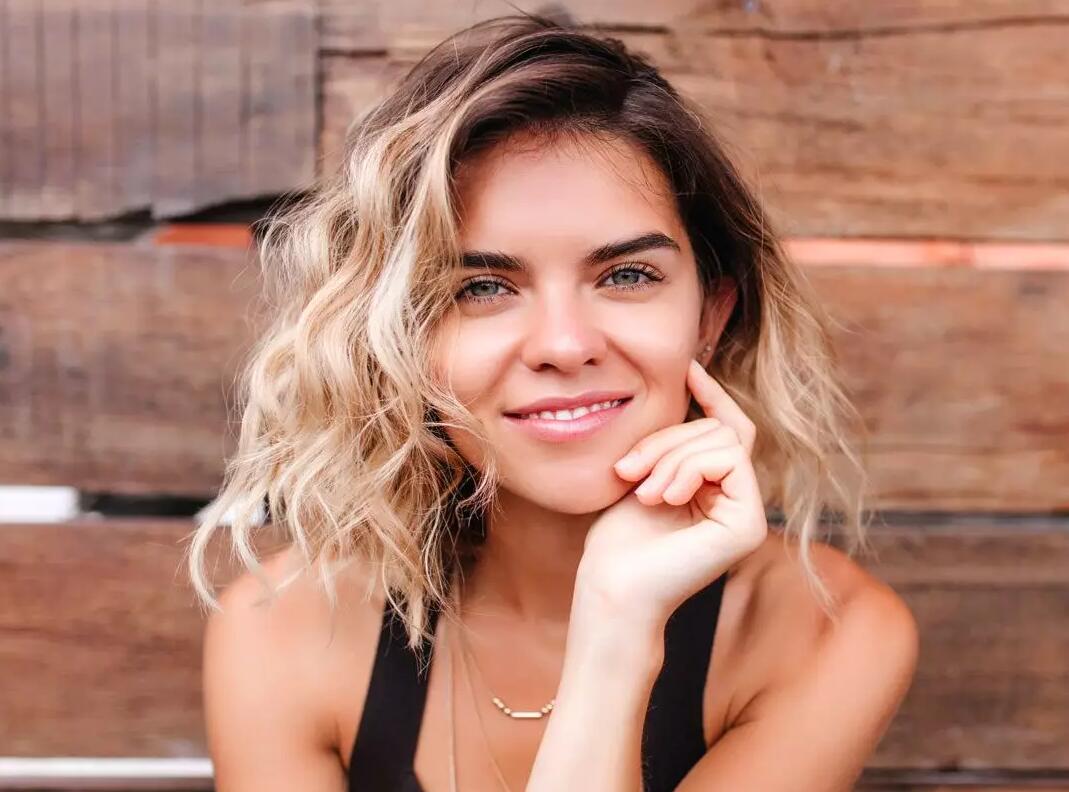 Think dark roots seamlessly transitioning into blonde tips. This look often shines in shoulder-length hair with cascading curls at the end. Celebrities like Lauren Conrad and Jessica Alba have sported this sun-kissed transformation, adding an extra touch of California girl flair.
2. Reverse Ombre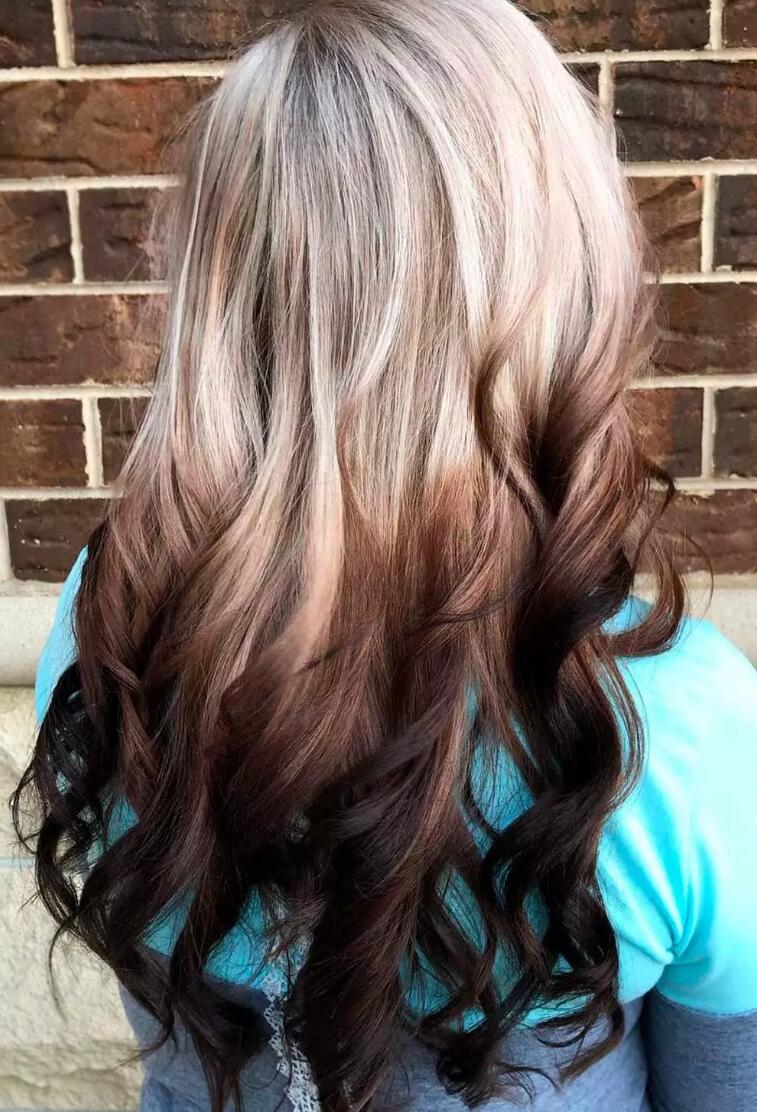 Unlike the typical ombre, this style starts with lighter roots at the crown that gradually deepen toward the tips. The soft waves incorporated into this look make the color transition all the more natural and dynamic. Drew Barrymore is one star who's dabbled in reverse ombre, setting a striking contrast with her usual styles.
3. Caramel Ombre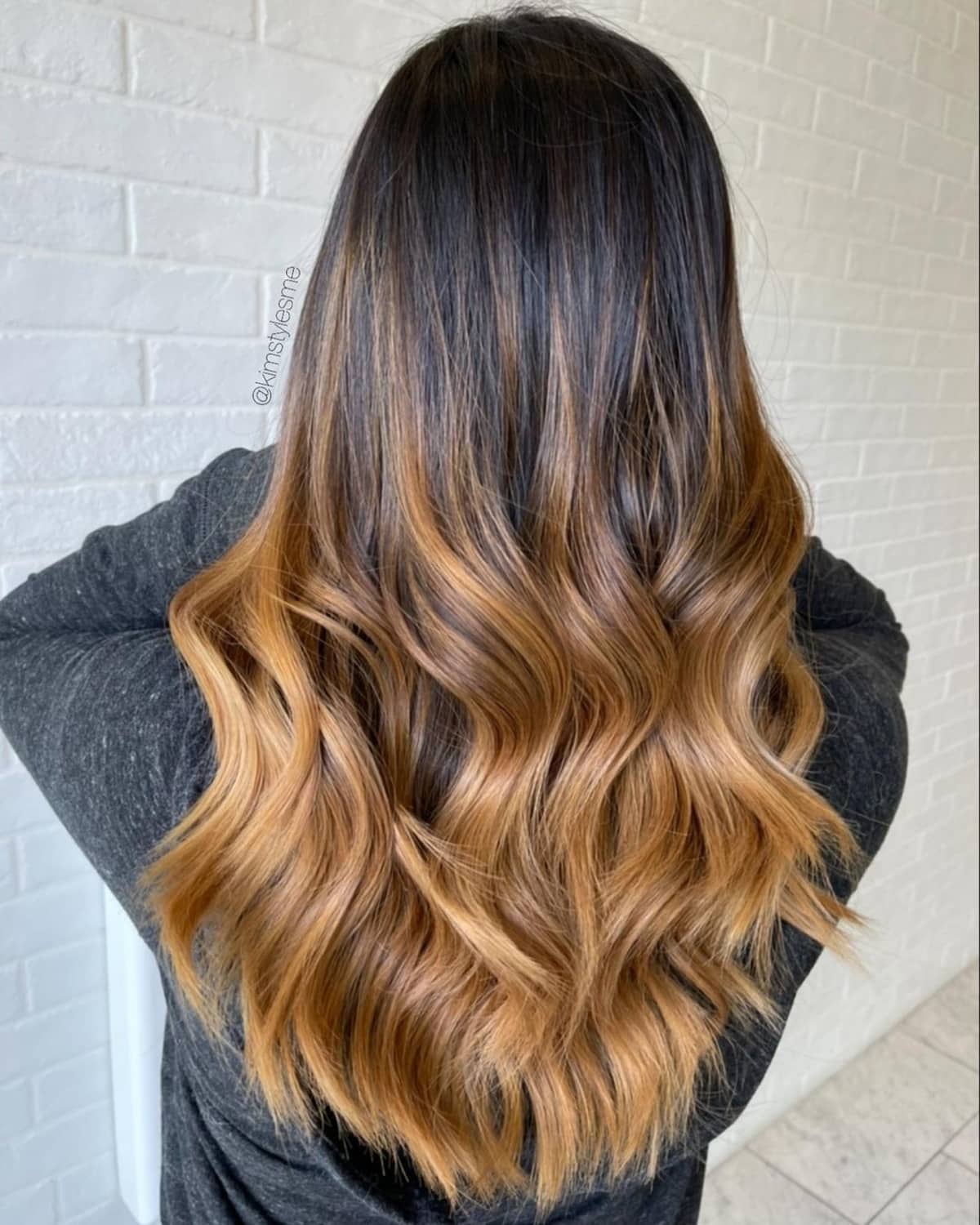 Imagine your brown locks fading into a lush caramel or honey hue towards the ends. Add some beachy waves for that salt-sprayed, surfer-girl aesthetic. This look is a favorite of SJP — Sarah Jessica Parker, who has showcased this delectable hair trend on more than one red carpet event.
4. Red Ombre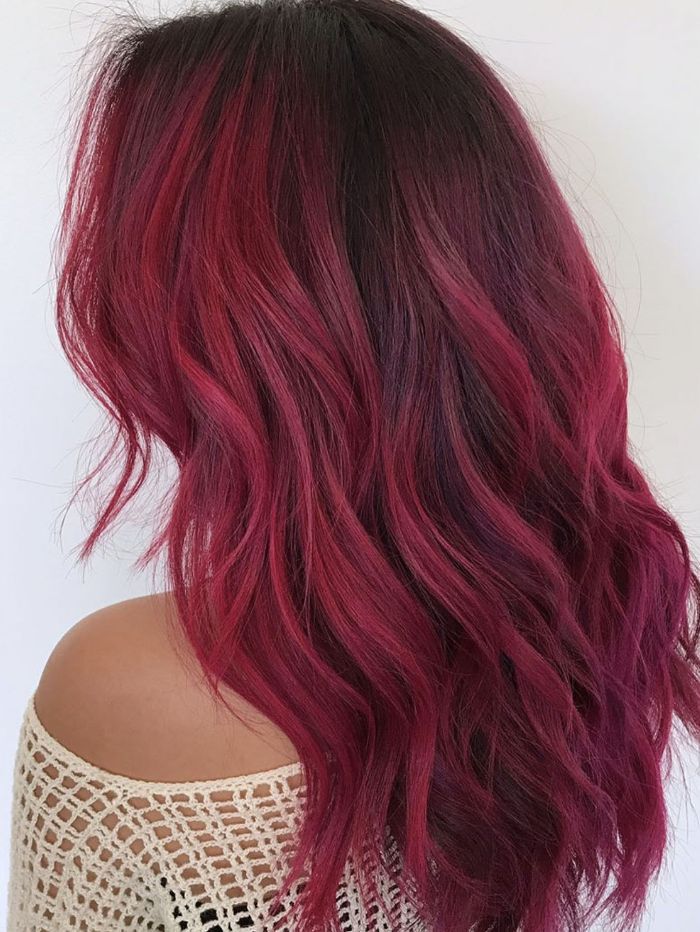 If you're a brunette with a fiery spirit, consider starting with your natural or brown roots and let them fade into a vibrant shade of red. This look often pairs well with longer hair and can be striking when viewed from the back. Emma Stone experimented with this hue transition during her redhead phase, giving her look a punchy edge.
5. Silver or Grey Ombre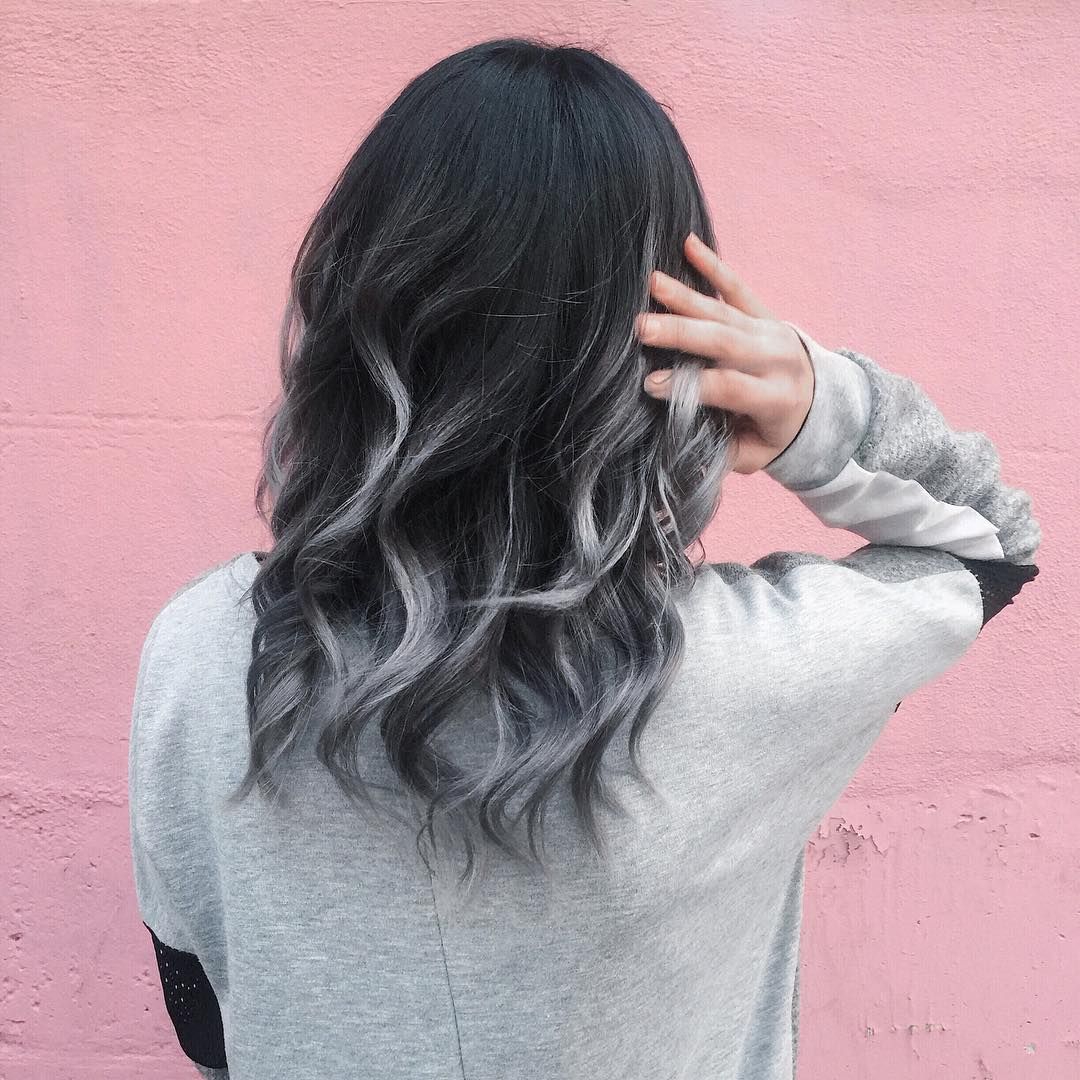 For those who like to defy norms, begin with dark roots and let them transition into a cool grey or silver towards the tips. This medium-length, super-stylish look screams uniqueness and edgy flair. Stars like Kylie Jenner and Rihanna have been seen flaunting these ethereal silver shades.
6. Ash Brown Ombre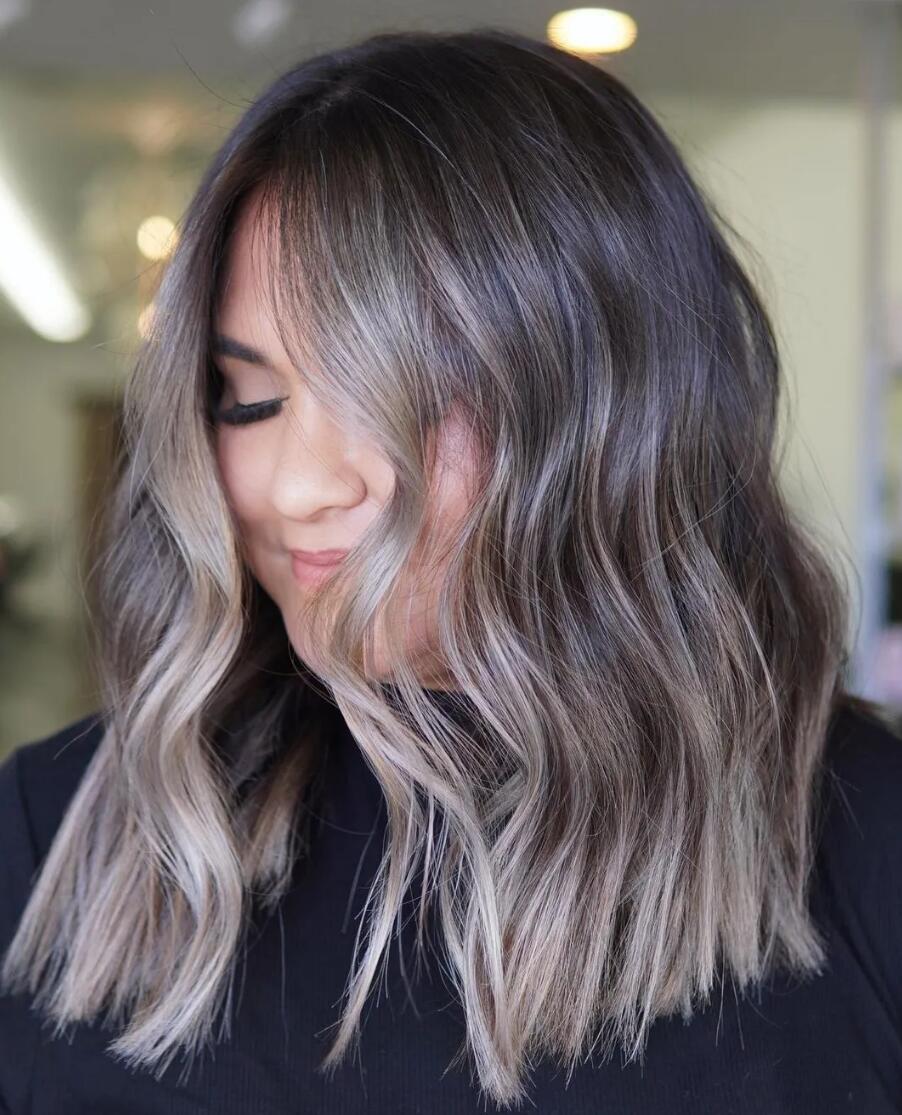 Ideal for those who prefer subdued elegance, this look transitions from ashy brown roots to lighter, almost misty ends. Often styled in a wavy lob that kisses the shoulder, it brings a sense of soft drama without going overboard. Olivia Wilde is one celeb who has embraced the ash brown ombre, embodying a chic yet effortless style.
7. Chocolate Mauve Ombre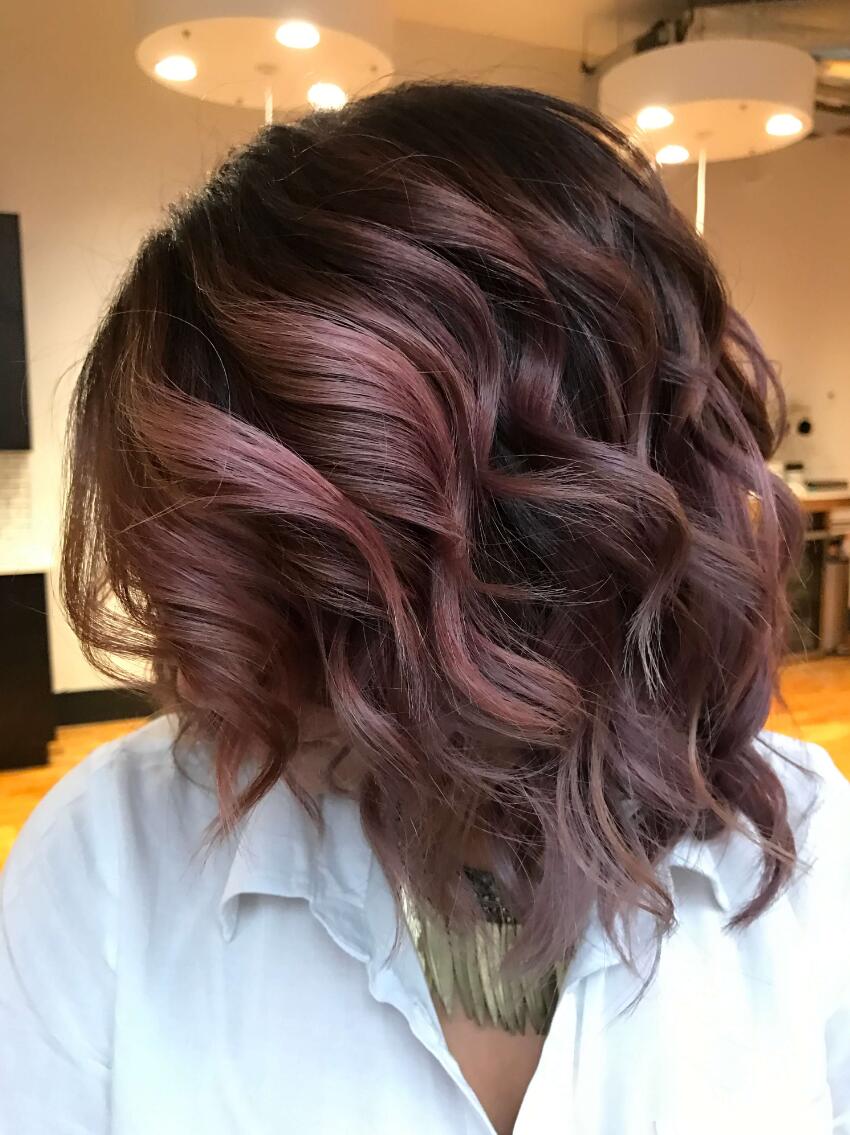 This hair color style is nothing short of enchanting. Imagine a blend of brown, pink, and purple hues woven together to create a dreamy yet sophisticated aesthetic. This is a look that strays from conventional hair colors, offering a unique take on the ombre trend. It's particularly eye-catching on hair that's styled in loose waves or curls, allowing each shade to catch the light differently. Celebrities like Kylie Jenner and Vanessa Hudgens have been known to experiment with similar multi-tonal styles that keep people guessing.
8. Rose Gold Ombre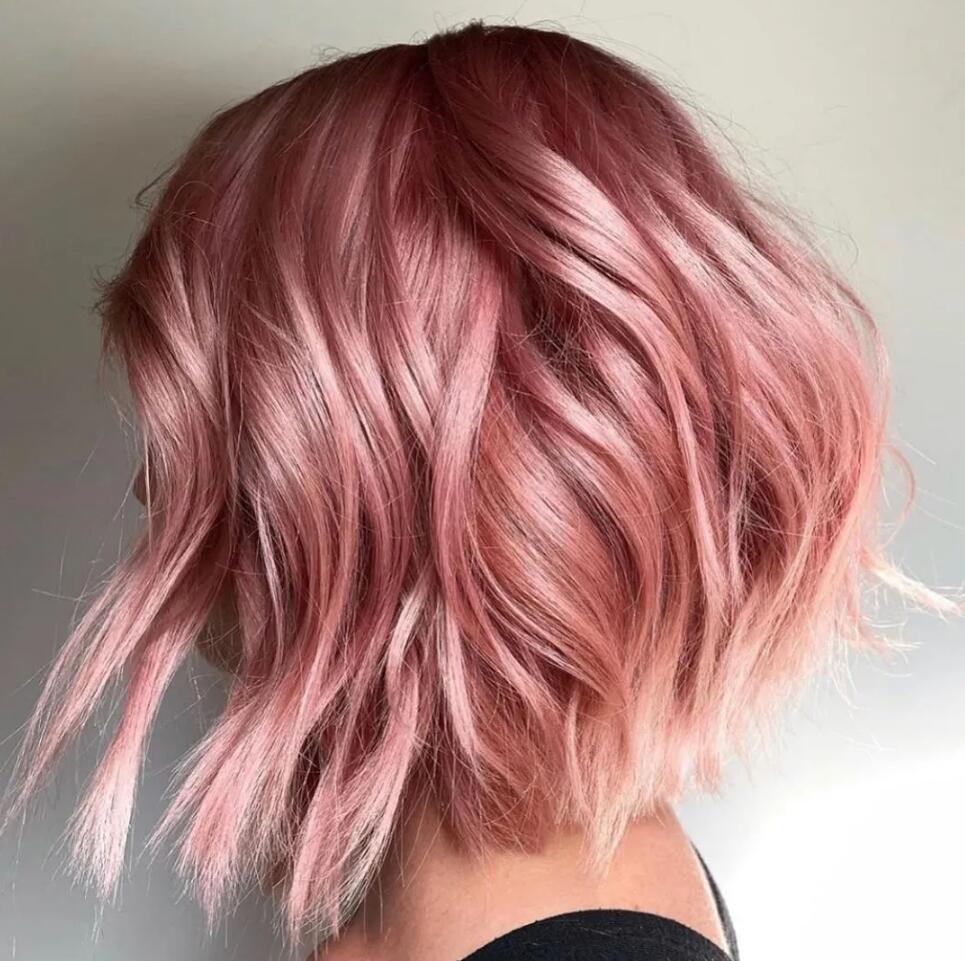 Picture a radiant golden blonde base that gradually transitions into soft, pinkish ends. This is a hair color that merges the sophisticated with the whimsical. Often spotted in a chic wavy bob cut, the Rose Gold Ombre has been sported by fashion-forward celebrities like Katy Perry. The versatility of this look means it pairs equally well with an evening gown or a casual tee, making it a color that you can wear no matter the occasion.
9. Copper Ombre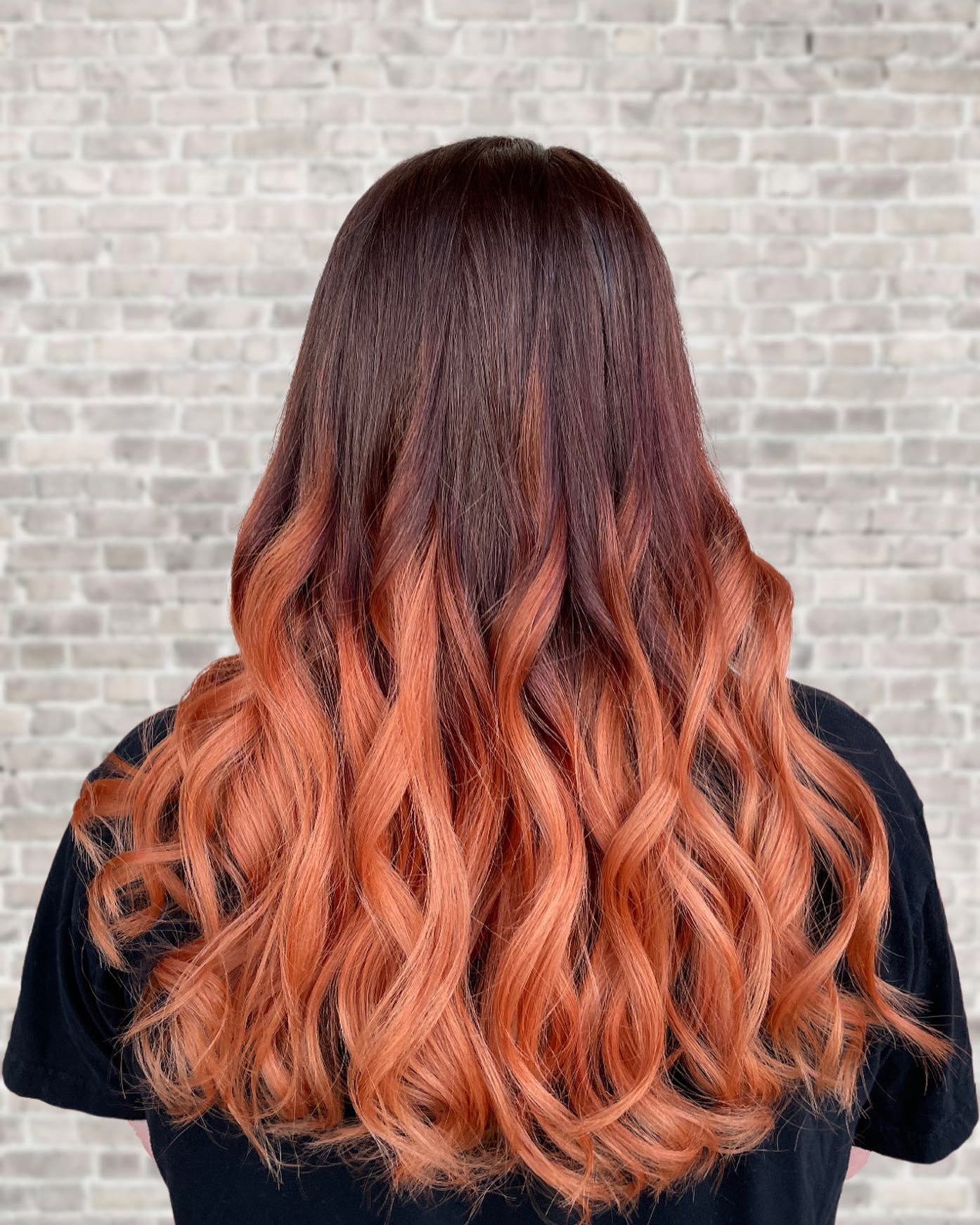 This bold look starts with striking black roots that effortlessly fade into a warm, luminous copper hue. When styled with large waves, particularly towards the tips, it adds extra drama and flair. From the back, the copper tones look as if they've been set ablaze, offering a stunning contrast to the darker roots. Celebrities like Emma Stone have dabbled in copper hues, showing just how captivating this color can be.
10. Denim Ombre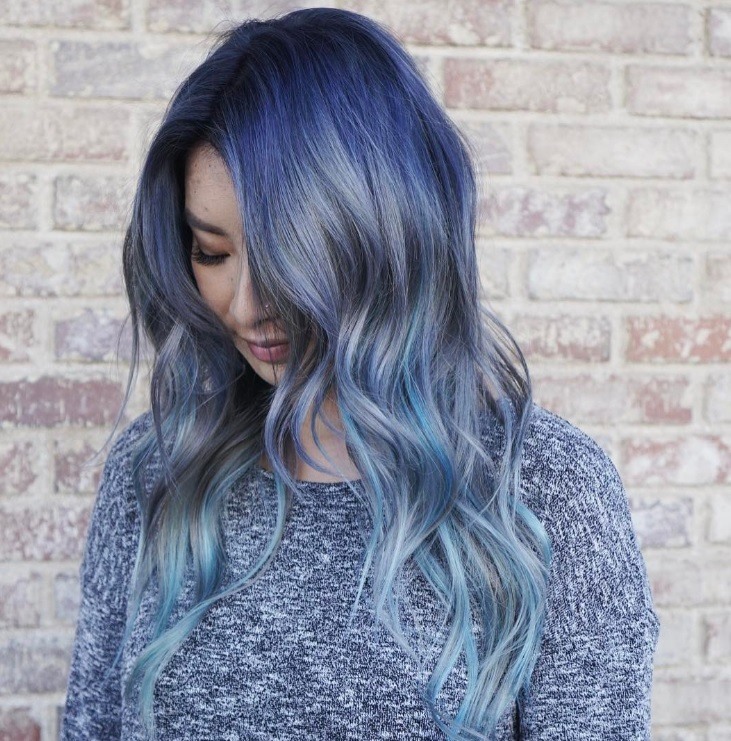 Just like your favorite pair of jeans, this style fades from a dark navy at the roots to a lighter, more washed-out blue towards the ends. It's a casual yet edgy look that's definitely not for the faint of heart. Lady Gaga and Kylie Jenner have both embraced bold blues, proving that this style is runway-ready.
11. Purple Ombre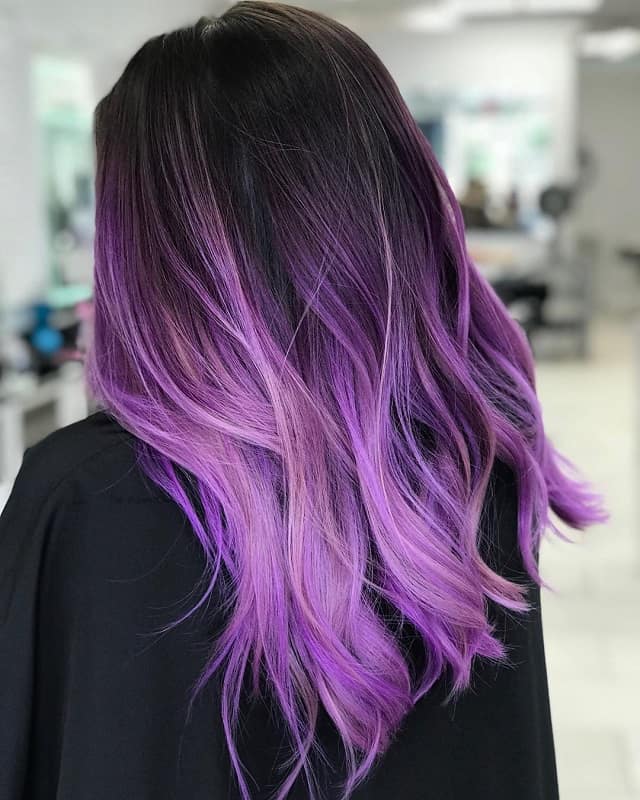 With dark roots and electrifying purple tips, this ombre style is for the daring. The purple hues add a touch of fantasy to the overall look, and it can be especially stunning when done on curly or wavy hair. Celebrities like Nicole Richie have made purple hair iconic, and it's a style that offers endless room for personalization, depending on the shade of purple you choose.
12. Sombre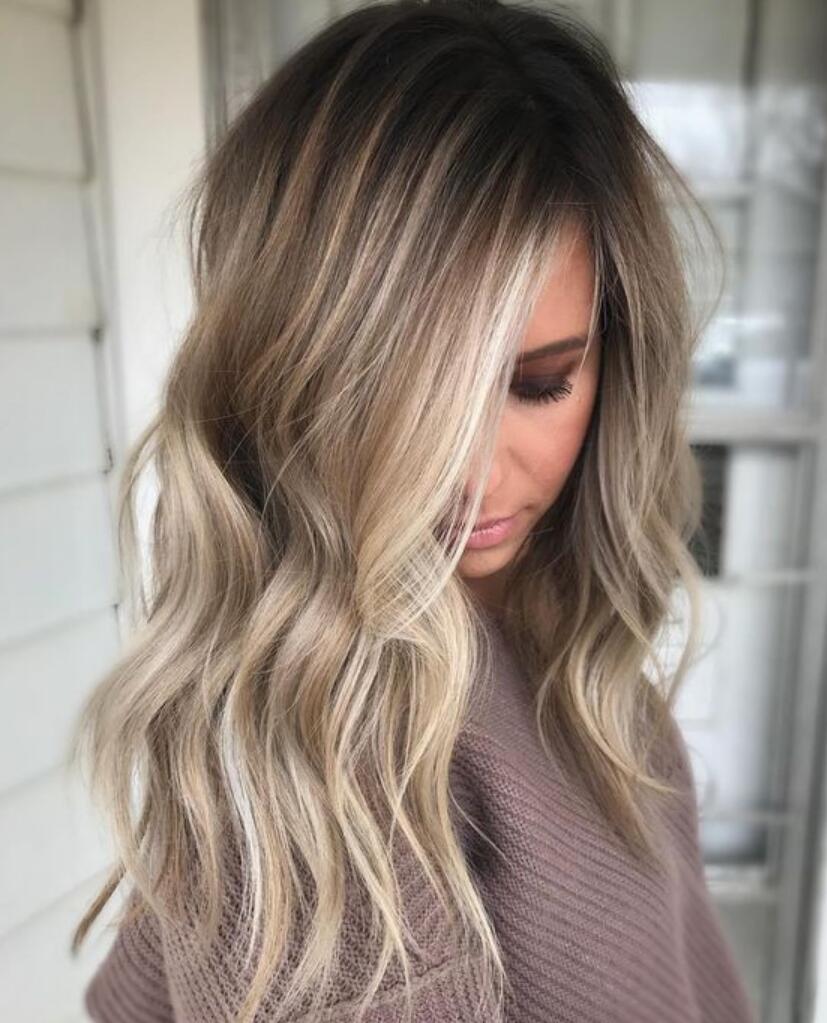 This is the softer, more natural sister of the classic ombre. Featuring a gentle transition from dark to light—often a muted dark hue that fades into a blonde—the Sombre is all about subtlety. This style shines on soft, wavy, long hair, adding a touch of effortless glamour. Think of stars like Jessica Biel or Olivia Wilde, who have opted for these softer ombre looks that offer a more natural, yet still captivating, transition between shades.
13. Black to Blue Ombre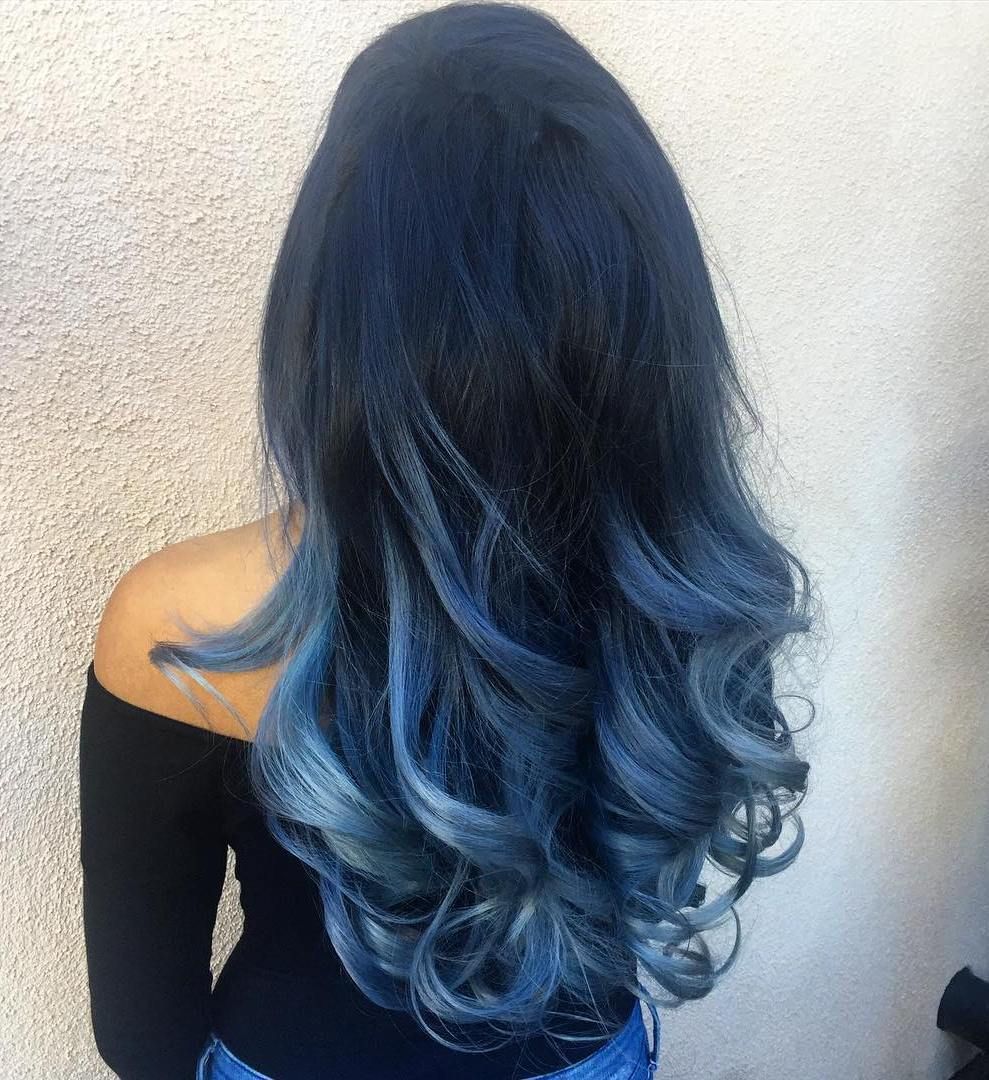 Imagine a night sky that fades from the deepest black into various mesmerizing shades of blue. That's exactly what the Black to Blue Ombre offers. This sultry look is best complemented by large, flowing waves that allow each shade of blue to shimmer and stand out. Celebrities like Demi Lovato have embraced this captivating style, making it a go-to for anyone wanting to make a bold statement.
14. Teal Ombre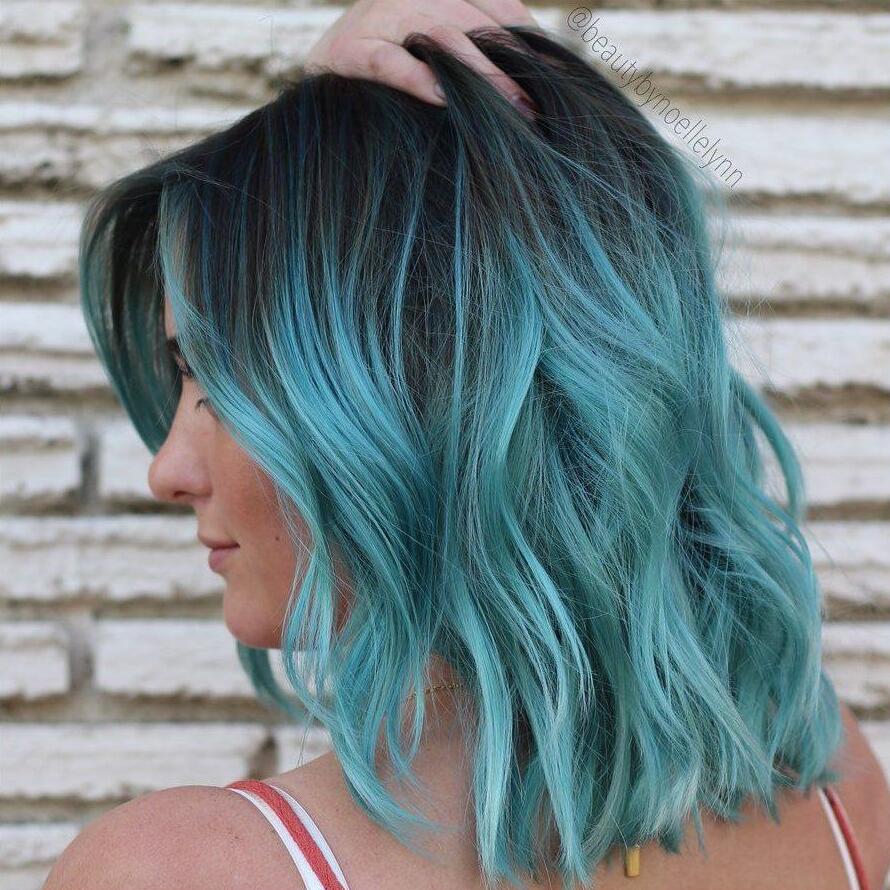 Starting with dark roots and dissolving into a beautiful deep teal hue, this look is ideal for a soft wavy bob. The teal offers a fresh, youthful vibe that can add a pop of unexpected color, providing a striking contrast to the darker roots. It's a color choice that pairs well with both casual and formal outfits, giving you versatility and edge in one look.
15. Fire Ombre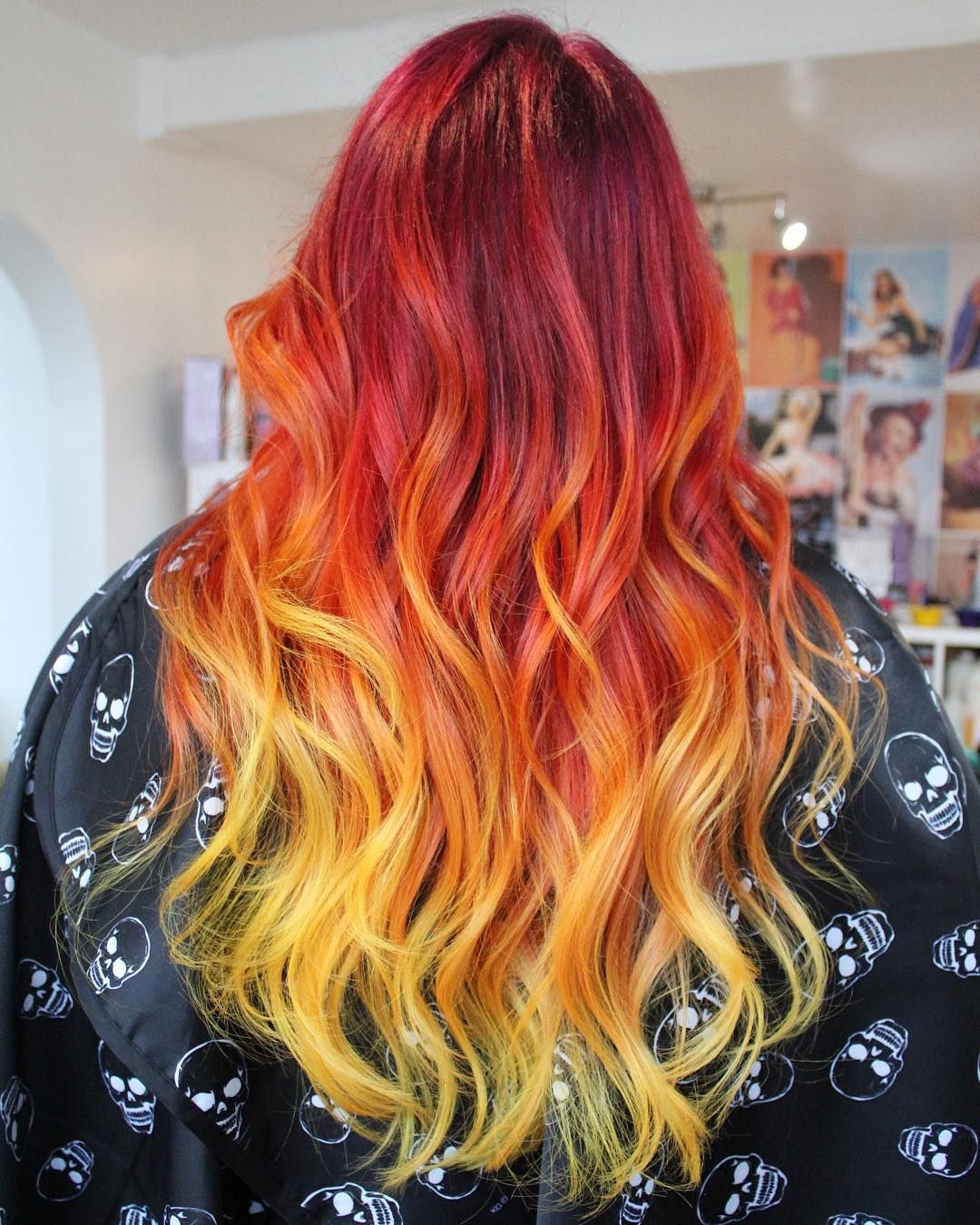 The Fire Ombre is exactly as scorching as it sounds. A daring mix of red, orange, and yellow, this look is an homage to the mesmerizing colors of a flame. It's an audacious choice that turns heads and exudes confidence. It's a look that, when styled with bold curls or waves, truly comes to life, mimicking the dynamic nature of fire itself.
16. Rainbow Ombre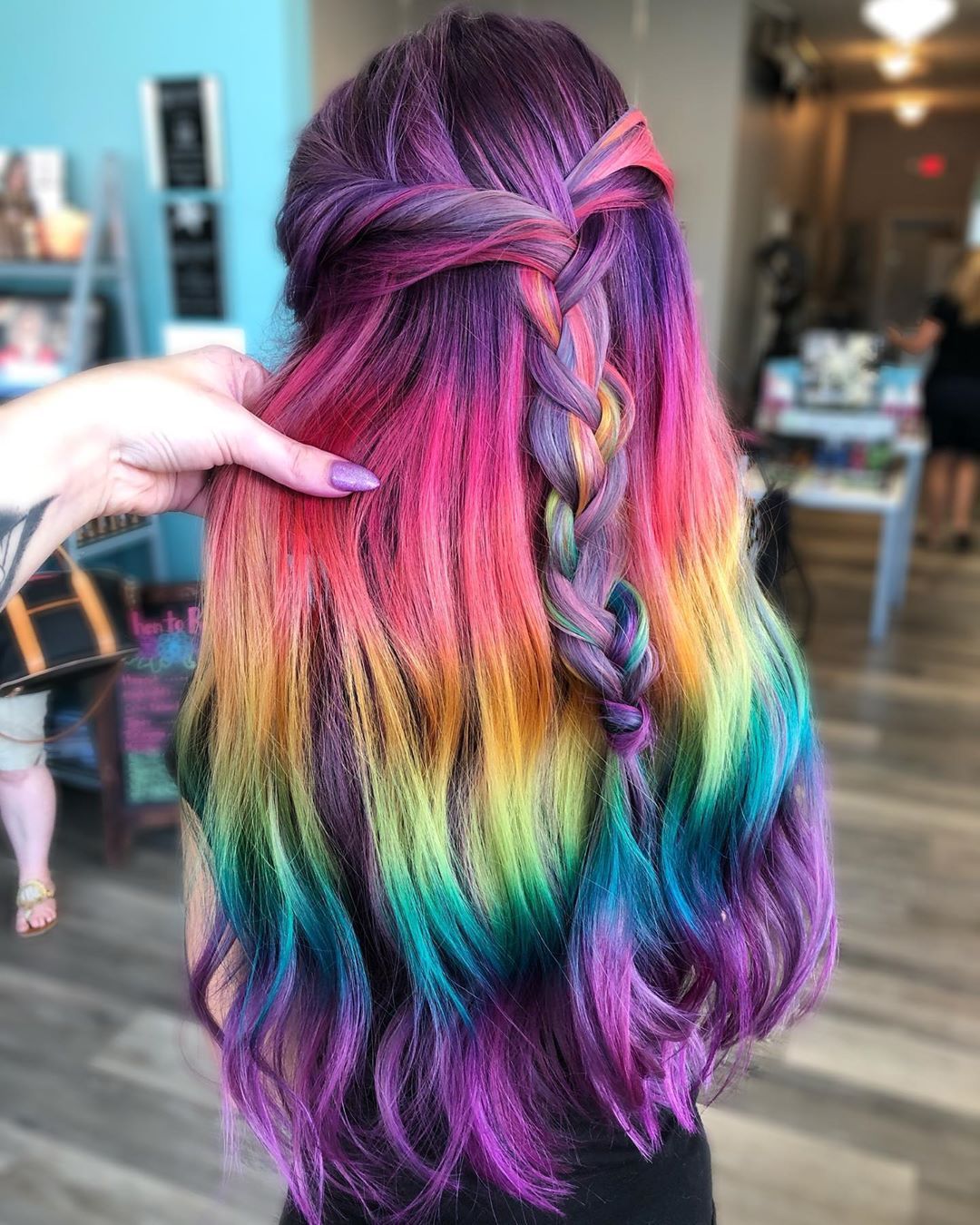 This is not your average ombre. A literal spectrum of colors fades into each other to create a stunning rainbow effect. The hair falls naturally down the back, while on either side, it's styled into braids, framing the face and adding an extra layer of uniqueness to an already extraordinary look. It's the epitome of bold, fearless style, seen on celebrities who aren't afraid to take risks, like Cardi B.
17. Burgundy Ombre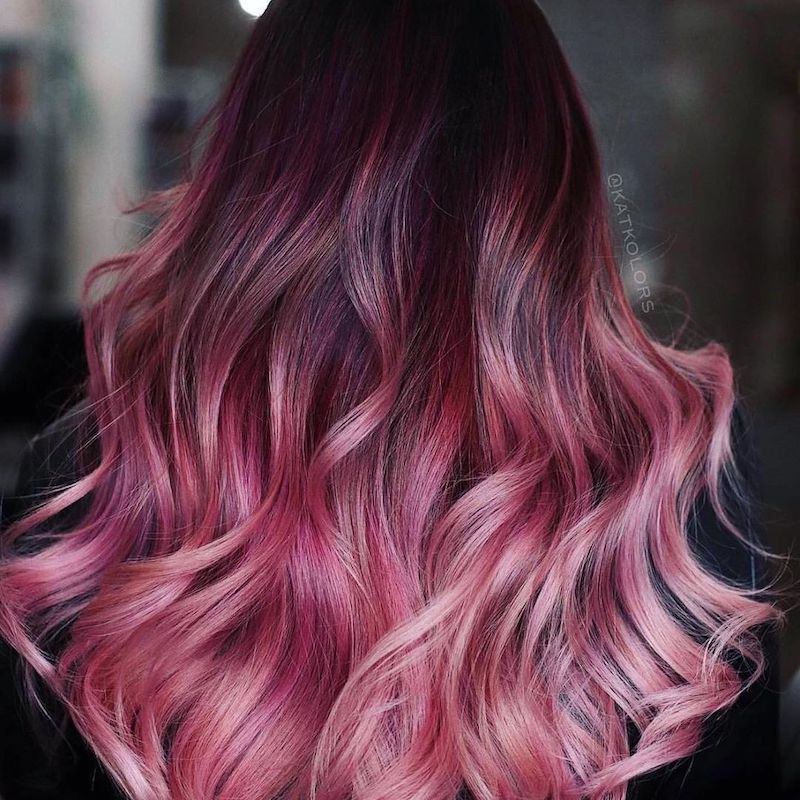 Starting with a deep burgundy at the roots and fading into a softer pink towards the tips, this ombre style is the epitome of elegance and flair. The wavy, long hair enhances the transition between the two colors, making each hue stand out in its own right. As some stylists say, "It's not just a color, it's an attitude." Celebrities like Rihanna have flaunted similar shades, showing that burgundy is more than just a color—it's a fashion statement.
18. Lavender Ombre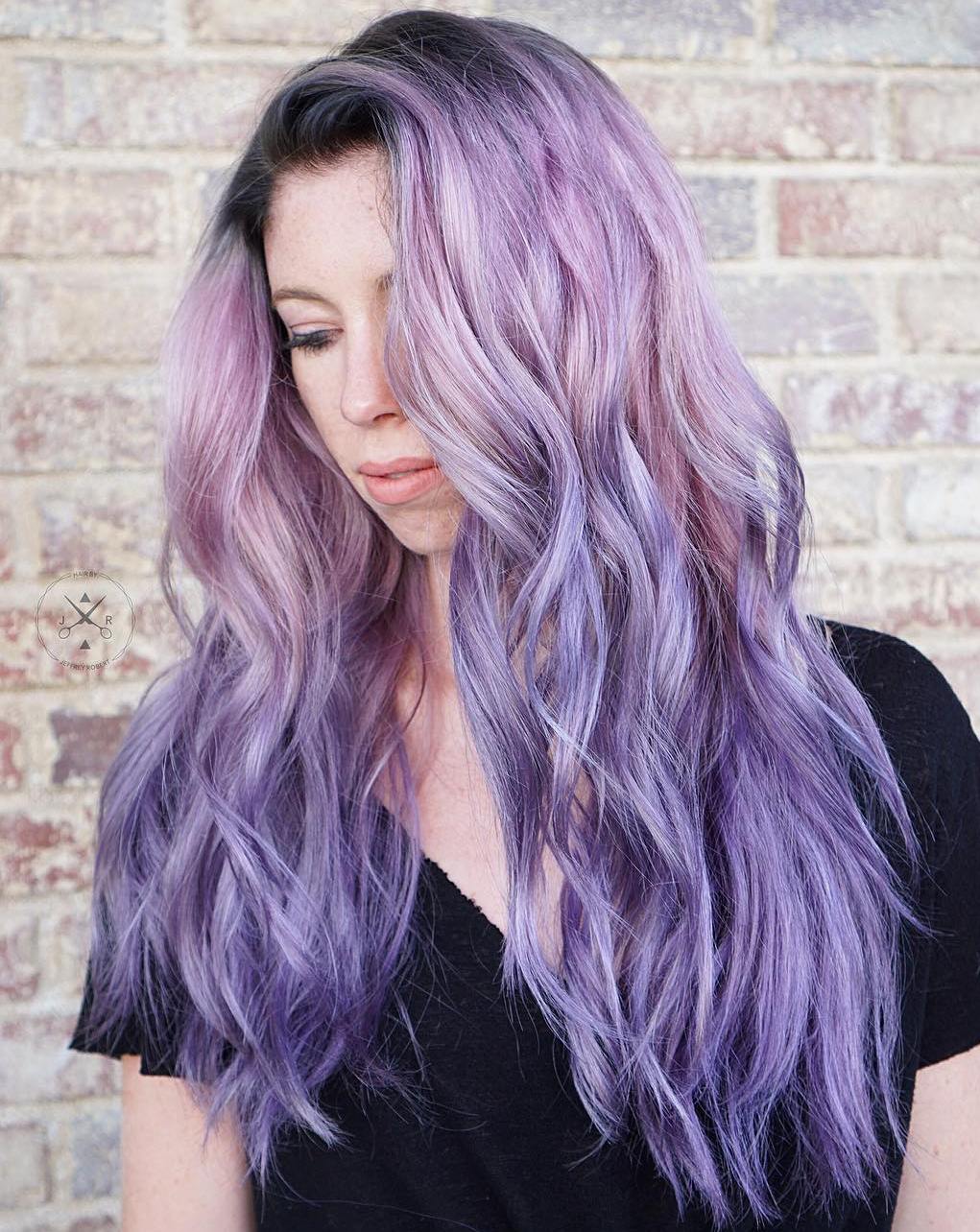 A whimsical twist on the ombre trend, the Lavender Ombre starts with dark roots that dissolve into soft shades of lavender towards the ends. The tousled curls add an extra layer of playfulness, making this an ideal choice for young ladies looking for something romantic yet adventurous. Stars like Kelly Osbourne have donned similar pastel hues, showing that lavender is not just a color, but an expression of individuality.
19. Icy Blonde Ombre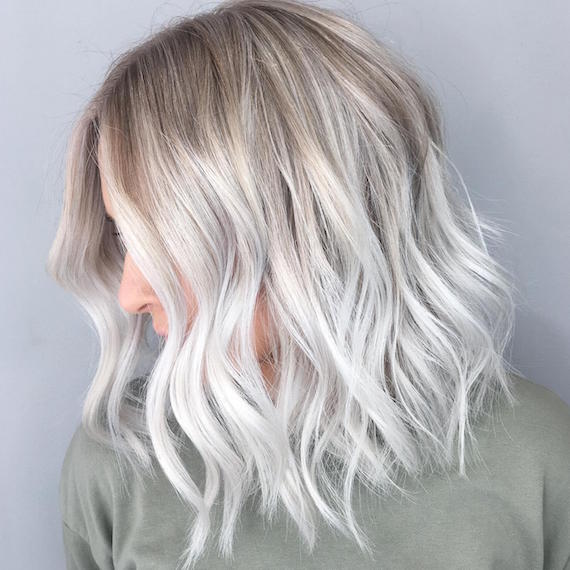 Imagine the first snowfall of winter—quiet, peaceful, and stunning. That's the vibe you get from the Icy Blonde Ombre mob. Starting with natural brown roots, this look cools down as it reaches the ends, which gleam in icy or platinum blonde. The wavy lob cut enhances the gradient and adds a modern touch, making this look a standout, as seen on celebrities like Jennifer Lawrence.
20. Balayage Ombre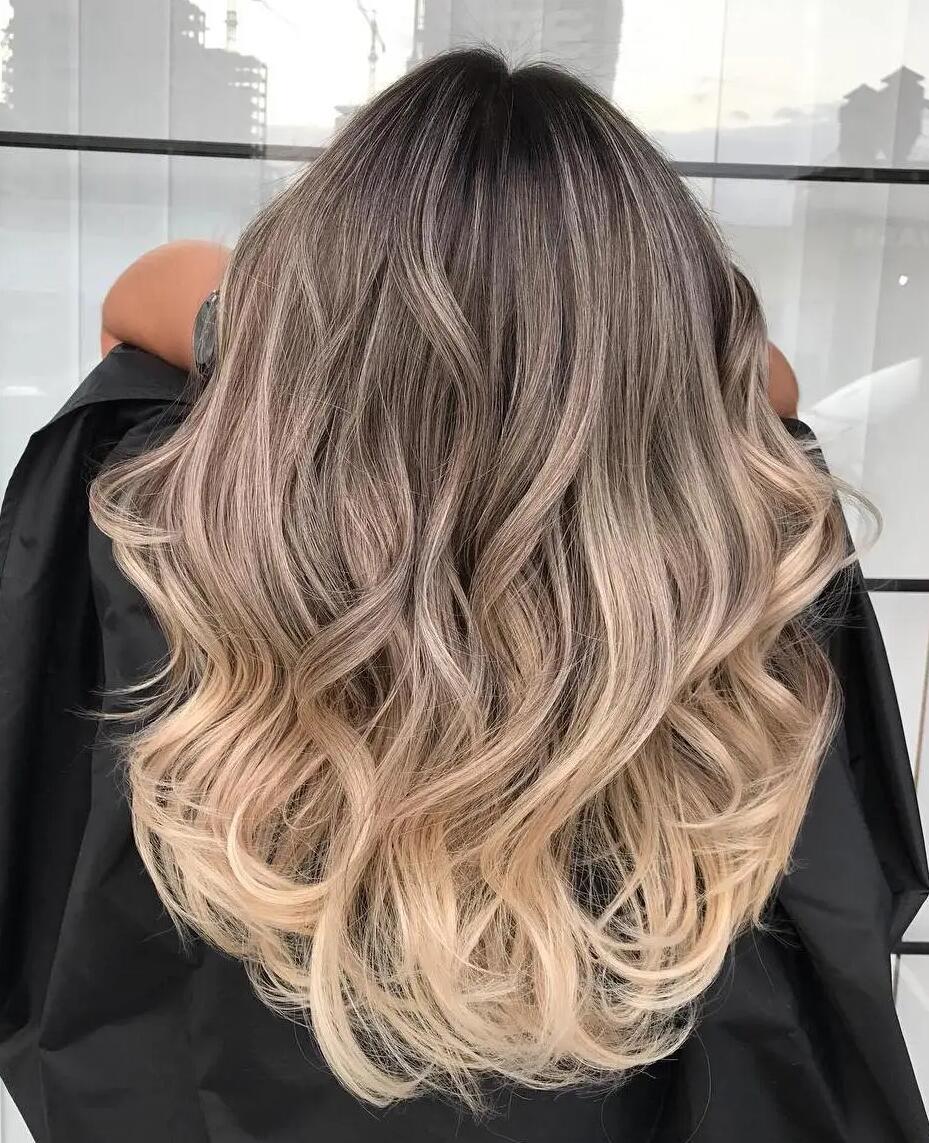 Unlike traditional ombre, the Balayage Ombre employs a hand-painted technique that results in a more subtle, sun-kissed appearance. The transition from dark roots to blonde ends appears more natural, almost as if the sun had lightened the hair during a long beach vacation. This is a more understated and elegant approach to the ombre style, and stars like Jessica Biel have sported this look for a refined yet casual aesthetic.
21. Coffee Brown Ombre
Just like a comforting cup of coffee, this ombre style is warm and inviting. The look begins with darker roots and gradually lightens into a shade reminiscent of freshly brewed coffee. It's an ideal option for those who prefer a more conservative approach to hair coloring but still wish for a touch of elegance. A-listers like Mila Kunis have rocked similar looks, showcasing the sophistication that comes with a monochromatic color scheme.
22. Smokey Ombre hair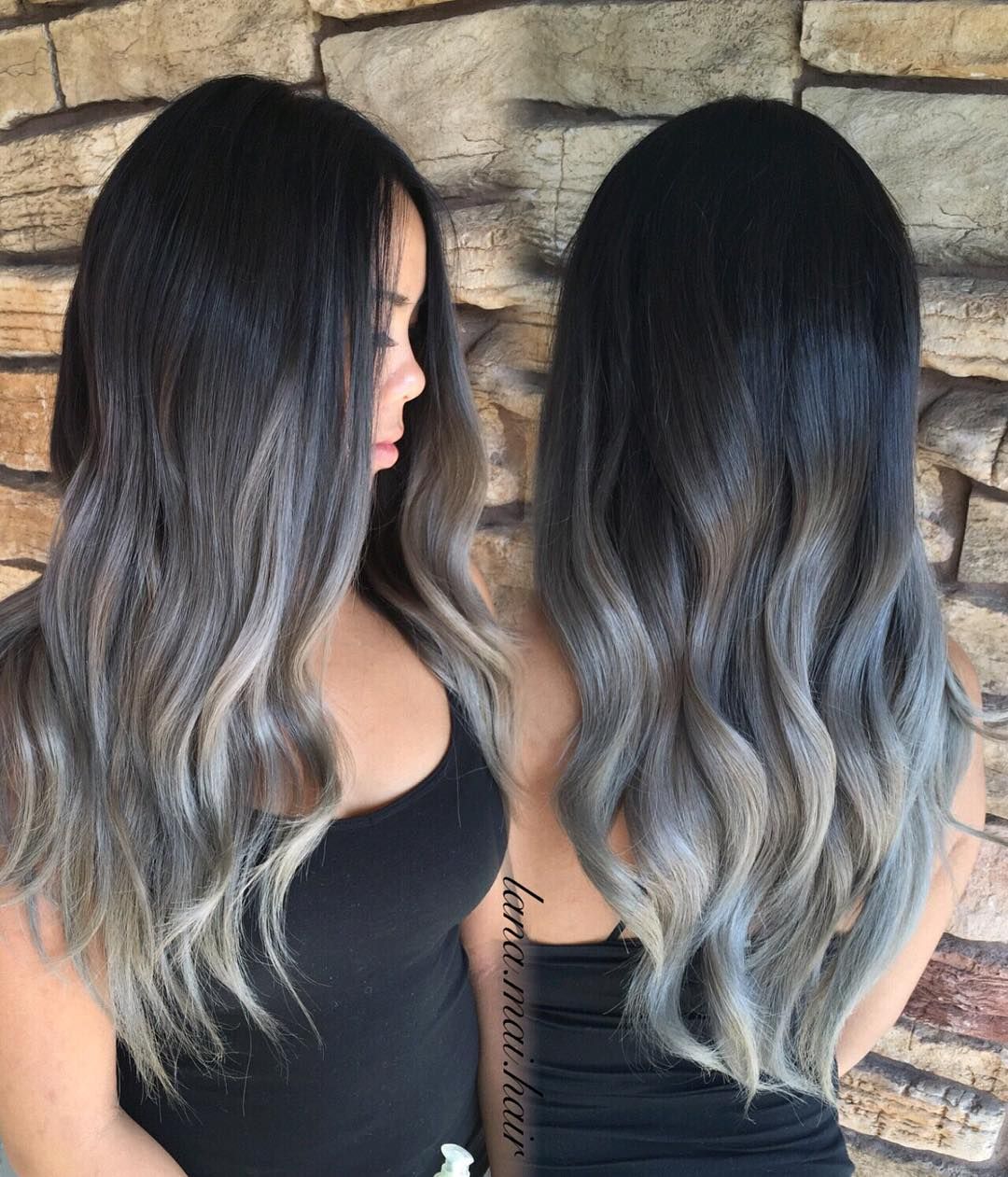 A captivating blend of greys and blacks creates an evocative smoky effect in this edgy style. The look starts with natural dark roots that fade into an ashy blue, evoking the allure of a dusky evening sky. With its long, layered lengths, this is a dramatic choice that makes a bold statement. Celebrities like Rihanna have often embraced variations of smokey ombres, proving it's a style that stands out in any crowd.
23. Green Ombre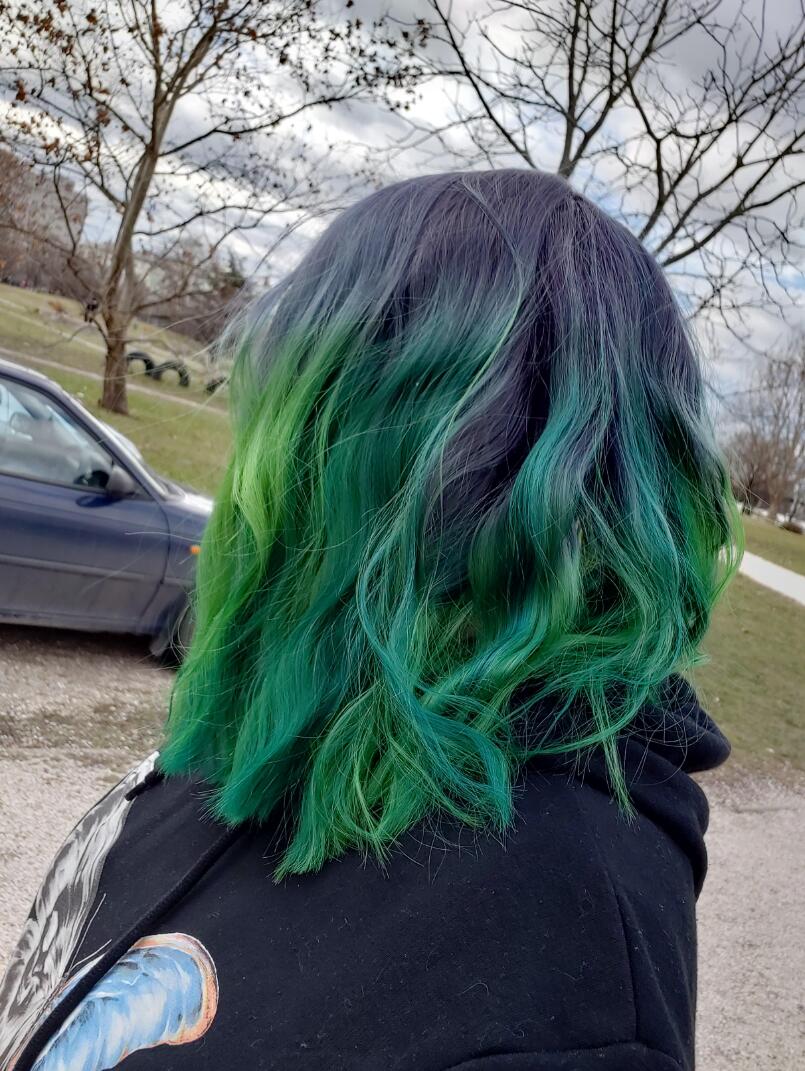 A daring yet fashionable pick, the Green Ombre starts with dark roots and blossoms into a rich shade of green. This look is perfect for those who want to break the mold without straying too far from natural colors. The shoulder-length cut, especially in a thick, long bob style, really lets the green shine without overwhelming the senses. Billie Eilish, known for her audacious style, has made green hair an iconic part of her look.
24. Neon Ombre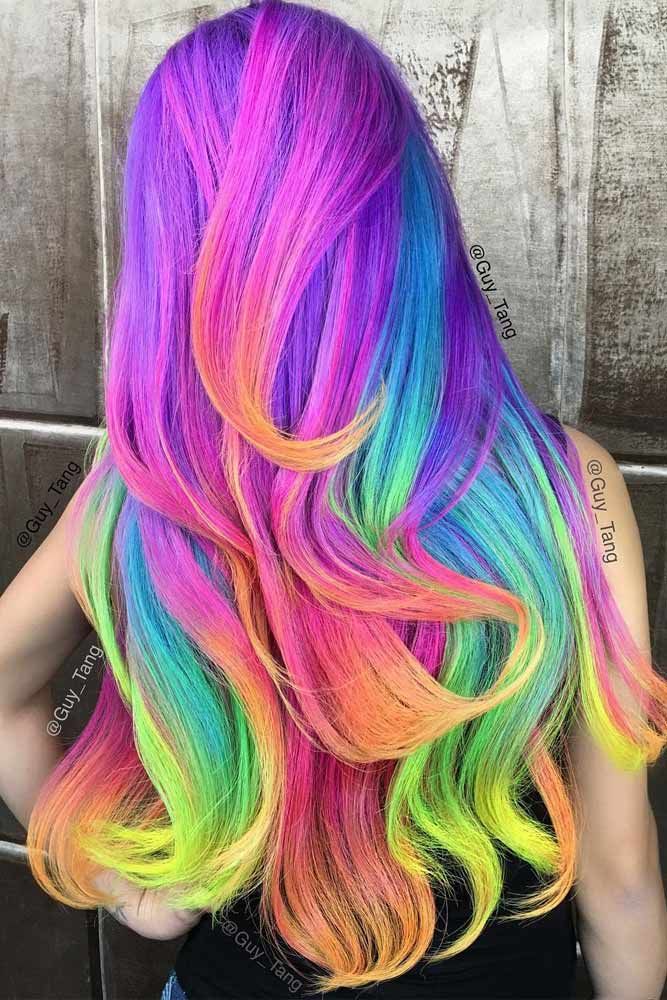 For the brave at heart, Neon Ombre brings electric energy to your locks. Imagine roots colored in dark, natural tones that shockingly transition into neon tips—be it red, pink, green, or blue. This is the kind of ombre that's impossible to ignore and shouts individuality and daring from a mile away. Stars like Nicki Minaj have shown just how eye-catching neon can be.
25. Pastel Ombre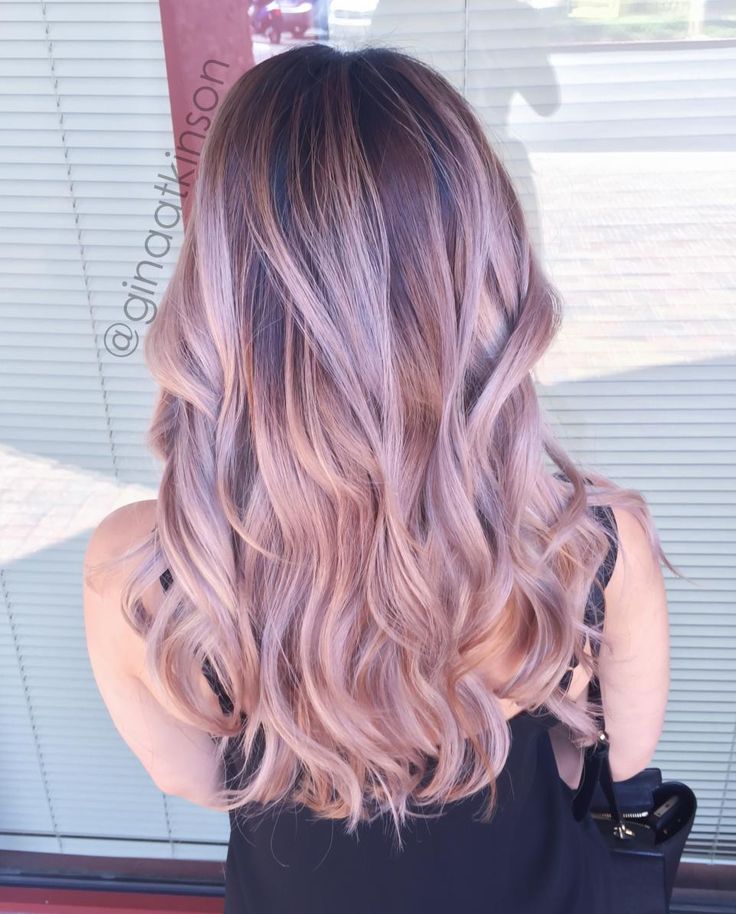 This is the ombre for dreamers. Soft pastel shades like pink, blue, or lilac flow effortlessly from darker roots, creating an ethereal, fairy-tale vibe. Specifically, this style often features dark brown roots melting into whimsical pink ends. Layered cuts and soft waves add to the enchantment, making this a perfect choice for those who prefer a more romantic, soft-spoken statement. Kylie Jenner has dabbled in pastel ombres, adding a touch of whimsy to her ever-changing hairstyles.
26. Brown to Ash Blonde with Curled Ends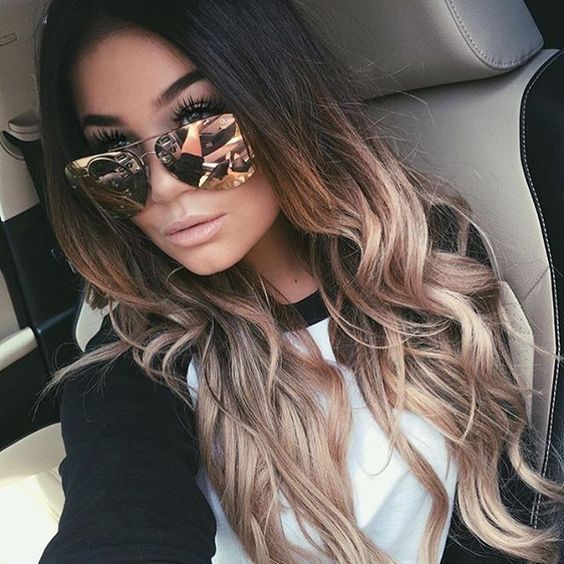 This absolutely stunning hairstyle starts off our gallery perfectly! Starting with a deep and dark brown at the root and blending through to a lighter brown, finished with a gorgeous ash shade of blonde at the ends of the hair. From the ear length down, this lovely lady has worked curls throughout a lovely end results.
Choose the Right Colors: To ensure your ombre looks flawless, pick colors that complement your skin tone and natural hair color. Consulting with a professional stylist can help you make the best decision.
27. Chocolate Brown to Golden Blonde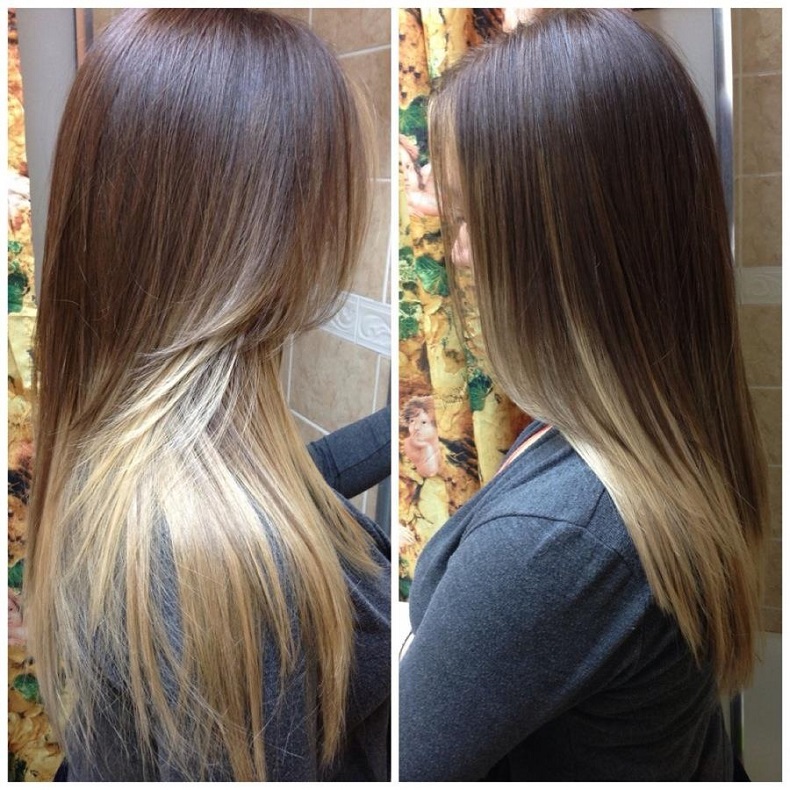 This lady's beautiful long locks are glossy, sleek and oh so stylish – especially because of the incredible ombre transition at work here! This fashionable female's striking hair starts with a lovely chocolate brown colour and blends into a gleaming golden blonde at the ends, in a fabulous finish.
Protect Your Hair: Ombre hair often involves some level of bleaching, so it's essential to take care of your locks. Use color-safe shampoos and conditioners, and apply heat protectant before styling.
28. Red to Yellow Blend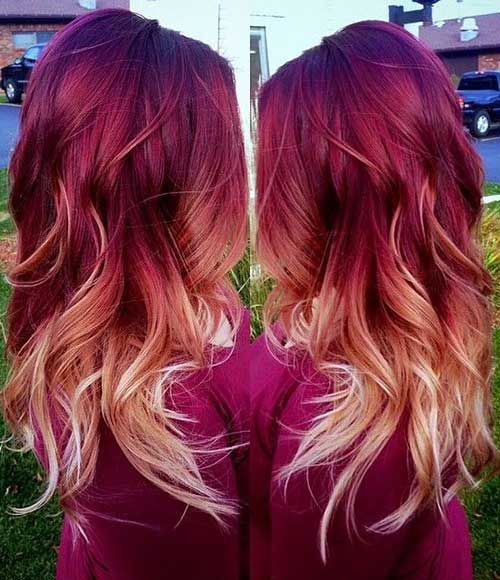 Ombre hair transitions need not strictly work for more natural shades – it looks simply flawless with brighter colours too, as this lovely lady proves! Her hair works from a glossy and vibrant shade of cherry red right through to the light blonde ends, reaching a subtle shade of copper in the middle as one colour melts to the other. The hair is finished with lovely barrel curls throughout to add bounce to the ends.
Regular Trims: Keep your ombre hair looking fresh by scheduling regular trims. This will help prevent split ends and maintain the shape of your hairstyle.
29. Brown to Golden Blonde Long Waves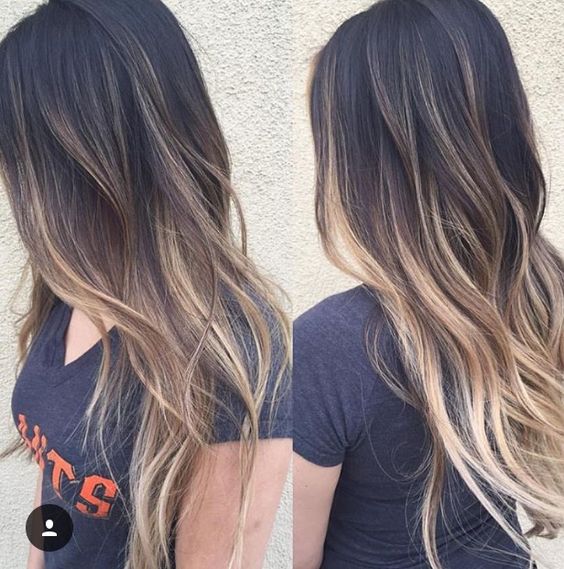 These beautiful long locks are blessed with the most stunning ombre blend we ever did see! The hair cascades down the back, and works from a deliciously dark shade of deep brown through to a stunning white blonde and caramel at the ends. She's added loose waves throughout the style for this beautiful finish.
30. Multi-Shade Blue Ombre Blend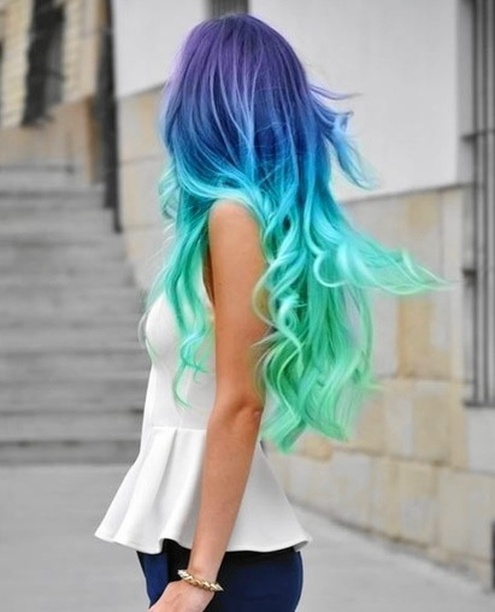 This stunning ombre blend is the perfect mermaid style hairstyle that is simply guaranteed to turn heads! Starting from a lovely cornflower blue to a bright blue and finished with a gorgeous shade of turquoise at the ends. The ends are curled into beautiful ringlets which create the finished result of utter perfection.
31. Dark to Light Brown Ombre Blend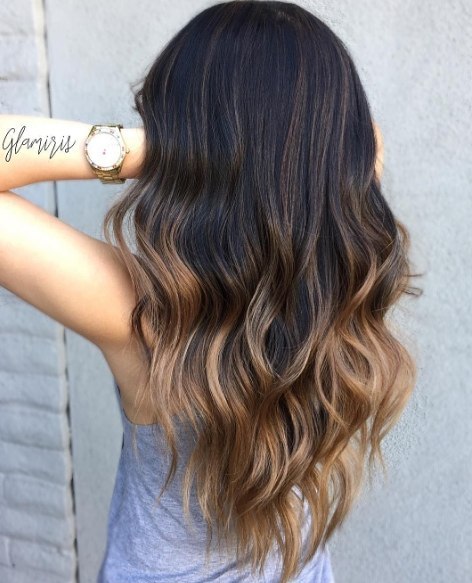 Another beautiful ombre blend to add to our collection – this stunning brown to brown colour melt is striking. Her lovely long hair goes from the darkest brown to a stunning toffee shade at the ends, melting from one to the other seamlessly. She's added loose waves throughout for a gorgeous and voluminous look.
32. Black to Blue Barrel Curls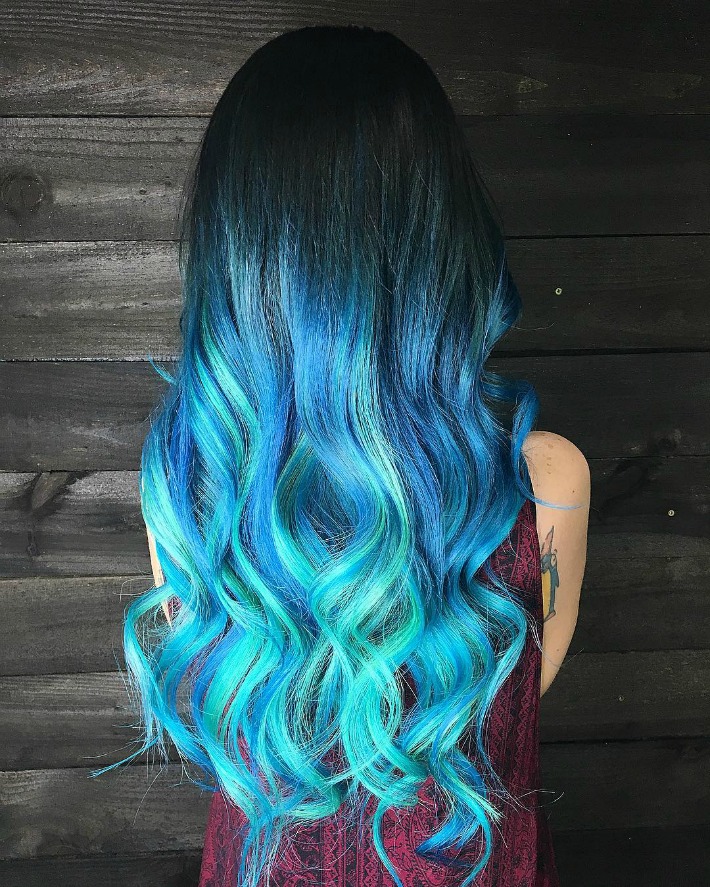 Another glorious and striking colour blend utilising bright shades to make a fantastic finished hairstyle. The roots of this look are a glossy and deep black which is oh so shiny, and it blends through an ombre transition to a striking bright blue. This lovely lady has worked big barrel curls throughout for a fantastic night out look.
33. Dark to Pastel Purple Ombre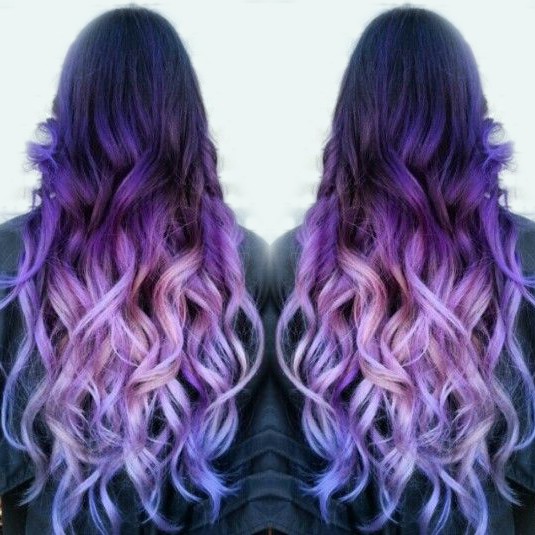 This lady is blessed with the most beautiful long and thick hair which falls in thick ringlets down the length of her back. As well as being full of curls, this lovely look starts a deep and dark purple shade, blending through a stunning selection of lighter purple colours until the ends finish a pretty pastel colour.
34. Ombre Bob with Centre Parting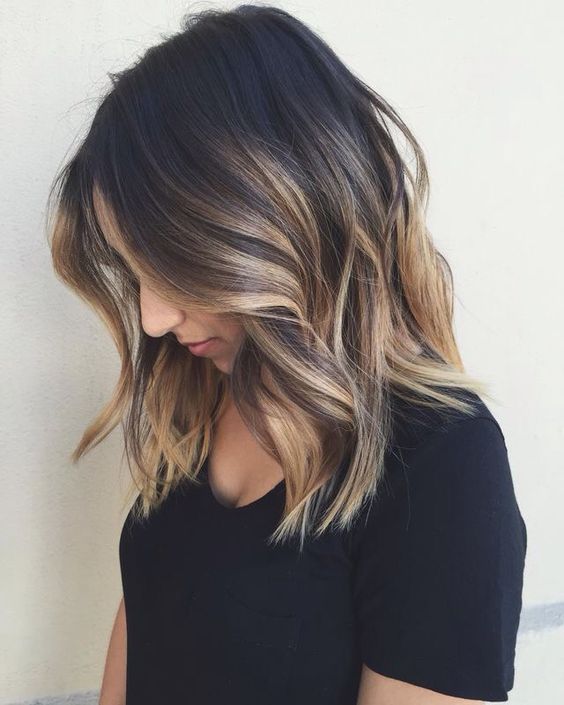 This beautiful long bob falls just around the shoulder length, about an inch or two below, and is parted in the centre for a perfectly symmetrical style we cannot stop swooning over! Her hair starts a striking dark shade of brown which is glossy and rich, and blends seamlessly into a beautiful caramel blonde throughout the front and the ends of the hair. The loose curls throughout are truly stunning.
35. Light to Dark Pastel Lilac Bob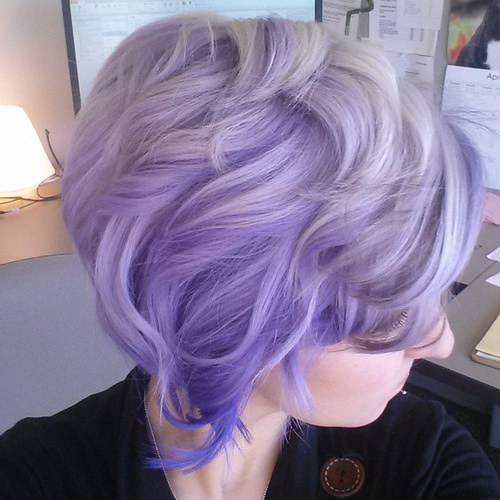 This absolutely beautiful short bob is full of personality – and we simply adore it! Finished with a stunning side fringe and longer strands which fall around the ears, the rest of the hair is chopped into lovely, short and graduated layers throughout, for this bouncy bob finish. It blends from a light pastel lilac to a slightly deeper lilac shade at the ends.
36. Brown to Blonde Ombre Sleek Bob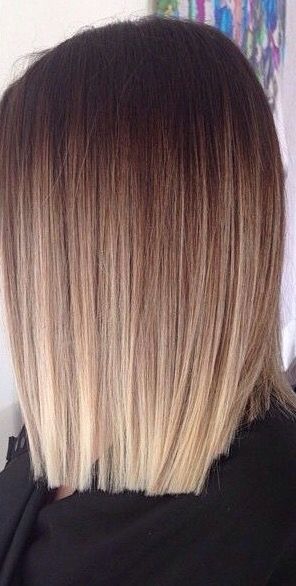 This impeccable sleek bob is the perfect way to finish our gallery off in style. This beautiful long bob finishes about an inch below the shoulders, has been parted in the centre and creates a perfectly symmetrical style which we adore. Blending from a chocolate brown to a glossy icy blonde at the ends, blending from one to the other seamlessly.
This gorgeous collection is simply full of ombre hairstyles for you to swoon over – but which one will you choose as your next hair look? Let the Styles Weekly team know what gallery of hair inspiration you'd like next. You can find more bob hairstyles here.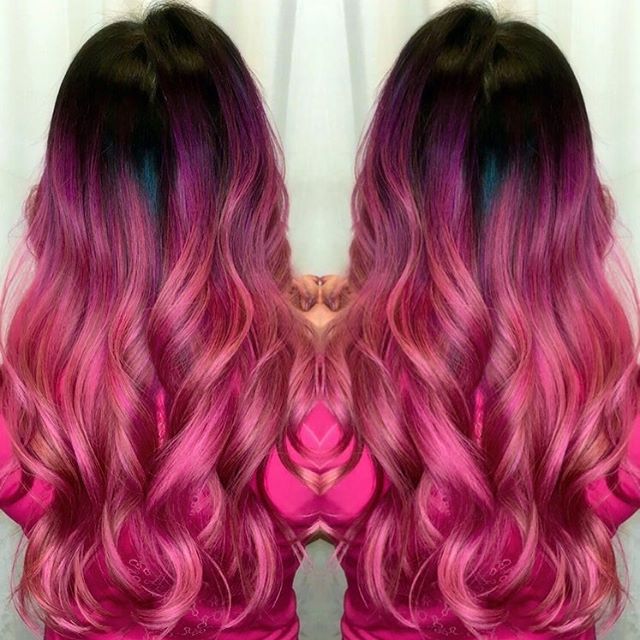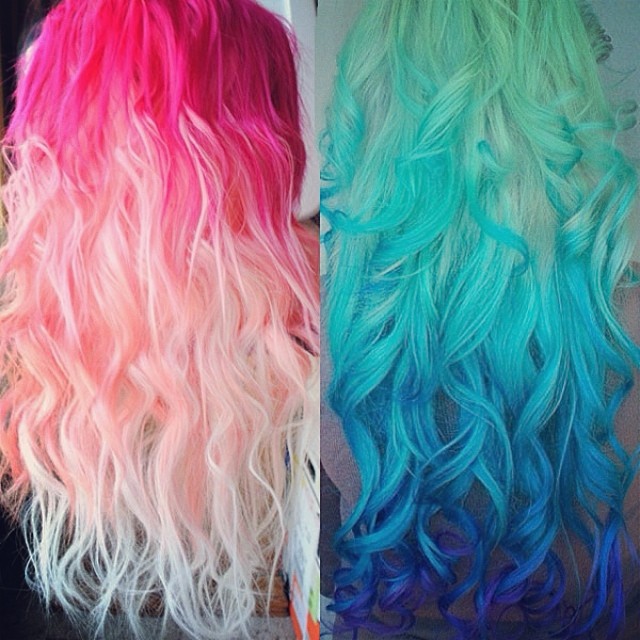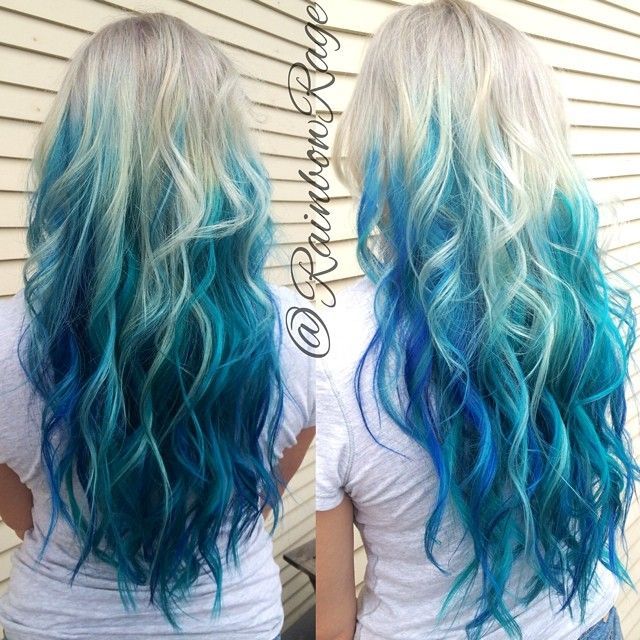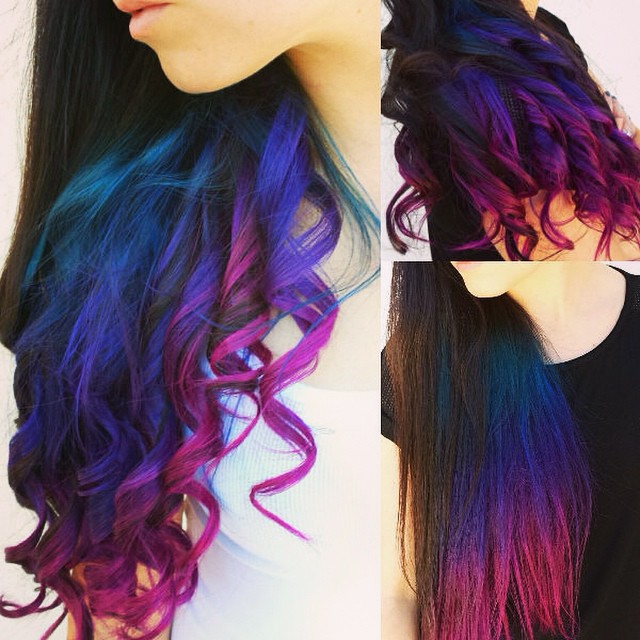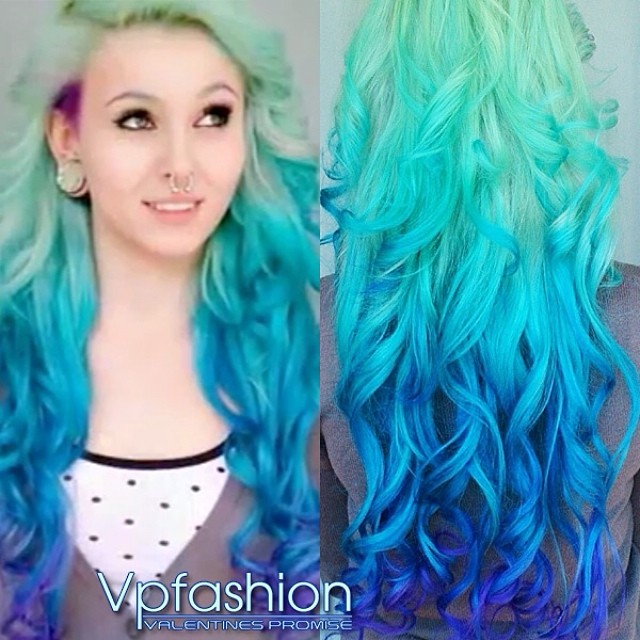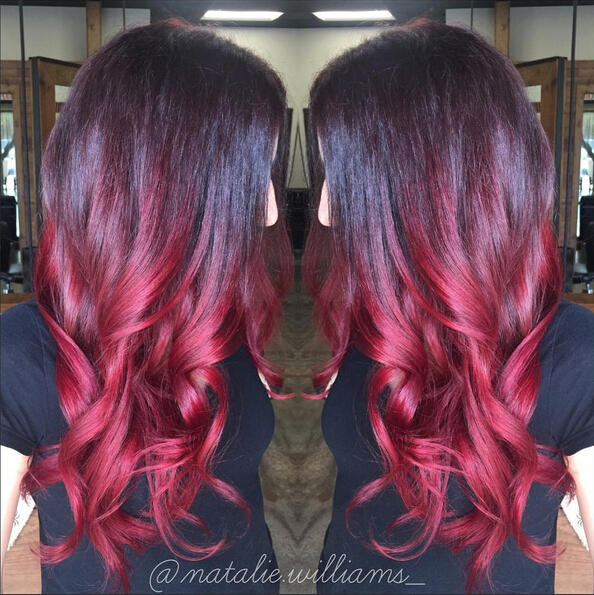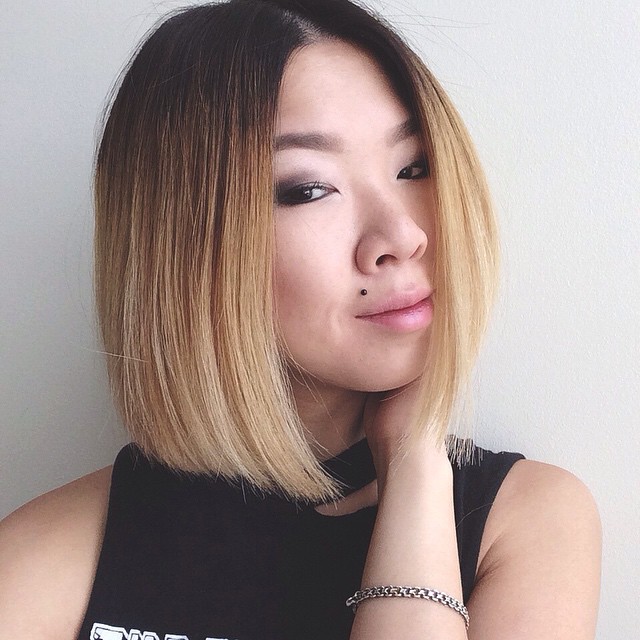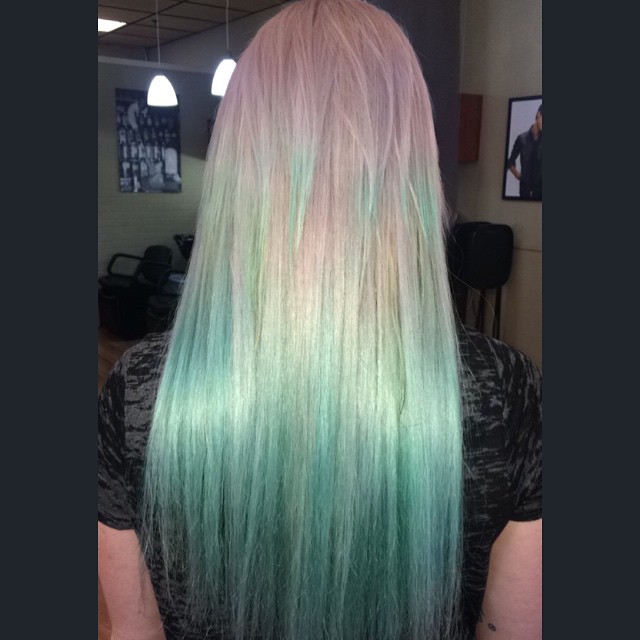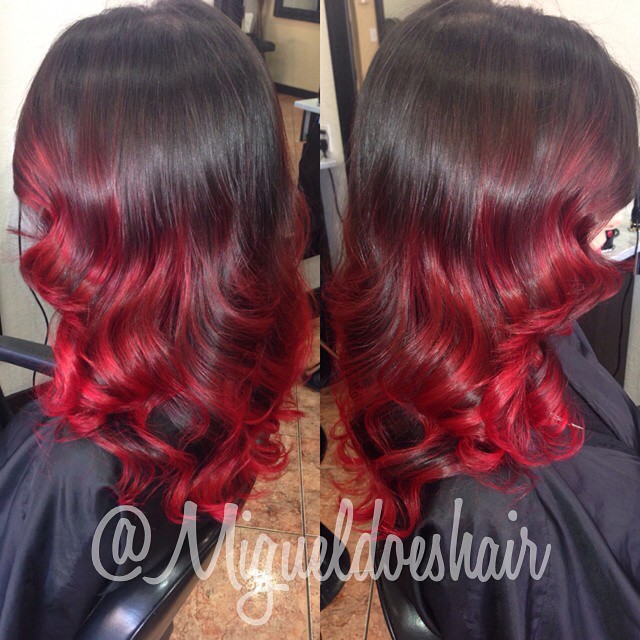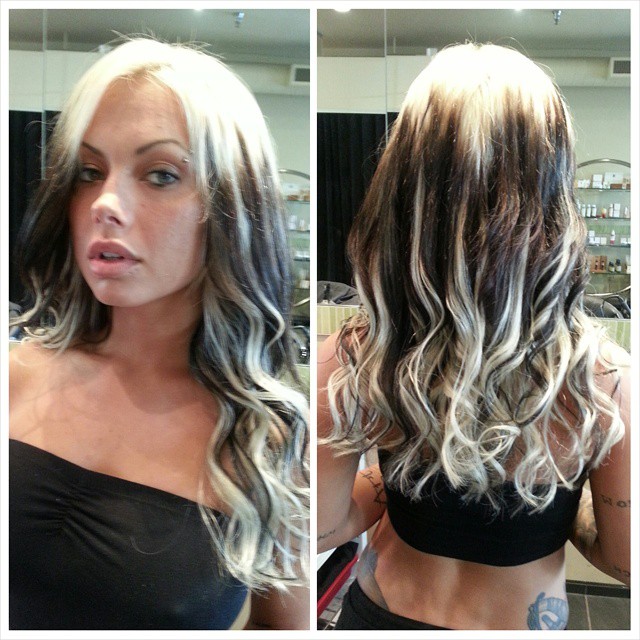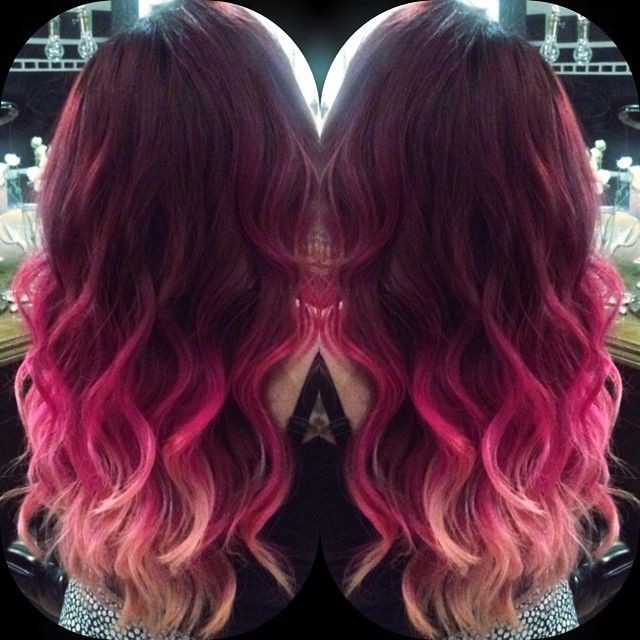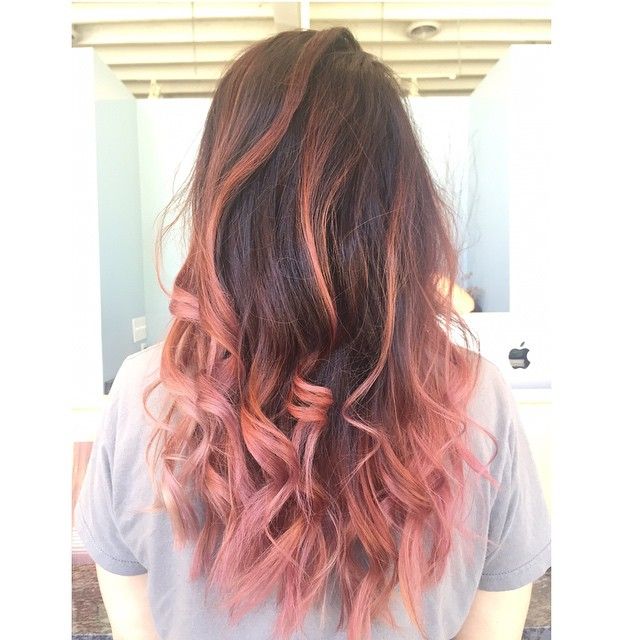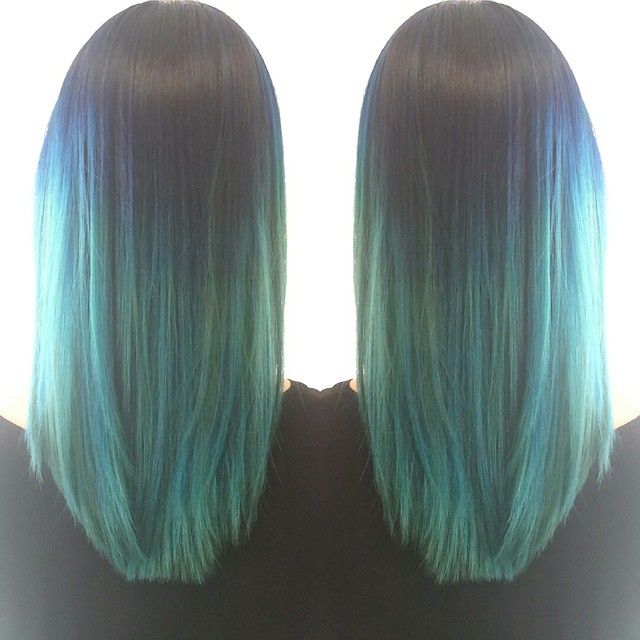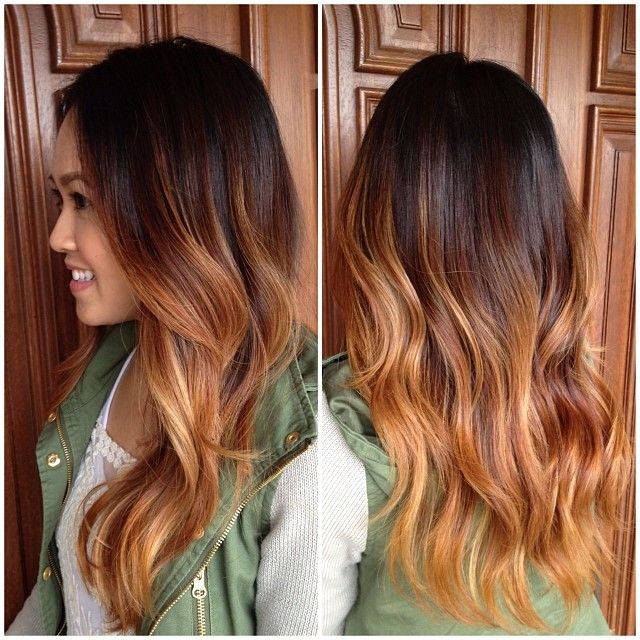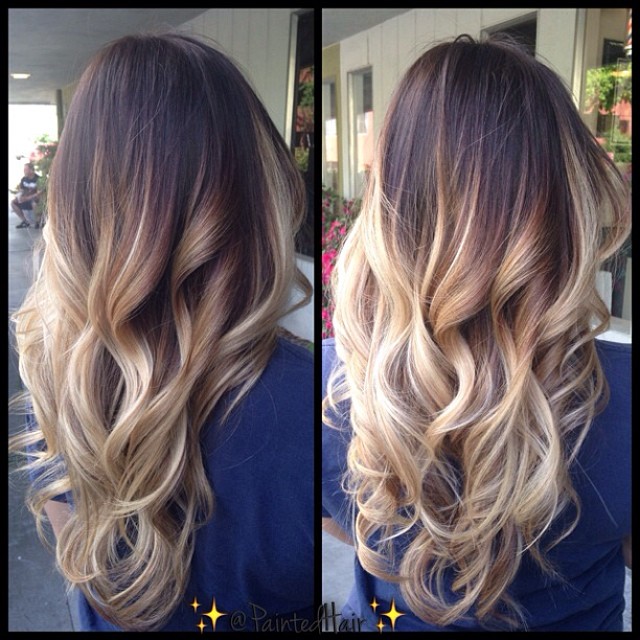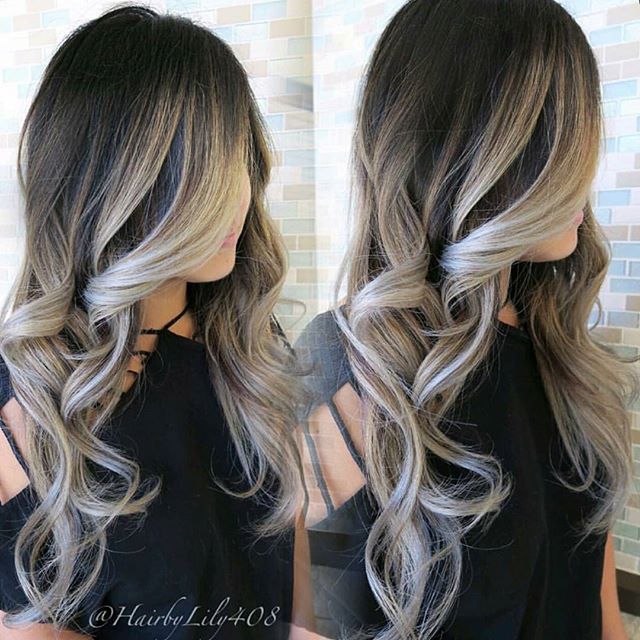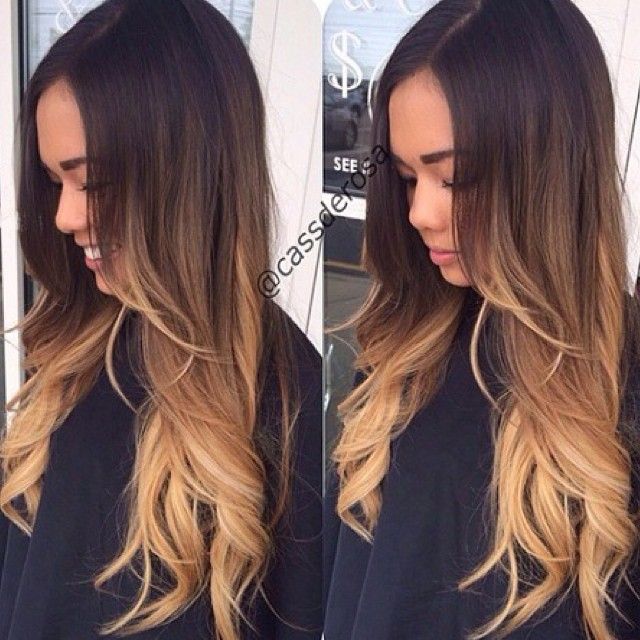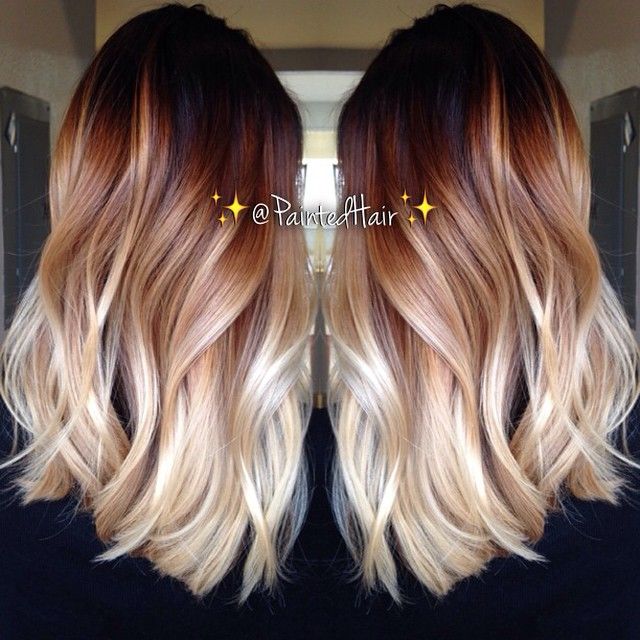 Why Choose Ombre Hair?
Here are the reasons!
Low-Maintenance: Ombre hair is a popular choice for those who desire a low-maintenance style. Since the color transitions gradually, root touch-ups are less frequent, and it's easier to maintain the look.
Versatility: Ombre hair offers endless color combinations and allows you to experiment with different shades without committing to an all-over color change. It's an ideal option for those seeking a unique and personalized look.
Enhanced Volume: The contrasting shades in an ombre hairstyle can create the illusion of added depth and volume, making your hair appear fuller and more voluminous.
Ombre hair is an alluring and versatile choice for those seeking to refresh their style with a touch of color. Our gallery of ombre hair color ideas offers a plethora of enchanting shades to help you find your perfect match.