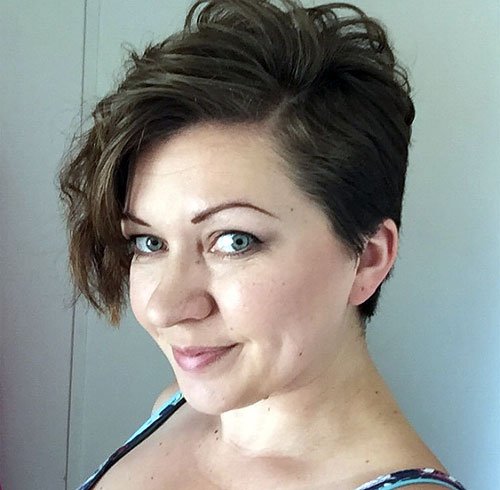 Ready to chop off those lengthy Locks for the summer? Ditch the heat and go carefree and easy with one of these cool pixies.
Platinum Undercut Pixie with Waves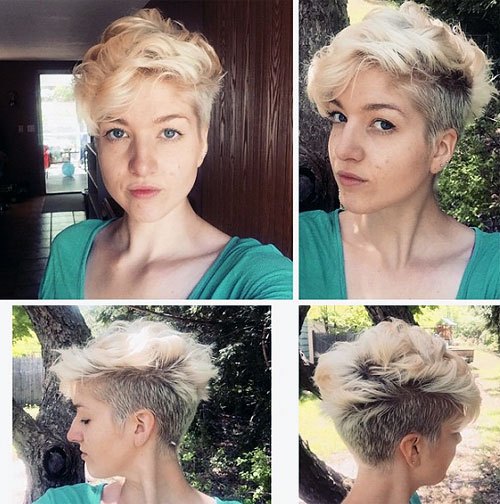 Platinum is always an excellent choice for a pixie, enhancing that dainty and pixie-like appearance that's sure to catch everyone's eye. Her uncercut is super edgy, but she softens her look with some delightful waves that are great for everyday wear.
Textured Brown Pixie cut With Long Bangs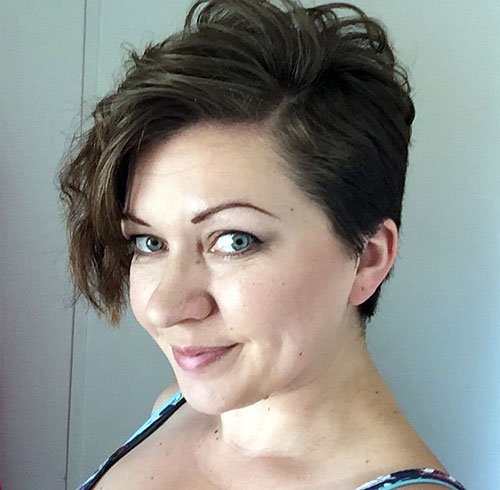 Leaving one side of your pixie lengthier than the other is a trendy way to spice up your look with some asymmetry. Her luscious brown looks are given some life with a touch of texturing.
Wavy Pixie Cut with Long Bangs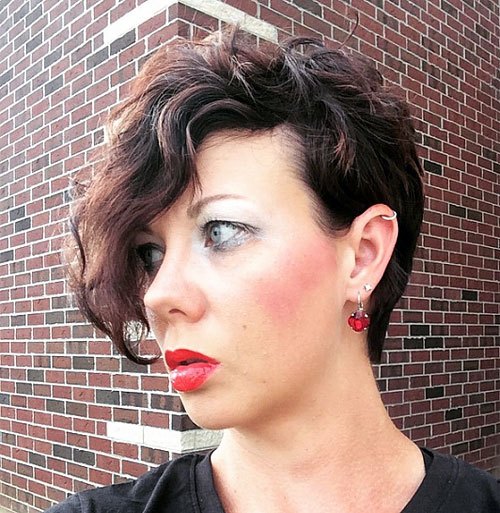 Another awesome thing about leaving some extra length to your locks is there's plenty of room for styling! Her look says 'World, I'm ready for you', with a sophisticated amount of waves that can be worn to that job interview or first date with ease. Those red hot lips are the perfect match for a darker shade of brown hair.
Messy Waved Side Swept Blonde Pixie with Long Bangs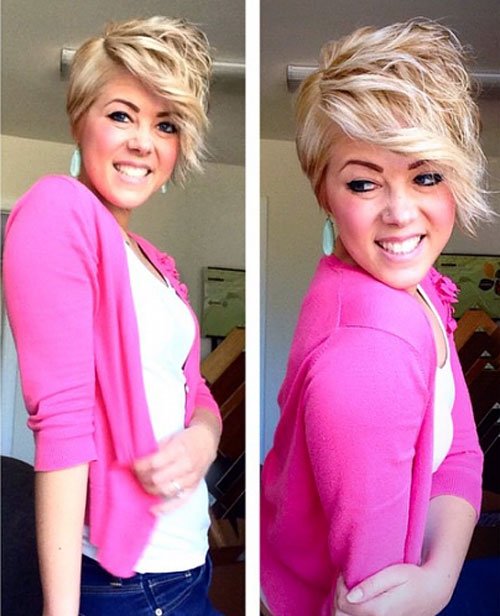 How girly is this look!? For my ladies out there who love to showcase some girly attitude, this is a wonderful choice. She douses her hair in some bright blonde coloring, an excellent hue for summertime fun. And those waves? Messed up for a sweet, unkempt style that oozes fun in the sun. Pair this light and bright pixie with pinks, whites, and other light colored apparel.
White Hot Retro Waves for Short Hair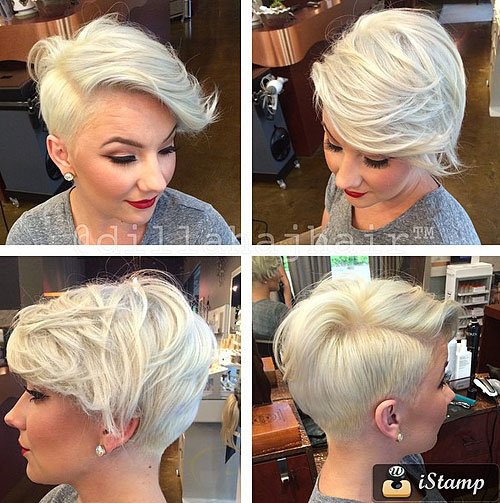 A little retro inspiration never hurt anyone; in fact, it's done quite the opposite. White hot locks give off tons of 50s-inspired sex appeal, and loosr waves creates a sultry finish that should only be accompanied by red lips and dark eyes.
Tightly Curled Short Pixie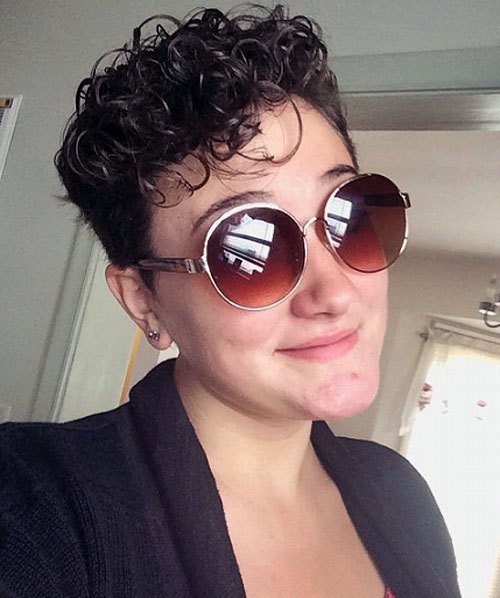 Let those natural ringlets be the star of the show every now and then, and if you don't have naturally tightly curled hair like this, you can easily spice up your pixie with a small-barreled curling iron. So sassy, yet so sweet!
Lightly Tousled Pixie with Headband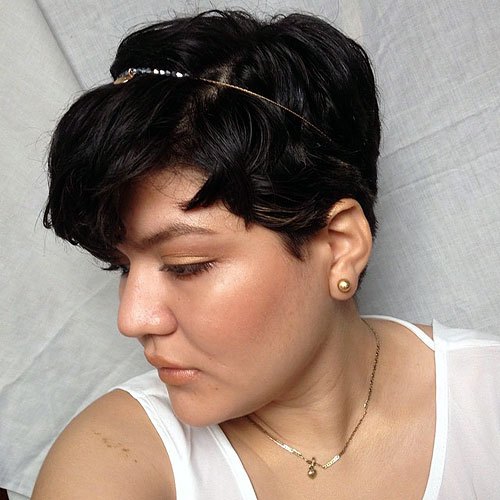 Ladies with thicker hair can enjoy a pixie unlike anyone else, as this short haircut takes plenty of extra weight out of the mane. For this particular style, her thick pixie is lightly tousled for a casual feel, made feminine with a small-sized headband covered in jewels.
Natural Kinked Up Curls for African American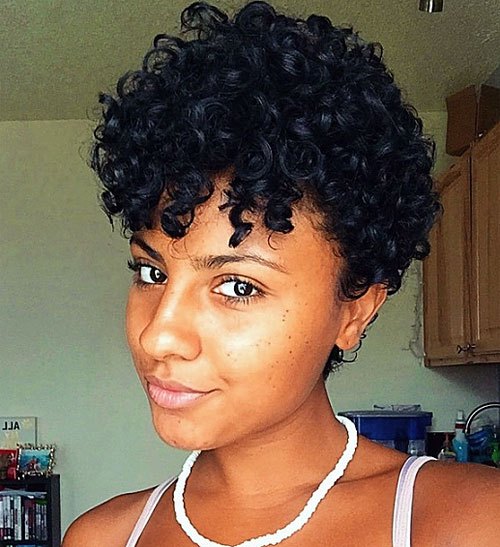 Why tame down those flawless kinky curls, when you can rock them with style? Instead of spending hours in front of the mirror trying to calm down your natural beauty, let it be the star of the show. Keep makeup to a minimum to really enhance that naturalness.
Super Tight Curls for Short Hair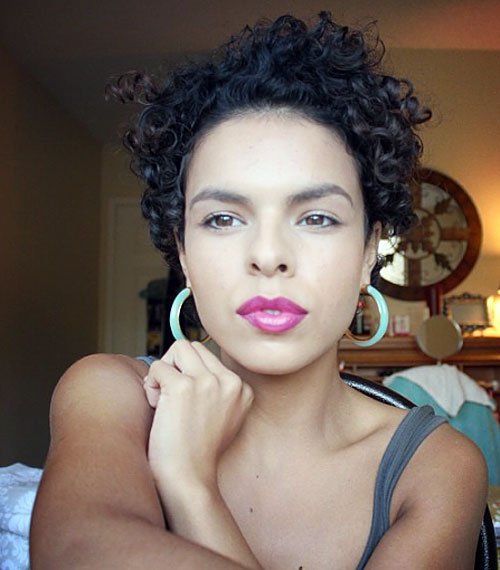 Adding tons of fabulous body to a pixie is as simple as tossing your locks around a small-barreled curling iron and calling it a day. But to really make your pixie pop with volume, hairspray your bangs up and away from the face. This technique really opens up the face and lets your features stand out magnificently.
Up-Top Volume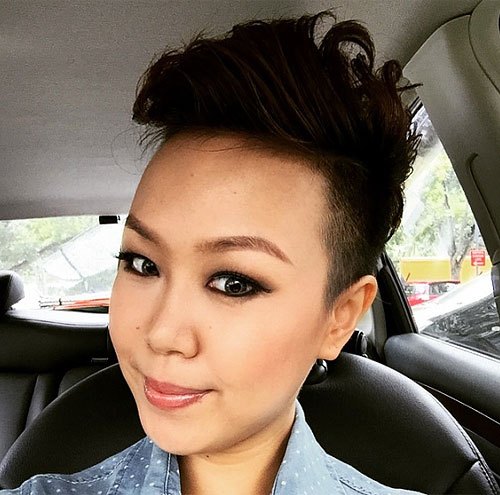 To get this chic style, you'll need to start with some shaved sides, paying close attention to leaving the top of your mane with plenty of length. With the lengthier strands, comb it up, tease it heavily, and finish with hairspray. This up-top volumized hairstyle is super trendy!
Super Messy Curls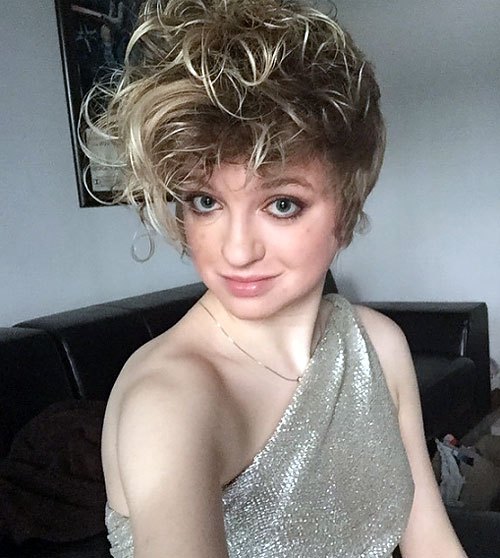 Show your free-spirited personality with this unkempt style that's bursting with graceful volume. It's an easy 'do that you can wear the next day too, as you're hair won't need to be brushed before you head out the door.
Subtle Spikes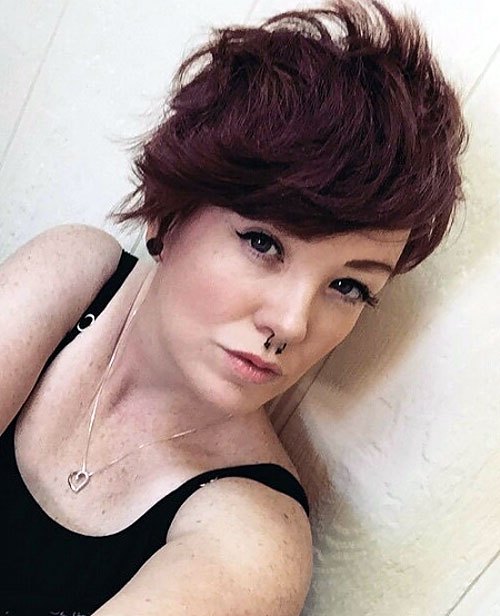 Punk rock attitude meets adorable pixie haircut in this fabulous hairstyle! A hint of spiking towards the back of her mane paired with a sexy side sweep ensures this look has a biker-chic style that's still casual enough for everyday wear.
Vintage Red Ringlets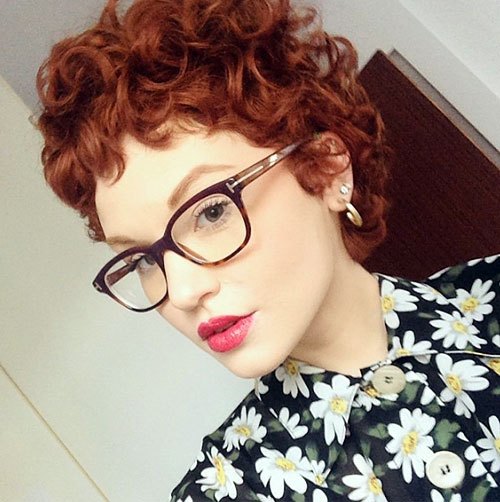 There is just something so cute and lovely about the vintage look, and these ringlets really showcase that style perfectly. To create a bit of saucy feminine attitude to her style, she enhances her fiery red tresses with glamorous ringlets and red lips to match. Don't forget some retro glasses to tie it all together!
Red Feathered Pixie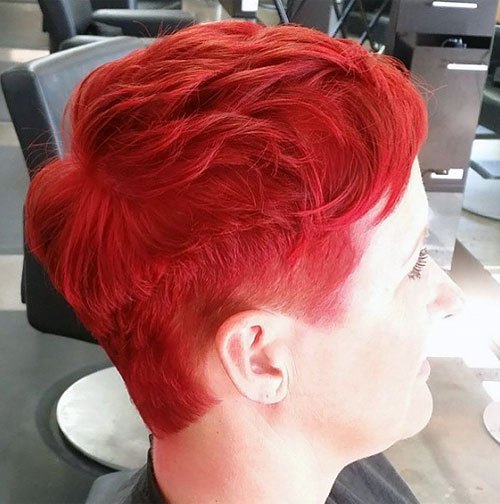 Feathering allows your hair to breathe easily and flow gracefully with little to no effort, but she turns this dainty styling into an edgy fierce number with a striking undercut and fiery red coloring. Shocking? Yes, in the best way!
Natural Short Kinky Curls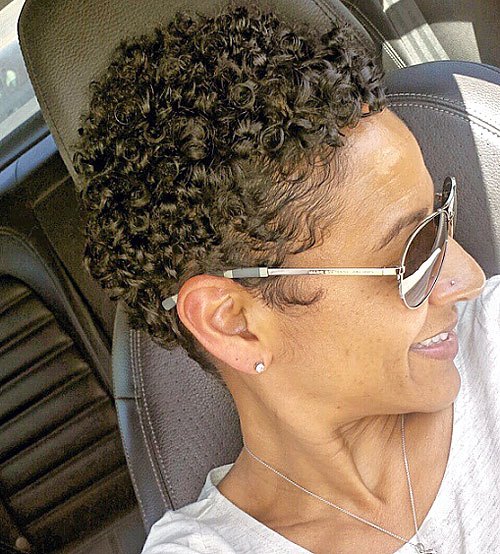 If you're sick and tired of struggling with ruthlessly thick and tightly curled locks, a super short pixie like this ideal. It makes things easy to manage while still looking ravishingly beautiful with your natural ringlets.
Light Curls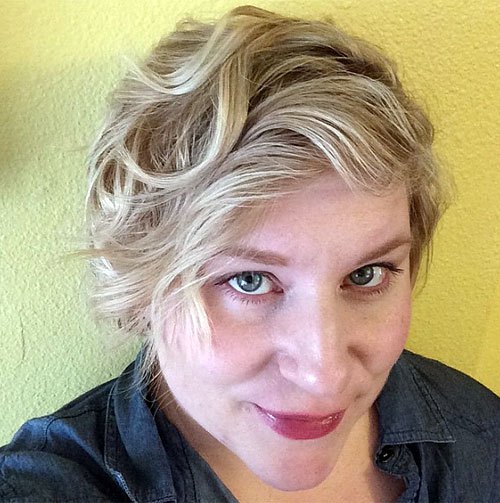 To make your pixie go from boring to full of flirty life, simply throw in some loose curls.
Braided Curly Pixie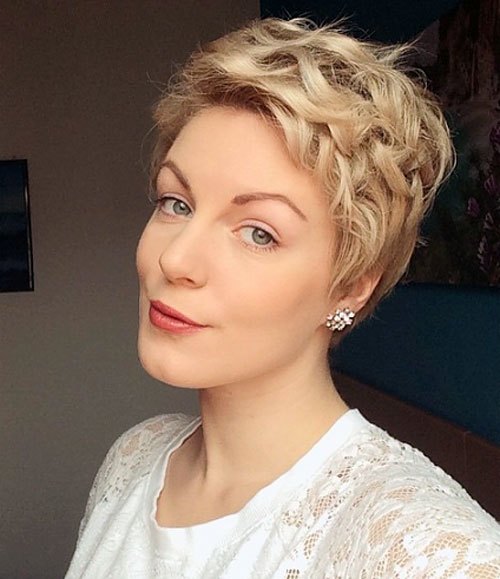 Having  a pixie does NOT mean you can't rock a pair of braids! Add in some lovely braids and a touch of curls to give your pixie some life.
Curled Back Bangs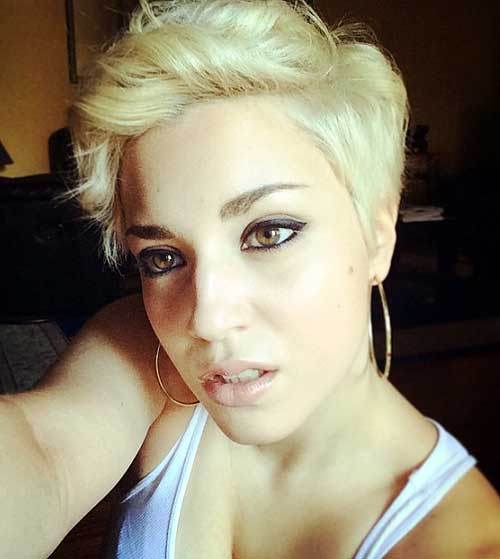 With a side swept pixie with lengthy bangs, repetition can be a little boring. Toss those tresses out of your face for the day and curl them up. Hairspray them back for volume while showcasing your facial features beautifully.
Natural Side Curls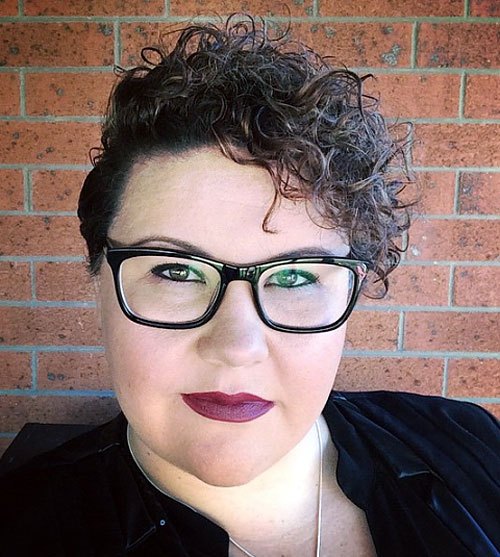 Parting your pixie off to an extreme side is an excellent choice for ladies with rounder faces, as it will elongate the face and create some depth. Let those lovely natural waves shine bright- simply texture with some spray and be on your way!
Textured Dark Yellow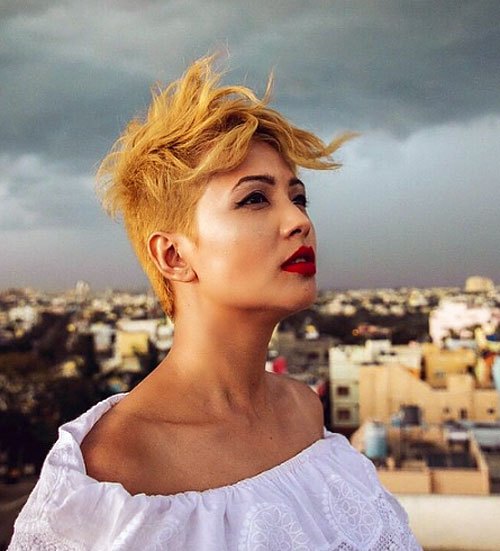 Blonde is great, but if you want a color that's a bit quirky and will match your skin tone a tad better, than consider this deep yellow hue. Make it chic with a bit of length up top, plenty messed up for a lovely finish.