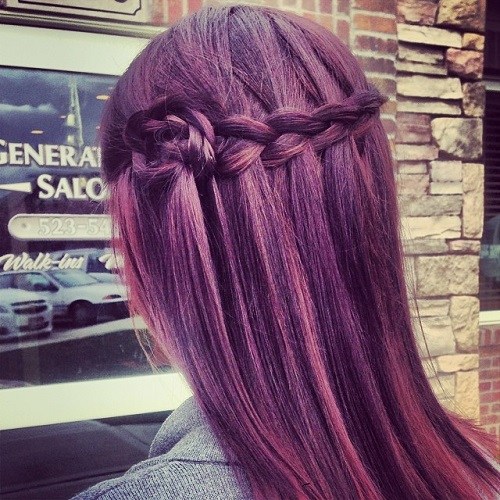 Here's the latest batch of modern, edgy, casual and pretty, waterfall hairstyles for weddings, parties and casual wear!  Waterfall braiding looks absolutely fantastic on hair that has the latest ombré and balayage highlighting! And if you're still not sure which colors suit you – generally speaking, if you have blue, violet, black, gray or green eyes you probably have cool skin-tones that look great with ash-blonde and neutral-blonde colors.  And if you have hazel or brown eye-color, your skin probably has a warm undertone that's complemented by beige, golden, caramel and light-copper blonde shades.
Gorgeous gold blend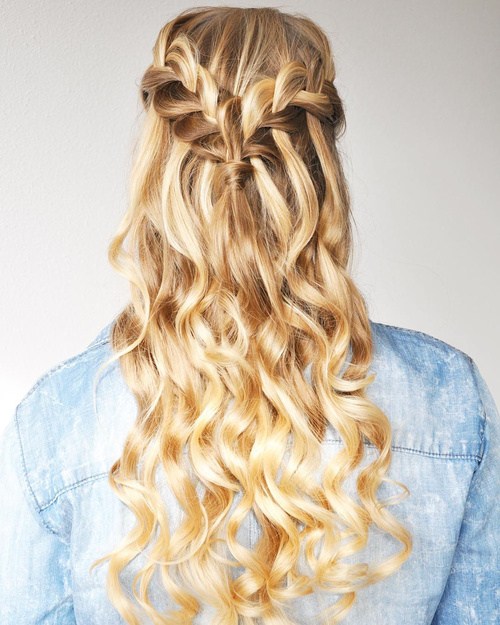 This golden-girl is sporting a cascade of  defined waves in a graduated dip-dye blonde ombré finishing in white-blonde at the tips.  Warm golden-blonde and golden-brown hair colors create beautiful patterns in the hair as rich and natural as the grain of expensive, polished wood!
V-shaped braids & subtle colors for girls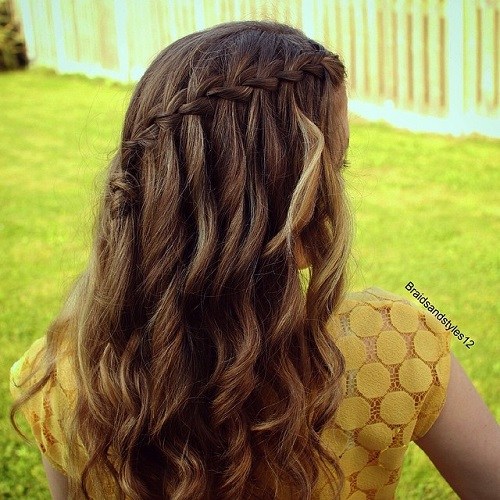 This lovely hair design is perfect for brides-maids or any a formal event.  The blonde color accents are kept to a minimum and the ombré, which lightens the hair to a warmer shade, is very subtle.  With a V-shaped braid ending in a pretty corkscrew curl above loose ringlets, it's a trendy, age-appropriate look for a teen!
Pretty 'lace-cap' bridal hairstyle in blonde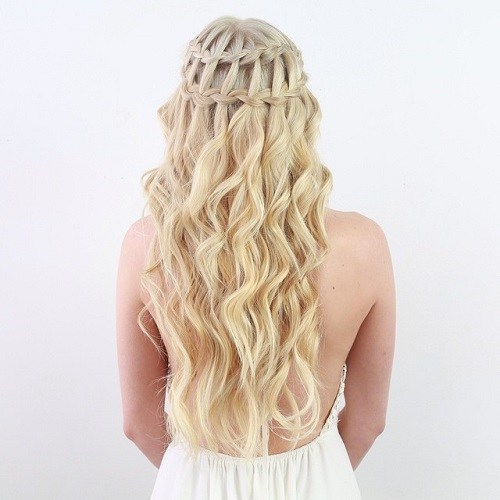 Here's a lovely, 'lace-cap' look created with two circular waterfall braids and a fantastic bridal hairstyle idea!  It's the perfect look for a beach-wedding, with neutral-blonde roots becoming pale, golden-blonde in the relaxed, mermaid waves beneath!
Classy beige-blonde ringlets beneath coffee roots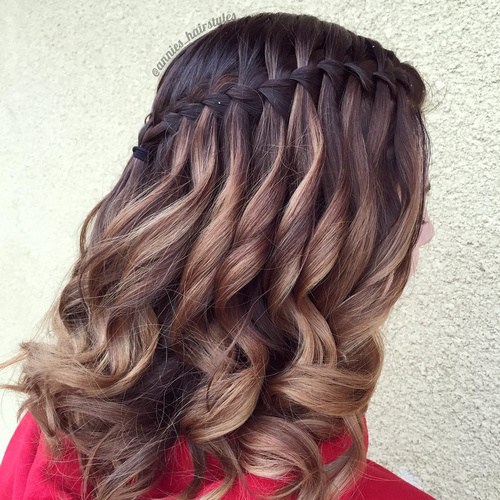 With a strong contrast between the roast-coffee color roots and the pale beige-blonde tips, this hairstyle benefits from the 3-D effect that makes hair appear thicker.  The soft shades of beige, blended with light ash-brown create fabulous color patterns, in a very classy 'special occasion' look!
Contemporary flat-braids & forward-styling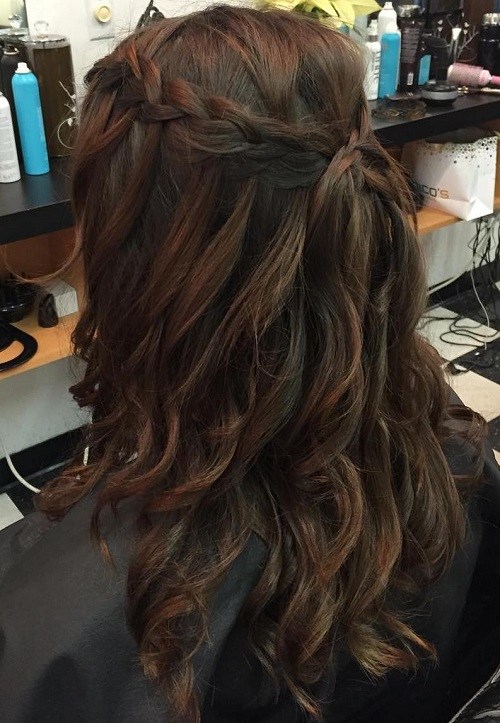 This youthful, waterfall-braid hairstyle is styled in messy, long strands with an unusual wave-pattern and strong forward movement.  It continues the modern vibe with flat head-braids set high on the head to encircle the crown.
Gorgeously harmonized nut-brown & beige-blonde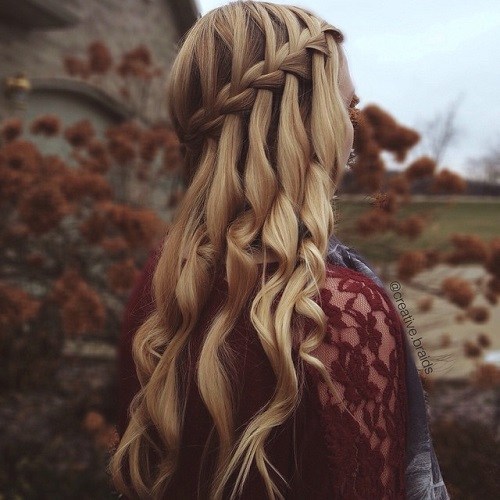 These medium-brown and 'natural' blonde hair colors create a color design that suits a range of skin-tones, especially warm complexions.  This is a formal hairstyle with perfectly executed braiding and contemporary 'uneven' waves with trendy, straight pointed tips!
Casual long messy blonde look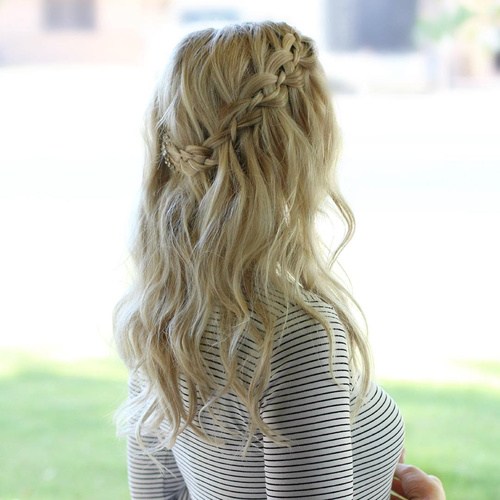 Here's an informal waterfall braid in cool blonde that's an easy-care version for everyday fashion style.  The braid is a different variant of the technique, showing off the closely harmonized colors including highly fashionable ash-blonde.  Varied colors and the tousled finish adds texture and volume to fine hair.
3-D effect dark & light contrasts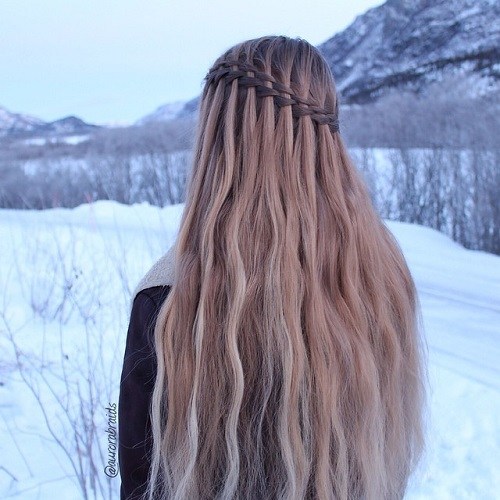 This lovely hair color design is inspired by contrasting winter colors, especially snow and dark-brown twigs.  Deep brown, asymmetrical braiding appears thicker because of contrasting beige-blonde threaded through.  And the soft, 'natural-blonde', color, lightens to snow-white balayage in the lower lengths.
Hot copper tones on formal waves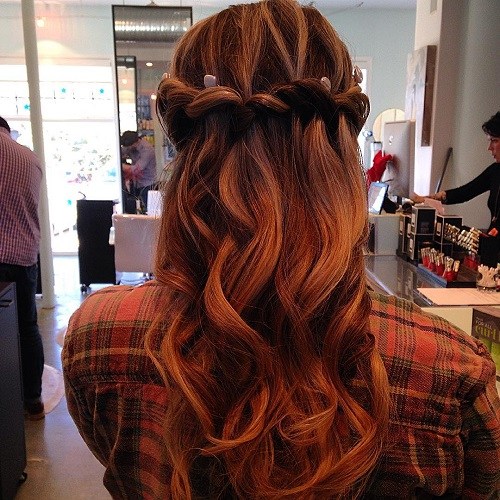 This is a lovely copper and brown mix with a twisty circle braid and tiny hair accessories dotted around the crown.  There's a contrast between the deep brown roots and the strawberry-blonde balayage that creates amazing V-patterns around the top!  And the loose waves draped down the back are full of rich color depth and texture!
Cute cascading blonde waves & ash-brown roots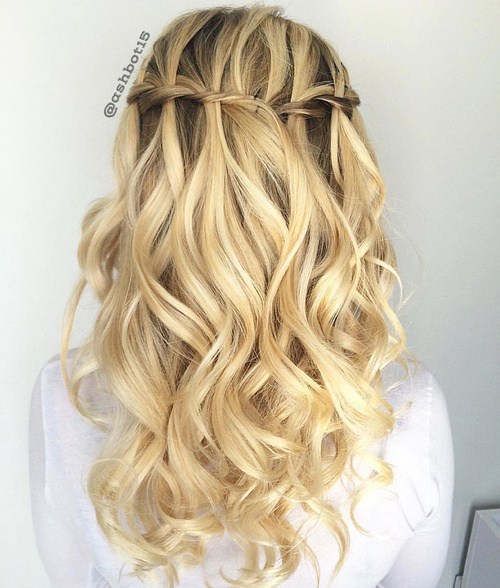 This is an update of the classic blonde-with-dark-roots color scheme, given an upmarket spin.  Ash-brown is a very trendy and attractive complement to golden blonde hair and creates fabulous texture around the top.  Adding extra reflections to the lovely waves are light touches of white-blonde balayage plus neutral-blonde tips!
Ultra-modern boho blend of blonde, red & ash-brown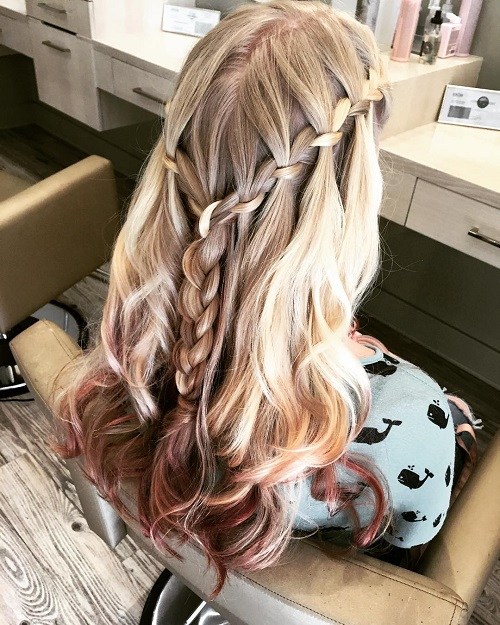 This waterfall hairdo is traditional in its styling, but ultra-trendy in the fabulous color design!  The blend of ash-beige, beige-blonde and white shades, plus gold-blonde balayage, merges together to create a fashionably faded look.  Muted red ombré in the tips finishes off a super-stylish and individualized special occasion hairstyle!
Gorgeous curly waves with simple circlet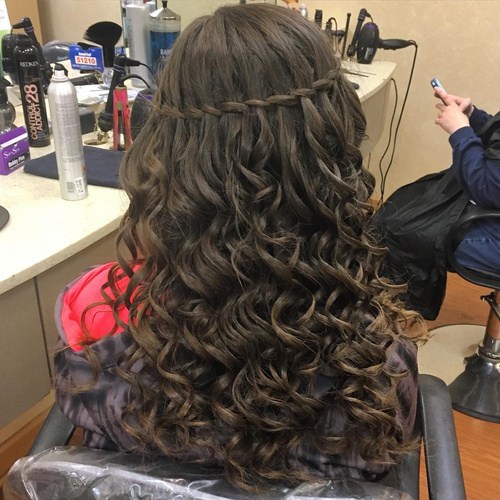 The simple circle braid and monochrome color in this lively hairstyle balances the fantastic mass of diagonal waves!   Long layers add shape and tight waves add density to fine hair.  This style can be achieved on naturally curly hair and hair with at least a little natural movement, if you want the curly waves to stay in place.
Breath-taking complementary colors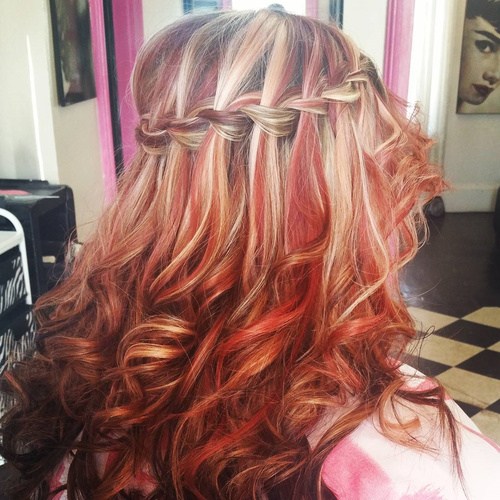 This creative riot of color is a very special hairstyle that will draw admiring glances wherever you go!  The waterfall-braid has been used as the perfect way to display an artistic blend of colors including white-blonde, muted red, brown, orange and bright gleaming copper. It's a fabulous, boho bridal hairstyle idea!
Monochrome ash shades with white tips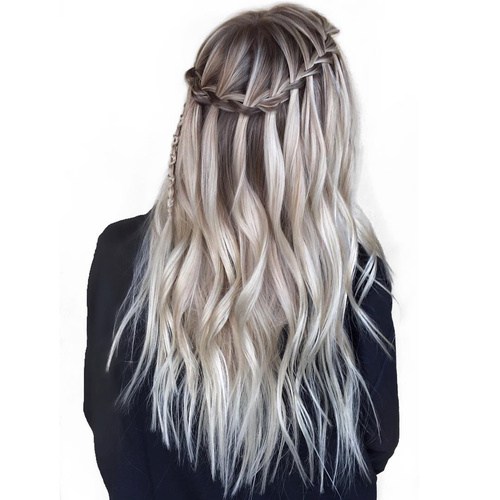 This completely contrasting color idea is edgier 'urban-chic' and suits cool skin-tones.  It stands out for its lack of color, with ash-brown roots accented by ash-blonde highlights, and the cute, thin braid on one side.  And as the waves drape down loosely in long layers, the textured white-blonde tips complete a super-trendy new look!
Casual glamor in softly tousled waves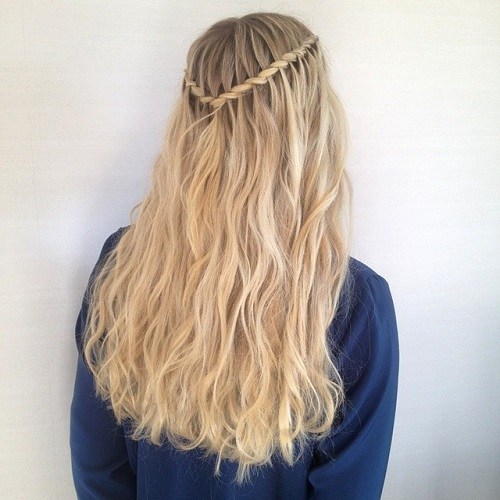 This lovely surge of tousled, blonde waves shows another major color trend towards 'natural' blonde.  It's a middle way between the obviously highlighted striped technique and random balayage.  Light ash-brown roots create a soft contrast to highlight the cute, twisted braid and the rest is a subtle blend of natural beige- and golden-blonde!
Chic semi-formal with wide flat braiding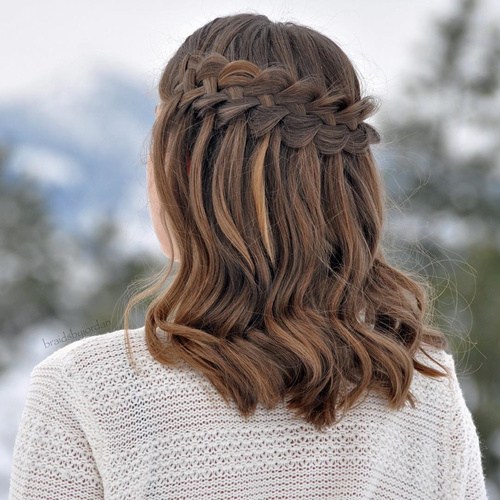 Here's another of the chic, waterfall styles with a flat, braided circle that looks just like embroidery!  I love this look with hair just past the shoulders and a super-trendy deep wave above slightly choppy tips.  The highlighting is a natural blend of soft medium-blonde and brown shades that's very classy!
Cute copper-rose & soft-brown double braids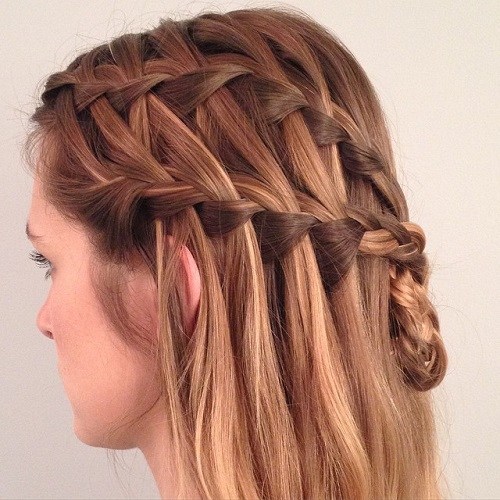 Starting high on the sides, these two brown and rose-copper-blonde braids create a fantastic woven-basket pattern that will definitely attract a lot of complements!  This is a great waterfall style for girls, bridesmaids and anyone who wants a special, but essentially 'natural' hairdo.  The blend of copper-blonde, copper and brown shades is absolutely amazing!
Daring purple & pink with 'rose' detail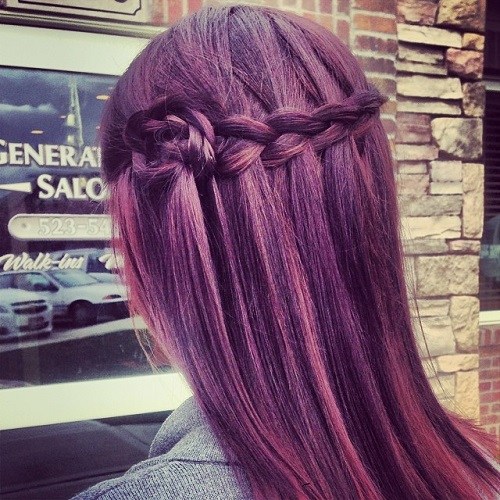 This trend-setting waterfall in purple with dusky-pink highlights is a daring way to change your image this season! Straight styles with fantastic colors are extremely easy to style for everyday wear, too. The pretty, little braid 'rose' on one side is a lovely extra detail and deep, rich colors suit medium or darker skin with warm undertones!
Dark roots & caramel stripes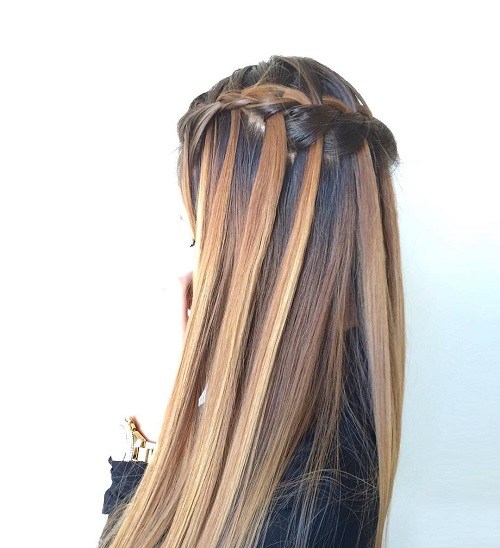 The strong striped effect in this style is really eye-catching and there's a nice balance between coffee-brown roots and warmer golden-brown shades.  The circle braid is set high to accentuate the crown and the long 'curtains' of thick hair have fabulous color depth and texture!
Spicy ginger & light-ash brown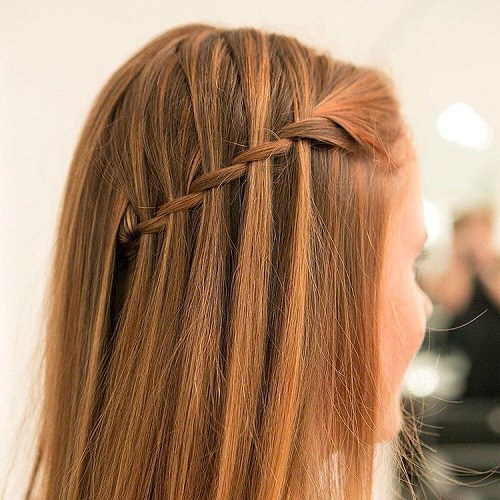 This is one of our favorite looks this week, because of the edgy and unusual color blend. The dominant color is orange, but with a strong yellow undertone instead of the usual red or brown tone.  Medium ash-brown roots really accentuate the eye-catching main color in an expertly harmonized and very pretty, waterfall braid hairstyle!
Hope you found something fabulously inspiring here!