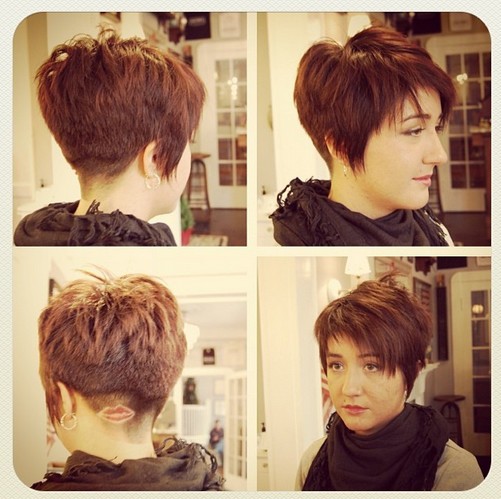 Easy daily hairstyle for mature women – the layered razor cut
This is a new idea, that shows how innovative and full of fun the latest short haircuts for 2015 are turning out to be! This high-fashion hairdo has lots of razored layers across the top trimming and shaping the model's thick hair until it's fully controlled, but in a quirky and casual way!
The sides are feathered to create a disconnected layer with the buzzed back section and match the heavily textured feathery fringe swept to one side and lightly covering one eye at the front.
The back is very interesting with the choppy, chrysanthemum movement surrounding the crown above a zig-zag buzzed section on thick hair. But it's that cheeky 'lipstick kiss' on the shaved nape that's going to be grabbing lots of attention wherever this gal goes!
The stylist has used very fine clippers to shave the shape of the lips in an asymmetrical position and then coloured the hair within a fabulous lipstick red! At first glance you think she has a tattoo, but it's a clever temporary trick that really makes this trendy short haircut unique!