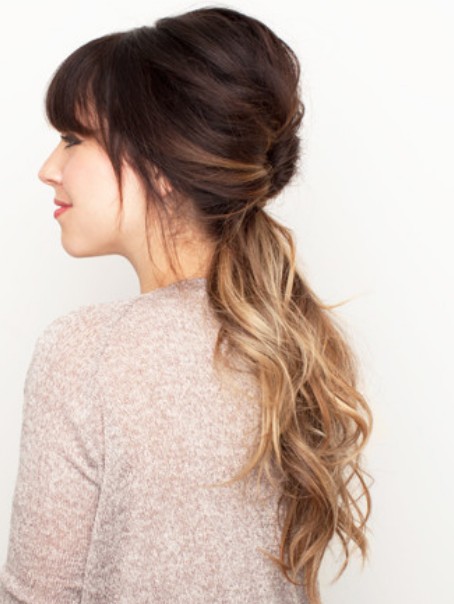 Easy Spring Hairdos: Dip-dye Retro-Beehive – Half-Up & Half-Down
Is this ombre hair style an exciting and innovative hair design – or a retro-1950's re-creation?  Well, it's both!  And that's what makes it so fabulously attractive – it's a fantastic example of the very latest fashions in styling and colouring!
The full fringe and high, backcombed crown pinned into a chignon are definitely retro, but the beautifully glossy loose, tousled waves cascading down the back are definitely right up-to-the minute!
The dip-dye gives an eye-catching, quirky contrast between the rich dark brown around the head and the beautiful blonde waves, but there's so much more to see!  The brown is also highlighted with a subtle touch of gold and the blonde waves have brown lowlights giving an exciting 3-Dimensional effect!
This colouring technique is absolutely here to stay – just imagine what other amazing visual effects you can get across the whole range of new styles!
Do you like this brown to blonde ombre hair? Here are more ombre hair color ideas.