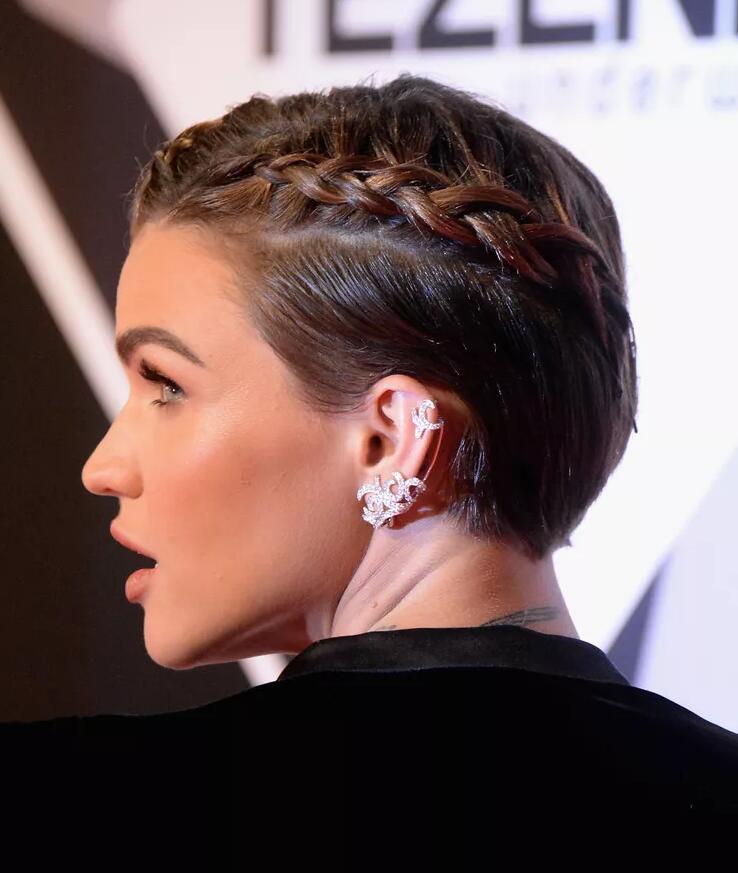 Short hair, often seen as the epitome of fearless individuality and style, holds a certain allure. With so many people, including celebrities like Hailey Bieber, embracing shorter locks, there's no doubt that shorter styles are taking the beauty world by storm. Yet, many still hesitate to make the chop for one glaring reason: the limited options for updos. If you've ever wrestled with that diminutive stub of a ponytail, you know the struggle is real. But fret not, my style-savvy friends. The internet is buzzing with chic and practical updo solutions for your cropped mane.
You might have heard the buzzword "midi cuts" and seen folks gloriously flaunting XXL strands. Yet, the Google search data doesn't lie; "short hairstyles" is one of the most Googled beauty trends globally, especially in the UK. Clearly, there's an itch to snip away and embrace something bold and new. So, if you're standing on the precipice of a big chop but are afraid you'll miss that high ponytail or messy bun, hold tight; I've got some stunning updo options to put your mind at ease.
From dainty braids adorned with bows à la Hailey Bieber to strategically crafted top-knots, the world of short updos is more versatile than you think. Whether you're heading to a soirée or just want to keep your hair off your face on a lazy Sunday, there's an updo for every occasion and hair length.
Get the Updo You Deserve Without the Extra Length
One of the true beauty hacks of short hair is that it usually requires less time to style. Less hair to wrangle means more time to sip your morning coffee or pick out the perfect outfit. But that doesn't mean your styling options should be limited. Quite the contrary!
The Magic of Mini-Braids
Ever tried a tiny braid running along the side of your head? It's a small touch that packs a big punch, especially when adorned with petite bows or delicate beads.
Twisted Top-Knots
Who says top-knots are only for long hair? A smaller, cuter version can be your new go-to for an elegant night out. Just enough hair to twist and secure with a glitzy pin, and voilà, instant glamour.
French Twist Reimagined
You'd be surprised how a little teasing and a few bobby pins can transform your short locks into a sleek French twist. Add some hairspray, and you're ready to command any boardroom or dance floor.
Low Messy Bun: A Classic with a Twist
Your shorter strands can still participate in the classic messy bun game. The trick? Use some hair gel or mousse to give your hair that perfectly "undone" texture.
Half-Up, Half-Down: The Best of Both Worlds
This is the hairstyle for those days when you're utterly indecisive. Clip up half of your hair, let the other half flow, and enjoy a style that's both casual and chic.
1. Rolled Copper Updo for Short Hair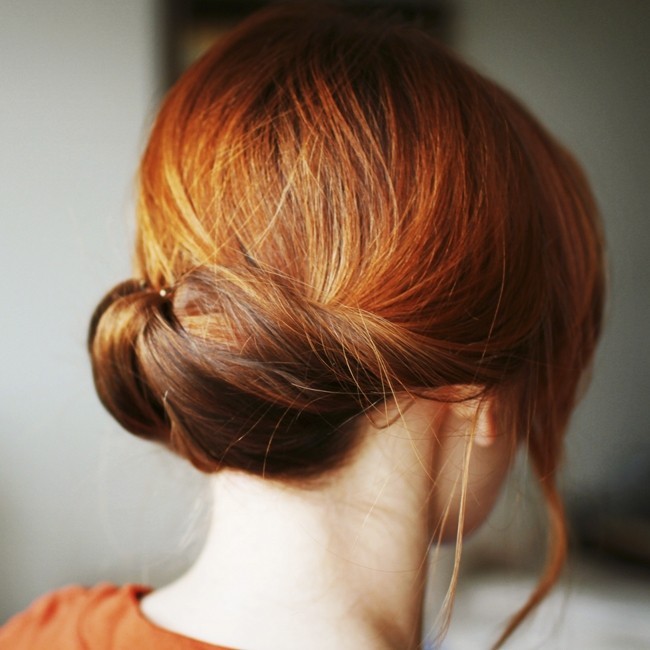 Discover the fusion of elegance and simplicity with the Rolled Copper Updo for Short Hair. Half roll, half braid, this hairstyle exudes versatility and style. The copper color adds warmth and richness, making it an ideal look for any season. This is a go-to daily updo that's as easy to create as it is to wear. If you're looking to infuse a dose of sophistication into your everyday look, this copper updo should top your list.
2. Dinky Braid + Bow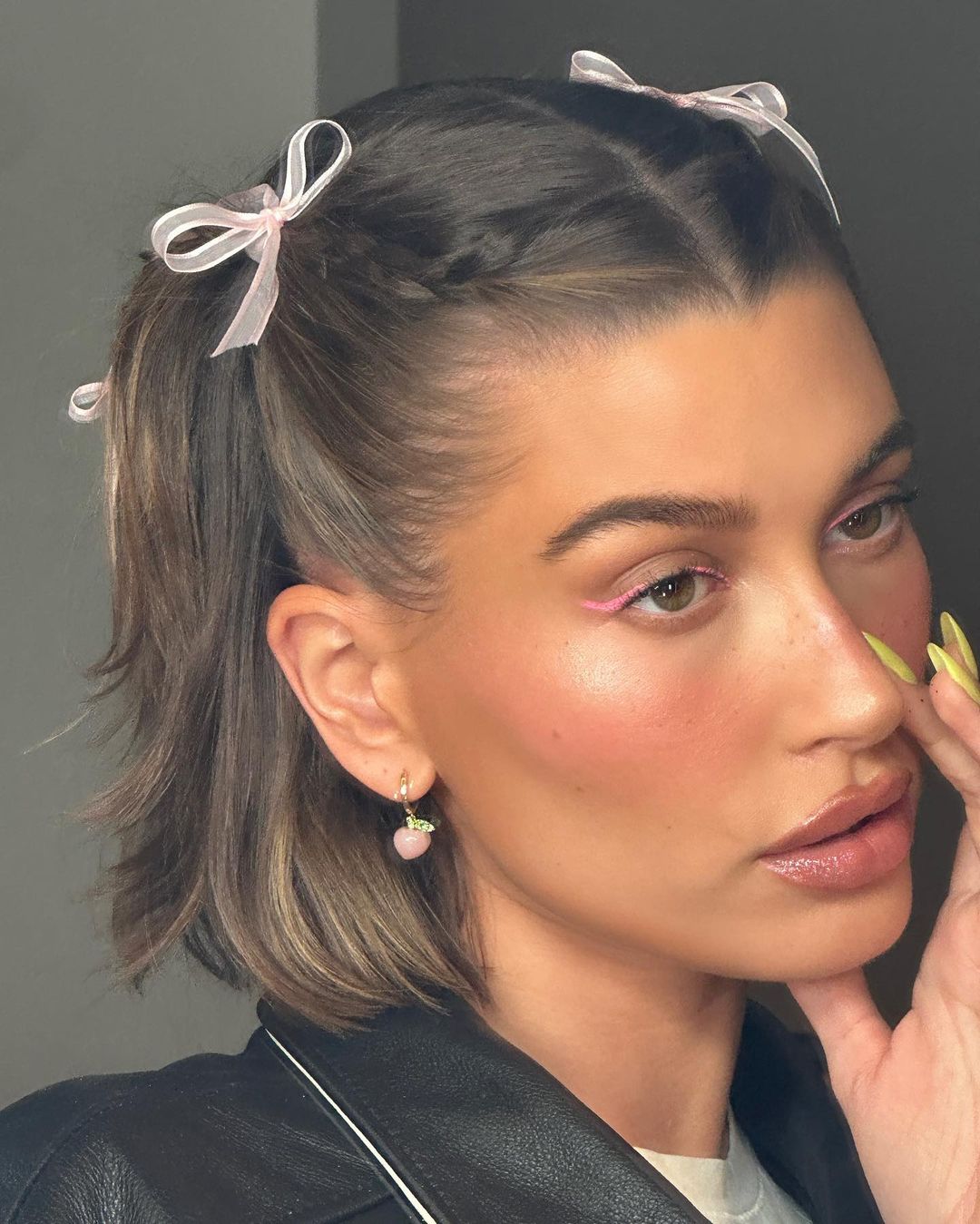 For the whimsically inclined, meet the Dinky Braid & Bow. With its center parting and adorable pink bows, this updo is as cute as it gets. Perfect for bob-length hair, this style adds a playful twist to the traditional braid. Whether you're out for a casual brunch or a leisurely stroll in the park, this hairstyle promises to keep you in high spirits. When you want your hair to reflect your inner youthfulness, this Dinky Braid & Bow is your go-to updo.
3. Half Bun Updo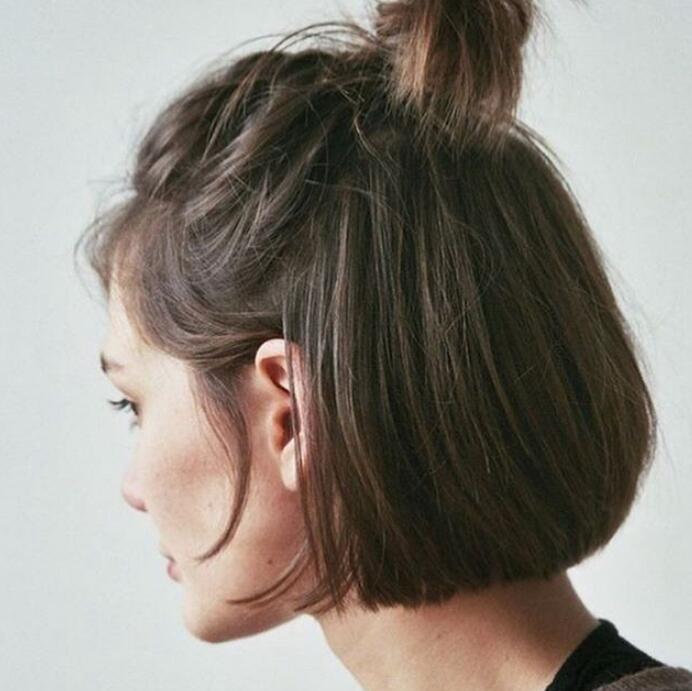 The classic half-bun never fails to make a statement, and it's a style you can easily adapt for shorter lengths. This style screams cool-girl chic and takes minimal effort to achieve. When you're in a rush but still want to look put-together, simply tie your bob into a half bun and hit the road. It's the epitome of effortlessly stylish updos for short hair.
4. Mini Twist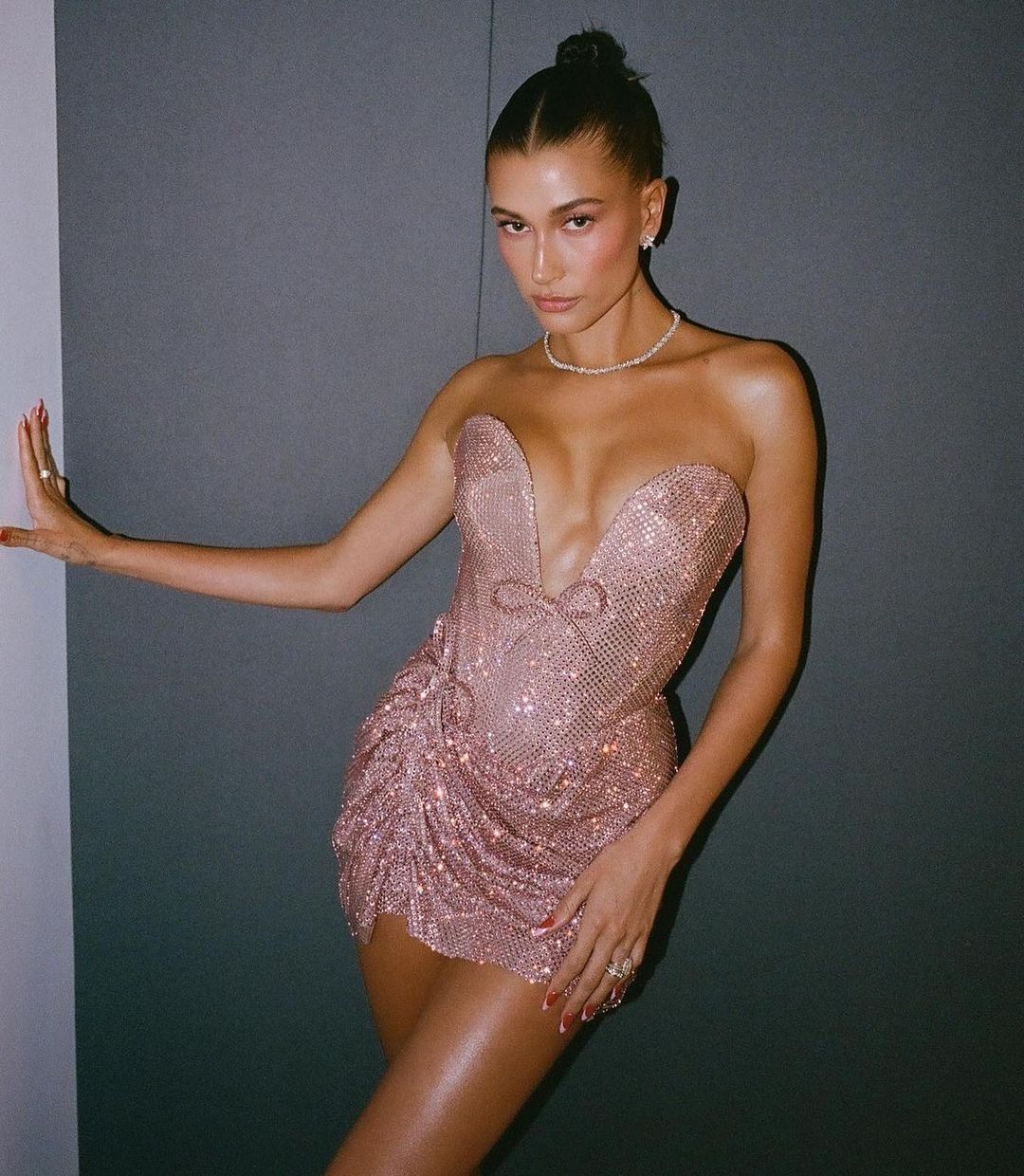 Twist your way into a hairstyle that's both modern and stylish with the Mini Twist. This high twist, specially designed for short hair, is a refreshing departure from traditional buns and braids. The raised twist adds a touch of flair to the style, making it perfect for both casual outings and more formal events. When you need to add some drama to your short hair but don't want to spend hours doing it, the Mini Twist comes to the rescue.
5. Low bun with headband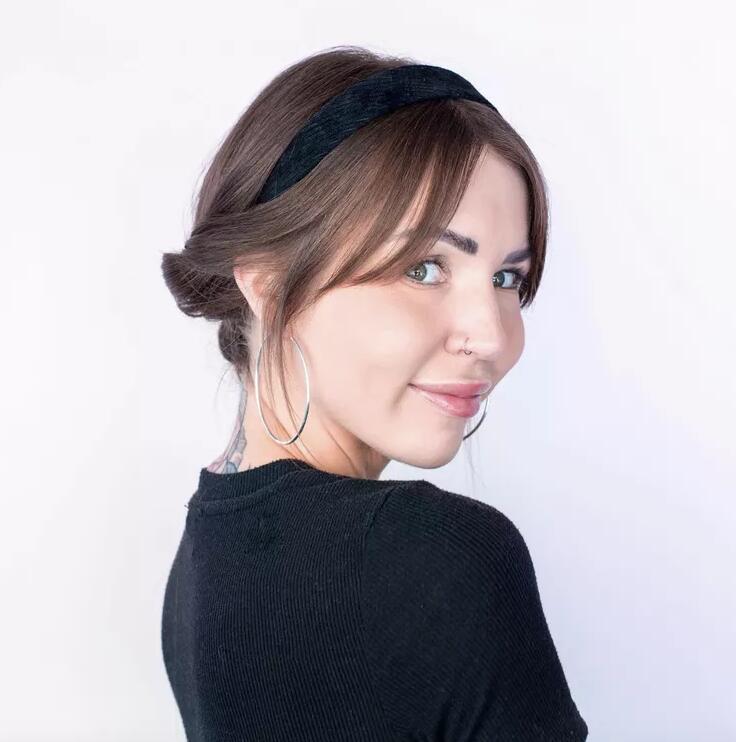 Headbands aren't just for keeping hair out of your face; they're a style statement all on their own. This low bun paired with a sleek black headband is perfect for those with really short cuts. The headband not only adds aesthetic value but also provides an additional layer of hold, keeping your low bun intact. Ideal for a range of hair lengths, from lobe-length bobs to shorter cuts, this style offers a world of possibilities, including ear tucks, undone topknots, or even mini ponytails. It's a canvas waiting for your personal touch.
6. French Braid Updo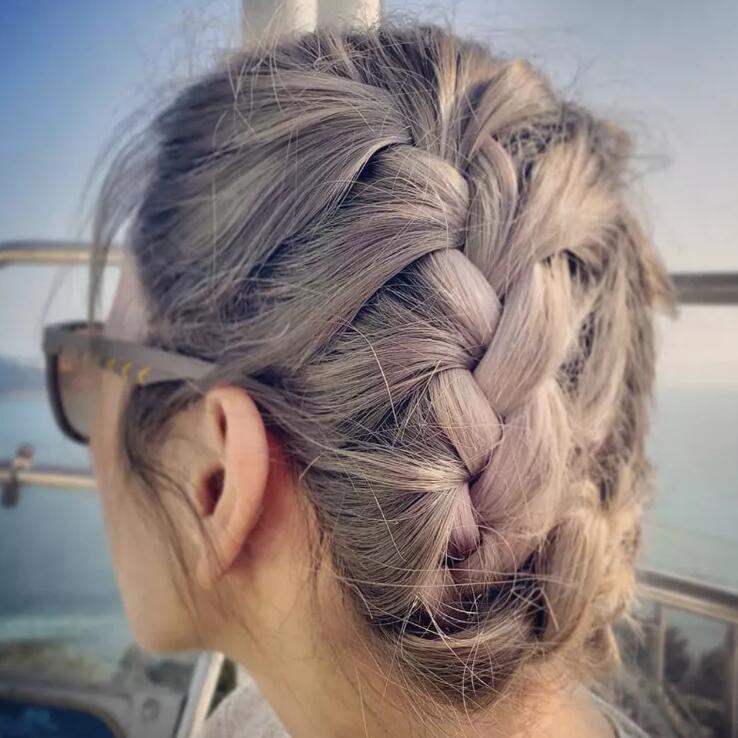 Let's bust the myth that braids are only for long tresses. With a bob haircut, you can easily create an elegant French Braid updo. What we adore about short hair is its chameleon-like quality—its ability to disappear or be tucked out of sight at the end of a chic French braid. A day at the office or an evening soiree, this style is a versatile choice that leaves an impression.
7. Twisted Ponytail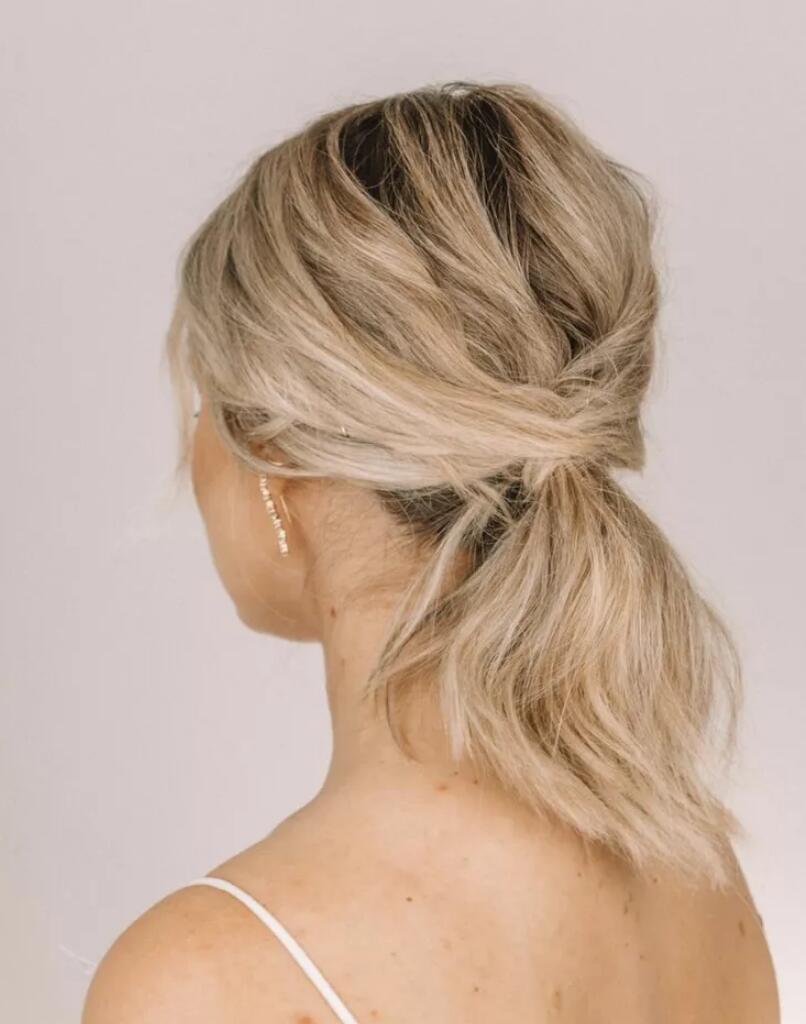 Crave a little romance in your hair game? Say hello to the Twisted Pony. This low, criss-crossed ponytail doesn't require the nimble fingers of a braiding expert, yet it looks equally captivating. It offers a messy ponytail aesthetic, tinged with bohemian allure and a romantic touch. From casual Fridays to date nights, this style has you covered.
8. Double Dutch Braids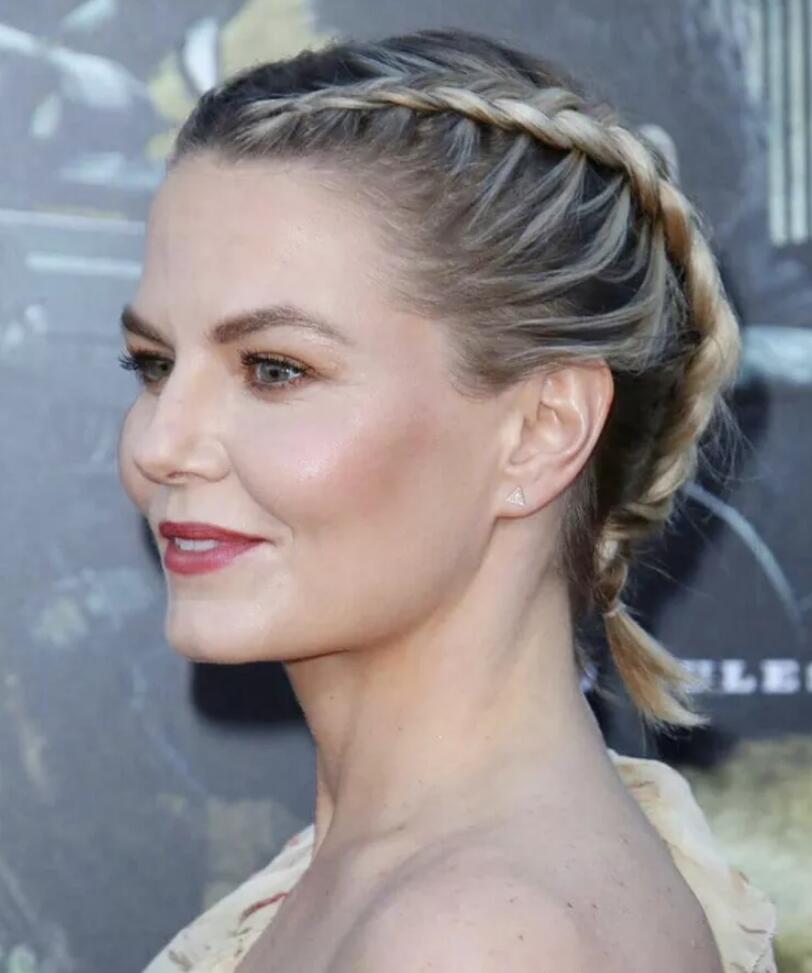 The Double Dutch Braids can be a fantastic updo choice for short hair, too. This hairstyle is as functional as it is stylish—perfect for a gym session or those scorching summer days when you want to keep your hair both off your neck and out of your face. It's a comfortable and chic solution that answers your style and practical needs in one go.
9. Messy Chignon Updo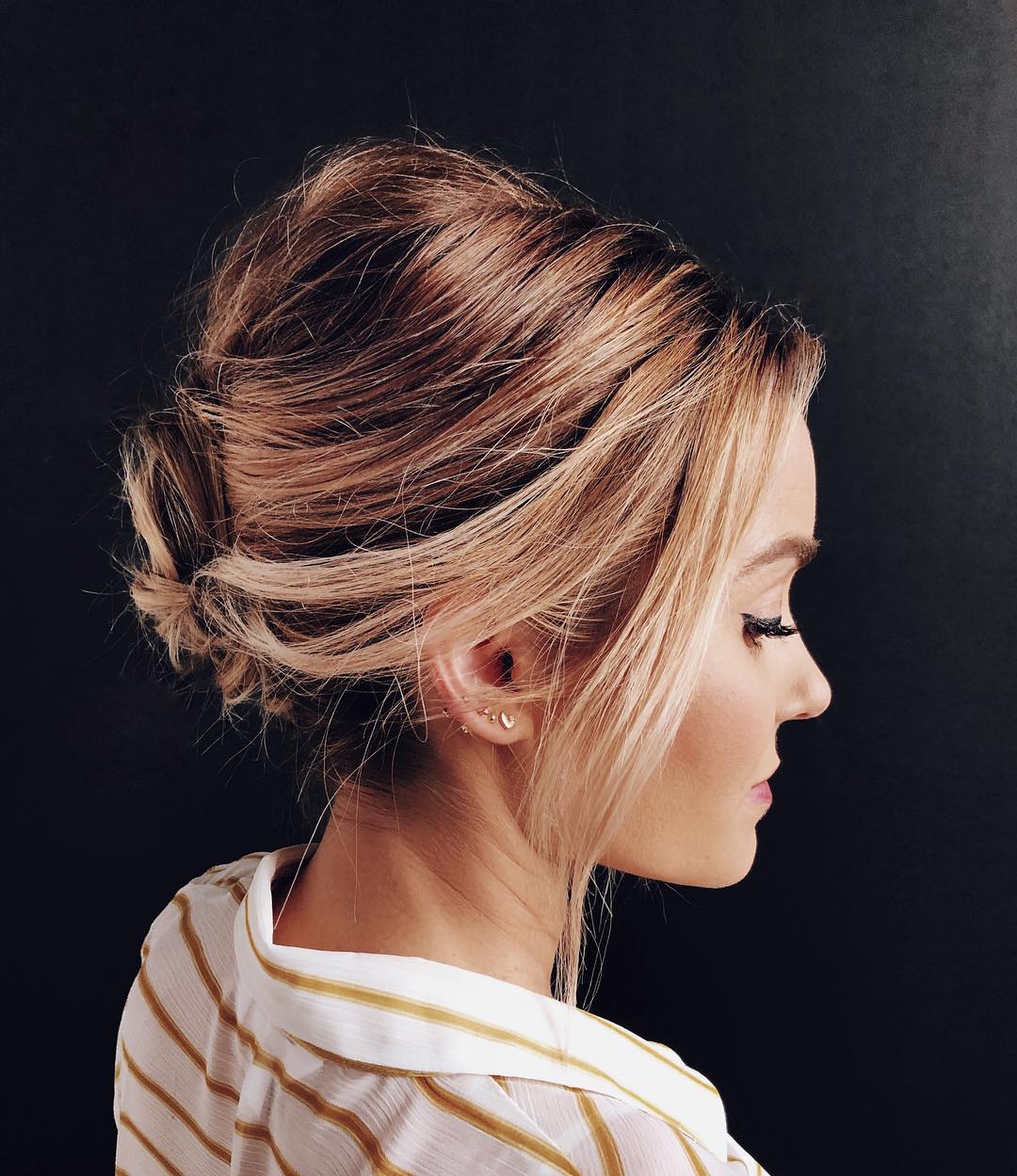 Say yes to the mess with this Messy Chignon, designed specifically for the bob-cut darlings among us. This isn't your grandma's chignon; it's a modern, slightly disheveled take that can swing from casual to classy with just a flick of your tousled side fringe. Whether you're heading to a business meeting or a beach wedding, this updo adjusts to the vibe effortlessly.
10. The tuck Updo for Short Hair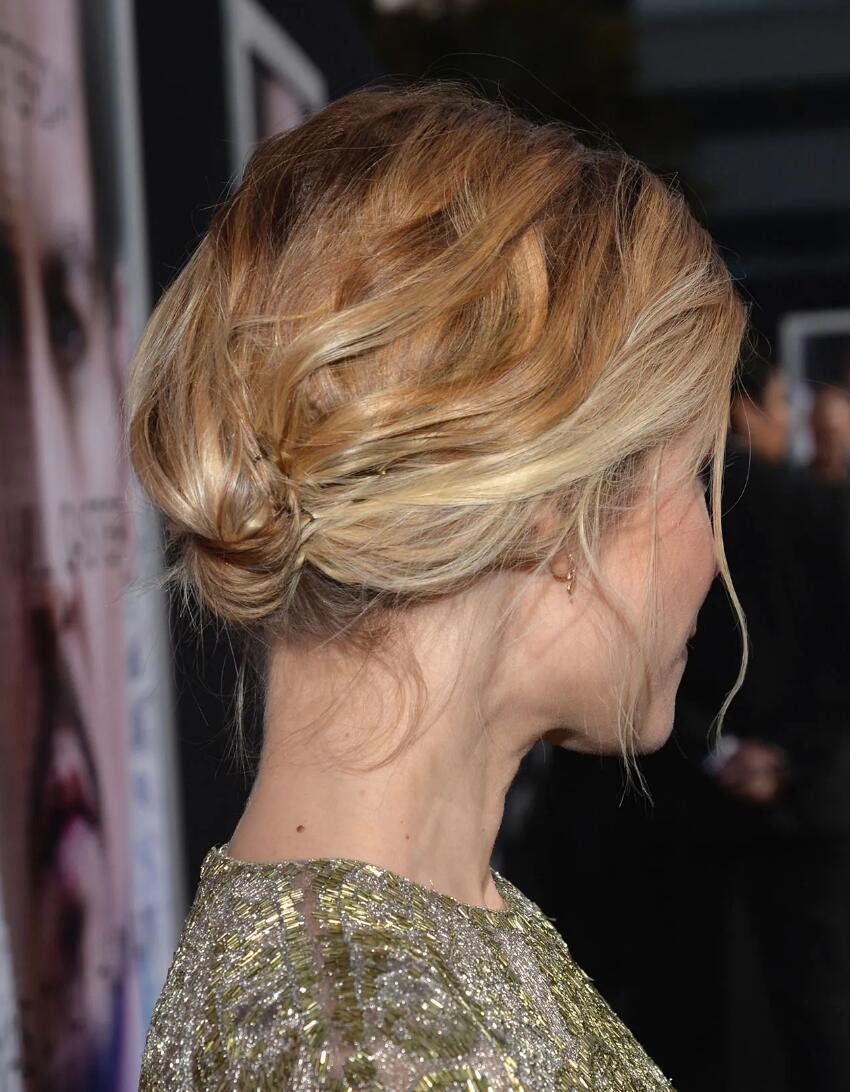 Often called the shorter-haired sister of the chignon, "The Tuck" is an exercise in refined elegance with just a dash of deliberate disarray. It's the perfect compromise between an updo and free-flowing locks, offering a messy yet graceful look. Ideal for formal events or casual hangouts, The Tuck is versatile enough to fit into any scene while making sure you stand out in it.
11. Low ponytail for short hair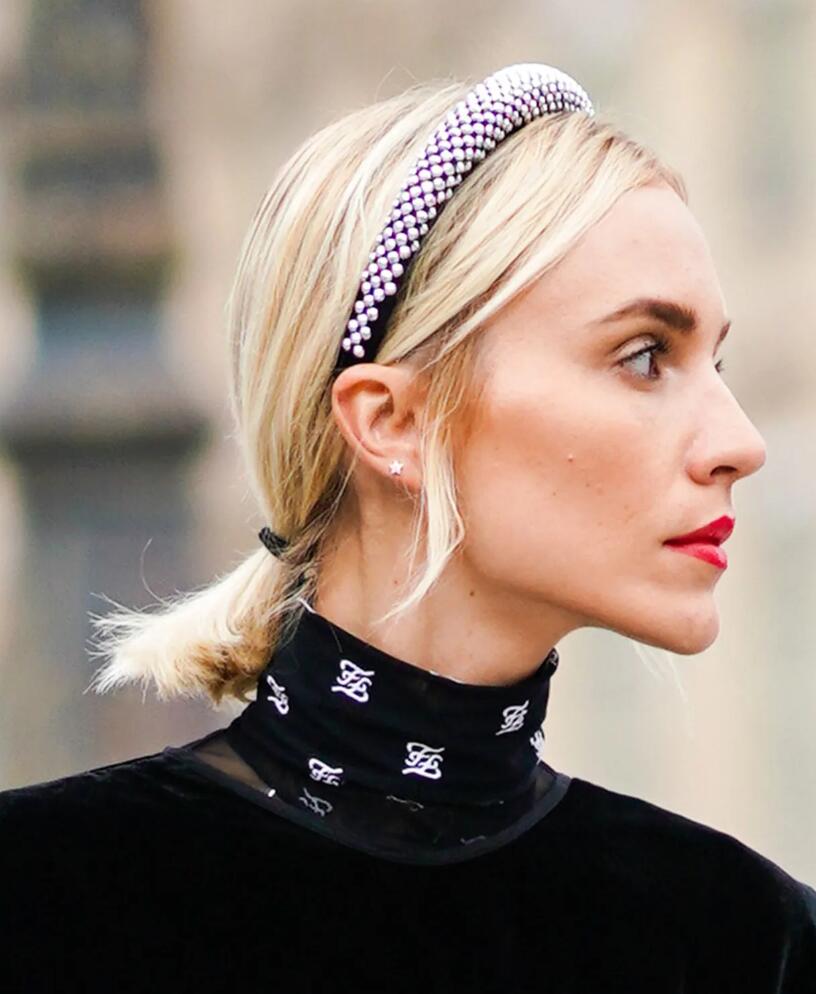 Short hair, meet the Low Ponytail—your new best friend for those days when you're running to work but still want to look put-together. This style is especially suited for shoulder-length bobs. Just add a classy headband to frame your face, and you've got a professional, polished look. Blonde hair pairs beautifully with a darker headband, creating contrast that's both stylish and office-appropriate.
12. Textured Pixie With Headband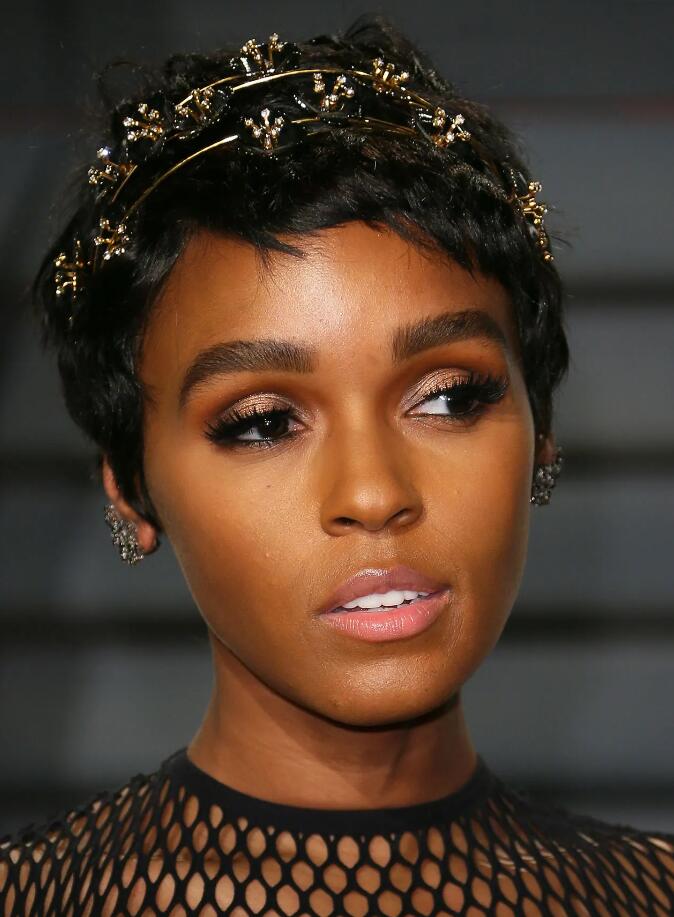 The pixie cut is already a statement, but add a metallic headband and you're in a whole different ballgame. Inspired by the ever-stylish Janelle Monae, this look gives the soft curls of a textured pixie cut that extra ounce of edge. Whether you're headed to a party or just want to jazz up your daily look, this metallic headband is the cherry on top of a sassy pixie.
13. Mini ponytail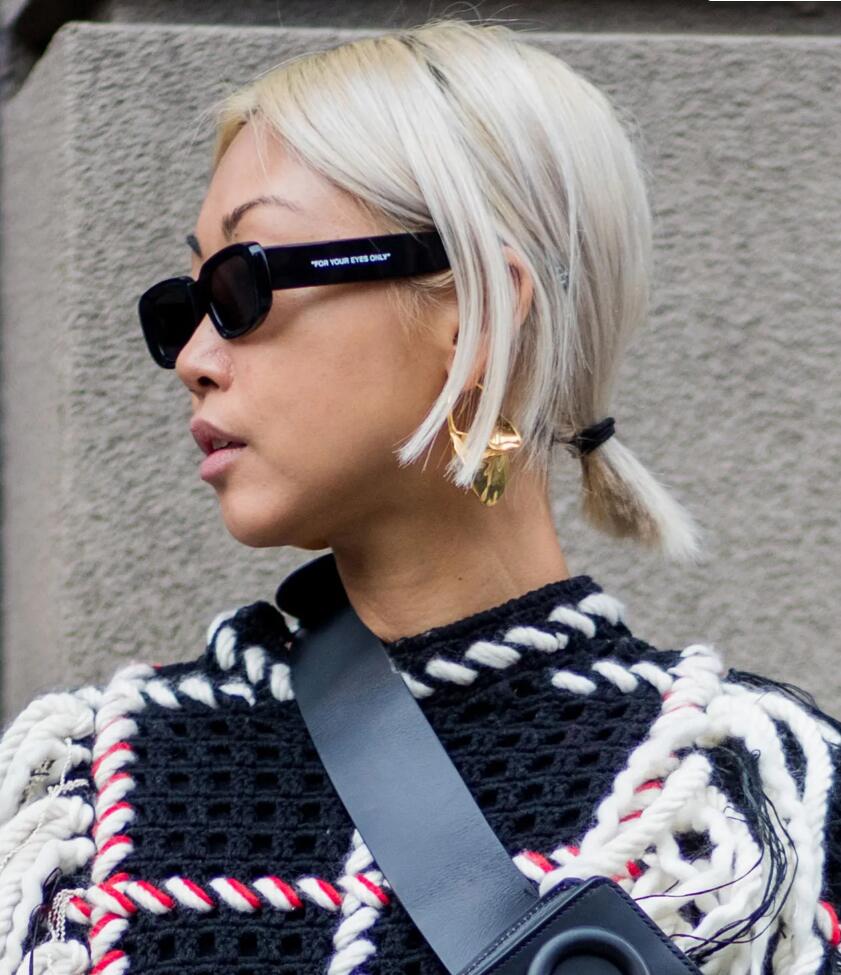 Who says you need a cascade of locks to rock a ponytail? The Mini Ponytail, best executed on a short bob with a daring plutonium hair color, is as chic as it is functional. Pair it with a set of black sunglasses and you've got an ensemble that screams stylish simplicity. Don't underestimate this dinky 'do; it packs a big punch in the chic department.
14. Side Dutch Braids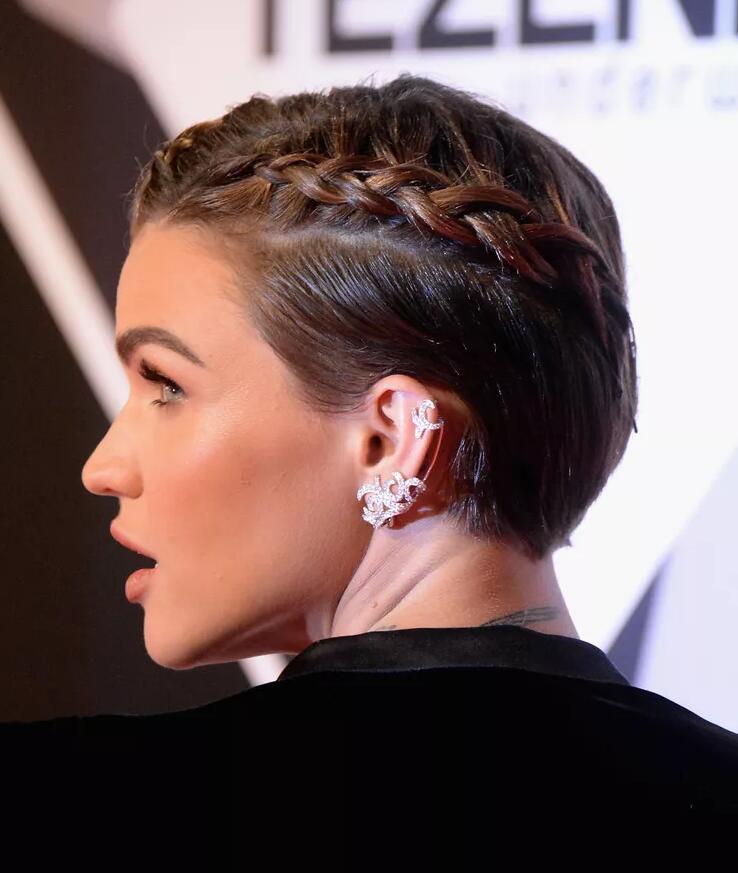 If you thought your pixie cut couldn't get any edgier, you haven't tried the Side Dutch Braids yet. While braids on short hair might seem like a tall order, this style proves it's not only possible but downright head-turning. The Dutch braid weaves through the side, adding an extra layer of complexity and style to an already edgy haircut. Take your pixie to the next level, and don't look back.
15. Topknot Updo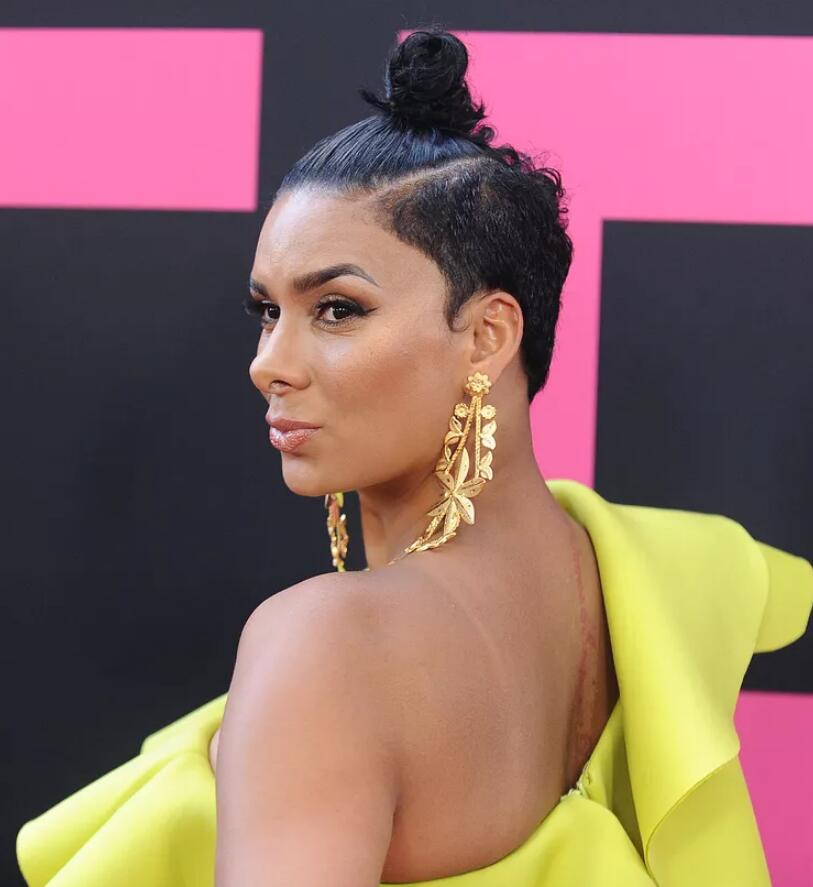 And now, for those who like to stray far from the conventional, the Topknot with Undercut is a feast for the eyes. This avant-garde style combines the audaciousness of an undercut with the chicness of a topknot. Designed for those sporting short, curly black hair, it's an uncommon hairstyle that'll surely catch more than a few admiring glances. It's an audacious choice that shouts individuality and dares to be different.
16. Low Braided Ponytail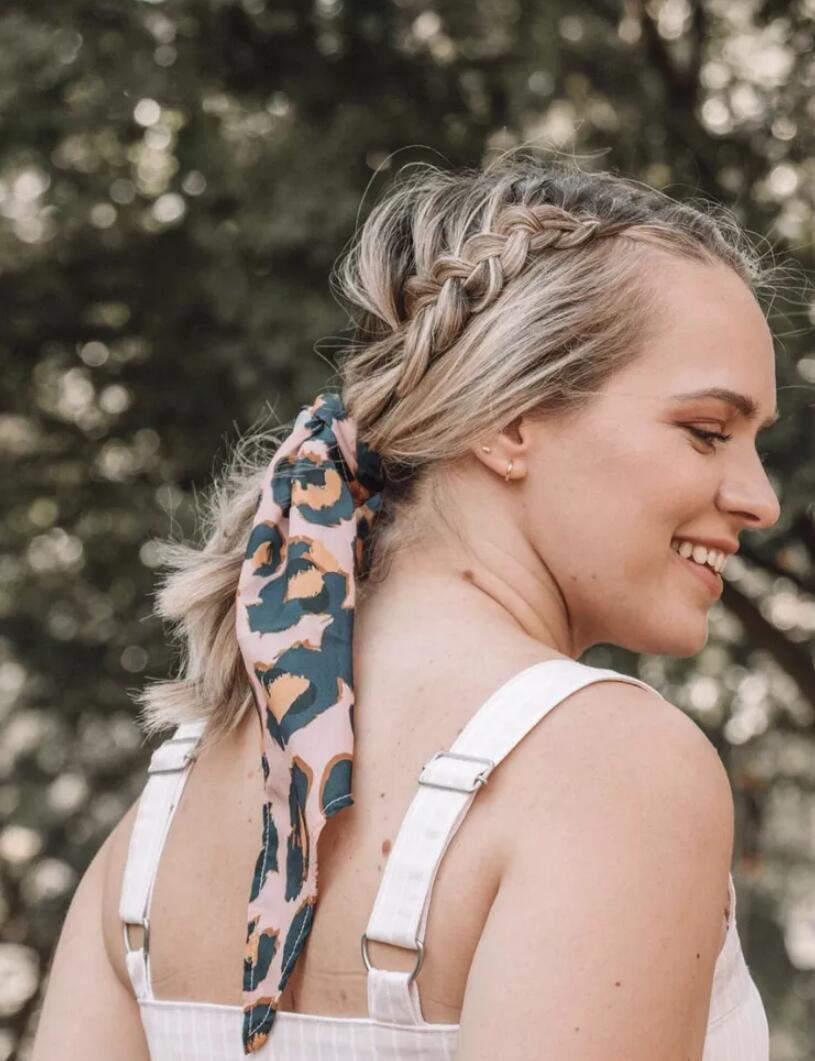 When it comes to easy, glamorous updos for your long bob, consider the Low Braided Ponytail your go-to. It offers you the choice to incorporate a side braid for a touch of complexity or keep it as a simple ponytail. Adding a silk scarf not only gives an extra layer of chic, but it also turns this casual look into a knockout. Perfect for brunch or a night out with friends, this hairstyle is versatile enough to suit any occasion.
17. Slicked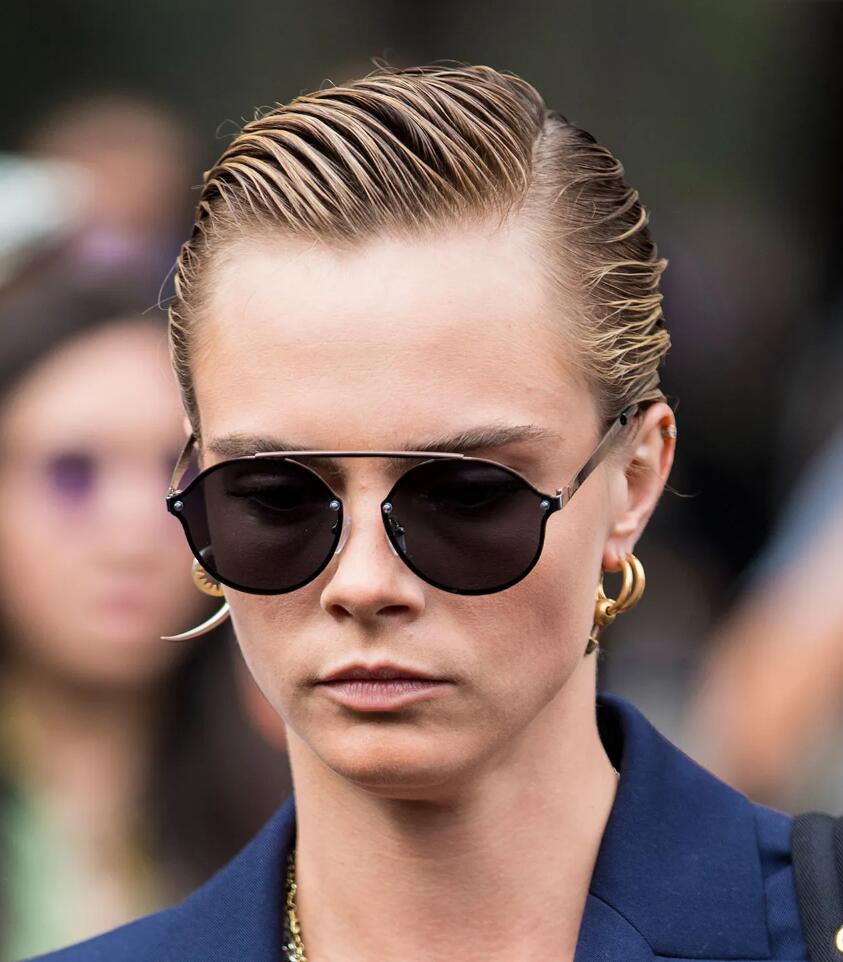 This one's for the days when you just can't be bothered to blow-dry, but still want to look like you've got it together. The Slicked and Combed style adds a sleek, boyish flair to short hair. It's cool, it's minimalistic, and it pairs phenomenally with stylish sunglasses. Whether you're going for a coffee run or hitting a rooftop bar, this look spells laid-back luxury.
18. The Pompadour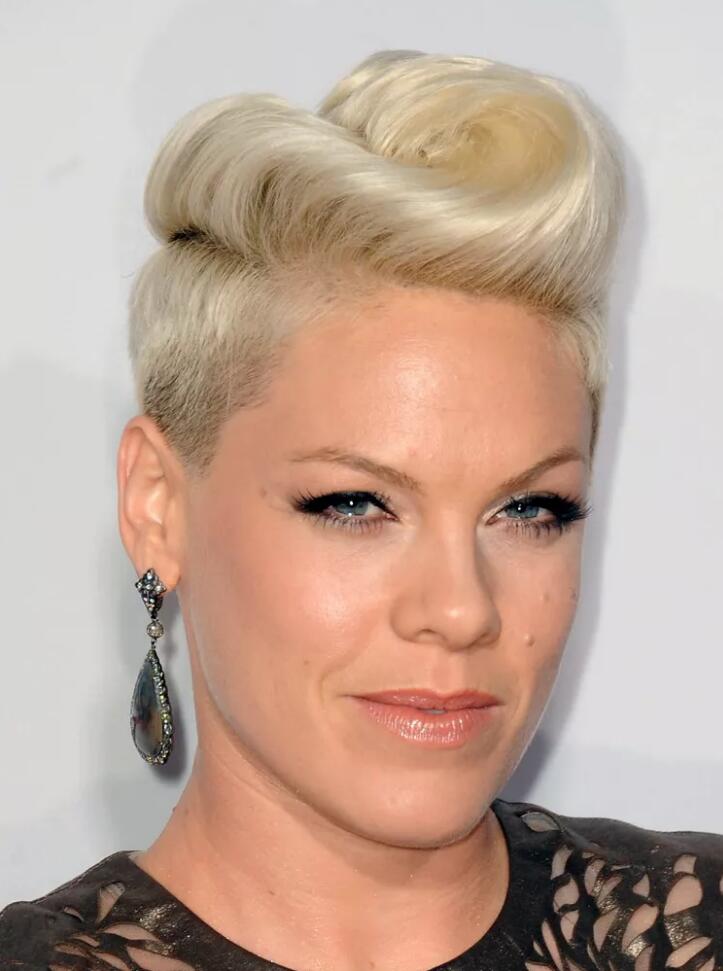 Who knew that a wavy, S-shaped pompadour could turn a long pixie cut into something so fresh and new? Colored in plutium blonde, this pompadour gives a stylish edge that can go from casual to glam, making it an ideal choice for homecoming or just a fun day out.
19. Stacked Twists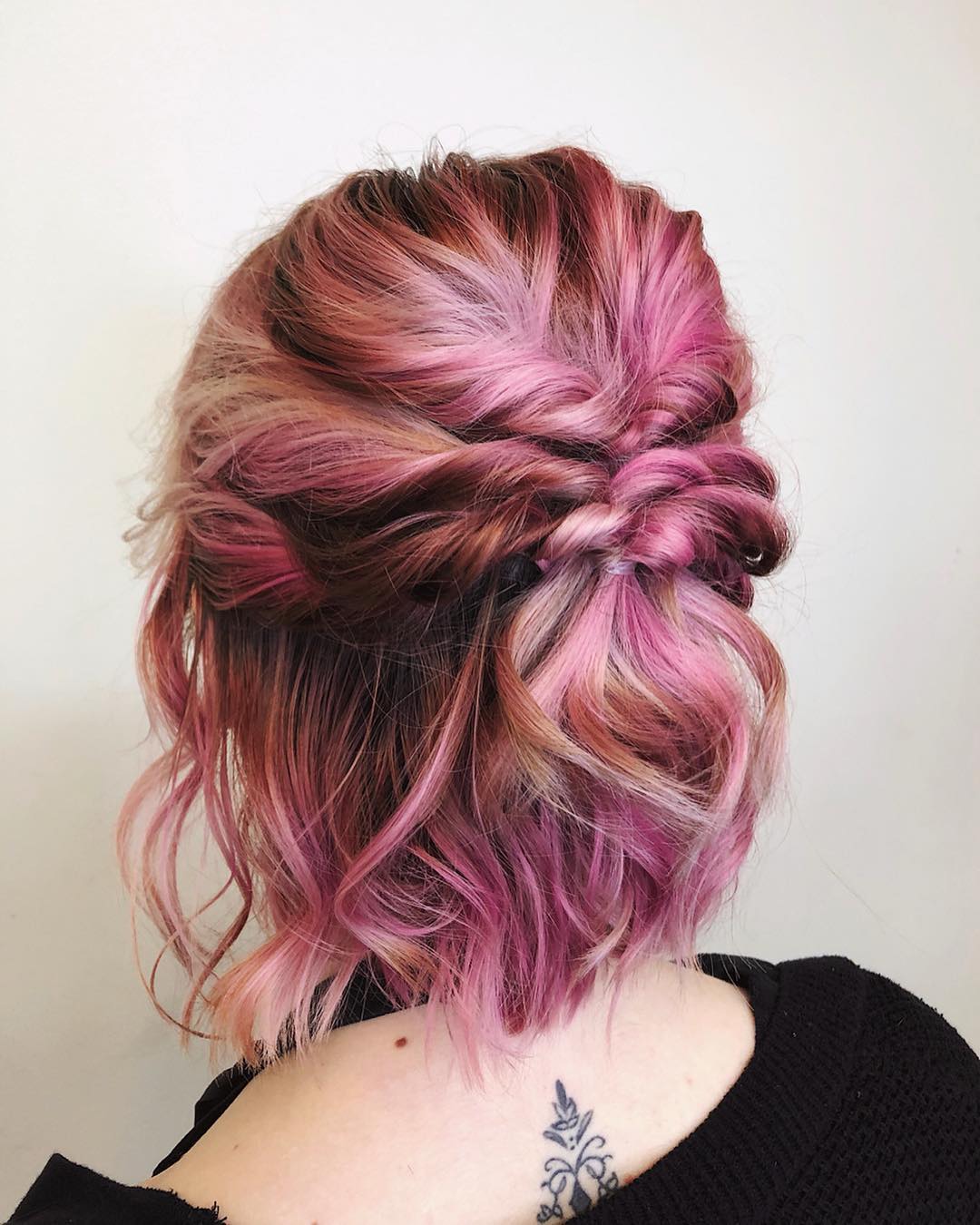 Are you looking for a simple yet beautiful updo for your messy bob? Enter the Stacked Twists—a half-up hairstyle that gives your textured hair the stage it deserves. The coloring, whether it be pink, red, or brown balayage, adds an extra layer of dimension to the stacked twists. This style is a step up from your average half-up, half-down 'do, and it works like a charm to elevate your overall look.
20. Stacked Side Dutch Braids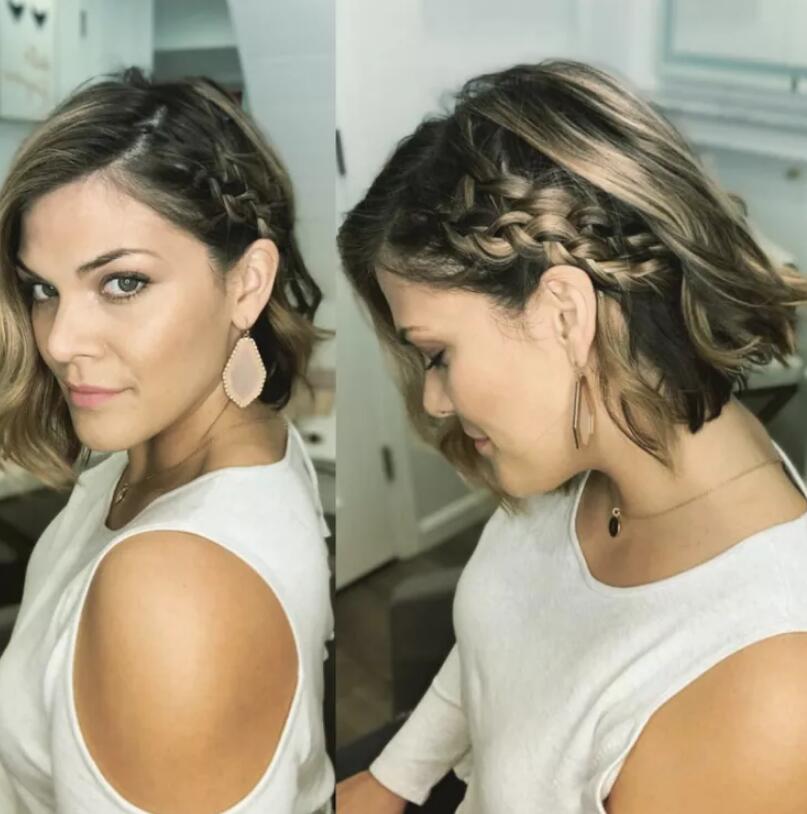 A wavy bob hairstyle gets a youthful and playful update with Stacked Side Dutch Braids. The deep side-part opens up your face, while the two Dutch braids on one side add asymmetrical excitement. It's a hairstyle that not only breathes new life into a bob but also turns it into a fun, quirky style perfect for a day out or a casual evening gathering.
21. Braids and Fringe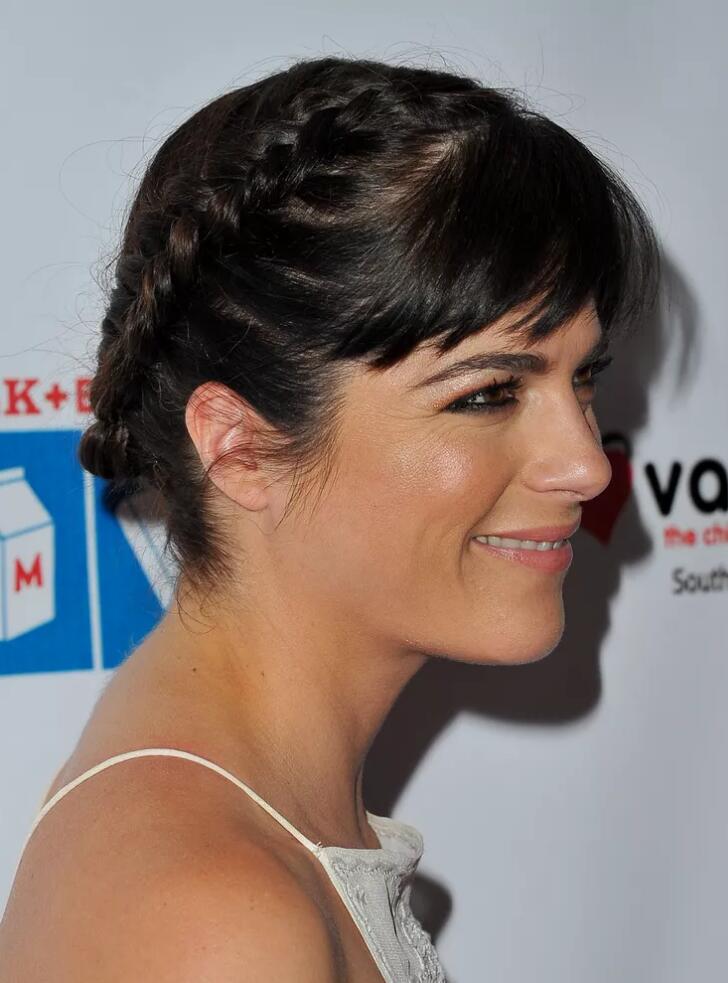 When classic meets contemporary, you get the Double Dutch Braids with Fringe. The black hair creates a bold canvas for this updo, but what really takes it to the next level are the side-swept bangs. Pinning the hair at the nape of the neck ensures that the style stays neat and focused. It's a versatile look that can effortlessly transition from day to night.
22. Cornrows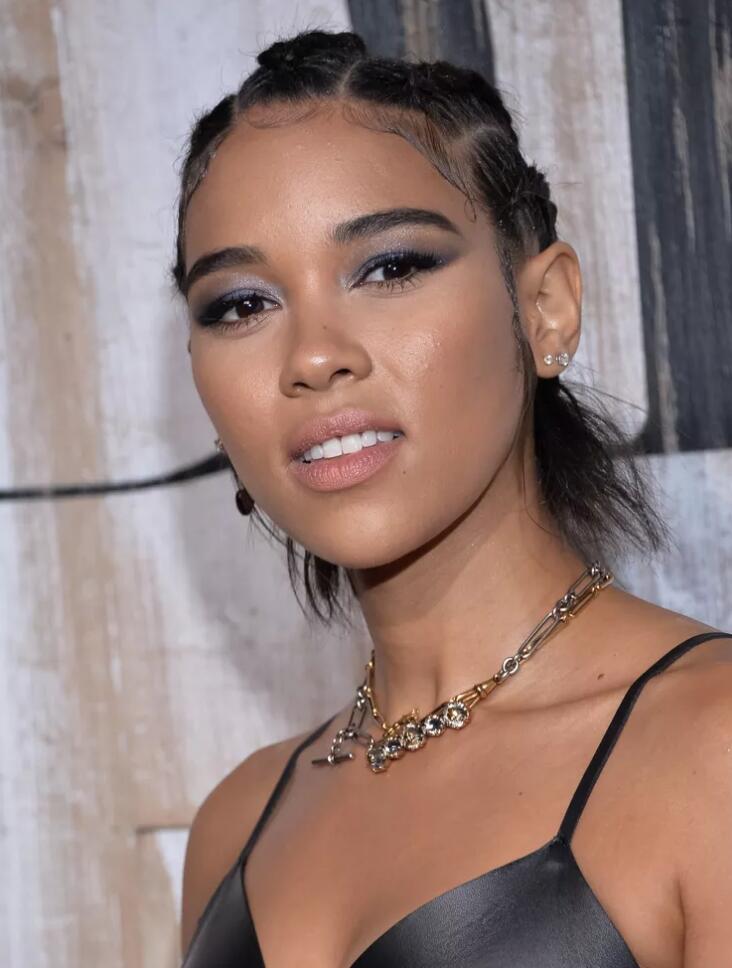 If you're looking for an updo that's both edgy and soft, this take on cornrows might just be your match. Black hair sets the stage for these intricately braided rows, and the loose tendrils at the back and sides provide a casual, relaxed feel. The combed-down baby hairs at the hairline add a touch of chic to the whole ensemble. It's a look that says you're not afraid to experiment while keeping it cool.
23. Half Up With a Bow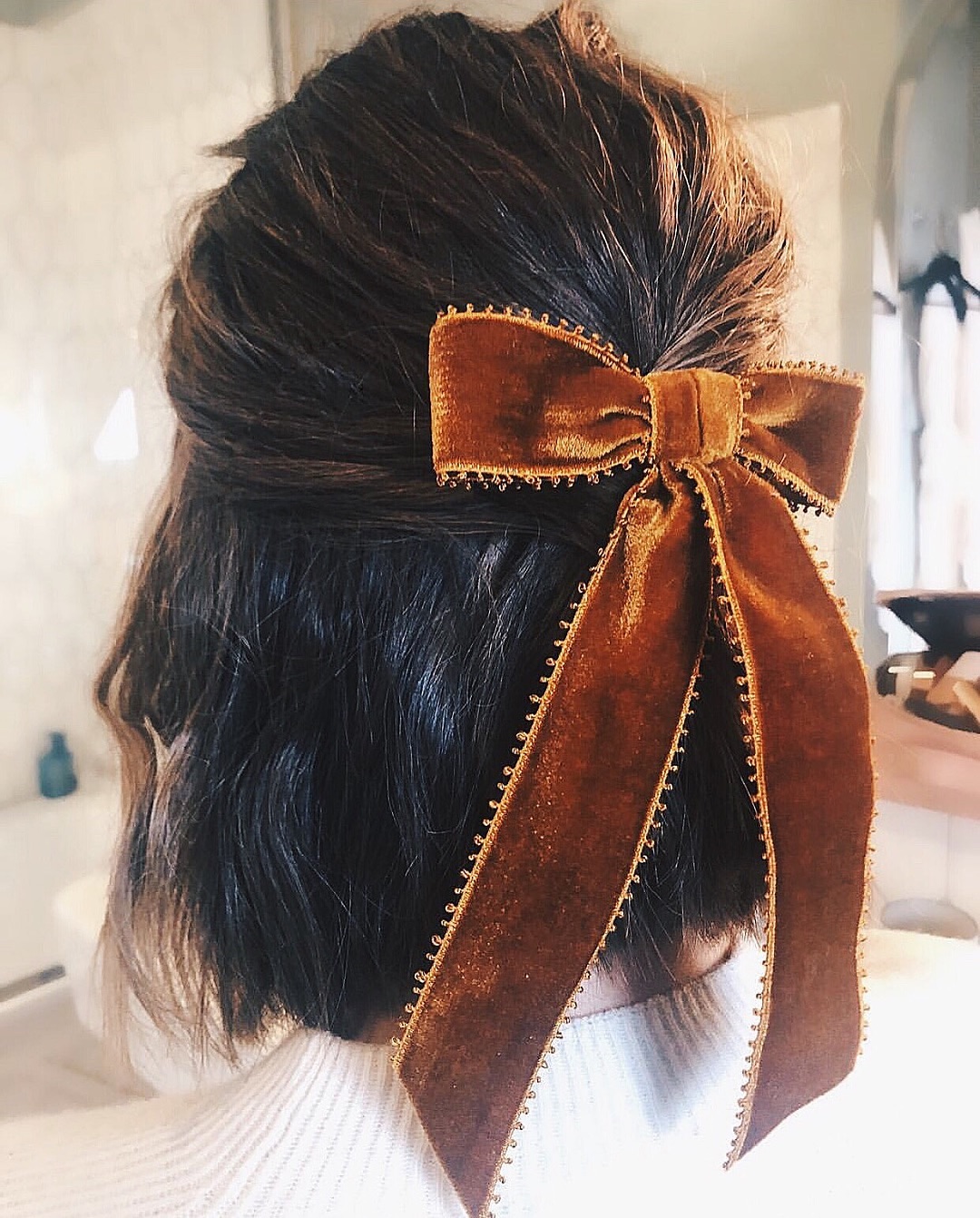 Never underestimate the power of a simple accessory to elevate a hairstyle. When you've got a textured bob and dark hair, adding a bow can provide that extra flair that makes the look unforgettable. As hairstylist Jen Atkin aptly puts it, "When in doubt, put a bow on it." It's simple, it's cute, and it works every time.
24. Half-Up Topknot Updo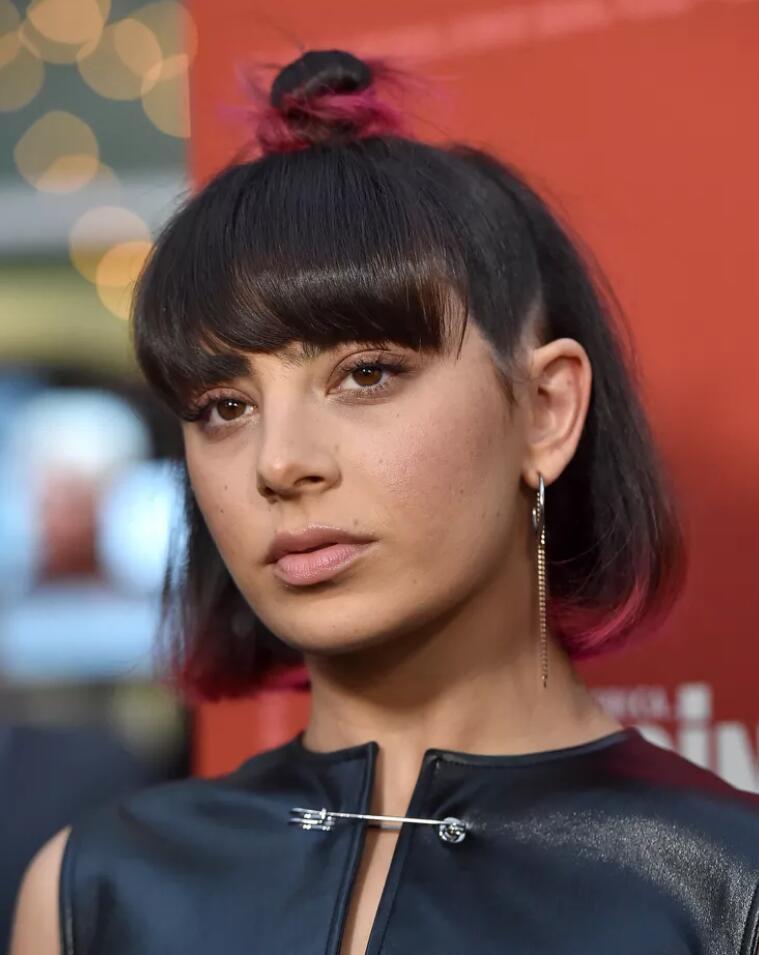 This look combines a bob hairstyle, a half-up topknot, and full bangs to create a style that's as trendy as it is practical. The dark hair emphasizes the structure and form of the topknot and bangs, making it a standout choice for any occasion where you want to look effortlessly chic.
25. Stegosaurus knots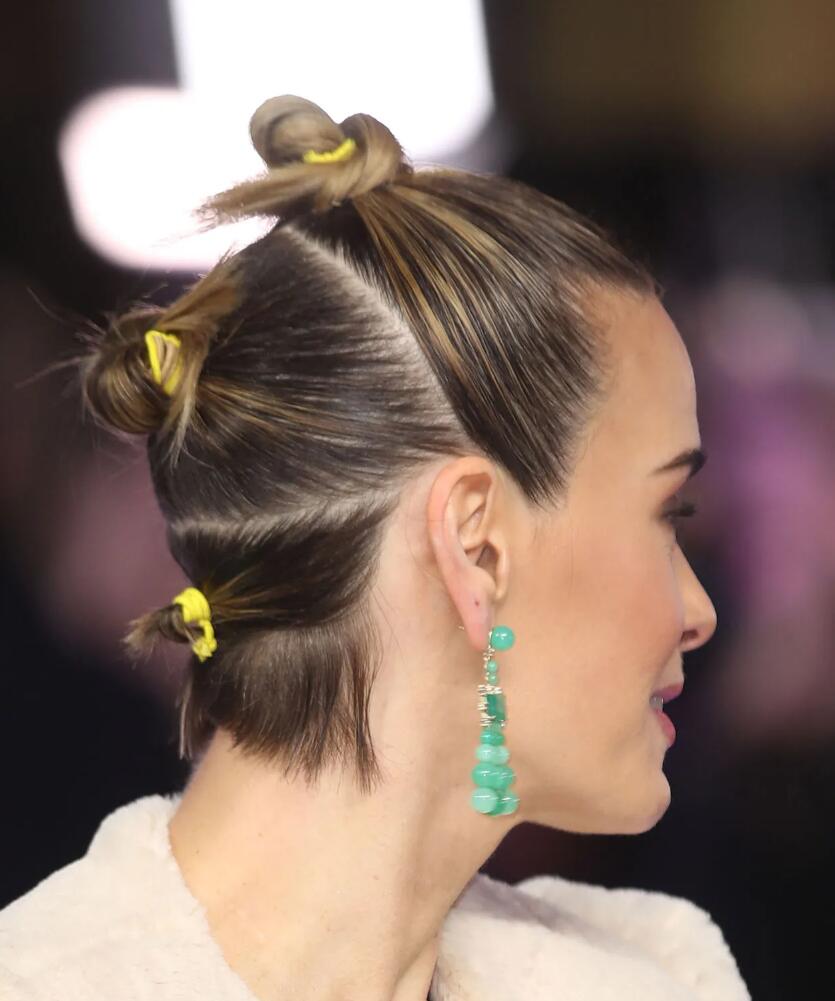 If your hair is at that transitional length and you're itching to try something playful, why not opt for these quirky knots? Imagine three of them—top, middle, bottom—each held in place with a funky colored hair tie. It's a hairstyle that's as imaginative as it is cute, reminiscent of the spikes on the back of a stegosaurus but far more stylish. Great for a weekend out or even a fun evening with friends.
Ready to show the world that short hair doesn't equate to limited style? With these updo options, you'll be setting the trend, not following it. Gone are the days when updos were the exclusive domain of longer locks. Welcome to a new era where your shorter mane is just as versatile, just as elegant, and just as show-stopping as any Rapunzel-esque hairstyle. If you've been holding back from that big chop, consider this your sign to go for it. Trust me, your future self—sporting a chic updo—will thank you.