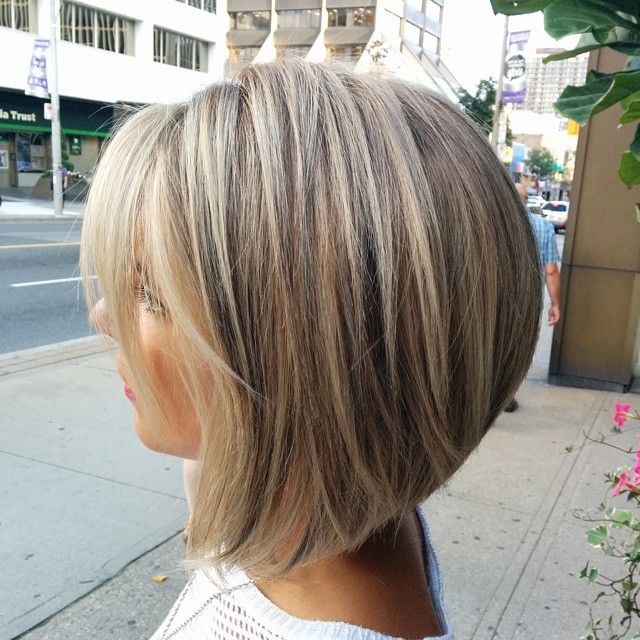 Ladies and gents, gather 'round. If your locks are as thick as thieves, we've got a treat for you! Welcome to the mane event: Bob Haircuts & Hairstyles for Thick Hair. Buckle up, because we're about to embark on a wild ride through the world of bobs that'll make your thick hair sing a happy tune.
You know what they say, "With great hair comes great responsibility," and thick hair, my friends, is no exception. But fret not! The bob is here to lighten your load and elevate your style game. From a structured blunt bob that shows off your hair's natural volume to a shaggy layered bob that creates movement, there's a bob for every thick-haired beauty out there.
Just picture the classic allure of Selena Gomez's thick, lustrous bob, or the edgy charm of Priyanka Chopra's textured lob. These style icons prove that when it comes to thick hair, the bob is not just a hairstyle; it's a lifestyle.
So, let's dive headfirst into this glorious hair affair. We've lined up the crème de la crème of bob haircuts and hairstyles that'll make your thick hair look and feel like a million bucks. As the saying goes, "Life is too short to have boring hair." So, here's to the bob, here's to thick hair, and here's to rocking a hairstyle that's as fabulous as you are!
Ash-blonde inverted bob on thick hair
Ash shades are big news for long and short bob hairstyles for thick hair! Here's a perfect example of how to wear an authentic 60's inverted bob. Thick hair that's been lightened gains even more volume and can be shaped with vertical sliced layers that remove the bulk from the ends. The shorter back moves gracefully down to brush the collar bone and the side parting creates a long fringe (bangs). Ash-blonde highlights accentuate the beautiful shape and the casual finish keeps the look relaxed, but well-groomed!
Side view of the latest popular balayage lob hairstyle
And here are more long bob hairstyles for you to choose from.
Copper-red bob haircuts for thick hair
Here's a classy copper-red shade that's great to warm up a pale complexion and add impact to long bob hairstyles. For thick hair, the stack-layered back is a good idea to create a trendy curved shape and a neat line above the nape. I particularly like the extra-long strands on either side at the front, which give a modern twist on medium and long bob hairstyles for SS2019! Suits oval, heart and round faces.
Simple bob hairstyles with chic honey dip-dye on medium-brown hair
Dip-dye started as a DIY hippy-style on long hair, but has matured into a chic way to 'dress-up' simple, layered bob hairstyles. Thick hair will hang beautifully in long bob hairstyles, without a bushy shape, if the stylist cuts inverted layers at the ends. This tip-texturising technique thins and shapes the ends of strong hair, making it fall in an attractive inward curve. And instead of adding strident blonde highlights to mousey hair, this honey-blonde shade is more flattering to all skin tones and ages! If your face is oval, just add a centre-parting and a touch of back-combing (teasing) at the crown, to complete this smart-but-casual medium length hairstyle for thick hair!
Low-key layered bob hairstyles for thick hair with blonde ombré highlights
It's very easy to change the day-to-day look of long bob hairstyles for thick hair, as you can see below. Layered bob hairstyles for thick hair can be styled smooth or lightly waved and with a tousled finish. The blonde highlighting in this style harmonises well with the light-brown/mousey base shade and becomes lighter towards the tips and in the strands framing the face. This makes the ends appear wispy and lightweight and from a centre- or side-parting, the pale blonde strands reflect light onto the face in a very flattering way!
Long inverted bob makeover from shapeless to chic
There comes a time when we realise it's time to cut our long, shapeless locks, but choosing a new style can be a very difficult moment! Fortunately, that decision is a lot easier to make right now as you can keep your hair long, but look younger, with a stylish inverted bob. Thick hair is easier to manage with shoulder-length, sliced layers and thinned-out tips of the latest, long, layered bob hairstyles. This inverted bob on thick hair shows a warm cocoa base overlaid with twisted medium-blonde waves. Adding waves at the sides of the head is a good way to add width to a thin face and soften an angular shape. With a centre-parting, this style suits oval faces but can be easily adjusted to suit heart-shaped and square faces.
Chin-length inverted bob hairstyle for heart or round face
On a heart-shaped or round face, one of the best layered bob hairstyles is the chin-length, inverted bob. Thick hair is cut with blunt tips for a choppy, futuristic look in lots of medium length and short bob hairstyles for thick hair. An off-centre or side-parting cuts the symmetry of a curvy, round face and covers the corners of a broad forehead. You can easily minimise the appearance of a pointed chin by having thick, choppy layers on either side. And versatile, chin-length bob hair styles for thick hair can be curled and pinned up easily for glamorous evening upstyles!
Lavender-grey bob haircuts for thick hair
Platinum-blonde is less popular for the spring and summer hairstyles. However, ash-blonde and silver-grey-lavender shades are adding a daring, high-fashion finish to medium length hairstyles. Thick hair has natural volume, so you can wear it in simple bob hair styles and add a striking colour to complete your new look. Chin-length short bob hairstyles for thick hair are emulating Kelly Osborne's preference for soft, lavender-grey shades. See how this cute pale shade emphasises the model's gorgeous, brown eyes and lights up her pale skin-tone!
Messy medium length hairstyles for thick hair and leather jackets
This profile of a messy, inverted bob on thick hair shows how well it looks with the new fashion for leather clothing. Thick hair that hangs just below the chin is one of the best medium length hairstyles on thick hair for an oval, square or heart-shaped face. The hair is cut in a variety of messy layers to soften the line, cover a strong jawline and add width to minimise a pointed chin. This is one of the easiest bob hair styles for thick hair to manage, as the finish is lightly waved and conveniently windswept!
Cute blonde bob hair styles for thick hair with a ragged finish
Here's one of our favourite new blonde shades for spring and summer hairstyles! It's a very cute medium-short bobcut with dual highlighting, that shines like pure gold. This also means it will reflect flattering light onto your complexion and could take years off your face! This bob cut also demonstrates one of the latest cutting techniques in medium length hairstyles for thick hair. The last 2 or 3 inches are heavily thinned out and then styled in defined, twisty strands. This creates a sweetly uneven, raggedy look which, with the ends lightly flicked out, shows 3-D colour depth on a beautiful layered bob hairstyle for thick hair!
Long layered bob hairstyles for thick hair with ash-blonde highlights
If you're not yet ready to lose the length of your hair, you can update your image with long, layered bob hairstyles. For thick hair, blunt tips draped over the shoulders add a completely fresh look, full of lively movement instead of those long, pointed rats'-tails! The emphasis is firmly on healthy, twisting movement in the new layered bob hairstyles. For thick hair with some natural wave, you can easily vary the look with a quick session with a curling wand. But the outstanding feature of most long and short bob hairstyles for thick hair will be the colour you choose to highlight the texture, shape and movement. Dual highlighting in ash-blonde shades is definitely the next big colour trend for 2019!
Boho short bob hairstyles for thick hair to suit square faces
The cool, ash tints don't suit all skin tones of course, so don't rush into anything quite yet. There are still lots of golden and copper highlights in the latest bob hairstyles! Medium-long bob hairstyles for thick hair, ending between the chin and the collar-bone, look lovely with a well-harmonised medium-blonde ombré. This style features lighter, honey-blonde, twisty waves moving away from the face. This is a good style to cover a strong jawline and soften any angles. This bob hairstyle for square faces has an off-centre parting, which cleverly disguises a square hairline by creating a cute oval frame!
Party-style long bob hairstyle in warm brown with cute caramel balayage
Warm-brown is still a popular shade and will remain in fashion for a long time yet, as it does such as good job of warming up pale complexions! However, like other layered bob hairstyles for thick hair there's a new twist. This stunning special event style, has bold medium-blonde balayage streaks. See how they draw attention to the bouncy waves of this extreme-asymmetry, inverted bob. Thick hair shaped in a long bob looks a lot more contemporary and face flattering than long, shapeless haircuts! And this is one of our favourites for its sheer, eye-catching gorgeousness!
Long choppy layered bob with dual tint white-gold tousled twists
For Nordic types, the cute, new ash-blonde shades are the perfect update for any number of long, wavy bob hairstyles. Thick hair worn loose, but with a definite bob shape, creates a youthful image whilst emphasising chic modern style. This is a cute, shaggy bob with a centre-parting to accentuate a perfectly oval face, but you can move the parting to get a flattering look on a heart, round or square face shape. (This bob is not recommended for long or thin face shapes, who should go shorter and wider at the sides.)
Bronde long bob with wheaty-blonde ombré on dark-blonde base
If you prefer a stronger highlighting contrast on your dark-blonde hair, try this cool, wheaty blonde ombré! The latest long, bob hairstyles for thick hair have blunter ends, rather than tapered points. This allows heavy hair to be more lively and swishy, unlike the long tapered style which made hair just lay still. This is one of the long bob hairstyles that suits an oval, round or heart-shaped face. The deep side-parting allows you to cover half of the forehead and the wavy movement on either side of the chin adds width.

Sexy long bob profile view showing cool blonde highlights and teased volume around crown
If you add a little teasing (back-combing) at the crown, you get a very sexy Brigitte Bardot vibe, too! This is one of the longer, long bob hairstyles for thick hair and a great choice for an oval face and to lengthen a round face. The deep side-parting means you can create some extra height with a wave around the forehead. An extra-long fringe (bangs) draped diagonally across the face breaks up the symmetry and shorter layers at cheek-level slim down curvy cheeks, too. Dark-blonde hair is lightened with dual cool-blonde highlights that are concentrated around the face. Styled with messy, casual twists and waves, makes these trendy and relaxed long bob hairstyles for thick hair a really popular look for 2019!
Purple long bob on thick hair with slight wave for heart faces
Deep violet-purple is another short, medium and long hairstyles' colour we'll be seeing more of in spring and summer. It suits simple styles like this long bob hairstyle, for thick hair with a few natural-looking waves and twists. The waves are nicely positioned to keep the focus at face level and the tips are lightly textured to keep the ends light and wispy. If you like a hairdo that virtually looks after itself, it's hard to beat a casual, long bob hairstyle. For thick hair, you don't need fussy details and a regular trim will keep your hair in shape! Suits oval and heart faces.
Shaggy long bob hairstyle for thick hair shown straight, wavy and twisty

A centre-parting looks great on anyone with an oval face and this long bob hairstyle for thick hair demonstrates three different ways to style this popular haircut. First of all, we have a cut with lots of straight, vertical movement, from long sliced layers plus extra shape and texture at the tips. Textured tips thin out the ends and give bob haircuts for thick hair a trendy, shaggy finish. Colourwise, the brown base has been highlighted with two shades of blonde, with a cool gold shade giving way to a white-gold blonde shade concentrated around the front.
Extreme asymmetry long bob party hairstyle on black hair with stunning blonde top layer
For me, the most exciting medium and long bob hairstyles for thick hair SS16 are those with extreme asymmetry and strong colour contrasts. What other styles can match the dramatic impact of an inverted bob with asymmetrical sides like these medium length hairstyles. Thick hair doesn't need to be curled to create flattering volume and new shapes. This striking straight bob on black hair, has a deep side-parting and a fabulous swathe of blonde hair draped over one side of the face. Black with dual blonde highlights on large sections of hair is a gorgeous look for a party or special wedding hairstyles idea!
White-blonde beach wavy bob just past chin-length for oval, thin or square faces
What happens when a short, stacked back bob hairstyle grows out? Well, bob short hair styles for thick hair usually grow gracefully into lovely medium length hairstyles, so you don't have to deal with an 'awkward phase' as your hair grows. This summer-beach, white-blonde shade gains 3-D appeal from the slightly darker roots and the medium golden-blonde highlight at the nape of the neck. Waves on either side of the face add width, making this inverted bob on thick hair a good look to balance out a thin face. Also suits oval and square faces, as the side waves can soften a strong jawline.
Warm up dark blonde long wavy bob with caramel and copper dual highlights
For years, dark blonde hair was only ever livened up with cool blonde highlights, making a lot of women look as if they had grey hair and a white face! However, dirty blonde often looks better with strawberry-blonde, caramel and copper highlights. Everything depends on your skin tone, and if you have a pale, cool complexion you will look far better with warm highlights. Long layered bob hairstyles for thick hair have far more shape and style than hair that's long with pointed sections! So why not get rid of all those split ends, and look more stylish, with this warm and sexy inverted bob. Thick hair with a centre-parting and wings of hair flatter oval faces, but you can adjust the parting to suit a heart, square or thin face. Glossy, casual waves highlighted by warm dual highlights is an easy-care bob haircut that's suitable for parties, work and weddings!
Same length long bob with amber and honey balayage highlighting and large, loose waves
Here's a fabulous classic medium-long bob hairstyles for thick hair, with extra volume around the ends. This is a great bob hairstyle for a heart-shaped face, as it completely balances a broad forehead and pointed chin. This cut has the ends cut more or less the same length all around, but with some shorter lengths cut to drape around the face to soften the line. Light brown hair is given oodles more sex-appeal with amber and honey balayage highlighting, which beautifully accentuates the defined, twisty waves hanging casually around the head!
Medium bob hairstyle with new wave pattern & dual highlights on mousey brown base
Varying the wave pattern has been a big hairstyles innovation in recent years, aided by the new heated tongs with all sorts of different waving options. And in the bob hairstyles, we'll be seeing and wearing another new wave pattern! The bob hairstyle below shows how the second line of waves is placed just above the tips, creating a loosely crimped bottom line. It's a fabulous new way to accentuate the angled line of an inverted bob haircut!
Short chic bob hairstyle for thick hair with cool blonde highlights on warm brown base
The new, short bob hairstyles for thick hair are full of beautiful inverted bobs. Thick hair can be stack-cut at the back to produce this fab exaggerated angle which swoops in to hug the base of the neck at each side. This version shows how shorter bob hair styles for thick hair look with a sharper angle and cool blonde highlights over a cocoa-brown base. Suitable for round and long face shapes.
So the new bob hairstyles for thick hair have plenty of styles and completely new highlighting colour options. Choose from funky purple and mauves, through adorable white-gold, silver-grey and lavender to chic ash-blonde and ash-brown (bronde) highlighting. A good tip is to find out exactly what your skin-tone is in natural daylight before you choose a new colour. Ash-blonde can drain colour from a cool complexion, so check with a colour expert to get highlights that will truly suit your personal skin-tone!