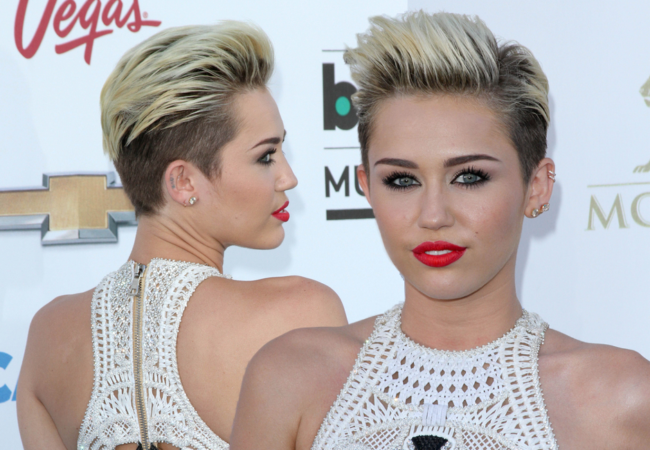 Whether you fancy a boy-cut to make you look more feminine or more masculine, the interesting thing about these short styles is they can help you achieve either of those individual beauty looks!
Take this short tomboy cut on Miley. It really draws attention to her pretty face, through the flattering contrast between the strong shape of the cut and her soft, feminine features.
And it is quite a versatile look too, as the height on top can be styled downwards making a beautiful blonde fringe that falls softly over the forehead.
The Short Tomboy Pixie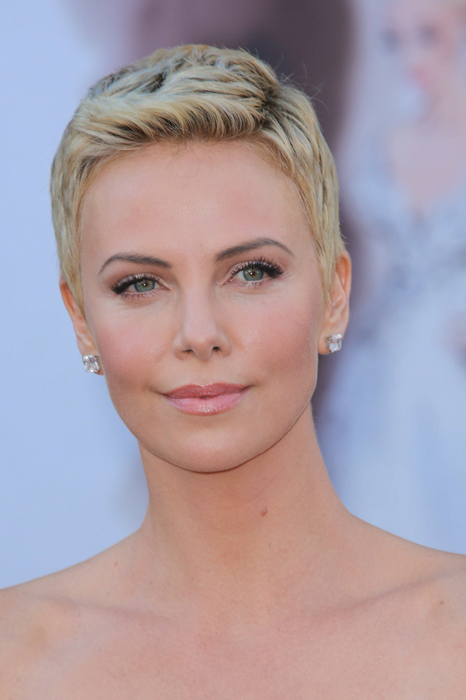 As you can see in the image of Charlize Theron, there's nothing remotely masculine about her hairstyle.  There's a little height above the forehead in a rolled-back wave to soften the silhouette and the side parting adds a contemporary asymmetric vibe.
The addition of blonde and dark-blonde colour technique flatter her skin tone, but a pretty face always looks pretty, no matter how short the tomboy cut may be.
Tomboy cuts for fine hair
Here's another very attractive short cut pixie on Carey Mulligan that's a great choice for fine hair, as it doesn't have any volume on top.  The brushed-forward style has lots of wavy movement and texture and finishes in a trendy, uneven fringe swept over the head from an edgy, deep side parting.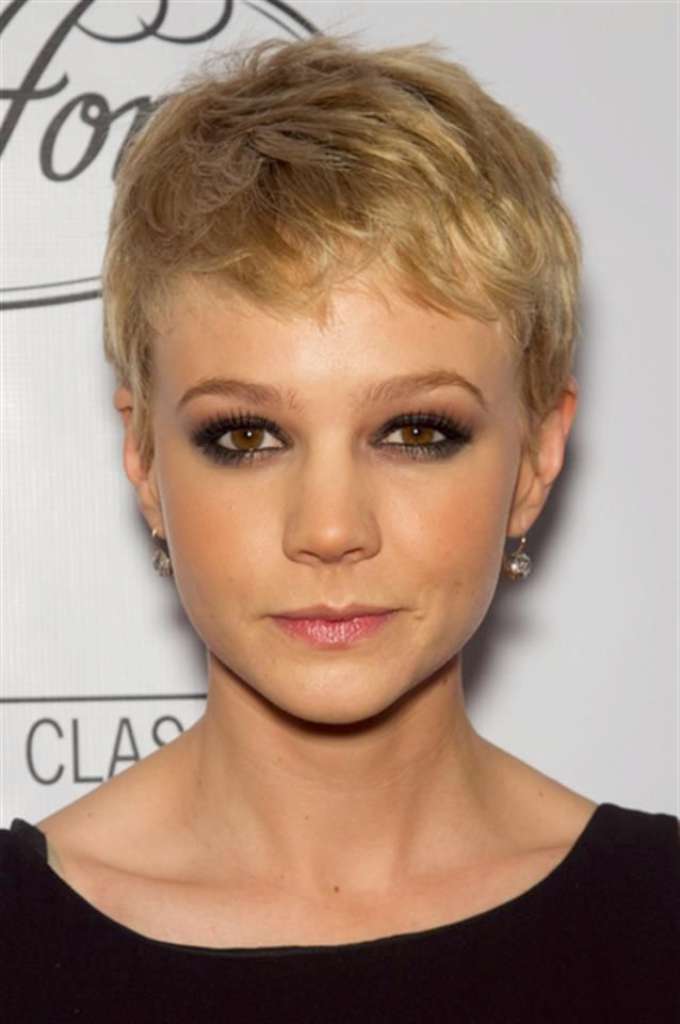 One Length + Blunt-Cut Fringe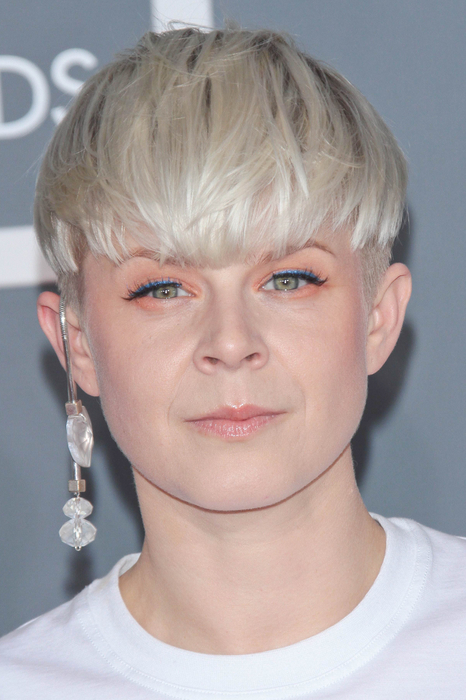 For a less girly look, choose a one-length tomboy haircut and a full fringe, with blunt ends to emphasise the strong, sleek lines.  This basin-cut in platinum-blonde with dark roots creates a strong style (softened by the light-blonde colour) for Robyn to show off her masculine side and her lovely blue eyes.
The sides are buzzed at the sides, reducing the volume and keeping the rounded shape moving in a circular outline around the head, as well as over the top.  And to soften the line, the hair is lightly tousled to create unevenness at the ends.
This simple tomboy style can be dyed a really strong colour, or have some exciting, or unconventional, balayage colour accents added.  Structured shapes can take the boldness of a vivid or unusual hair colouring technique, without looking over-done.
This cut is a great choice for fine, silky hair as it is allowed to fall naturally, without added volume and has lots of varied styling potential, too.
The Choppy, Punk Boy-Cut
And for a really boyish cut, try one of the fabulous shaggy styles such as this one (shown below):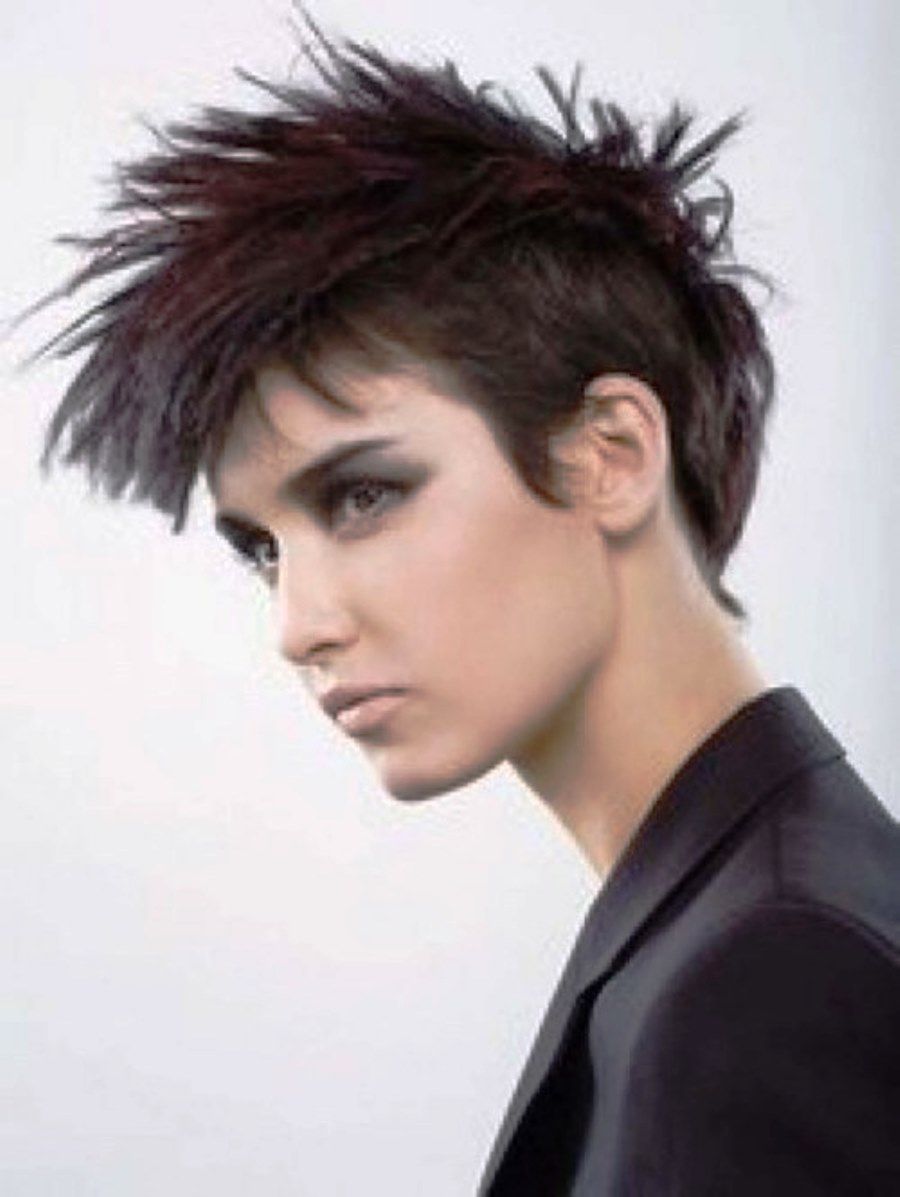 This slightly punk, choppy style is cleverly cut into a mannish shape, with the hair brushed forward from the crown in strong, uneven layers to create a false-Mohawk effect.  The fringe overhangs the forehead, with just a couple of loose strands softening the line – along with the feminine side-points.
This is a great look for thick or coarse hair and along with the model's grey jacket, creates a fabulous tomboy look!