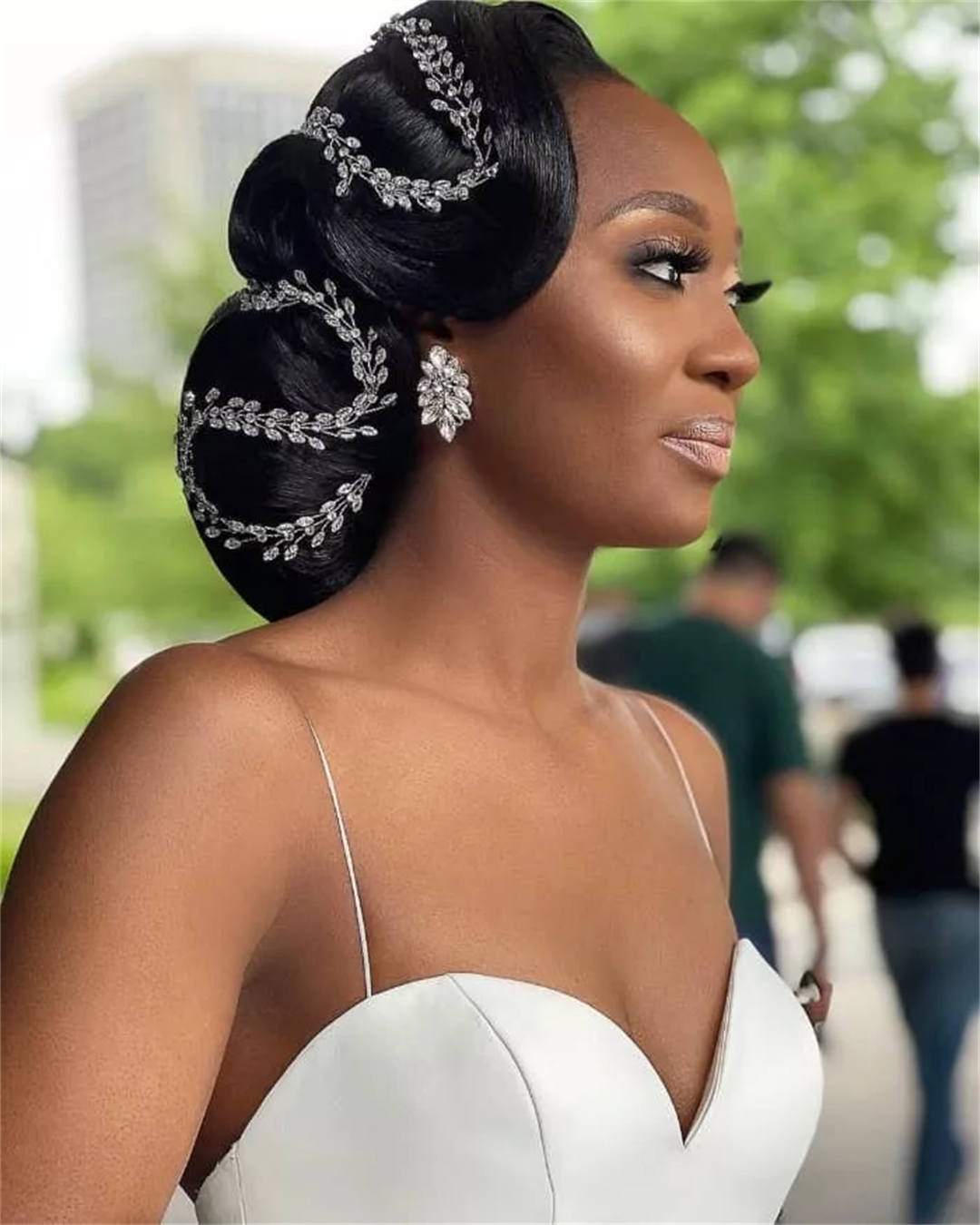 Black updo hairstyles have always been a great way to show off a beautiful bone structure and draw attention to your eyes and lips at any special occasion.  This season's updo styles for black women are a stunning mix of retro and totally fresh looks that are chic and sophisticated.
Long hair updo's
If you have long, thick hair try one of the super one-plait styles, with a loosely woven braid arranged to one side of the head from a fastening right at the crown. The messy look is out of date now, but the contemporary styles are still casual, so don't braid your hair tightly.
Retro black updo hairstyles
If you have ever seen pictures of the Supremes and similar African-American girl bands from the 1960's and 70's, you'll see some wonderful black updo hairstyles that are right back in fashion for the 21st century!
With the hair combed back to show off the forehead, they have a set of big, round sections pinned securely around the crown for attractive height on top.
'Fro updo hairstyles
If you are following the trend for 'natural hair', you'll find it's very easy to produce a stunning puff of frizzy hair on the top of your head that you can wear for any occasion. Asymmetry is a major trend for this season and a smooth bun or frizzy puff looks fantastic when placed to one side of the head – just behind the ear.
Finish off your updo hairstyles with some dazzling pendant earrings for added glamour at a formal event.
Fake it!
If your hair is short-to-medium length, you can still fake an updo that will look really cool! Braid the sides and back in dainty French plaits that will take in all the layers and create a smooth texture in the lower lengths. Then you can style the top in lots of different ways to mimic one of the black updo hairstyles for long hair.
Texture & quiffs
Contemporary black updo hairstyles are doing some very exciting things with medium length natural hair, such as creating 2 or 3 quiffs on top in rows that run from the forehead to the crown.
Hair accessories
As hair accessories are hot this year, dress up your black updo hairstyles with one of the latest hairbands, silk flower or get busy with a silk scarf that can be used in lots of different ways to decorate your updo for a fresh, European look.
Ready to choose your perfect black updo hairstyle for a special event?  Just scroll down and browse our latest Inspiration Gallery full of eye-catching black updo hairstyles that will make you the belle of the ball!