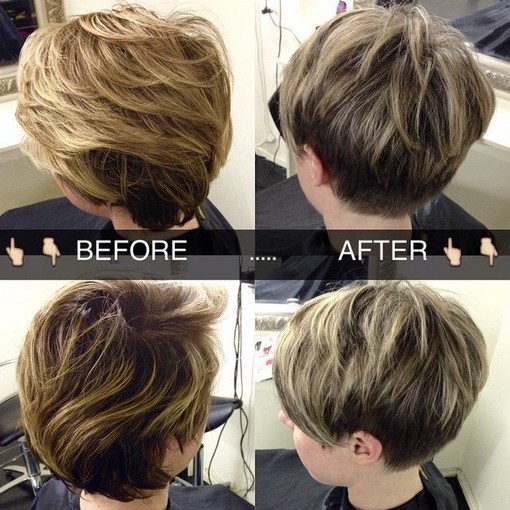 Best short hairstyle for medium and thick hair
We love makeover pics and I'm sure you do, too! They're definitely the most inspiring hairstyle photos, because you can see exactly how much a shorter haircut can rejuvenate your image! This young woman's medium-short, wavy hairstyle has been tightened-up and sharpened to give her a younger, trendier appearance.
I know cosmetic surgery is tempting to a lot of us these days, but before you even start thinking about that, make sure you take advantage of your stylist's clever cutting and tinting technique! If you take a close look at the differences between these two cuts, you see that the short haircut shows more of the neck, the ears and in profile, the cheeks.
The shape on top moves the volume to a symmetrical 'helmet' silhouette around the crown which flatters the face by adding height. The short back and sides, contrasted by a long top and fringe, mark the cut as one of the most fashionable short hairstyles for 2015 – 2016. And switching the colour-tone away from golden-brown towards light ash-blonde totally seals the deal! How's that for a cheap face-lift and no tell-tale scars!
Find more latest popular haircuts on hairstyles weekly!