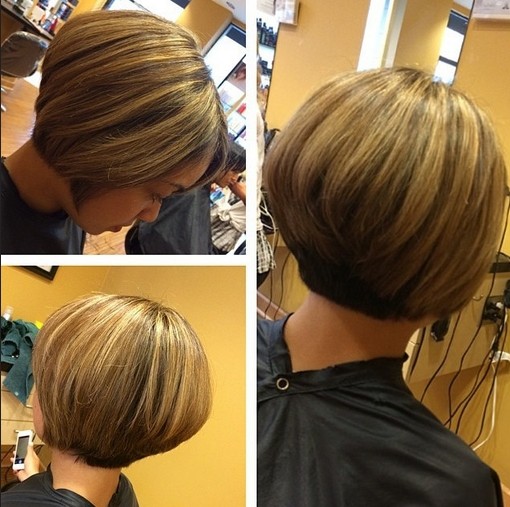 Colour is Queen for 2015-2016 hairstyles! So for all of the brunettes or 'dark-blondes' out there, who've always wanted to be blonde, here's your chance to go lighter and blonder with a chic, short haircut, too. The stacked-cut – as I prophesied last year, please note! – is one of the biggest trends in short bobs. And as we all know, the bob is one of the most flattering styles because it's endlessly variable, so there's a fabulous short bob to suit every face shape!
This year's short bobs have a great new shape which doesn't rely on complicated styling, just a fabulous geometrical stacked-cut on medium to thick hair. The sleek styling on brunette hair makes this natural-looking short hairstyle perfect for some nifty colour tricks.
So if you want to go blonde in a super-stylish way, or you're fed-up with your grey hairs, get this statement look and make every woman around you look drab and old-fashioned!
Here are more bob hairstyles for you to choose from: 33 Fabulous Stacked Bob Hairstyles for Women