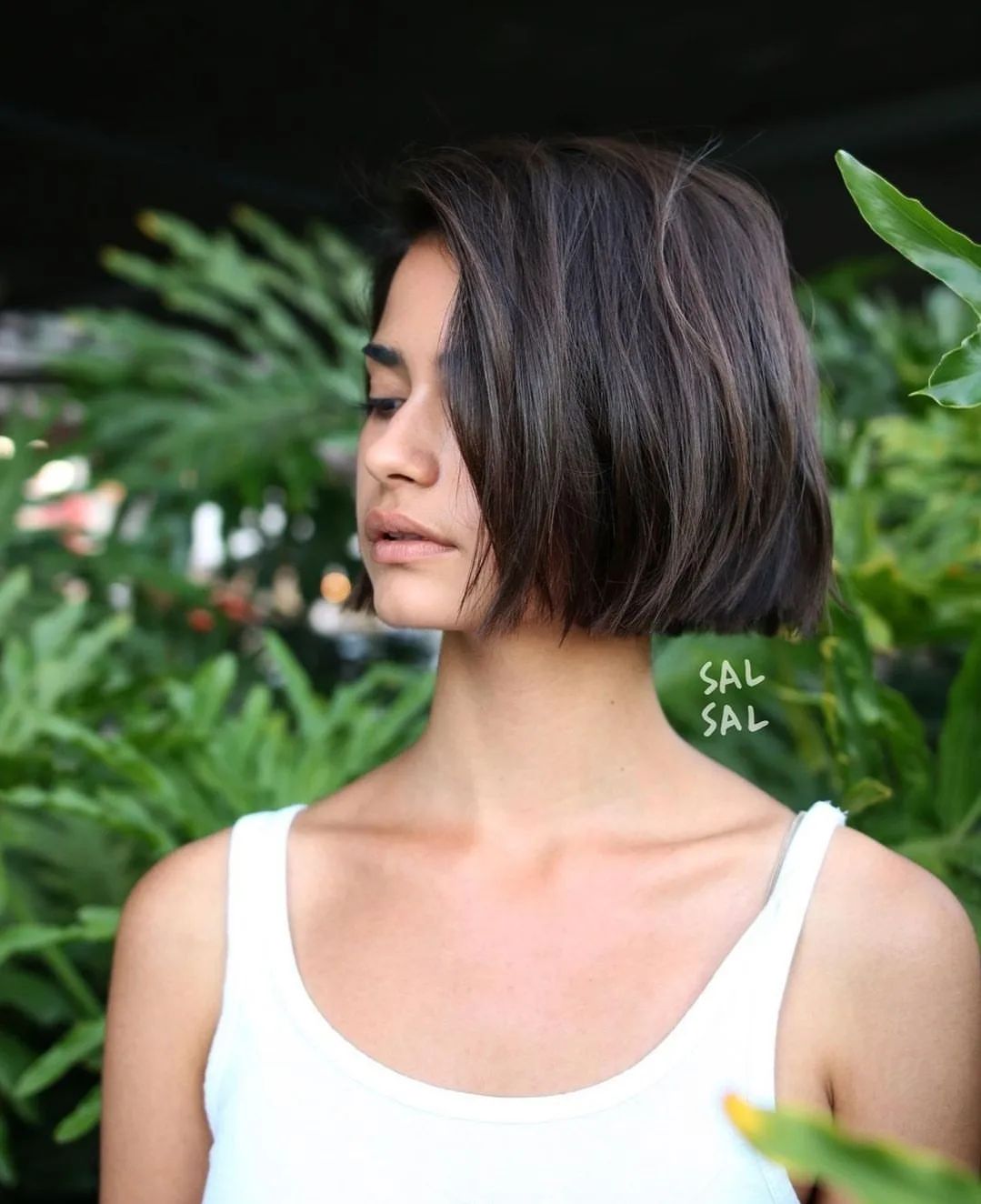 Thanks to celebrities like Kylie Jenner and Kim Kardashian, the bob hairstyle is one which has grown infinitely in popularity over the past few seasons. Especially if you have brown hair, it appears that the bob look is most certainly the way to go. HairStyles Weekly absolutely couldn't agree more with this because we adore the bob cut so much. It's just perfect for this time!
Half Up Half Down Bun Bob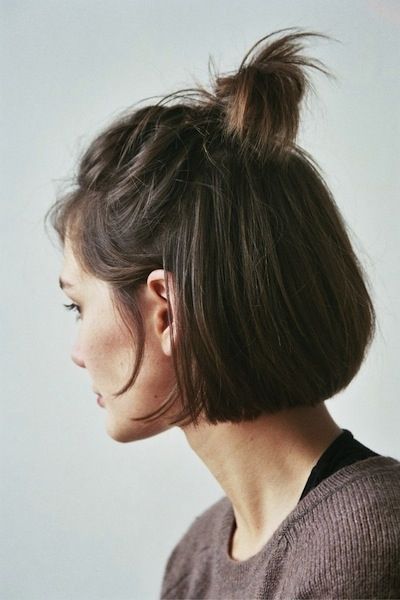 Half up half down buns are super on trend right now – so combining them with a bob is the perfect hairstyle. Chop your hair into a short bob around the jaw level. Finish it with lots of lovely layers around the front of the face. Scoop the top and front section of hair back into a bun to create a cute look. This is the perfect combination of smart and casual.
Balayage Curly Bob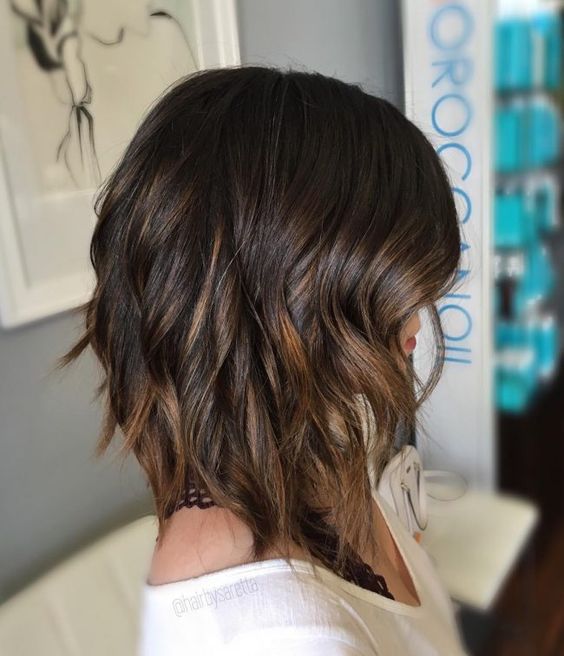 Balayage is such a popular hair trend, so why not combine it with a gorgeous graduated bob? This will give you the ultimate girl next door style.. Chop your hair into a bob which falls just above the shoulder. Keep it graduated, so that the layers are longer towards the front of the face. Cut a fringe around the front of the face. Choose light brown for a balayage shade at the ends. Curl for a bouncy finish.
Curled Under Brown Bob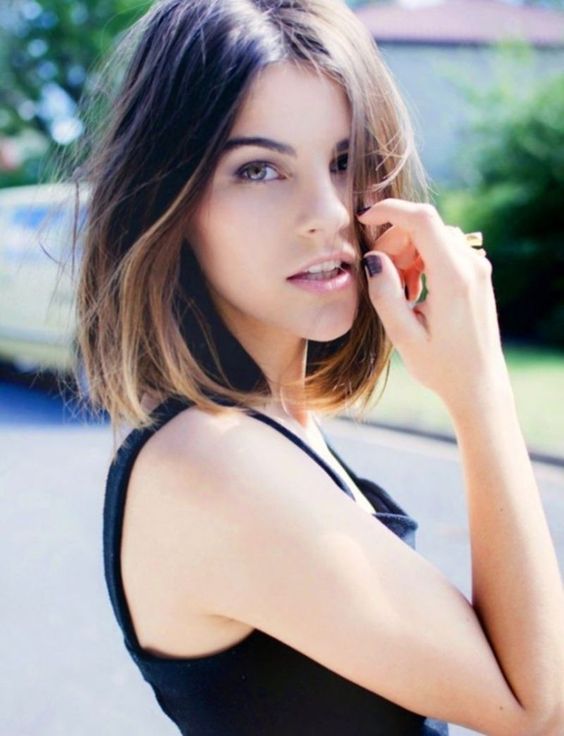 Curled under ends are the best way to bring a bob to life! Opt for a cut which falls a few inches below the jaw. Part your hair in the centre and add highlights if you want. You could even opt for an ombre hair transition, making the ends a little lighter. Curl the ends of the hair under so that it curves towards the jaw.
Dark Brown Bob with Blunt Ends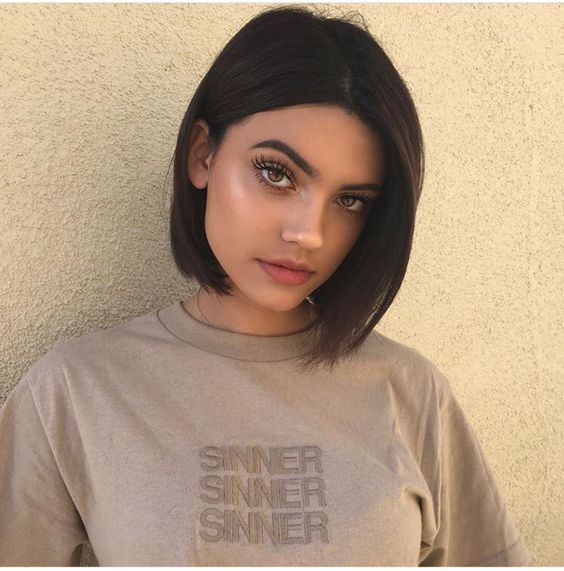 This lady looks incredibly pleased with herself and we think that's because she has such gorgeous hair! Recreate this look by dying your hair a dark brown shade. Chop it asymmetrically, so that one side of the hair is slightly longer and the other is shorter. This will fall around the jaw level. Keep the hair straight and sleek and the edges blunt for effect.
Pinned Bob with Highlights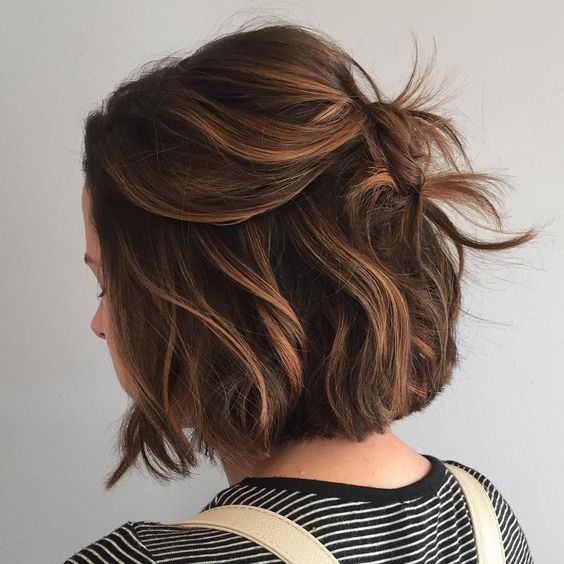 Highlights can add light and lift to a look, which is exactly why we adore this bob look so much! Crop your locks into a gorgeous bob. Keep the length around jaw level. Choose a dark brown colour to dye the hair, and a lighter brown to add the highlights. With the top section of hair, scoop it backwards. Use pins to secure it in place to create the half up half down style.
Loosely Waved Brown Bob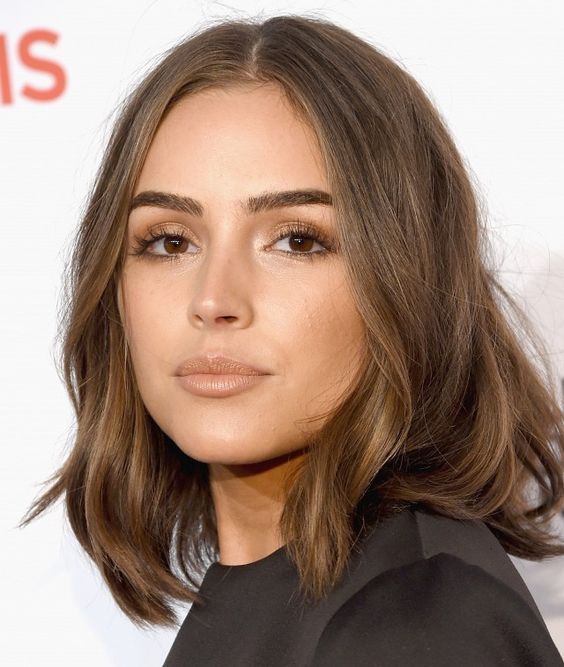 Loose waves are our ultimate go to when it comes to short hair. One look at this stunning style should show you exactly why! Part your beautiful brown bob in the centre. Be sure to get some shorter layers put in around the front of the face to frame it. Add loose curls from top to bottom and gentle tousle with your fingers for a wave effect.
Bouncy, Curly Bob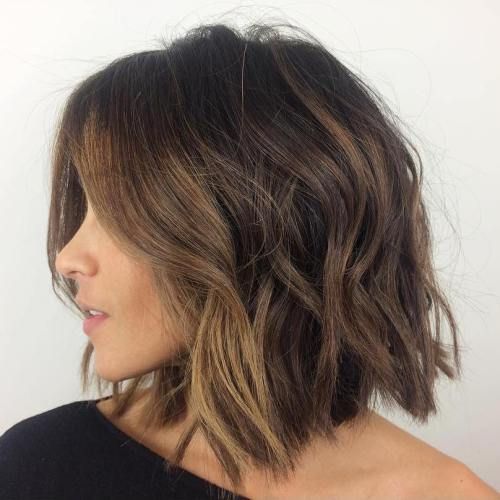 Bounce is essential for bobs, which is why big curls are such a fantastic style for short hair. Cut your hair into a graduated bob. Keep the layers longer towards the front of the face and shorter at the back. Part it in the centre, and add some highlights to frame the face. Tightly curl the hair from the root to the end, creating a wonderful, bouncy finish.
Brown Bob with Fringe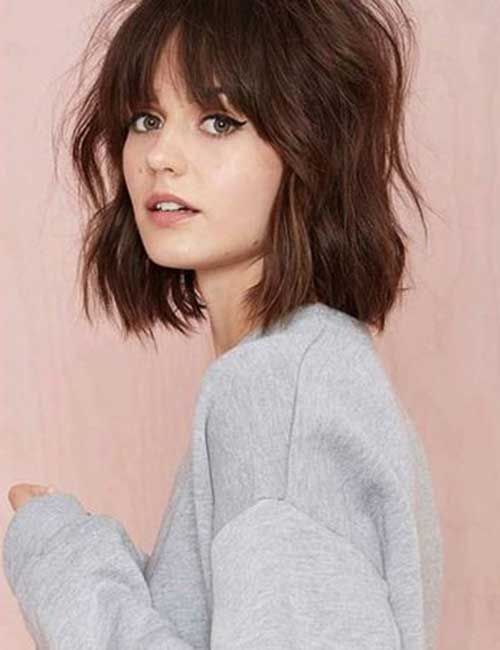 Fringes are the perfect way to frame your face. They also work incredibly well with bobs too! Bring your brown bob to life by adding a full fringe right across the forehead. Loosely curl and tousle the hair all over to create this super cute, rugged style which we simply cannot get enough of. This hair looks equally good when straight too.
Brown and Blonde Ombre Bob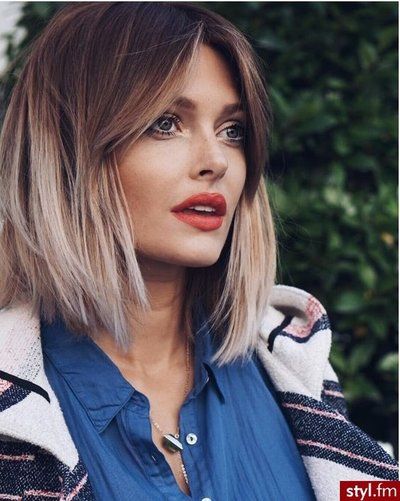 Ombre is another stunning way to work different colours into your brown bob. Like this picture proves, blonde and brown work together perfectly! Use blonde dye to create a cool ombre effect on your brown bob. Part your hair in the centre, and get a side fringe put in to frame your face perfectly. Keep the hair straight to show off the gorgeous colours at work!
Brown Bob with Side Parting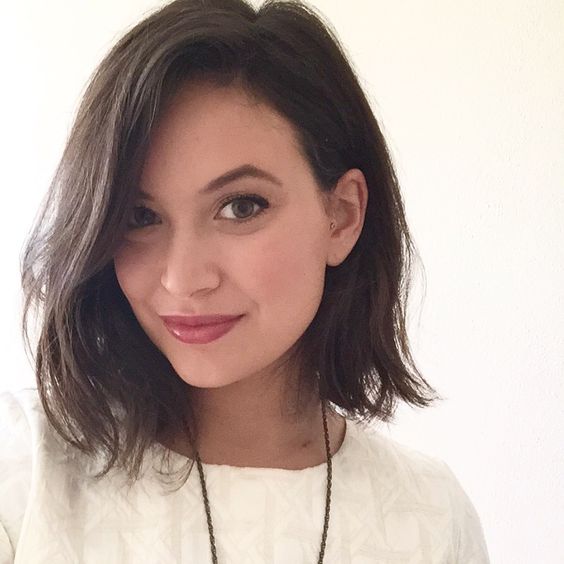 We've featured plenty of centre parting bobs in this fabulous post – but side partings are super special too! Just like this gorgeous lady proves, a side parting with lots of layers is an amazing look for your brown bob. Chop your hair an inch or so below the jaw line, and add lots of layers throughout so you get a bouncy finish. Lightly curl – et voila!
The French bob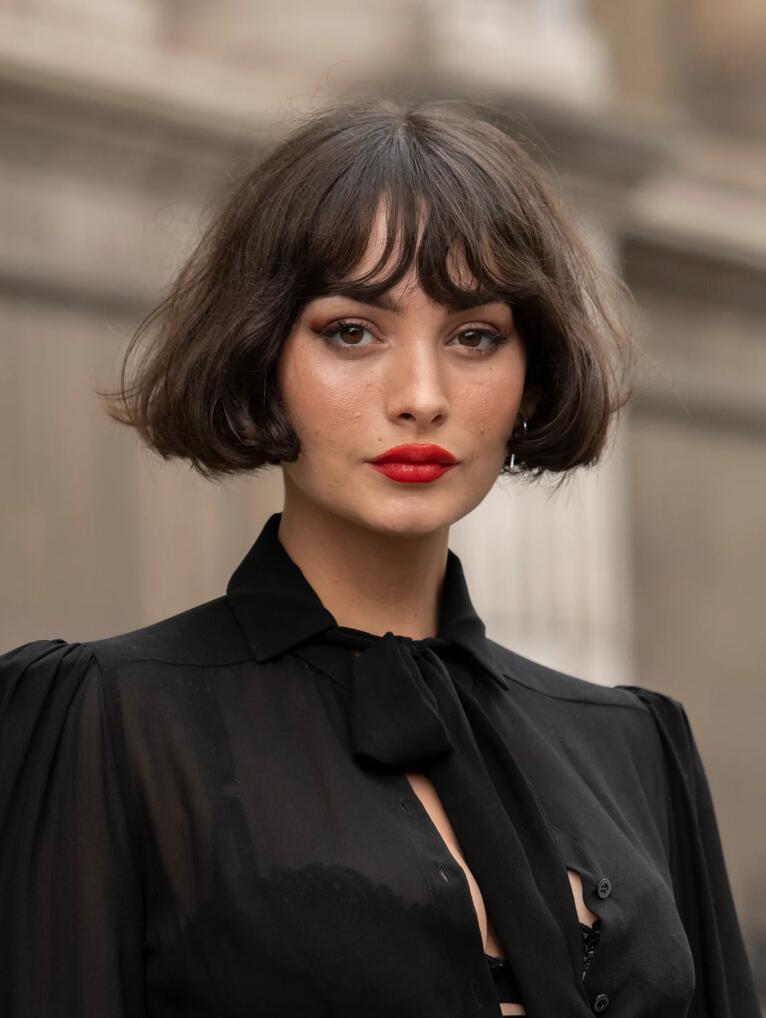 Whether you've currently got a brown bob or you're looking to go for the chop – we hope this blog post has inspired you to experiment with a new look.