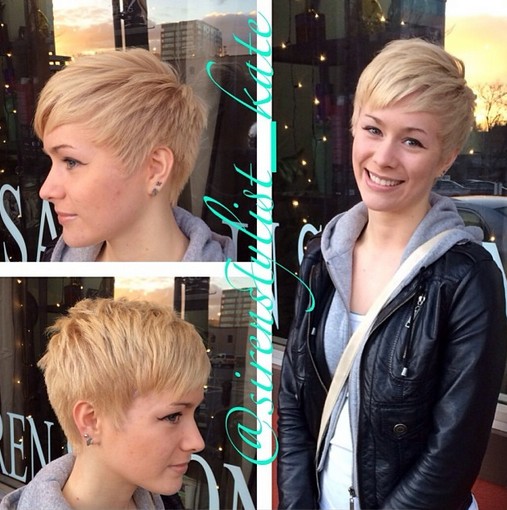 Latest most popular short haircut for women – the layered pixie cut
This perky pixie is a highly contemporary short haircut for 2015 – 2016. It's trendy, but also very convenient, because it needs no special styling products other than a dab of mousse or a little styling-wax to be ready for anything! The emphasis in short hairstyles this season is the forward-combed movement, which creates face-softening feathery tips at the temples.
Platinum-blonde is a major colour trend this season and just right for short haircuts, as platinum requires a lot of pre-bleaching, which would be too damaging for long hair. However, if you feel platinum-blonde is too harsh for the image you want to create, try one of the softer, baby-blonde or pale-golden blonde colours shown in the picture for a young and cute look!
This short haircut with lots of layers is a classic choice for anyone with fine, silky hair. You can use wax to get lots of added texture and volume in the longer layers on top and no more worries about damp-weather making your style go flat!
Find more latest pixie cuts on hairstyles weekly!