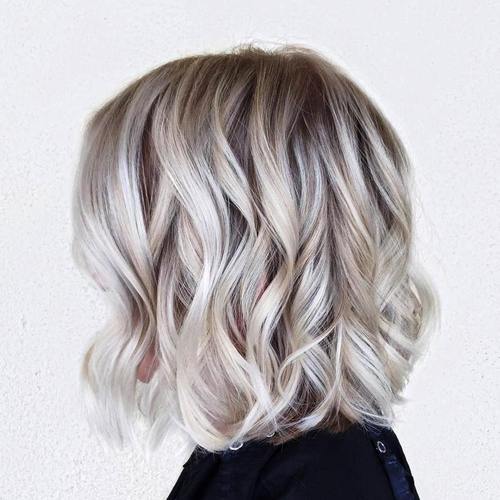 When you think of a hairstyle that's bursting with flirty bounce and an energetic attitude, only one style comes to mind: a bob haircut! One easy way to take your flirty cut to the next level is to douse your mane in some bright, look-at-me blonde coloring for a very coy look with plenty of style. These flirty bob designs for blonde hair are so sweet and cute, you'll be dying to try them out for summer!
Blonde Ringlets
Whether you're heading off to school, the prom, or your first date, there's one style that can always leave you looking delightful and elegant: ringlets! These lovely ringlets have the perfect shape and are finished off with hairspray to maintain their perfect stance. Such a gorgeous, fancy style that looks perfect with her platinum locks.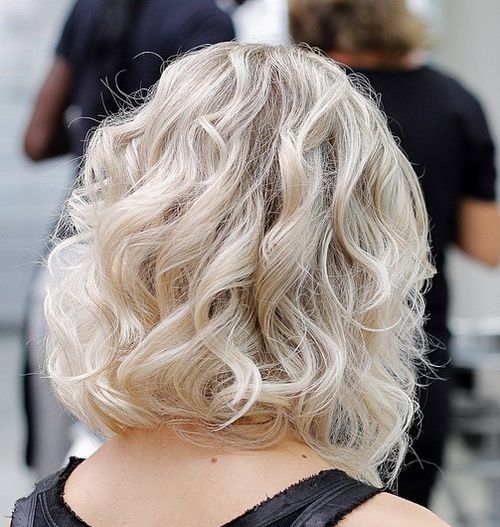 Effortless Ombre
Looking for that easy style you can wear all summer long? THIS is it! Her short bob hairstyle is loaded with tons of lengthy layers for plenty of dimension. She simply tosses her locks back into a tousled mane that's effortless, free, and easy- most of all it's CUTE. Love this look! If you love her hair color, here are some more balayage hair color ideas you may love!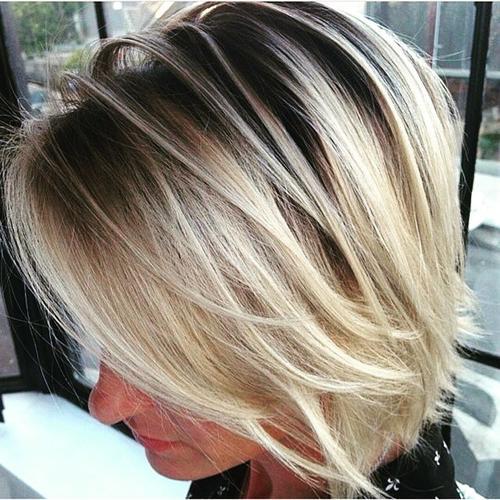 Messy Waves
There's just something so lovely about messy waves; it's got that beach babe attitude that's refreshing, bouncy. and fun! Her dirty blonde locks are given some subtle waves from front to back- even in her bangs! She tousled them up just a tad for some extra fun bounce, a perfect finish for this lovely 'do.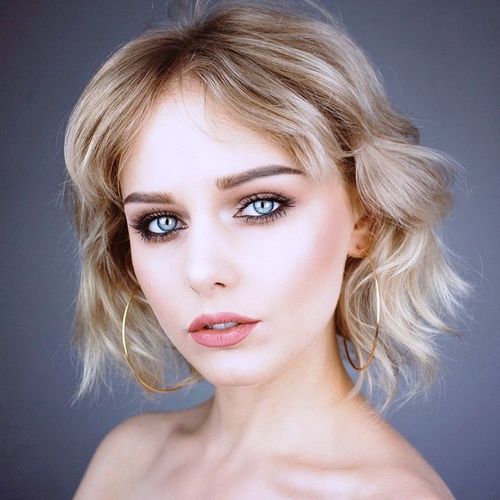 Beachy Waves and Dark Roots
Letting her roots grow out just a tad really adds some dark, mysterious dimension to her blonde locks. The rest of her hair is given a brighter tone, loaded with beachy waves that are both coy and elegant at the same time. Finished with deep purple lips, this look can easily accompany you to a night club or a first date.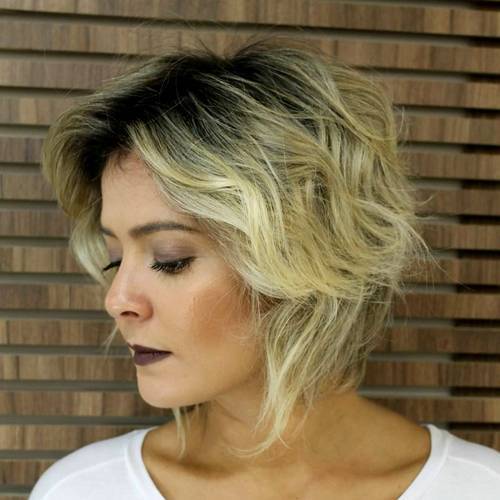 Medium length bob haircut with Blunt Bangs
Who said bangs were going out of style? You certainly didn't here that from us! These blunt bangs are making a HUGE comeback for this season, and we're especially in love with her overall rigid haircut that adds some serious attitude to her locks. Adding just a few ringlets tames down this fierce, blunt style, making it as cute as can be.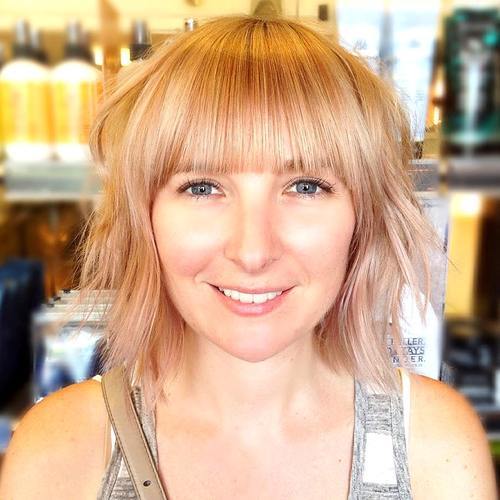 Blonde Bob Haircut with Extra Voluminous Waves
Volume = sexy; it's as simple as that. Her look is really easy to achieve- simply use your waver or curler to add some very loose waves to your locks, then mess them up with your fingers. Consider teasing the roots for an extra burst of volume and attitude.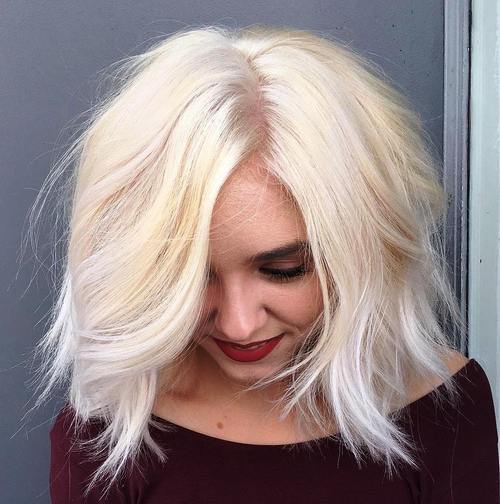 Smiley Bangs
Smiley bangs are hip. They're cool. They're not for everyone, but for my quirky gals at there with art in their hearts, it's an awesome choice that's verging on retro. Her bangs are cut shorter on both sides to create the 'smile' effect, while her blunt bob is cut at the shoulders. A super fun style for the girl who loves all things pinup!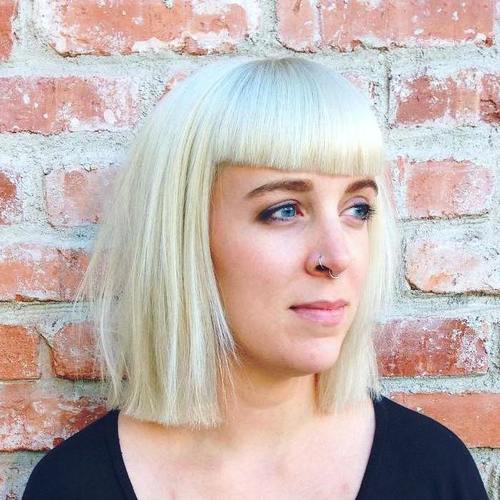 Lengthy Layers and Highlights
Most popular bob haircut for short hair: Okay, this is one of those hairstyles that is LOADED with awesome texture and overflowing with dimension! Lengthy layers add some low-key volume that's sexy and free, while plenty of highlights add some elegant and summery dimension we love. Such a cute bob!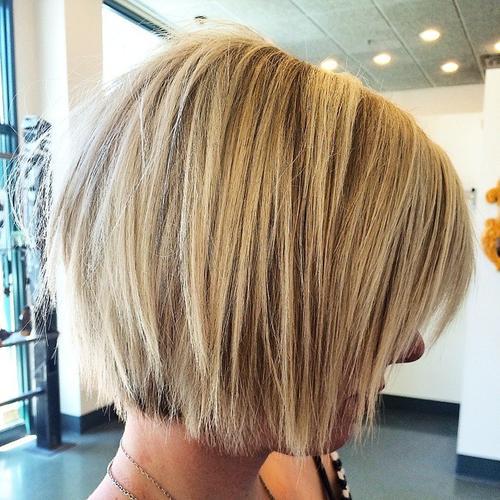 Lengthy Side-Parted Bob
Keep things cool and casual with this adorable lengthy bob! She tosses her locks into a sexy side part, straightening her mane down for an alluring yet subtle finish. Glam up this look with some fierce red lips and an enticing smoky eye!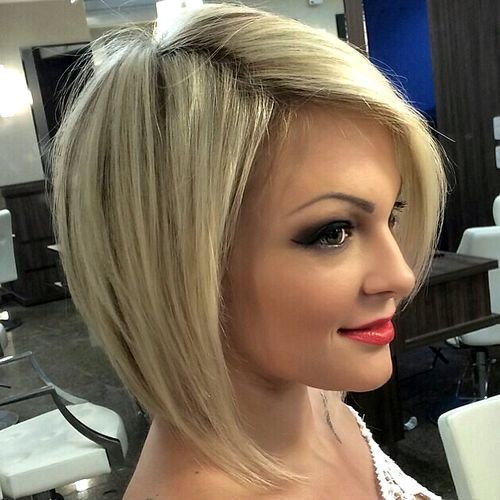 Wavy Bob Hairstyle
Cut just below the chin, her flirty bob haircut frames her face beautifully while a simple toss back of the hair provides some coy and bouncy attitude. It's the perfect everyday look that blends well with light or dark lipstick shades like pink or red.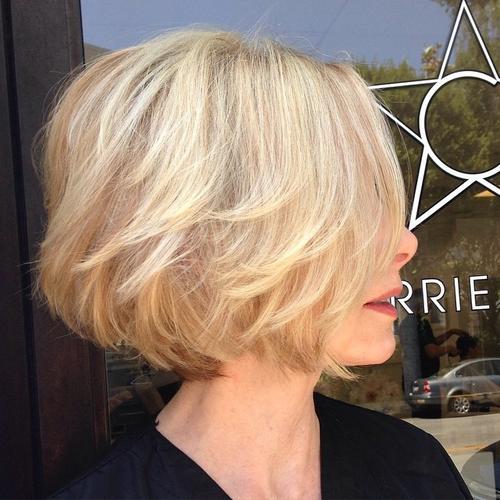 Ringlet Shoulder-Length Bob
Her lovely shoulder-length cut is the perfect choice for ladies who want a shorter style, while still keeping plenty of length for styling. She chooses a super-light ombre shade, with her roots sporting the all-natural beach babe sandy blonde hue, leading down to platinum ends. Her bright locks are given elegance with some simple ringlets from front to back.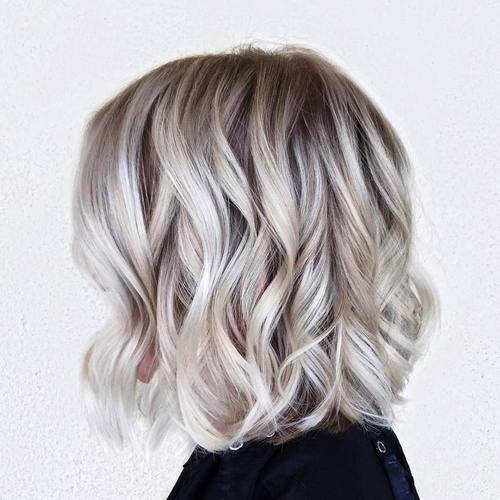 White Voluminous Curls
Loaded with volume and a tantalizing white shade of blonde, her bob haircut is oozing with look-at-me style that can be worn anywhere. Dress it up with jewels and a mini-dress or dress it down with your work attire to wear to the office.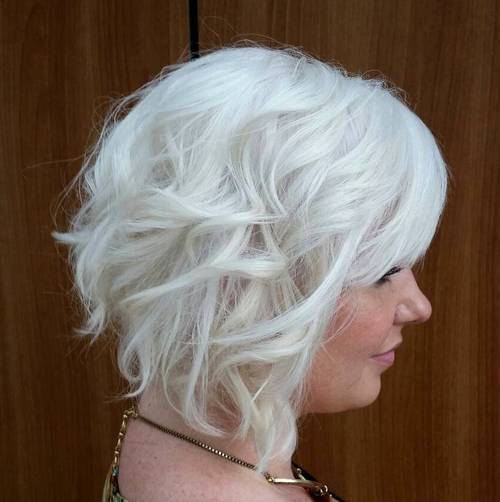 Blunt Bob with Blunt Bangs
Edgy yet totally sophisticated, her style starts off with a rigid, blunt cut that shapes her face beautifully. She adds some delightful attitude to her look by simply applying some blunt bangs skimming just above her eyebrow. The end result? A look with some serious attitude that can only be accompanied with red lips and perfect eyebrows.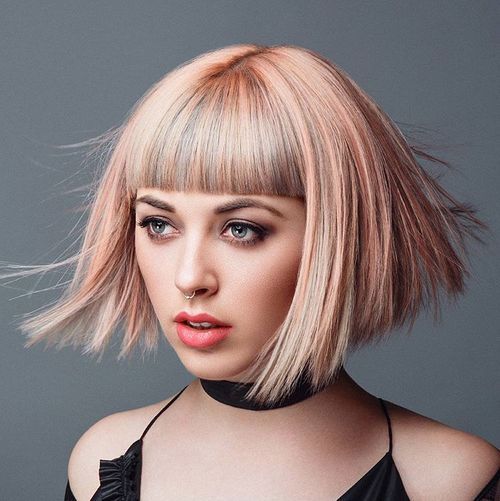 Classic Graduated Bob
This is a classic style that any woman can adore! Great for all ages, this trendy 'do features a perfectly maintained graduated bob, leaving tons of length around the face and a choppy back. Her hair is given life and texture with tons of highlights and lowlights for a rather natural blonde finish.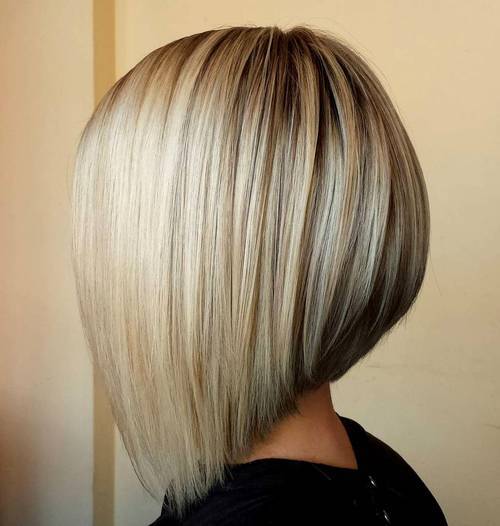 Beachy Waves
After spending hours in the sun playing in the water, your hair naturally gets this lovely, messy finish- and that's exactly what we see here. Her perfect graduated bob is funky and beachy simply by texturing her mane up a bit and tousling it uncontrollably. Such a cute, summer style.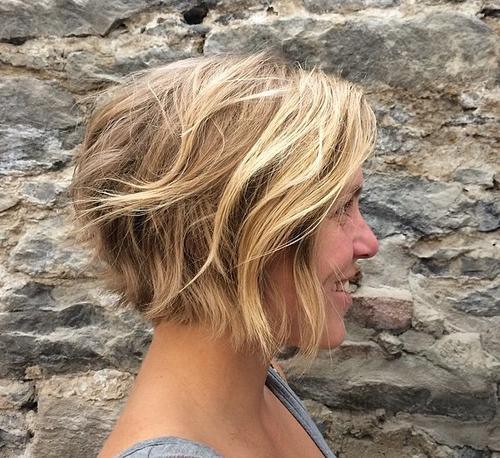 Sleek Straight
The sophisticated woman knows how important it is to maintain a sleek, elegant look- and that's what this lovely lady has accomplished. She simply runs a straightener through her locks to get that sleek straight finish, adding just a tough of gloss for a defined look that kills. Dazzle it up with some bright lipstick and a beautiful ensemble to match!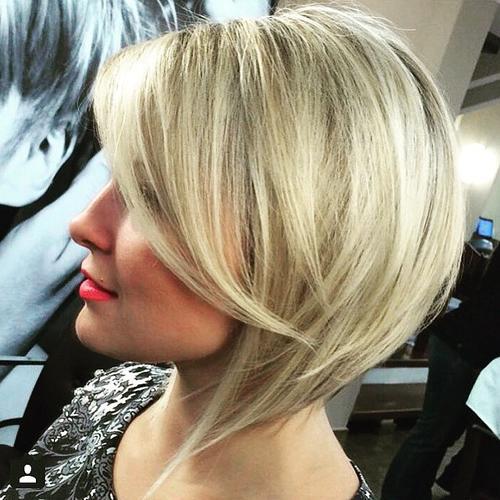 Loose Waves
Beach waves don't have to be only for long-haired ladies; in fact, the new beach look is styled with shorter, shoulder-length locks! Her lengthy bob haircut is tousled up with plenty of loose waves for a soft, feminine finish that can be worn anywhere.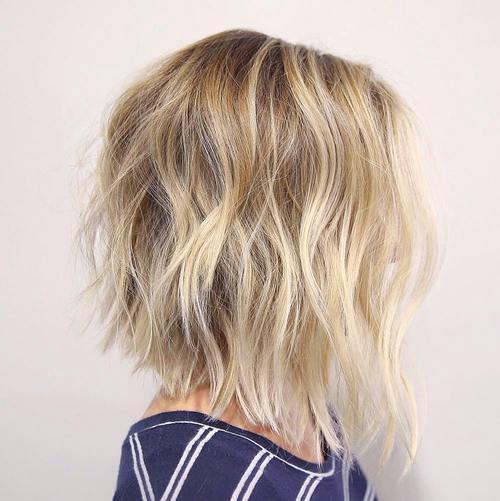 Sleek Straight Shorter Bob
Talk about a fierce look! Her edgy 'do starts off with a striking platinum blonde hue that's undoubtedly eye-catching, glammed up with a very short bob that curls just below her chin to frame her face. She leaves her locks straight and places her lengthy bangs over one eye for a very enticing finish.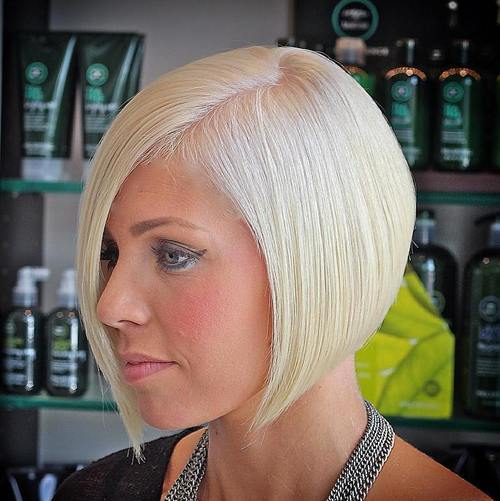 Sexy, Voluminous Curls
If you're looking for the perfect style to accompany you to your next high-class event, consider this alluring 'do. Her shoulder-length hair is given some glamorous bounce and sexy attitude with some hot Victoria Secret voluminous curls. Plays well with flirty pink lips or a come-hither red pout.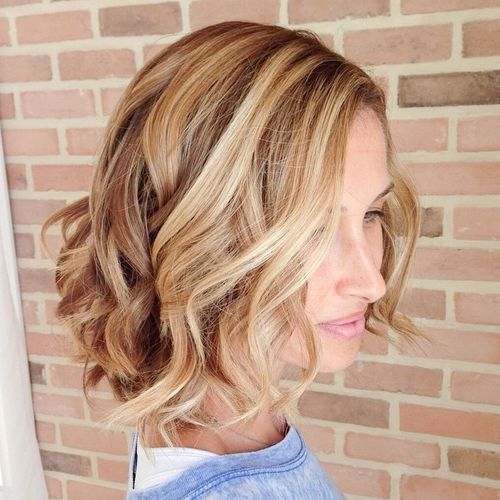 Asymmetrical with Red Highlights
Stepping out the box is always a cool idea when it comes to switching things up! For my younger girls out there, consider a quirky and fierce style like this one. Her bob haircut is super asymmetrical with layers cut in all shapes and sizes, given an extra dose of funk and hot attitude with red-hot highlights. SO cool.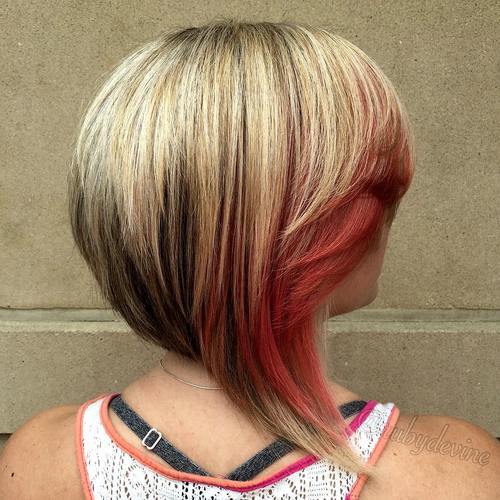 Loose Curls
Her lovely shade of blonde hair takes on the highly popular bayalage theme, with an all-natural finish loaded with light and dark shades of blonde. She glamorizes her locks simply by using a curling iron, tousling up her ringlets for a loose, sexy finish.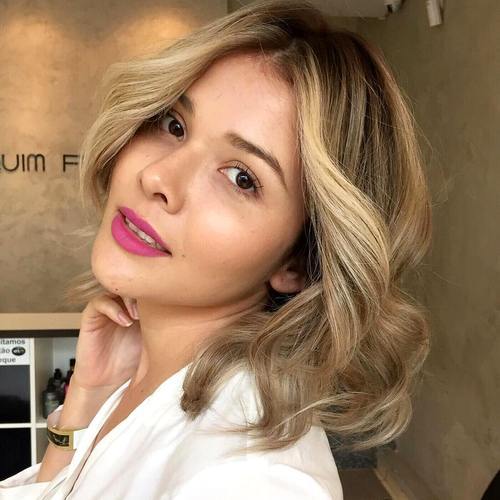 Layered Back
One simple way to load up your locks with dimension and volume is to simply add tons of layers! Her white-hot bob includes some trendy side bangs up front, with quirky layers in the back that toss around in the wind freely. Such a stylish look that can be worn anywhere!