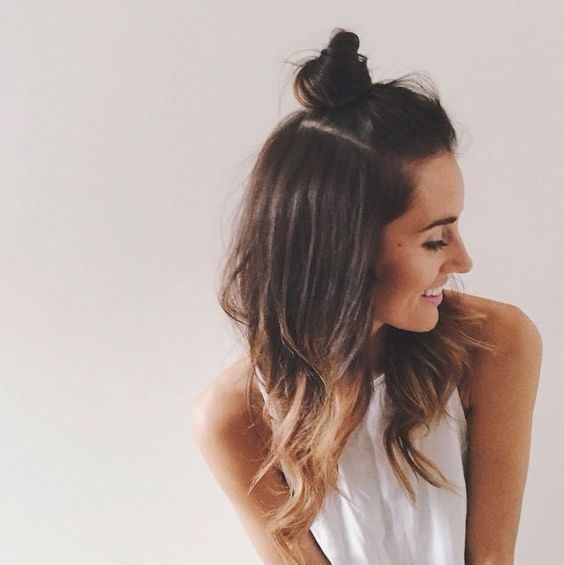 Since the old hair-fashion rules were chucked out and daring, young designers took over, top bun hairstyles seem to have developed a life of their own!  Buns only used to be worn by elderly ladies who had never cut their hair – ever!  But, let me tell you – this gallery of top buns for summer is packed with fashionable new top-knots that are elegant, stylish, trendy, colorful and fun to wear – whether it's hot or not!  Not only that, I've also included feminine and romantic 'dinner-date' bun hairstyles and contemporary bridal bun updo's, too.  So dive in and check this summer's most popular hairdo's in natural and outrageous colors!
Easy daytime top-knot on medium-blonde hair with fine highlights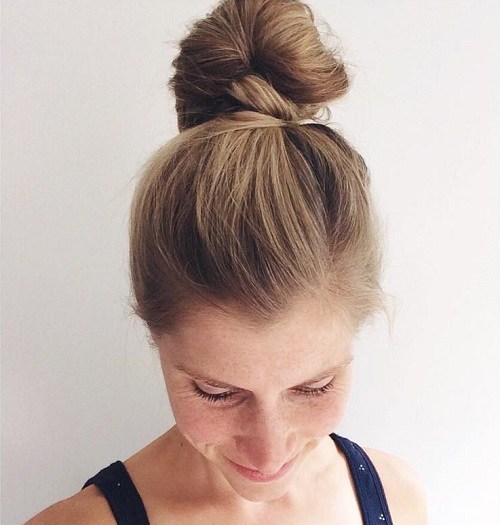 This informal, every-day top-knot will keep you feeling cool and looking professional at work, shopping or watching your kids playing on the beach.  The natural medium-blonde shade suits lots of different skin-tones and fine, pale-blonde highlighting accentuates different textures, movement and the cute twist of hair wrapped around the base! This cooling off-the-face top-knot suits oval and round faces.
Elegant blonde braid top-knot for brides & evening-wear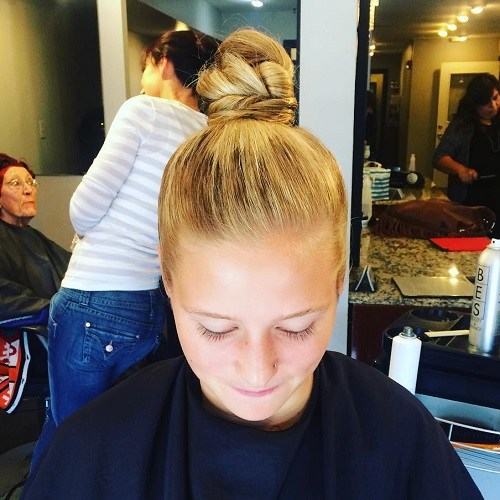 Remember those exciting hours at the hairdresser's just before your wedding! This bride will look wonderful with a bridal veil pinned over her elegant top-knot with a loose braid-woven pattern. Two trendy hair twists around the base add texture and movement to a contemporary formal up-do in yummy caramel, honey and pale golden blonde shades!
Hot casual braid bun ideas for very long hair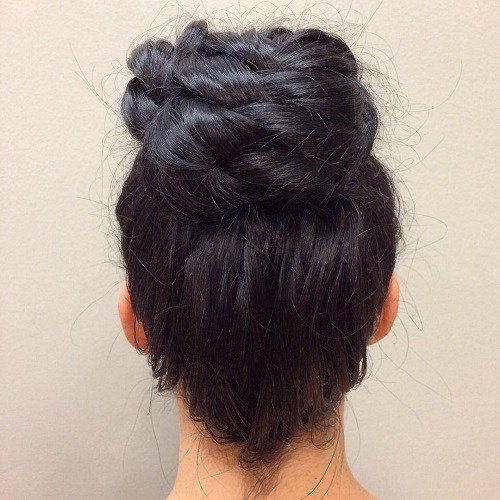 This is a great casual top-knot made from a loose braid wound around the base to create a high top-knot, rather than a wide bun shape.  It's another of those great hairstyles for summer you can do without needing a brush or a mirror, to get your hair up and off your neck!  For evenings, try this style with a scarf or a piece of pretty vintage fabric plaited into the braid.
Romantic contemporary cottage-loaf bun in blonde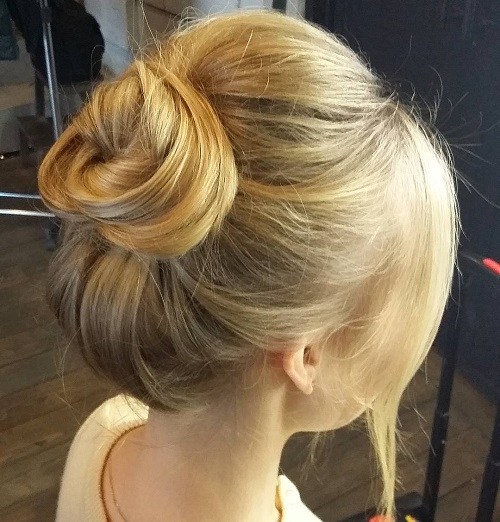 This softly, feminine vintage updo works beautifully on fine, silky hair.  It's more streamlined now, with bouffant height above and below the neatly twisted top-knot.  With loose wisps softening the face, this is a very romantic hairstyle for a special dinner-date (or a bride)!
Show your fun side in rainbow colors & blonde faux-bun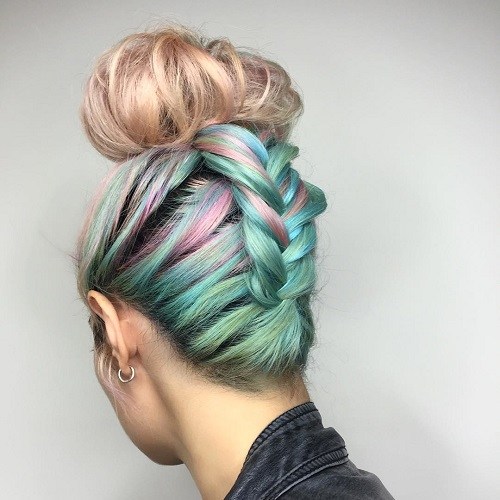 Create a party atmosphere wherever you go with this gorgeous high, top-bun with a fantasy hair color design! It's perfect for night-clubbing and holiday fun as the inverted braid keeps hair off the neck for a cool nape. Long hair is tinted green, aqua and pink creating a jazzy-pattern – and with a cute, honey-blonde 'fun-bun' on top – you'll be ready for anything!
Chinese martial-arts top-knot in intense red with shaved back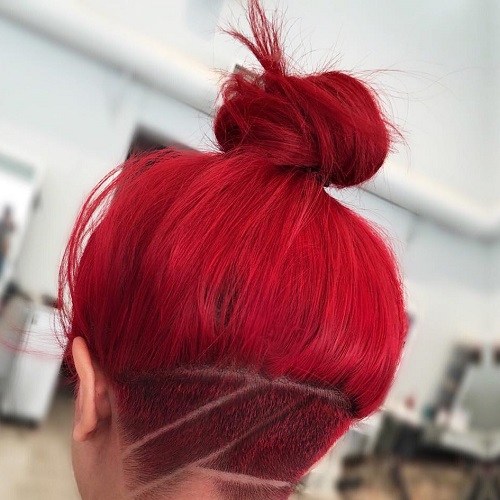 This is a fantastic top bun hairstyle that's miles away from playful blonde, girly hairstyles for summer!  The top-knot is borrowed from the traditional Chinese martial-arts warrior bun, which makes a strong look.  But dyed intense-red and featuring a half-shaved back with trimmed lines, the result is a stunning style statement!
Trendy green & blue streaks on high bun with braid detail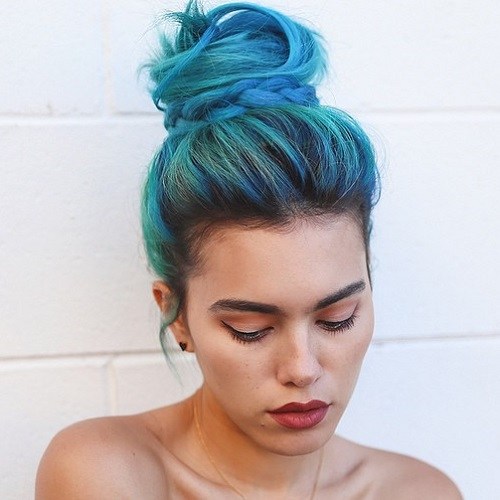 Summer is the time to try out different hairstyles and colors, so lively sea-green and blue streaked hairdo's offer a fabulous, fantasy look!  Blondes were wearing the eye-catching green ombré last season inspired by mermaids, but this summer brunettes are fighting back with vivid blue and green 'sea-goddess' styles! Go for it!
Elegant looped top bun with dainty side ringlets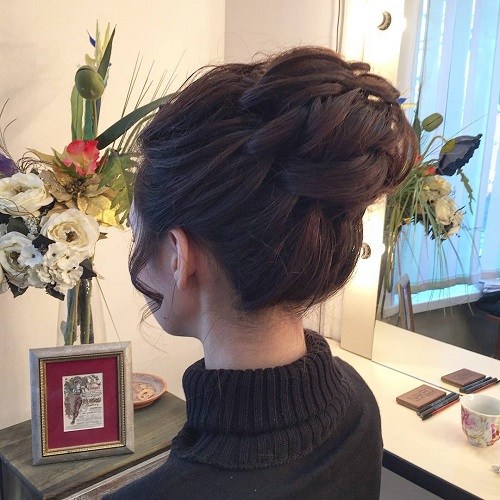 Here's a very versatile, semi-formal top bun with a lovely new shape created with loops of hair arranged in a casual design.  It's a conservative updo with a modern twist that you can wear for enjoying dinner at a restaurant on Saturday night and church on a Sunday morning!
Trendy head braids with dark roots & blonde ombre bun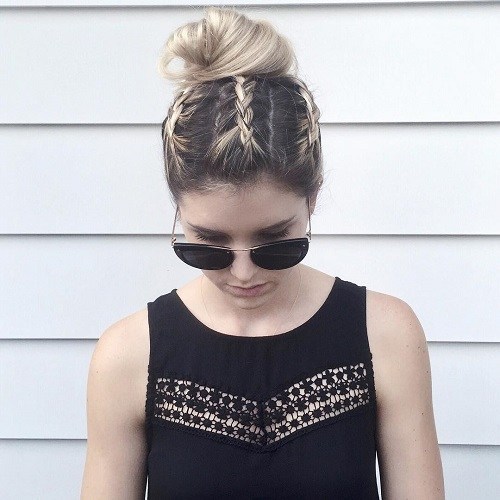 This youthful look also has an expensive, urban-chic hair color design, with fab two-tone head-braids and a 'roughly pinned' bun  To soften the original black/platinum-blonde 'street look', the hair is tinted coffee-brown with neutral wheat-blonde streaks and ombre.  We can look forward to some fantastic hair-color-patterns from ombre hairstyles!
Stylish semi-formal chignon on gold-blonde hair
This versatile updo is elegant, but slightly casual in the finish to make it suitable for day or evening-wear.  At work, this pretty blonde bun-at-the-back teamed with a dark suit, is perfect for a business meeting.  And dressed-up with earrings and lipstick will take you on to dinner or dancing with lots of style!
Fab big squashy bun on top with brown lowlights for brunettes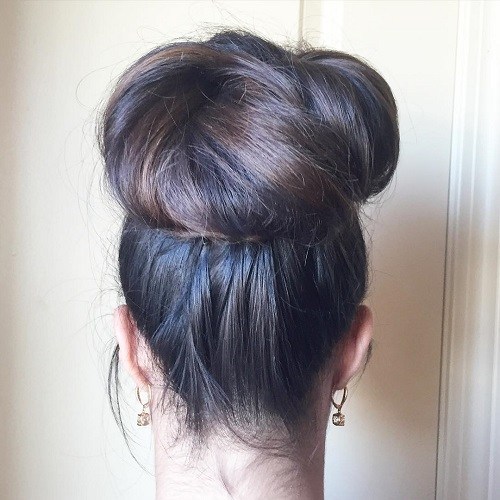 This vintage wide and squashy top bun was popular in the 60's and has been brought right up-to-date with neutral-brown lowlights adding pattern and texture.  It's one of the easiest top buns for summer, which starts as a high pony-tail and is then just casually twisted into a nice, fat doughnut and pinned in place.  For extra style, tie a brightly colored silk scarf around the bun!
Sexy sleek Japanese-style high bun with smooth bangs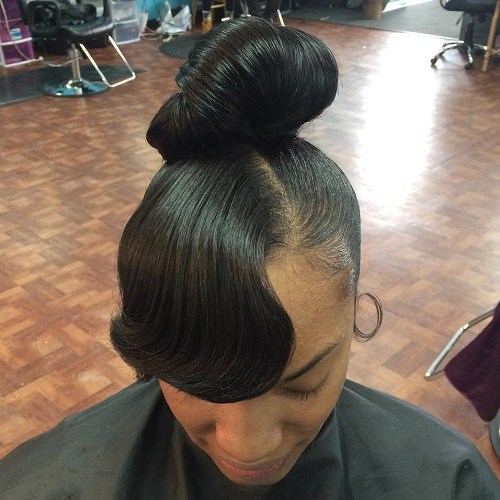 Smooth and sleek, this simple but shapely top bun will make you the 'queen of cool' this summer!  It's a chic, minimalist updo that uses the full, oval-shaped bun and waved fringe to create a flattering formal or semi-formal hairstyle!  This glossy elegant hair-bun suits oval, round, long and heart faces.
Relaxed everyday brunette bun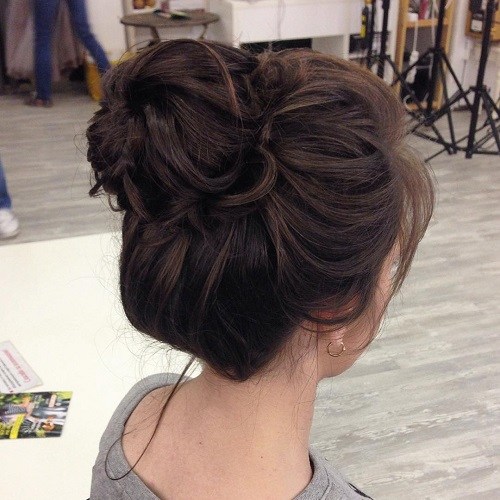 Here's a slightly messy, brunette updo with a touch of cottage-loaf volume and a classic dough-nut bun on top.  The loose side-strands and single, long wisp at the back suggest this is a conservative work-place hairstyle, worn by someone who also wants to project an informal look.  My guess is the model is a high-school music teacher!
Hi-fashion messy blonde bun with striking caramel lowlights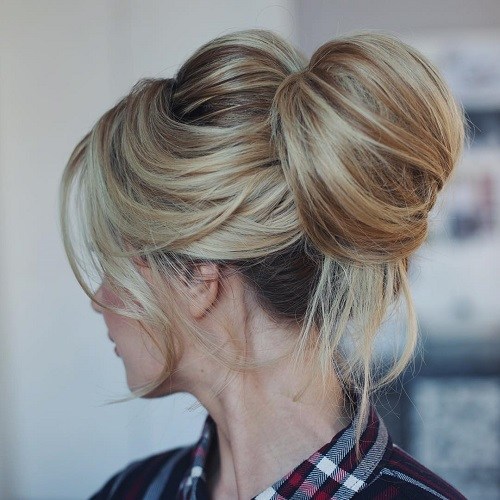 This is a top-bun hairstyle that projects lots of self-confidence and contemporary style! Admiring the trendy, neutral-blonde shades and broad caramel streaks, you'd never guess this model used to be a mousey-blonde! So if your dull hair-color and a long, shapeless style aren't doing you any favors – get a new image (like she did)! LOL
If you want to look and feel cool during the summer and at special occasions throughout the year, you can't beat a bun!  Most of the women from European royal families have worn beautiful chignons and top-knots, not to mention Brigitte Bardot's sexy messy buns, decorated with a jaunty bright scarf!  So if you want to have more fun – get yourself a bun!
Easy Half-Up Hairstyle Tutorial You Have To Try

Half Up Top Knot for summer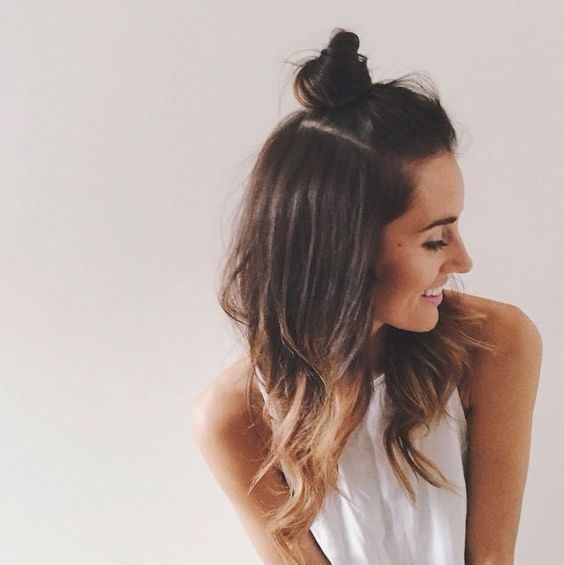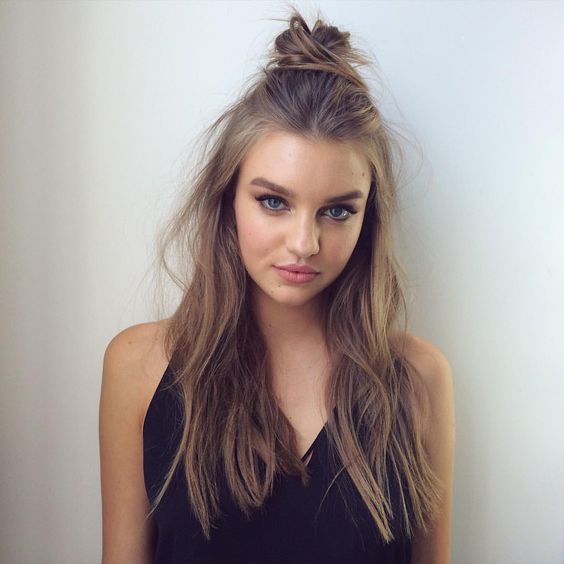 Hair Inspo, Braids, French Braid Top Knot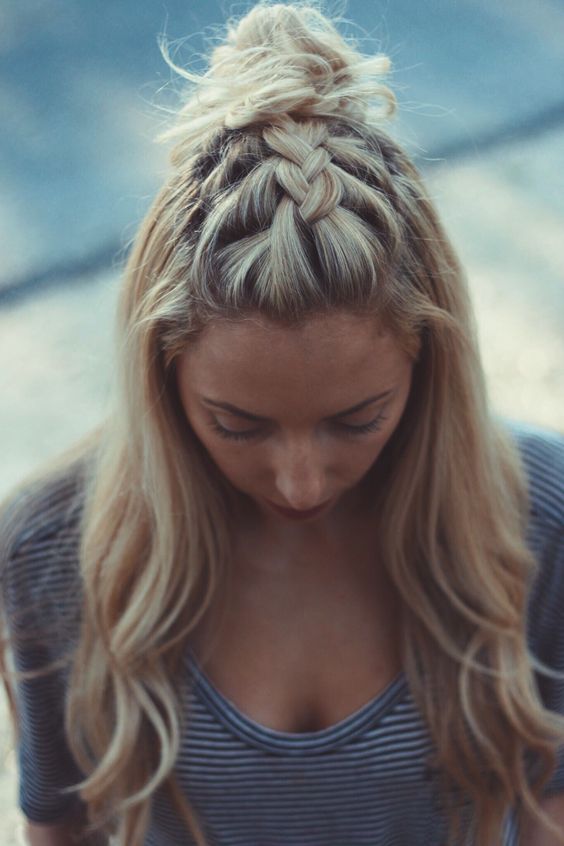 Cute alternative bun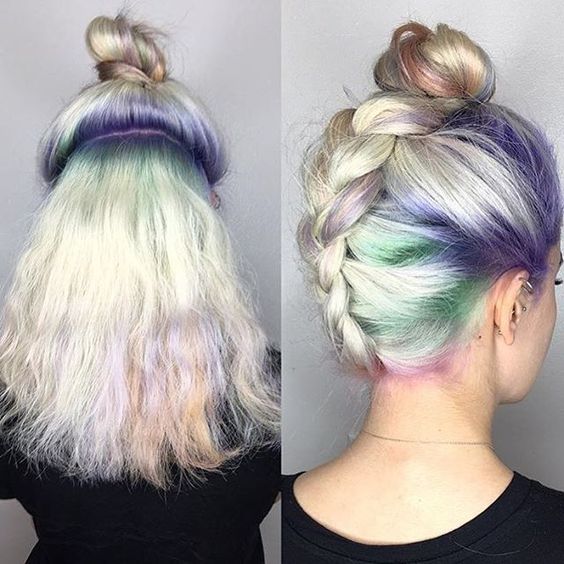 I've never been able to manage the upside-down french braid bun, but this seems to be an easier method (though with a Dutch braid rather than French braid).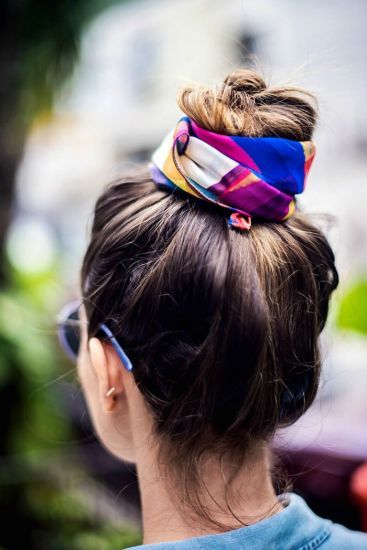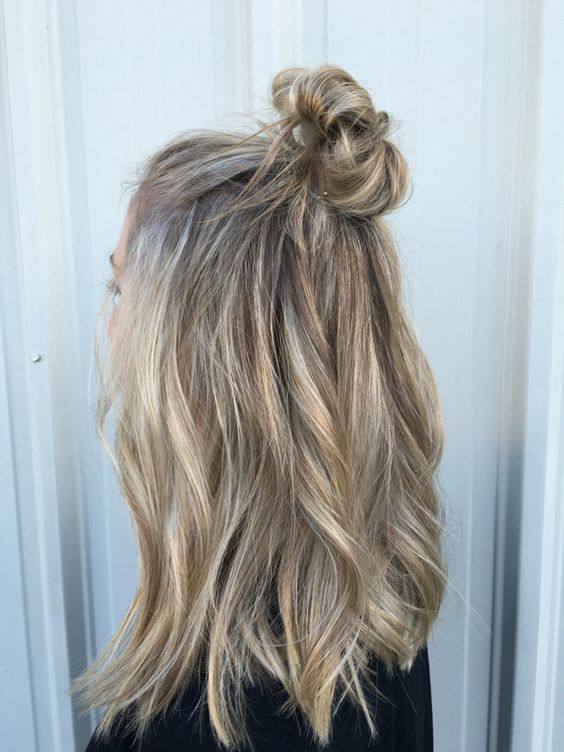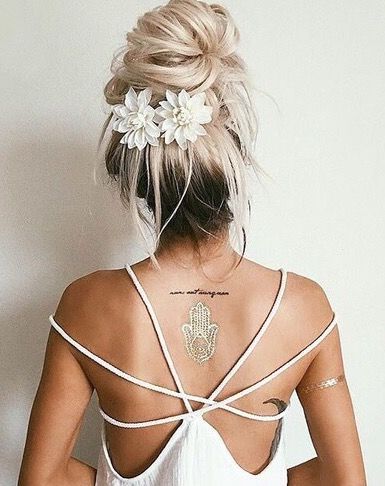 Im calling this a messy bun with a purpose. The flower barrettes (easily hacked or made) add an extra detail to a messy top knot. Even the long dark roots add charm to this style.
bun with braid wrapped around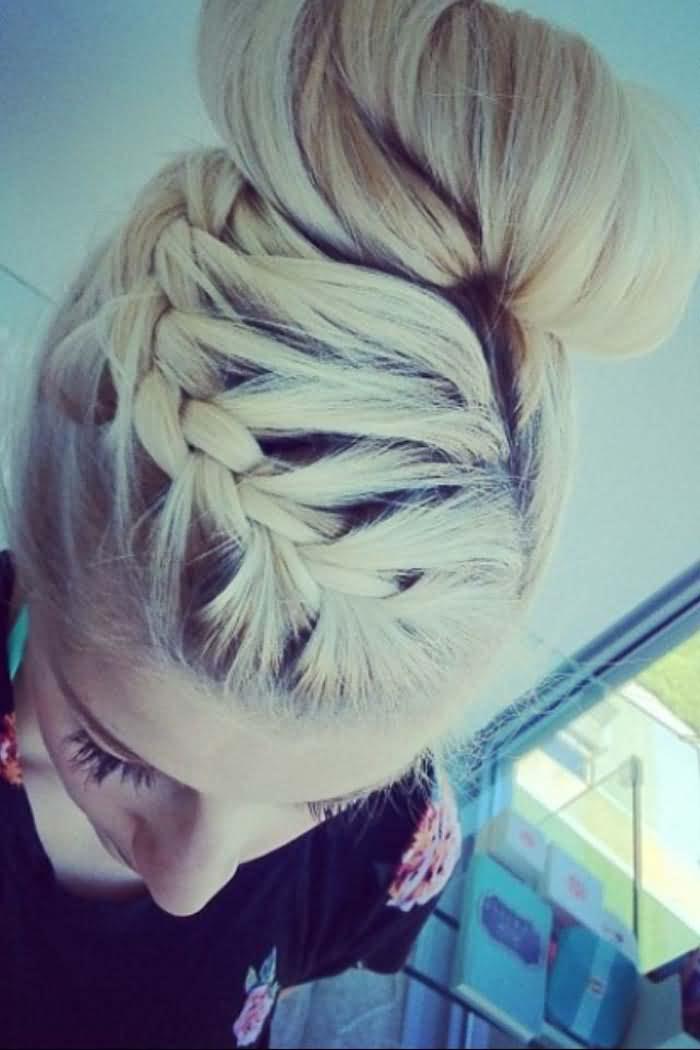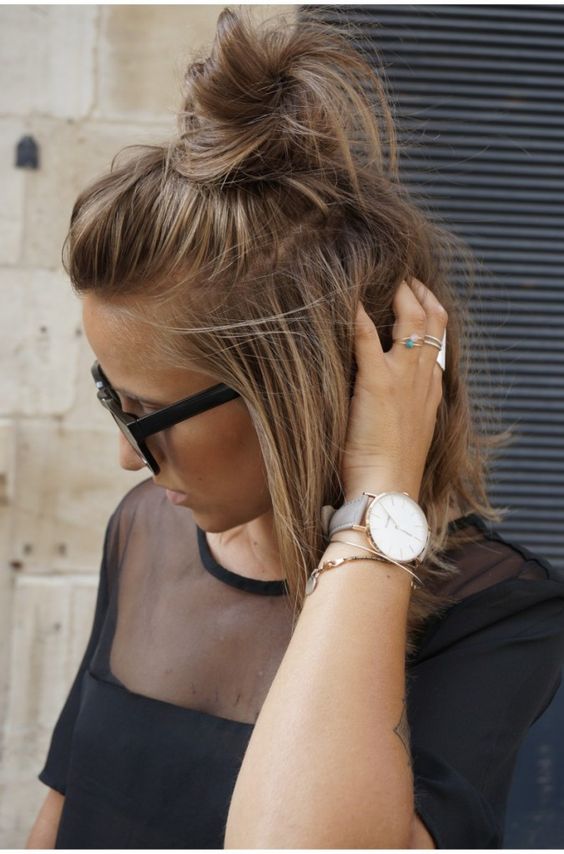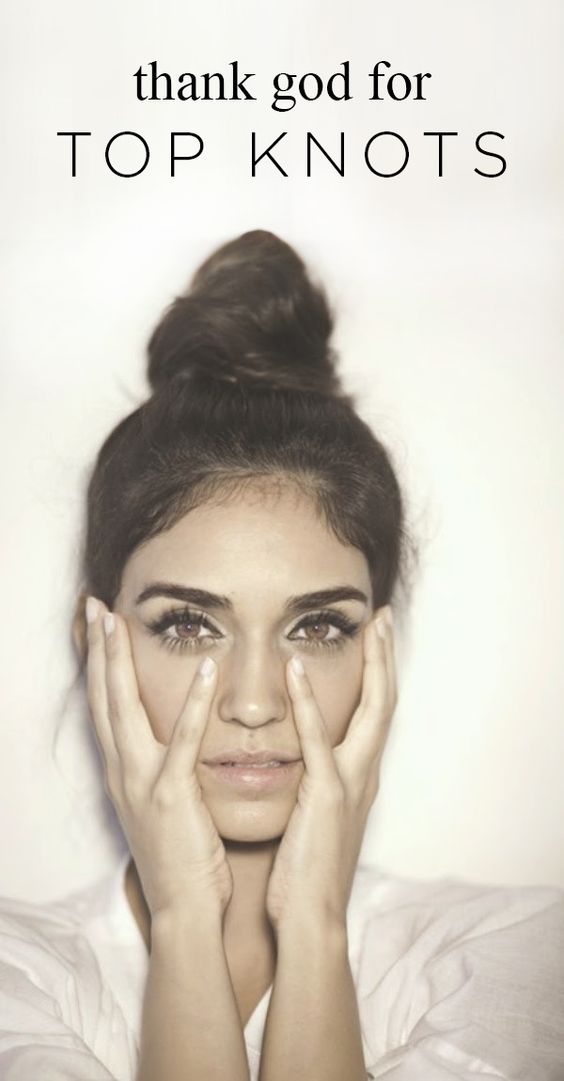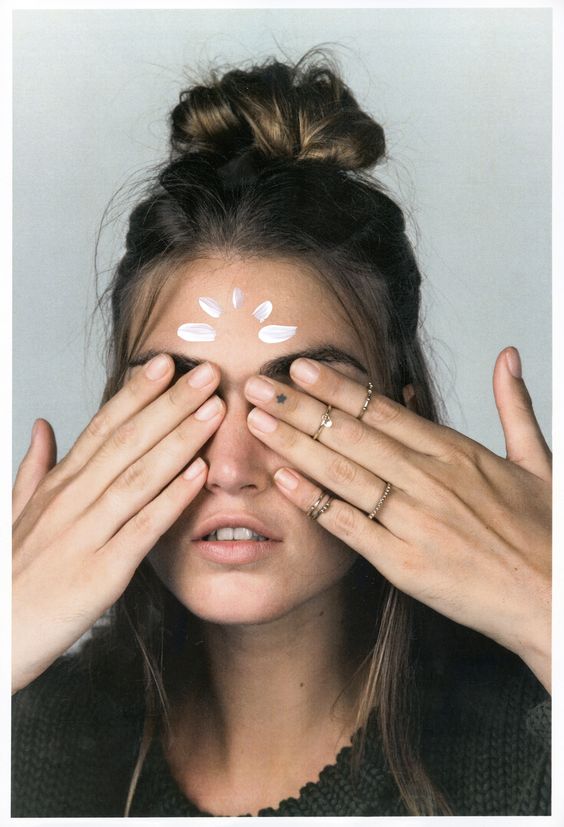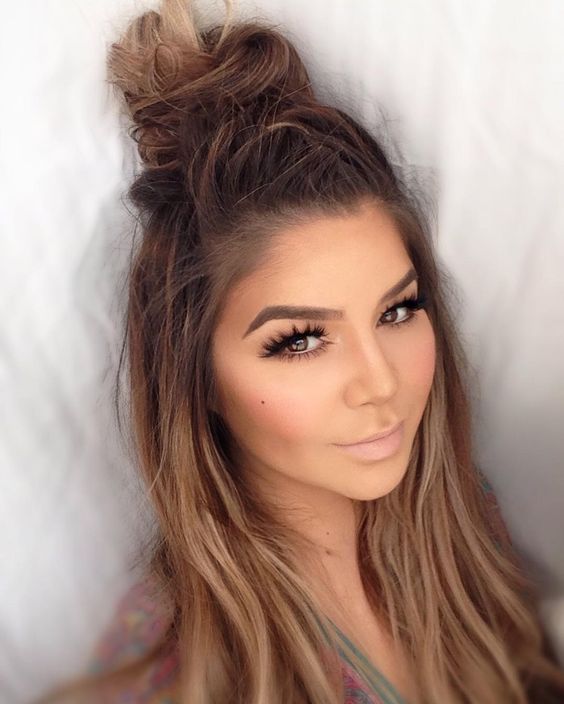 My best friend @Evan Sharp.r.i.n.d.i.r.k.s.o.n put a braid on top of my head and I'm really loving it and trying to make it last! My makeup focus is on winged liner and lashes today. Didn't do eyeshadow just contoured my eyes. Eyes: @Morphe Brushes12C palette Lashes: @Megan Naik #EloJelloLashes Liner: @makeupforeverofficial #AquaLiner in Black Cheeks: @colourpopcosmetics #Betweenthesheets Lips: @MAC Cosmetics #LuxeNaturale Brows: @colourpopcosmetics#BanginBrunette #motd