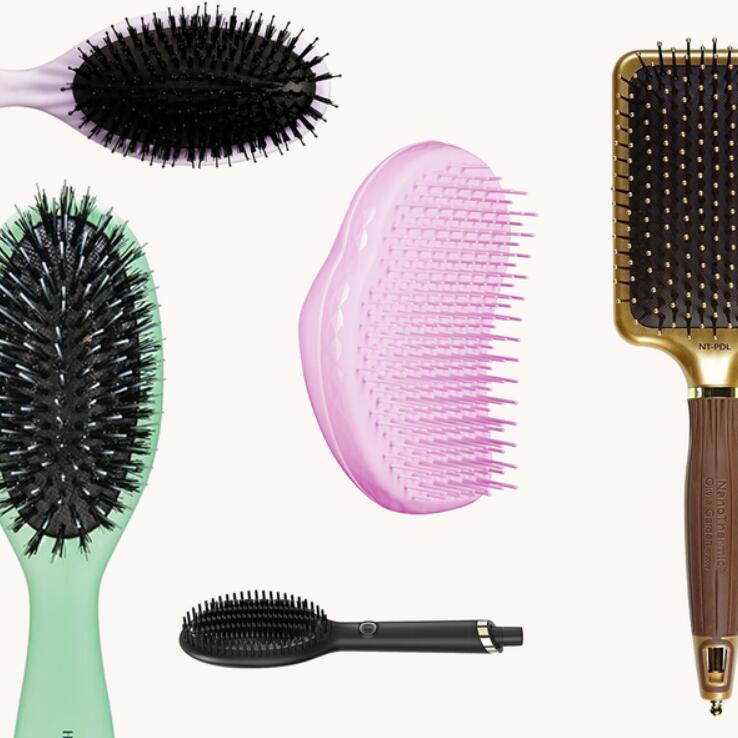 Of all things hair related, nothing is simpler than the brush. A few simple strokes and your hair is smooth and detangled, right? But you may be surprised to learn that there are dozens of different hairbrush styles out there, all with their own special job and benefits to match. We've complied a list to break it down for you.
1. THERMAL BRUSH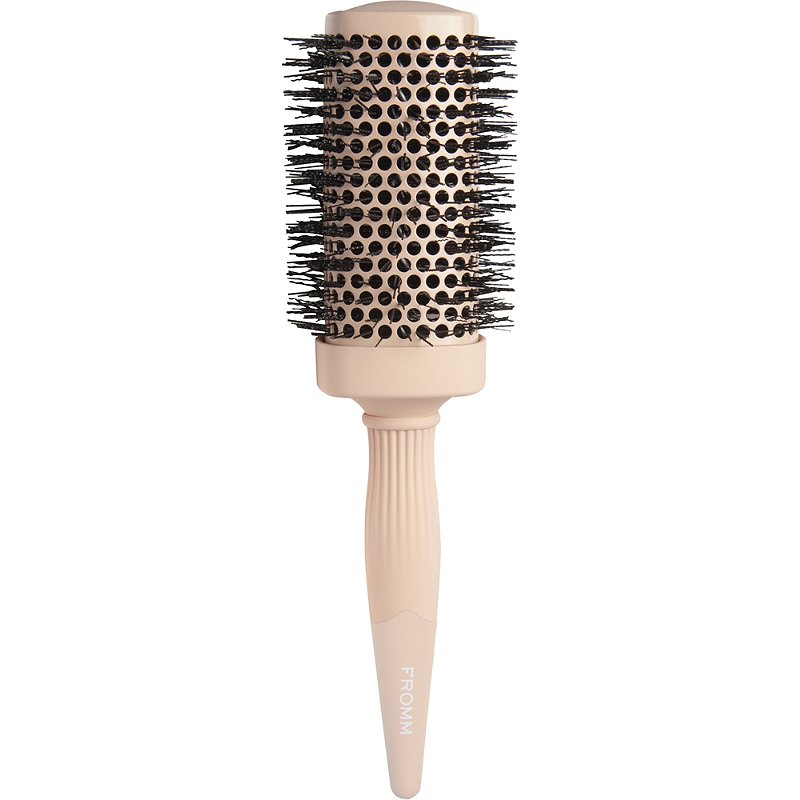 Thermal brushes are specifically designed to use when drying your hair. The combination of heat holding materials and vented barrels help speed up the drying process when using a hair dryer. Brushes with boar hair bristles can lessen the impact the heat has on hair, and they easily slide through to prevent snagging and breakage. The vents also help with airflow, so your hair becomes smooth instead of frizzy from agitated cuticles. No split ends for you!Best for: Medium to long hair
Bonus: A rounded/radial brush is great for fuller hair—the bigger the brush, the bigger the blowout.
Try: Cricket Technique Thermal Brush
2. SCULPTING BRUSH
When it comes to styling, sculpting brushes are the way to go. They're great for backcombing and adding volume. They're also perfect for short hair due to their smaller size. Sculpting brushes are medium sized with a rectangular base, and often have a lot more bristles for a strong hold on hair. The bristles are typically in a criss-cross formation for more volume, and made out of synthetic materials to fight frizz.
Best for: Short hair, styling up-dos
Bonus: Sculpting brushes help emphasize choppy and razor-cut ends. Perfect for textured and layered hair!
Try: Cricket Visage 390 Sculpting Brush
3. PADDLE BRUSH
Paddle brushes are typically wide and flat. The bristles can be boar hair, nylon, plastic, and have little caps at the tips. Paddle brushes are pretty much your basic, everyday hairbrush. They're perfect for long hair of just about any texture, leaving it smooth and shiny.
Best for: Medium to long hair
Bonus: Paddle brushes with cushion contour to the head, allowing for more lift in the roots and a nice little head massage along with it.
Try: Cricket Visage 395 Paddle Brush
4. TEASING BRUSH
When you want big hair, go with the little brush. Teasing brushes are the best choice for backcombing hair. It's easier to grab smaller sections in a narrow brushing area. The teasing brush is a less damaging alternative to the teasing comb because it doesn't pull as hard on hair, but the comb can work just as well. Teasing brushes and combs often have a tapered rat tail end or a metal pick at the other end to help separate and lift hair while styling.
Best for: Any hair that wants big volume
Bonus: Teasing combs with varied layers of prongs add even more lift.
Try: Cricket Amped Up Teasing Brush
5. WIDE TOOTH COMB
The wide tooth comb is the optimal detangling tool. They're ideal for wet hair. Use them right out of the shower for an easy comb through to prep for styling. The wider gaps guide hair through with minimal damage.
Best for: Wet hair
Bonus: Some detangler combs come infused with oils and butters that condition hair while you comb, making it even easier to get those nasty knots out.
Try: Cricket Coconut Ultra Smooth Detangler Comb
6. DRESSING COMB
The dressing comb is a classic. This comb has two ends, one with wider prongs to detangle, and finer prongs to smooth. It's ideal for shorter hairstyles, and often a crowd favorite for men. It's great for styling gelled hair, as seen in Grease, or your grandfather's back pocket.
Best for: Short hair, men
Bonus: These combs are excellent for trimming hair. Need a quick bang trim? The dressing comb will help evenly distribute hair for a straight cut.
Try: Cricket Ultra Smooth Dressing Comb
Find brushes and combs that are just right for you!