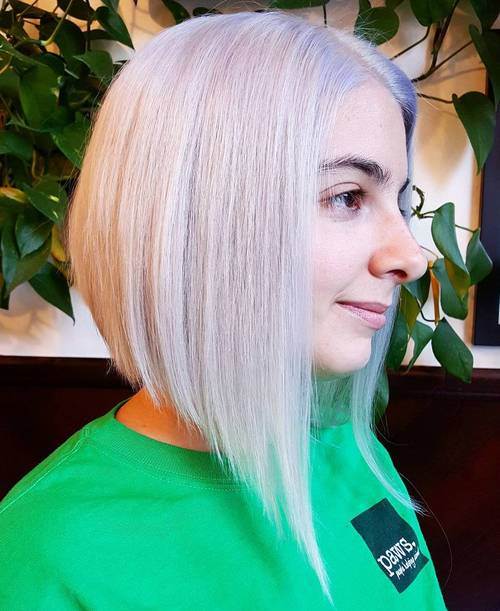 This summer, dodge the heat the best way you can: by chopping off those lengthy tresses! Bob cuts aren't just trendy and easy to style, but they also keep things light and effortless for warm summer days. Consider one of these hot blunt bob cuts for summer!
Straight Blunt Bob: Highlighted U-Shape Lob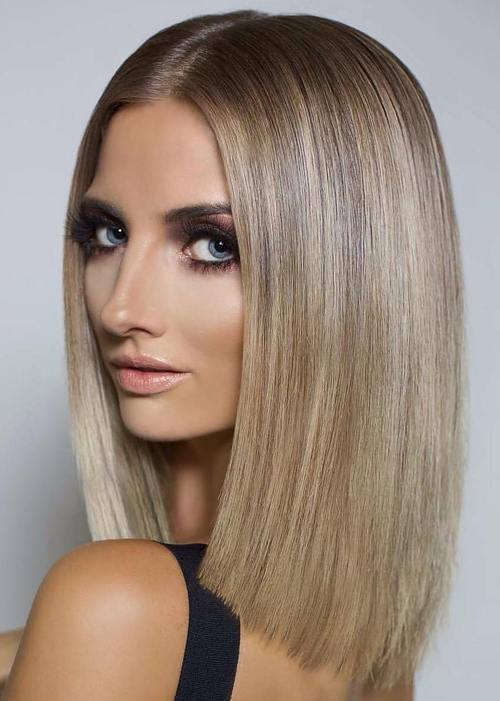 Not quite ready to take the plunge and sport a super short bob by your ears? No worries-this lengthy bob (lob) has you covered! Lengthy tresses dangle just below the shoulders in a fascinating u-shape design that leaves a subtle angle from front to back. A contemporary middle part is both sassy and cute, and is a wonderful choice for women with longer faces.
Simple Blonde Ombre Bob for Fine Hair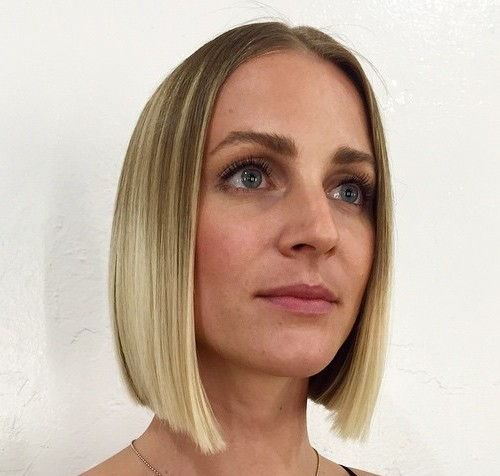 Simple easy bob hairstyle for fine thin hair. Simplicity at its FINEST! Blunt ends create a dynamic style that's rather rigid and poised, cut beneath the jaw but not quite shoulder-length to really make those features stand out. What truly makes this style trendy is the blonde Ombre, with dirty blonde roots and platinum ends that scream summertime fun! If you don't love the blonde ombre, here are the latest hottest red ombre!
Lightly Angled – Choppy blunt bob cut for short hair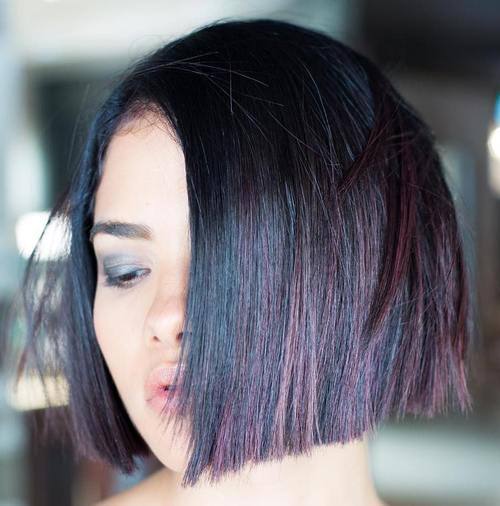 Creating a style that evokes passion and mystery is a must for many women, and this look does JUST that. Her silky locks are a sexy black shade while her ends are highlighted a sultry dark brown hue, with a subtle angle really making those highlights stand out. Finish your look with some glossy product and run a straightener through your mane for a slick look.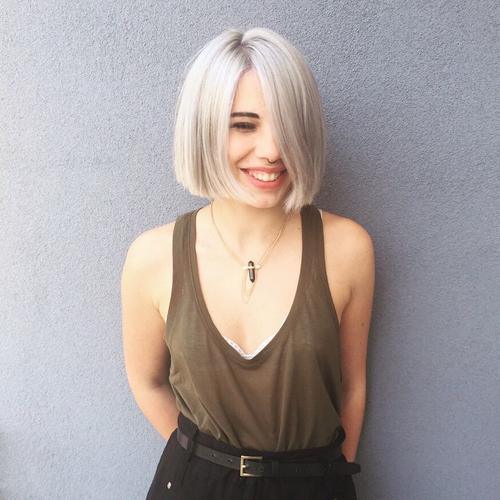 Summer hair ideas for short hair. Her summery hair color is flawless: it's a bright, perky platinum blonde shade with tons of gray coloring intermingled for a seriously on-trend color blend. Her jaw-length blunt cut is bouncy and energized, with a sleek side part to finish off this style. A great choice for thicker haired curls!
Blunt Subtle U-Shape Bob Haircut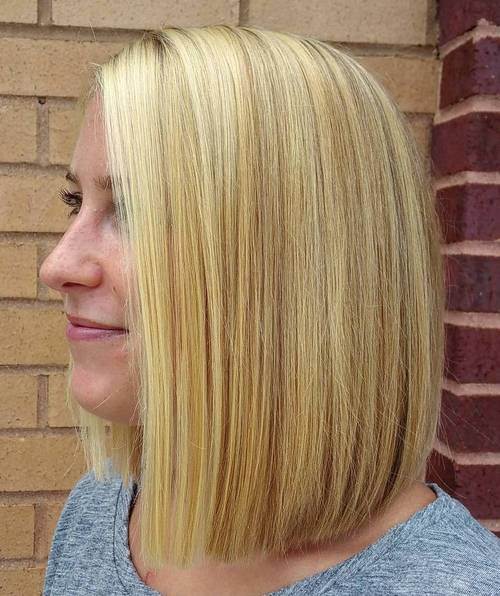 Simple easy straight bob hairstyle for women: Love a lengthy blunt cut but still want a tad of dimension? One easy way to add some cool depth tonyournlocks is to indulge in a subtle u-shape that flows naturally with the shape of your features. Her beautiful natural shade of blonde is a great choice for summer as well.
Chic Graduated Bob – Smooth brunette bob cut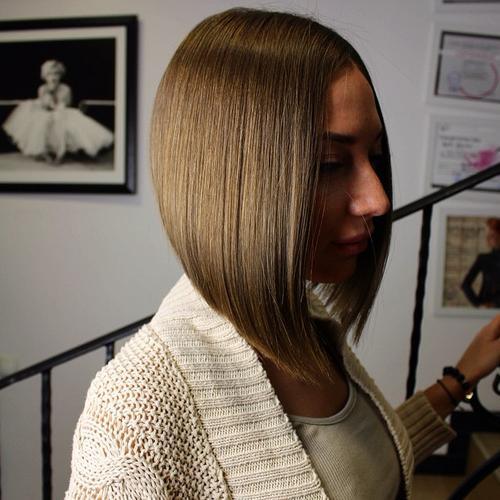 Graduated bobs are ALL the rage- especially during warmer seasons. But this blunt graduated bob takes the cake when it comes to chic hairstyles! The sharp angle is fierce and daring while a chocolate brown shade is mysterious and sexy. The end result? A very enticing style that's great for work, for school, or even date night.
Curled Ombre Bob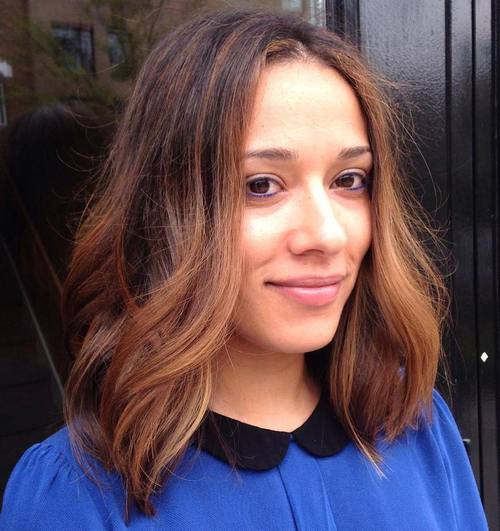 Blunt bobs don't always have to mean rigid ends. Loosen up those angles for a day and add some loose waves to your mane. A look that's simply soft and feminine, perfect for everyday wear. Don't love this hair color? Try these balayage hairstyles!
Curled Inward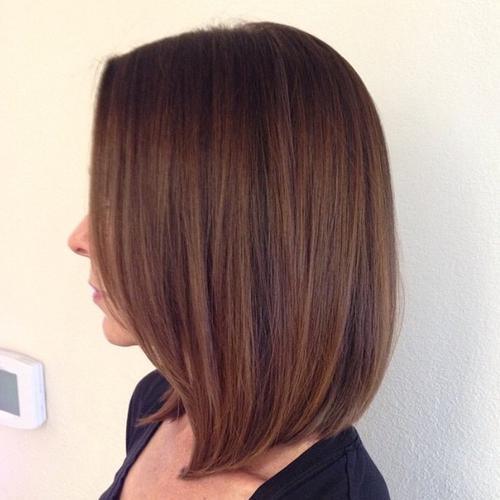 A more delicate take on things, this blunt bob is gently curled inward at the ends to give off a bouncy, energized look that's anything but rigid.
Daring Baby Bangs – Edgy Short Bob Cut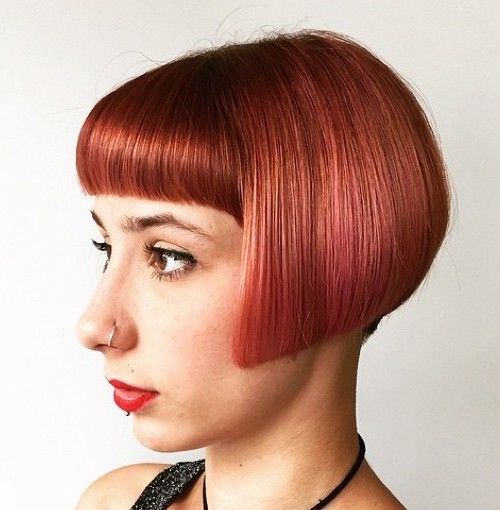 For the ladies who love to live on the edge, this is an excellent blunt bob haircut to suit your personality. Her super short bob hairstyle is cut just under the ear with a slight angle, and delightful baby bangs to match. With a fierce shade of dark red, it's an utterly unique and bold look that will catch the eye of everyone who crosses its path.
Shaved Side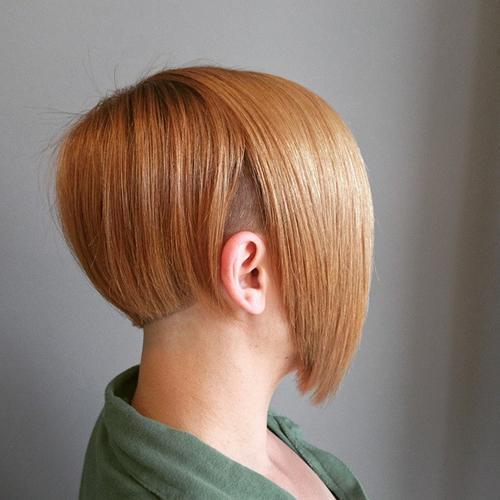 Shaving the side of your head is a super-hot trend, but it's definitely not for the faint of heart! With a lightened up biker chic, this cool bob haircut features an extra lengthy cut up front to frame the face, while the back is kept super short and shaved for simple styling.
Loose, Mysterious Waves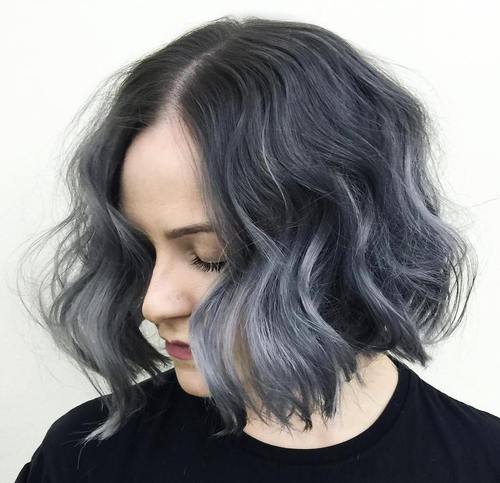 Yes, it's true- even the most blunt of bob?haircuts can be formed into a soft, graceful style. You might not be able to see he rigorous ends of the blunt bob here, but it's a nice break from the edginess to indulge in something luxurious. Her black base is also lightened using an incredibly trendy color- gray. Beautiful AND mysterious.
Asymmetrical Lengthy Dark Brown Bob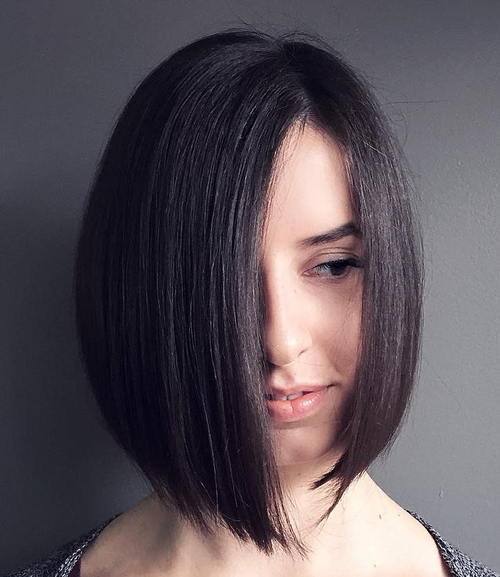 Put a little bit of quirky sass in your style by indulging in an asymmetrical blunt bob haircut! The asymmetry adds some funky bulk and texture to the mane, while her flawless dark brown locks are sweet and sensual. Perfect combination!
Blunt Bangs – Cute short blunt bob cut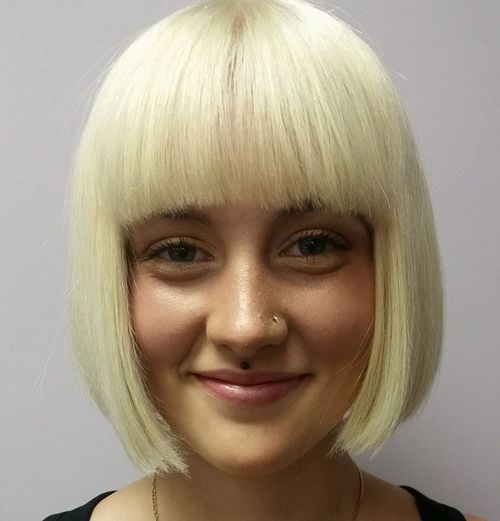 Jaw length blunt cuts are an absolutely perfect way to frame your face and make your features shine bright. What's extra trendy and chiseled about this blunt cut is the blunt, bold bangs below the eyebrow to match.
Sexy Textured Blunt Bob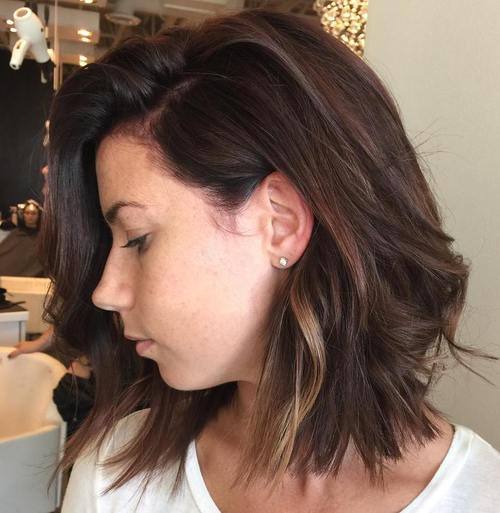 Layered bob haircut for medium length hair: When you're heading out to your friend's pool party, you don't want to be stuck with a fragile, stick straight blunt look. Loosen things up for the party and toss in some tousled texture. It's simple! Just stick a curler through a few strands and mess them up with your fingertips for cool, free waves.
Casual Cut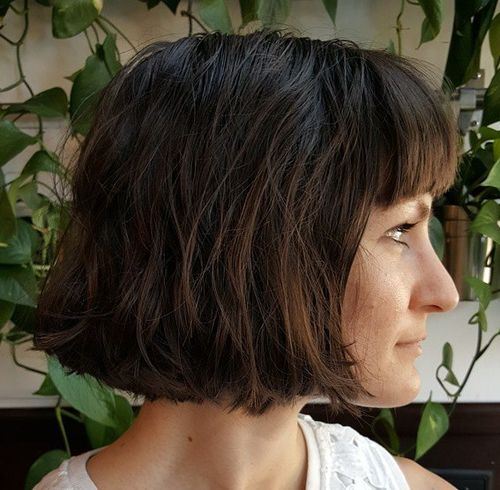 Having flashbacks to third grade when mom styled your hair like this? I bet you never thought you'd choose this look for yourself! But seriously though- this look is super casual and very youthful, a bouncy look that works for women of all ages.
Awesome Angles and Highlights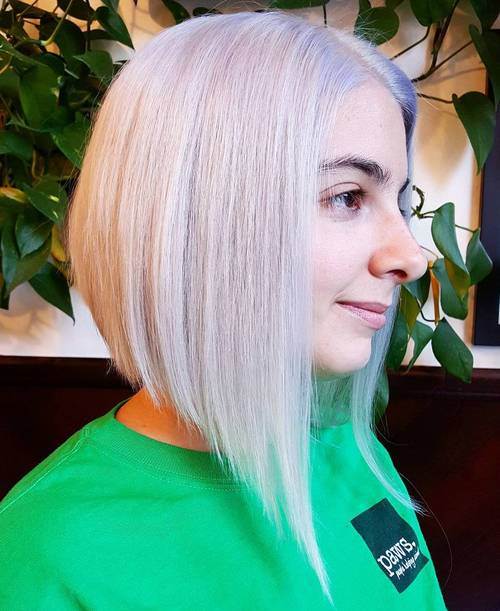 Stepping out of the box is a cinch with this wild style! Bright, beautiful platinum blonde locks are given some trendy edge with hints of deep purple up front; and we can't forget that awesome angle!
Tousled Waves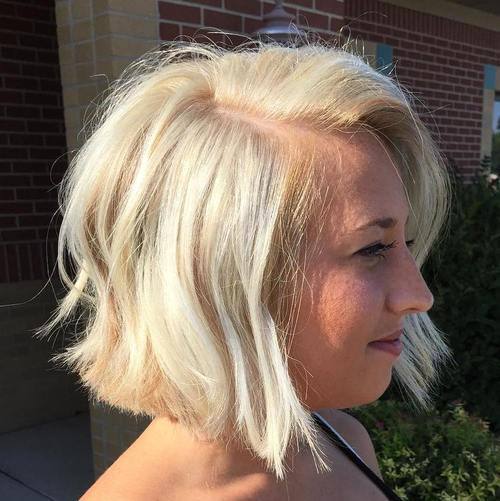 Summertime is all about having fun in the sun- and this hairstyle showcases this warm season perfectly! Her light blonde locks are tousled lightly for an effortless finish that would pair well with your favorite high-waisted shorts and crop tops.
Middle Part Blonde Blunt Cut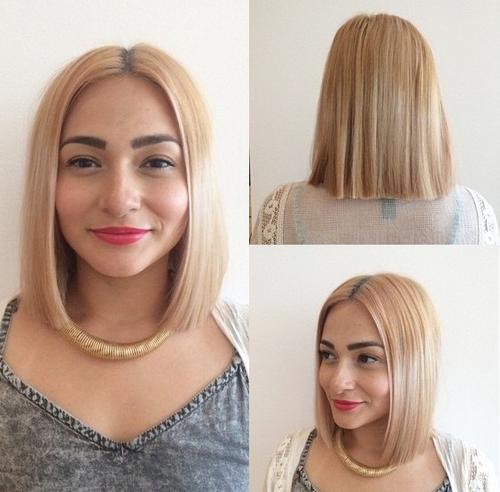 Want to switch things up? If you've got a gorgeous caramel-y complexion, you may want to try out some golden blonde locks! They'll really make your skintone dazzle, and with this middle-parted blunt shoulder-length cut, it's a fashion YES.
Blunt Bangs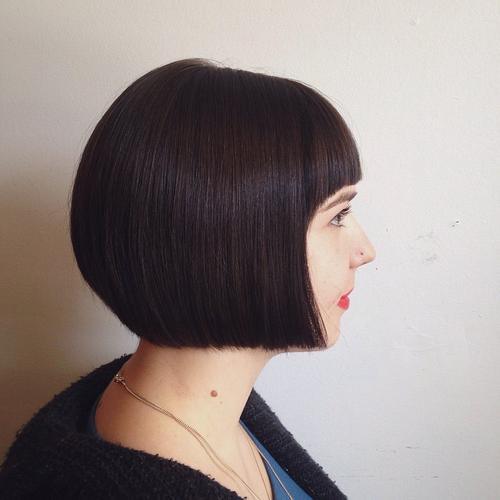 If you were blessed with a thicker mane, this blunt bob is an excellent choice. Her sultry dark mane is cut with an extreme jaw-line style, which frames her face beautifully. Blunt bangs seal the deal for this rigid style, but we don't recommend this style for rounder faces as it may make your face appear rounder.
Blunt Side Swept Bangs – Redhead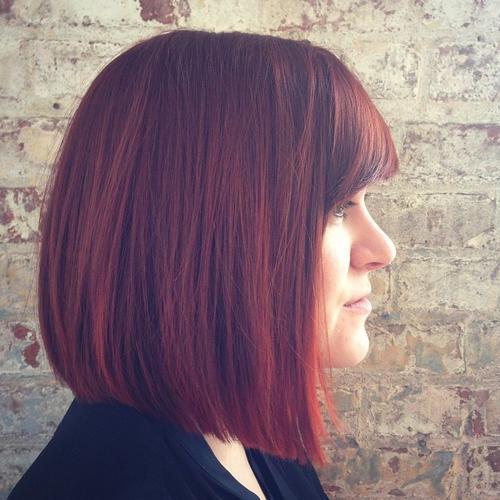 The auburn hue of her hair? Gorgeous. That delicate, yet blunt a-line cut? Flawless. She takes the edge off her fierce style by simply indulging in some trendy blunt bangs, swept to the side to soften her overall appearance.
Shoulder-Length Cut – Medium bob haircut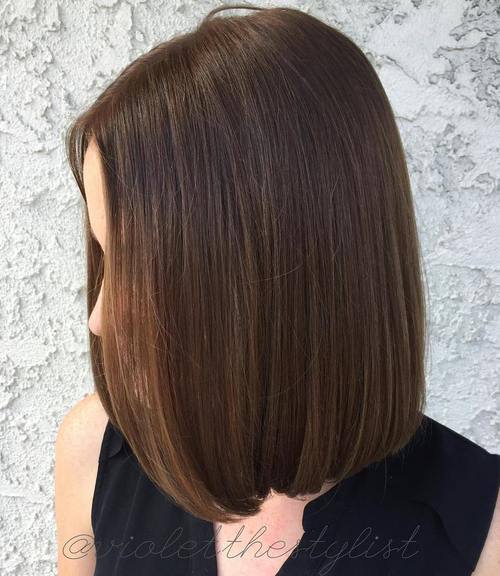 Who doesn't love a classic cut? For gals who don't want to shop their locks too short, a shoulder-length style is your best option. Her blunt shoulder-length 'do looks extra sultry with dark chocolatey brown coloring and a middle part that's calm and subtle.
Contrasting Angles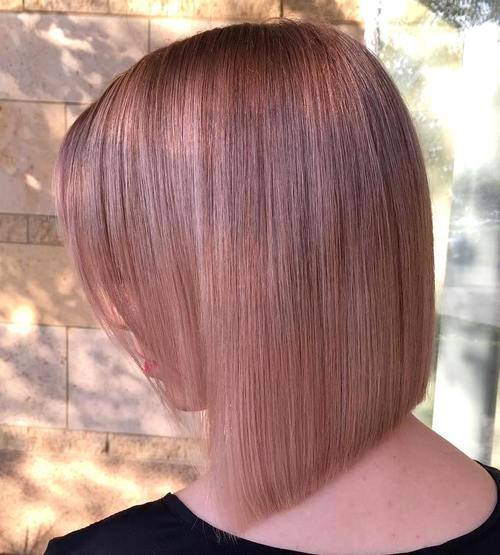 Angles cut in separate directions gives this look a unique style that you won't see anywhere else. Stepping out of the box with these cool angles is a risk, but it's one that looks best on shorter manes as you can clearly see the differing angles. What a rad 'do!
Do you love these bob cuts? Find more on Tricksmag.com!