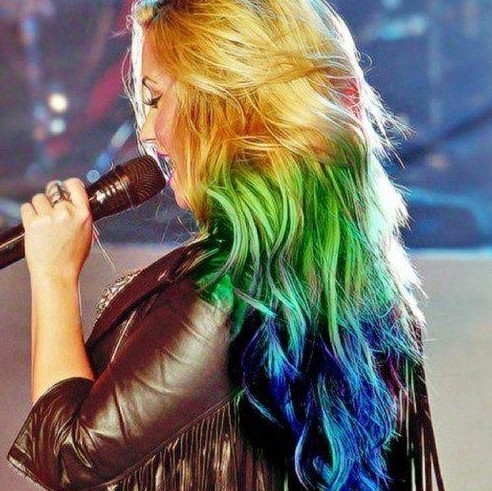 Multi Colored Hairstyle: Sexy Long Wavy Hair with Different Bright Colors
There are plenty of temporary colors on the market to achieve this multidimensional look. (note: color adheres more to blondes)
For color, section head into 3 horizontal sections. Start at the nape of neck and apply desired color per manufactures instructions and wrap in foil so color does not bleed onto rest of hair. Continue onto next section with 2nd color. Wrap that also. Keep the top section that is not being colored isolated from the rest. When processed, rinse hair in the same manner as how it was applied to keep colors from mixing together. Extensions are also a good option. To style these ruffled waves, apply your favorite curl enhancing product and blow dry or air dry while scrunching. Iron work is not recommended as it will interfere with your new color. Apply a light hairspray or pomade to finish.