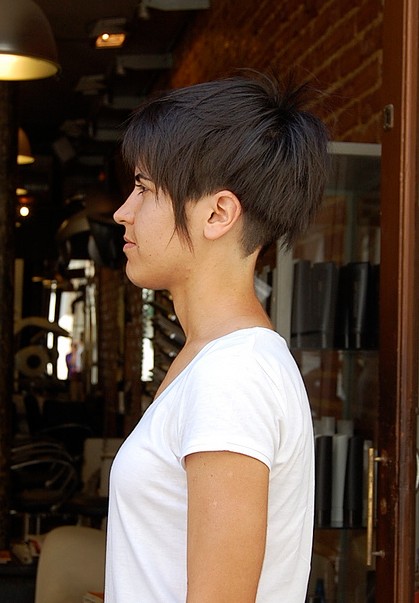 This very exciting new cut, by Sabina, expertly blends a number of cutting techniques to produce something absolutely fresh and unique!
Sharp and shaggy
The nape was shaped into a 3-point shape, and then razored into rough-edged layers above with a strongly-defined cutting edge above the points. The sharply pointed strands overhanging the under-shaving look absolutely fabulous in profile and create a perfect symmetry with the shaggy fringe!
Spiky corona
Volume is provided around the crown by a circle of shorter layers making a cute spiky corona. The longer side is cut over and around the ear with a forward angled line that becomes a long layered section feathered to a wispy face-framing finish just above the jawline.
Fresh & Feisty
The shorter side is under-shaved continuing the texture from the nape up over the ear to end in a blunt, clipped side point. With an original, bell-shaped silhouette enclosing sharply textured lines, Sabina has created another amazing new look.
Waxed and styled forwards from the crown, with the rough-cut sliced layers beautifully defined, this style is a fabulously fresh and feisty trend-setter!