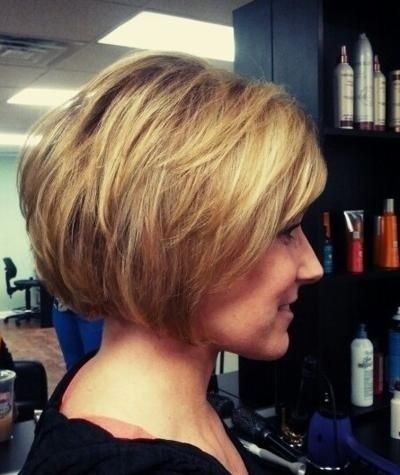 Latest popular simple easy haircut for short hair
This airy medium-blonde hairstyle is all about the 'bump' of volume at the back. Lightly stacked bobs are suitable for medium and fine hair and there's a ton of texture cut into the hair with the layers styled for a lightly tousled finish. Two colour tones have been expertly woven into the bouffant 60's short haircut, with flattering warm light-brown and medium-blonde adding lots of depth and dimension to fine hair.
You do need to add a little back-combing to get the full bouffant rounded shape and a light spritz with hair-spray. However, there's a great new product that I've been using on my fine hair to give it volume that doesn't weigh your hair down. It's called Got2b Powderful from Schwarzkopff and it's a really light-as-a-feather dust that's new and different from anything we've seen before.
You just shake a little on the roots of your dry hair, then mess your hair up with your hands or comb it through and your hair will stay nicely puffed-up all day. It's perfect for the popular short hairstyles that are everywhere this year and especially these short bobs with a puff-ball shape! This short haircut is perfect for women age under 30.
Find more bob hairstyles on hairstyles weekly, check it out here.