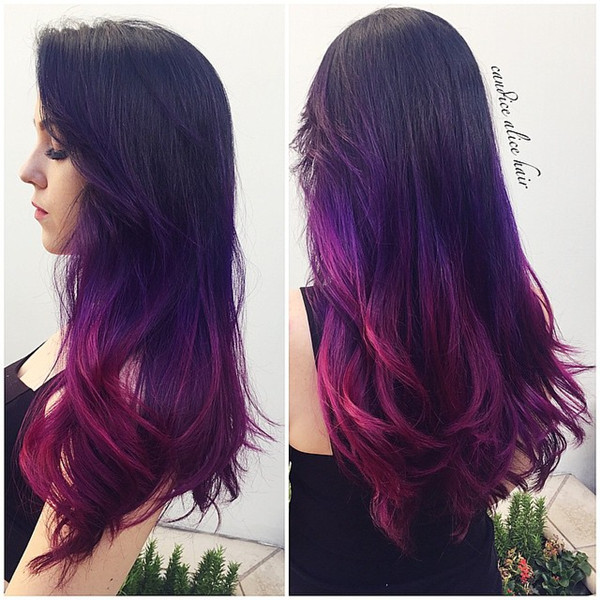 Lavender and purple ombré hairstyles for this season are one of the most popular hairstyles' updaters!  It's also a good choice in hair color ideas for those who feel 'pink' is not for them! Lavender and purple ombré hairstyles include a wide range of purple, violet and indigo-blue shades, which look amazing on brunette hairstyles.  But there's also plenty of softly romantic, delicate lavender-blue and lavender-pink tones, for blonde hairstyles.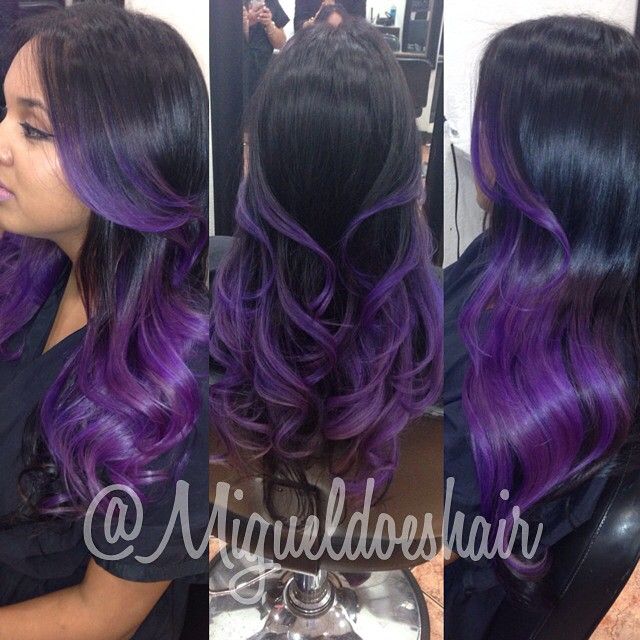 So if you're bored with natural hair color trends and ready to live life 'on the edge' – take a look at some fresh inspiration – there's so much to see this season!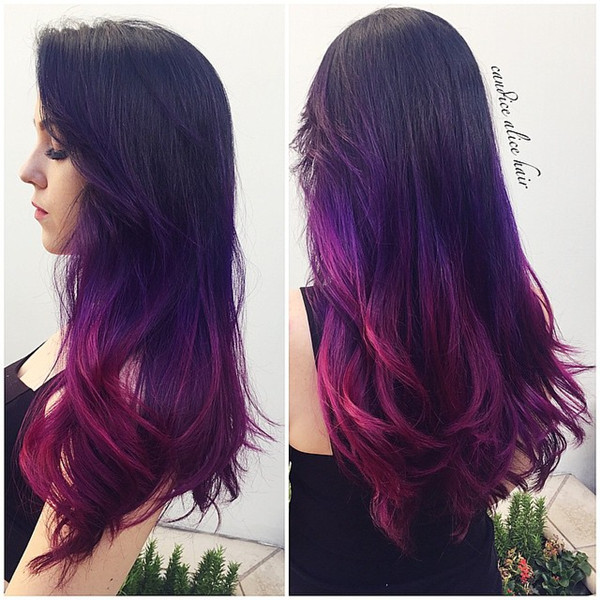 Dark-red highlights warm up long brown hair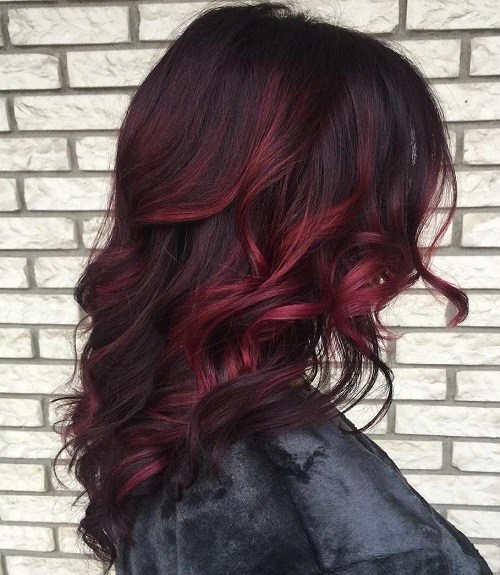 Brick-red shades are also popping up on lots of the most popular hairstyles for this season!  Warm cocoa-brown on trendy, long wavy hairstyles looks fantastic with clear red highlighting to create a 3-D color dimension.  The highlights create lots of added texture and movement on casually waved long hairstyles.
Barbie-licious lavender-pink ombre on long blonde hair with defined waves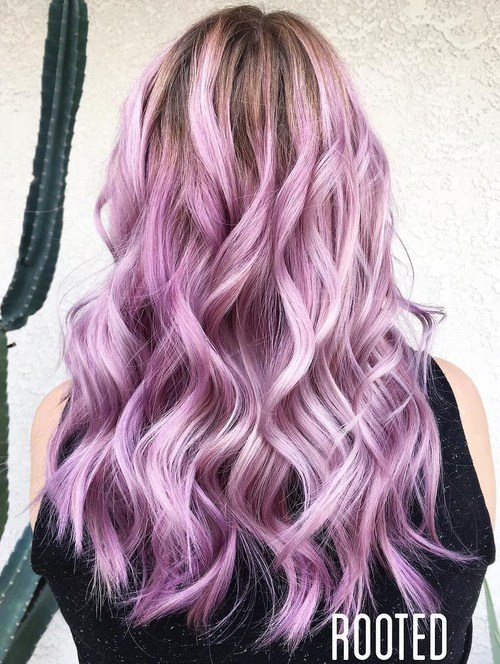 There's nothing as contemporary as honey roots and defined waves with our favorite lavender ombre.  This hairstyle's got gorgeous silver and white highlighting, blended-in with pink-lavender shades.  This is a great summer hairstyle for clubbing and having fun – especially if you want to stand out from the long, blonde hairstyles around you!
Deep-pink & purple streaked ombre on honey-blonde hair with natural wave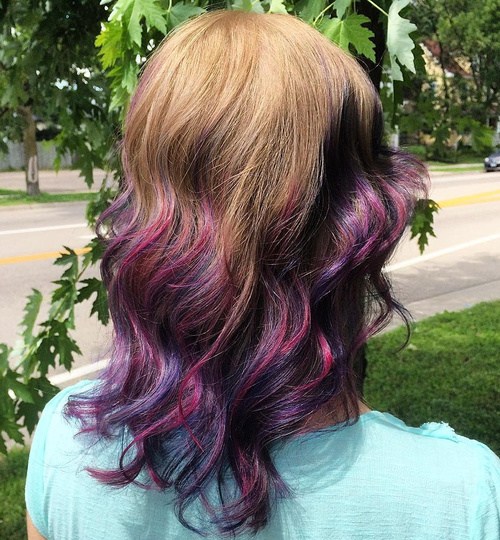 Honey/caramel-blonde shades for your roots is a fresh take on the current hair color trends!  And so is this beautifully-blended lavender ombre hairstyle with its mix of red, pink, purple, lavender and gray shades!  What a fabulous inspiration this lively, wavy medium hairstyle is!
Fantasy doll hairstyles with vivid pink roots & lavender ombre
If you love being the center of attention and need a stunning new hair color to show your fearless style, try this bold color combo for size!  With hot-pink roots and white balayage blended seamlessly into a vivid lavender ombre, this could be just what you need!
Long soft wavy purple ombre hair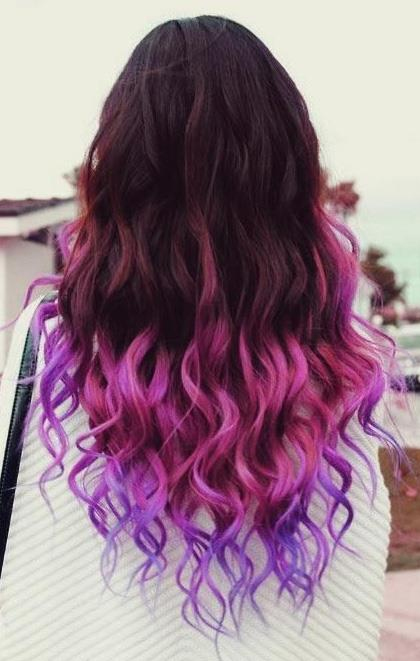 back view of the latest most popular hair style – the purple ombre hair!
Edgy indigo-blue top with ash-blonde ombre & spiky tips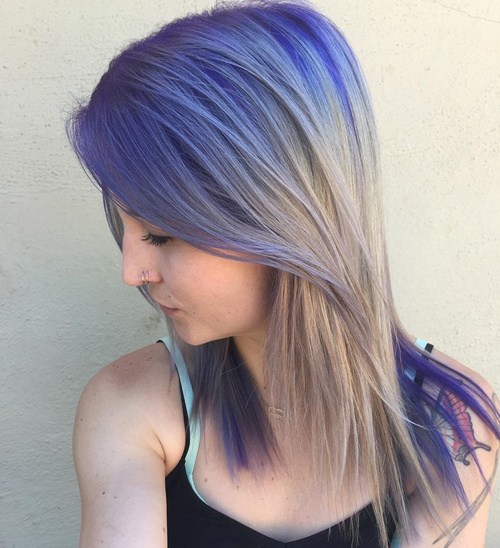 Here's another edgy long hairstyle with heavily textured, spiky tips to create a ragged line on the ends.  The roots are an amazing blend of vivid blue, white and soft purple – and so are the ends!  In between, this trendy hairstyle has a band of ash-blonde with a slightly grubby look, that creates a fab fusion of fantasy and grunge in this lavender ombre idea!
Pretty pearl-blonde long wavy hairstyle with purple ombre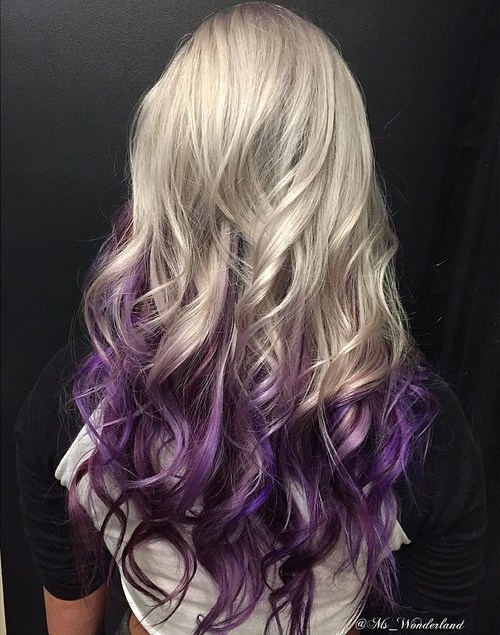 These lovely long waves are tousled for a relaxed summer look, but the trendy hair colors are very sophisticated!  This season's neutral blonde shades have also introduced a lovely pearlized finish that glimmers gently. Muted lavender ombre with a touch of violet highlighting complements neutral blonde shades beautifully!
Simple long hairstyles with chic purple ombre & balayage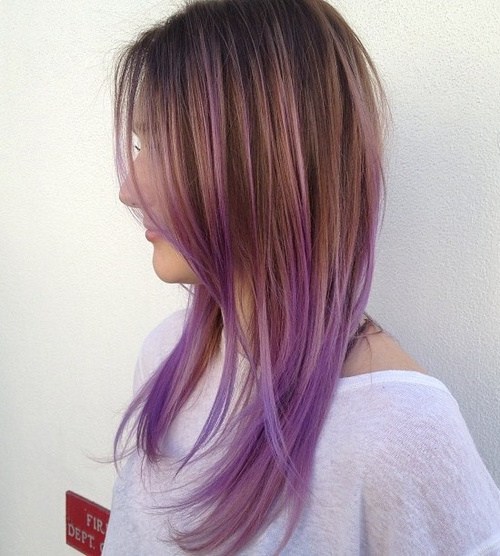 This long, simple hairstyle has a center-part to flatter a balanced, oval face.  Flattering shorter layers, highlighted in lavender, frame the face and emphasize the color of green and brown eyes.  Long, fine hair needs highlighting to create a thicker appearance and muted shades of lavender ombre create a chic and trendy image!
Elegant half-up wedding/party hair with purple ombre on casual brunette curls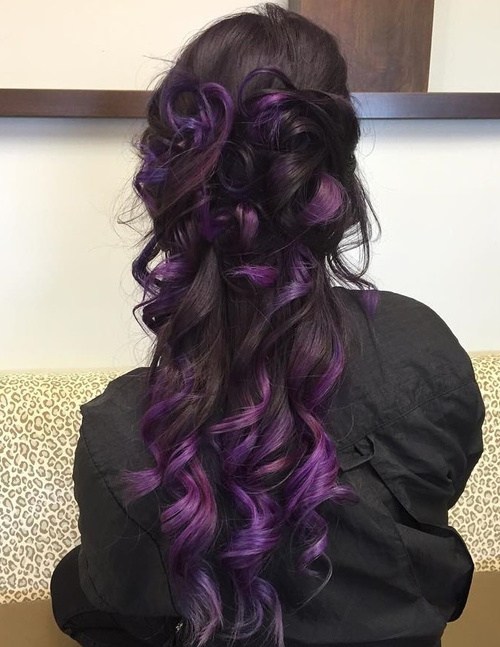 Purple highlights and ombré have loads of beauty-impact on brunette hair.  This fantastic bridal hairstyle/party hairdo idea shows off the face and has stunning pinned-up curls and loose ringlets at the back!  You can see just how much an expert balayage and ombré in purple tones creates a stunning and sophisticated finish!
Trendy white & lavender short bob hairstyles for thick hair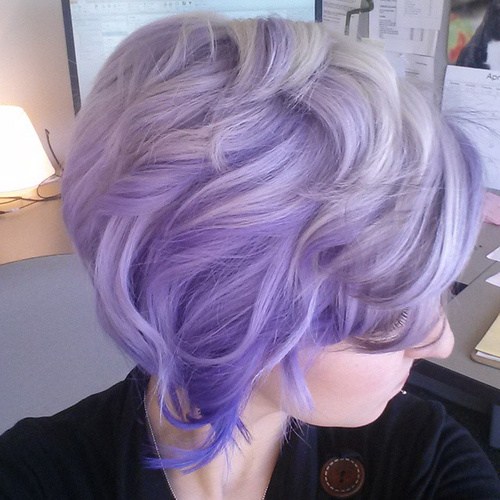 This is a great pixie haircut that's been allowed to grow out – making a very attractive short bob.  And to bring this softly-waved hairstyle right up to the minute, add this fabulous lavender dip-dye. We love the white-blonde top highlights fading to a lovely lavender ombre that ends with cute purple tips!
Pretty plum ombre with violet highlights on long wavy black hair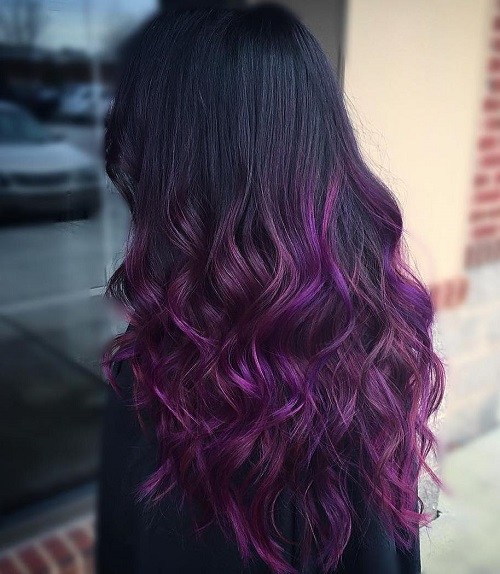 Lighten up your look with a sultry plum ombre highlighting those gorgeously rippling waves!  Long black hair can seem a bit dull in the summer sunshine, but this hair color trend's perfect and the extra violet highlights are the perfect finish touch!
Edgy graphite-gray hair with true-blue & dusky purple ombre on long dark hair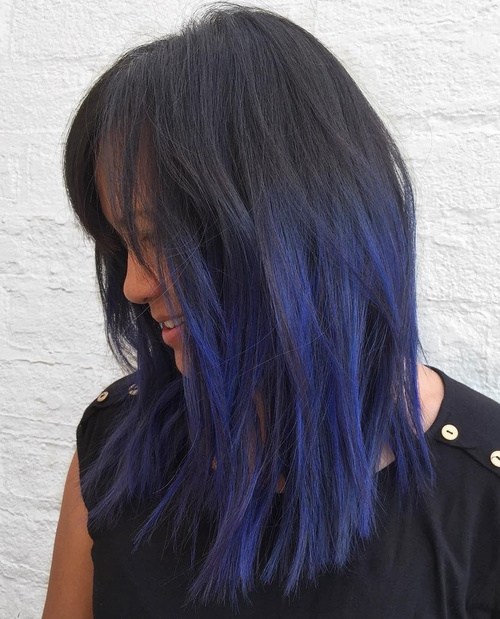 This strong shade of indigo-blue, with paler blue balayage on a charcoal-gray base, really makes an up-to-the-minute style statement!  This simple layered hairstyle with bangs has fabulously choppy, textured tips. What a great background for this chic, eye-catching blue ombre!
Pep-up long straight hair with purple bangs and fine highlights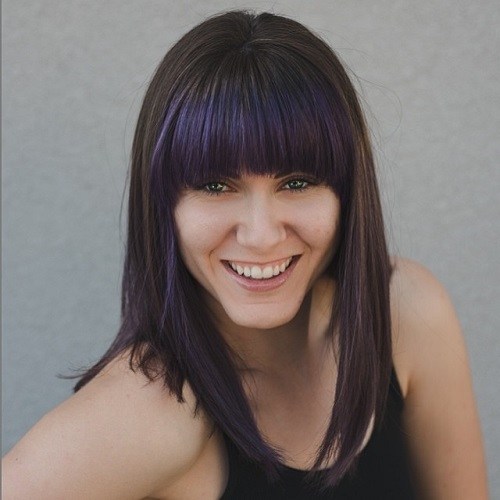 This beautifully layered hairstyle for long hair is great for round or heart faces, but the brunette hair needs something extra to fit with the happy summer mood.  And that extra touch is supplied by the deep purple straight across bangs and purple balayage in the shorter layers framing the face!  Purple makes green or brown eye color more intense!
Fabulous fantasy updo on gorgeous purple & gray hairstyle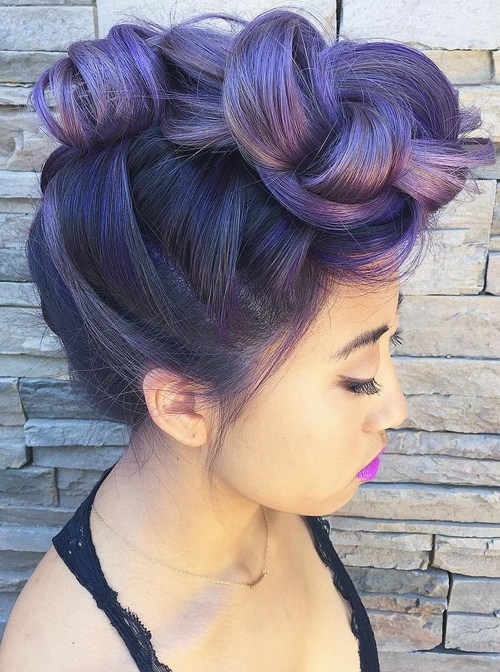 Can you work out what this is?  It's not easy to see, but this fantastic updo is based on a very loose braid from the front hairline to the crown! What a great way to create high, looped curls for a wedding, prom or party. The purple/grey colors are beautifully blended and the sides have a lovely geometric texture.
Long blonde hair with white highlights & lavender-pink ombre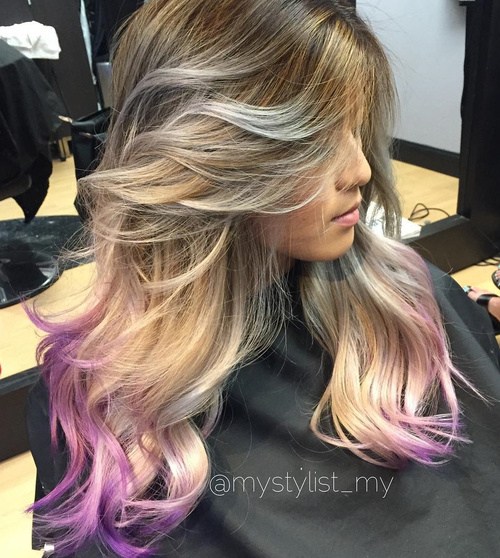 This long, blonde hairstyle has lovely silver balayage and a blend of pearly blonde shades emphasising the layers and flowing line.  And there's just enough lavender-pink ombre at the tips to give this long wavy hairstyle a touch of playful, summer style!
'Goth-lite' vivid violet ombre on A-line bob with edgy black roots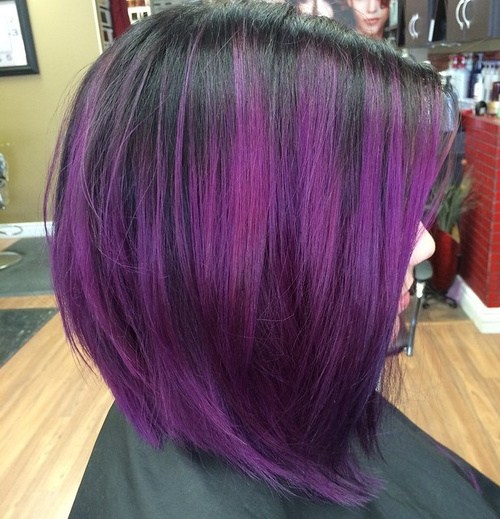 This chic A-line bob hairstyle is a great haircut for fine hair and makes a great background for a slightly Goth, lavender ombre! Hairstyles with edgy, black roots need a strong shade in contrast and this vivid violet ombre is a great way to achieve a cute, Goth-lite look this season!
Glossy golden-blonde with coral, pink and lavender ombré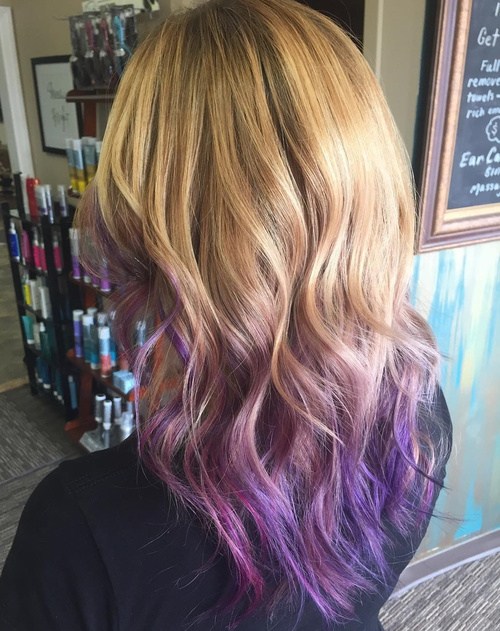 Question: What can you do if you love the idea of a lavender ombre, but it won't match your skin-tone? Solution: Copy this lovely, long wavy hairstyle that keeps medium-blonde hair color as a soft face-framing shade! Muted coral, then hot pink and purple tips achieve 'the look', but keep purple right away from pale skin-tones.
Versatile long white-blonde waves with lovely lavender ombre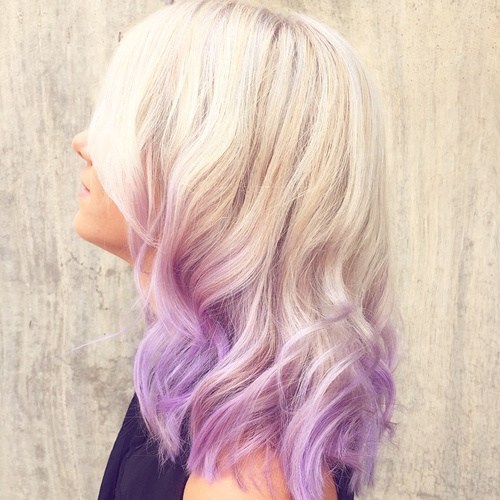 This long, wavy, white-blonde hairstyle is futuristic – combed forwards with an edgy lavender ombré, center-part and face-framing long bangs.  But it can also become a romantic look, with barrel-curls. For LBD events, this hair color duo looks fantastic in an urban-chic updo and it also makes a super-cute two-tone pony-tail!
Cute medium hair in honey-blonde with silver & lavender wavy ombre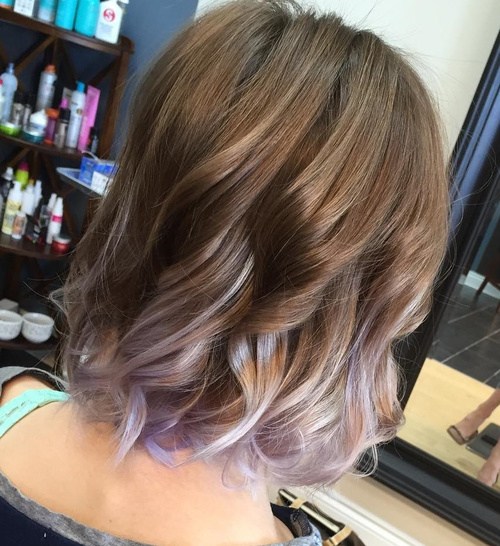 Dark honey-blonde is one of the popular hair color ideas for summer.  It's a very flattering shade with a natural look about it.  But to glam it up a little for a fun, summery look why not add a cute silver and lavender ombre for a highly fashionable twist to medium wavy hairstyles!
Dramatic purple & violet ombre & balayage on long black hair with waves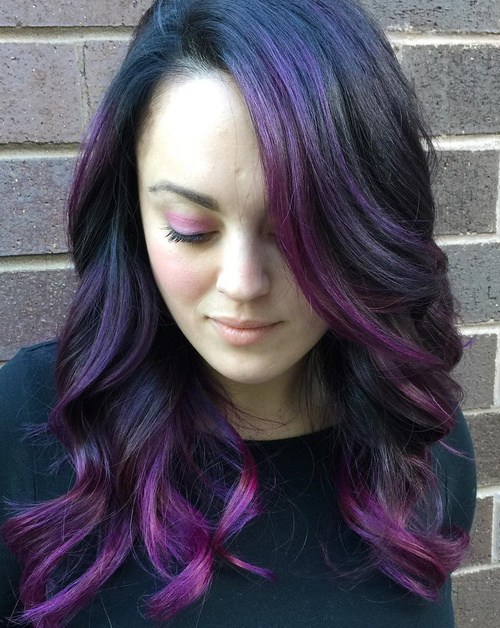 Pale skin-tones with long, black wavy hair can be nicely complemented with the right shade of lavender ombre! Hairstyles get a fabulous contemporary twist from violet and purple balayage/ombre and light makeup!  This is a great style for oval, round or heart-shaped face, with expertly blended tones accentuating the texture and movement.
Romantic rich auburn fading to copper, coral-pink & lavender ombre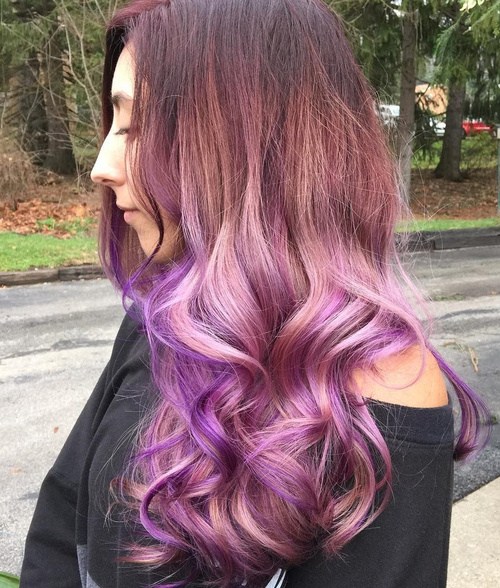 It's as if the universe has suddenly realized that it's very hard to decide what color to wear your hair and has declared, 'Can't decide?  Well, why not wear them all!'  And this is the wonderful result, gorgeously artistic blends by talented colorists who are delighted to have free rein for their creativity at last!
Fab easy-care long bob on copper with violet ombre for thick hair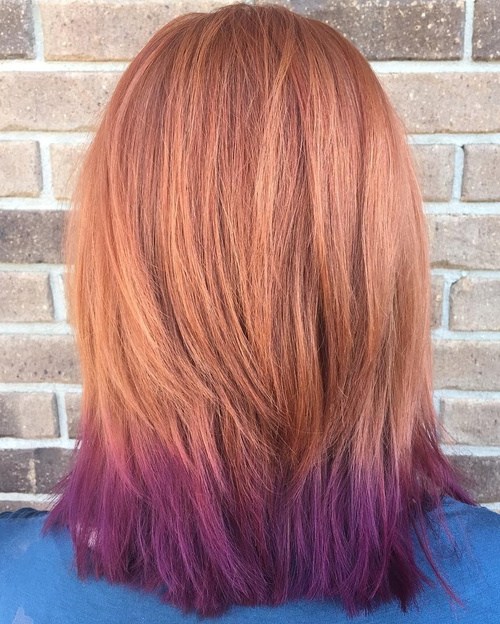 Here's a popular hairstyle for thick hair, a simple long bob hairstyle that's easy-care and casual!  But that doesn't mean it can't look 'cool and casual' for summer.  Jazz up auburn/ginger hair color with a fab raspberry-violet-lavender ombre on your long layered hairstyle and be effortlessly trendy!
Amazing all-over purple on long thick & wavy hair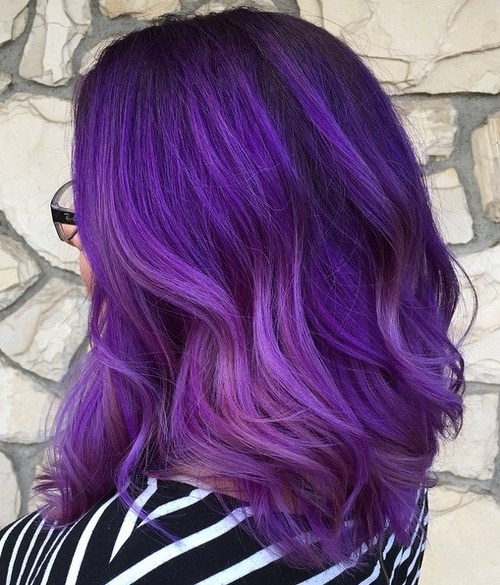 Wow!  This is a fabulously stunning purple hair color idea that's rich and luxurious-looking on the model's thick wavy hairstyle.  From charcoal-gray roots, the purple ombre gradually lightens, like an updated dip-dye.  See how it highlights the relaxed waves in this gorgeous, long layered hairstyle for summer!
I hope you've enjoyed browsing this inspiration for your perfect new look and are ready to see your colorist!  Everyone has an individual skin-tone and there's no one-size-fits-all when it comes to choosing an exciting new hair color design!  Remember, to get the right balance make sure that you are wearing the new color – and not the other way around!