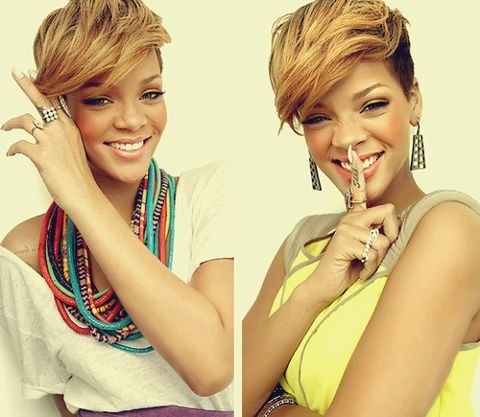 Celebrity hairstyles for summer
This is one of our favorite styles right now and it's set to be popular right through 2015!
Having just seen Rihanna pictured with long, black hair at the NY 'unveiling' of Kanye's new fashion line, I think Ri looks best with geometric short haircuts like the one in the pic.
Rihanna has a long face shape and the long, straight black hair she's wearing this week, doesn't flatter her face one bit! On the other hand, this short haircut shows off her dainty facial features and balances her long face perfectly, especially with those long earrings that add 'width'.
On a long face-shape, the latest short hairstyles combed forward with an asymmetric fringe swept over the forehead and one eye, reduce the 'length' of the face very effectively. The basic cut is a short back and sides, with the top left longer so you can have a variety of different looks!
Waves add plenty of texture and movement, without height for a long face. Round face shapes can wear more volume on top to make the face appear slimmer and longer. Golden-blonde, honey and caramel colours are very flattering for skin-types with warm pink or golden undertones!