Talking hair is fun. Talking money? Not so much.
While it's nice to think you'd be cutting hair even if you got nothing, figuring out the art of pricing is a key component to a successful stylist career. Struggling to decide how much to charge? Consider the following tips:
Explore your market
Like with any business, market research is key to setting prices. "I think it's good to price yourself according to what the area calls for and what they think their skills and professionalism is worth, i.e. consultation, their look, actions and ability," said stylist Sal Logerfo.
New York prices might not fly in Birmingham, and if you're just starting out and going solo, you shouldn't expect to charge as much as the most experienced professionals in your area.
Find (or create) a tiered system
New stylists should seek salons where pricing isn't always in their hands.
"It's good for them to get into a salon that has a price structure for junior stylists and classes for them to attend," Logerfo explained. "Then they can gradually move up the levels to master stylist."
If you're a salon owner who doesn't have a tiered structure in place, consider how you could implement one. Investing in young talent is wise for the health of your salon and a move toward keeping clients happy.
Lock in prices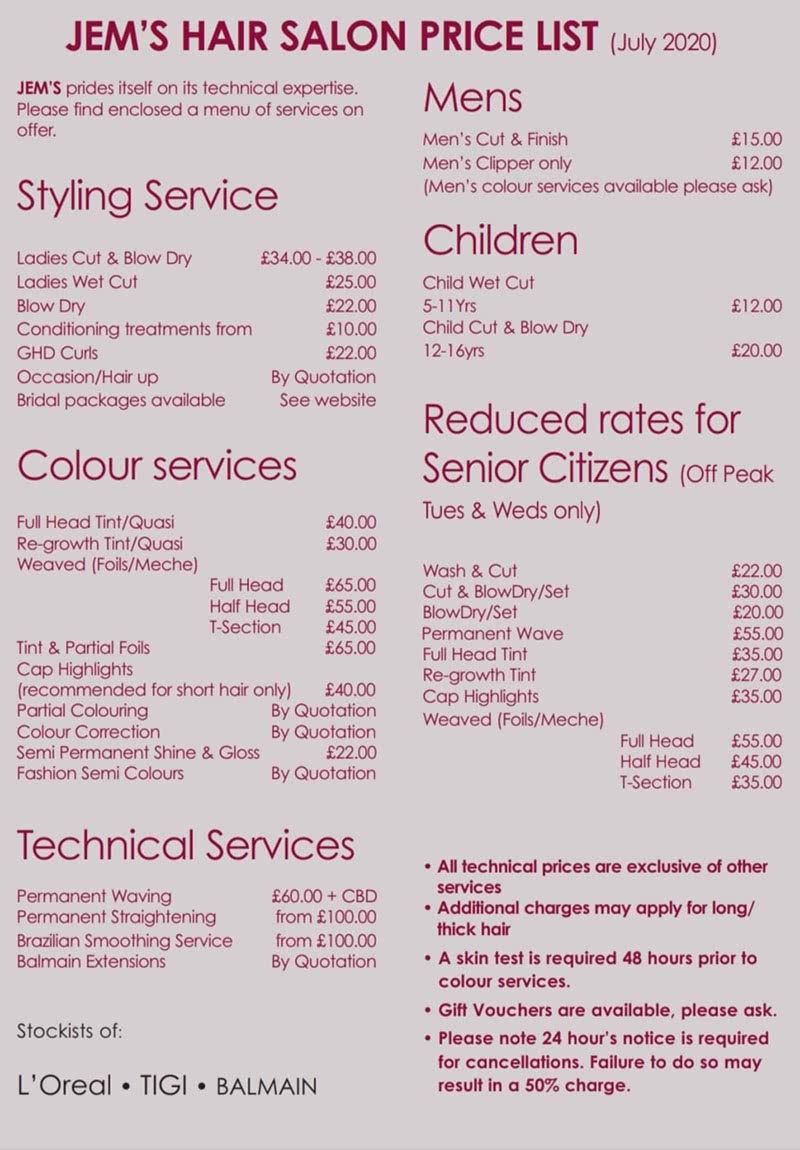 Independent stylists are quick to fall into the easy trap of inconsistent pricing. While it's understandable you might want to give your favorite clients a break and charge the same price you have for the past 5 years, you're not doing yourself a favor. Having a set list of consistent prices you charge all clients for your services is important to having a stable business. Plus, it's easier to have one price in place so you don't have to play a guessing game or take time to remember what you charge which client.
Change prices annually
Changing prices is a typical process to reflect basic inflation and higher inflation. Take note of your regular expenses–products you use at the back bar, like Kenra Classic Clarifying Shampoo, sanitation products, tools, booth fees, etc.–and track if they're are significant price changes warranting you to raise prices.
It's also good to pinpoint a regular frequency for price changes–yearly, every other year, etc.–and to do them at times of the year that make sense, like right after the holidays or following a renovation.
But remember not to get too crazy. "My haircut prices usually increase yearly and not by a large margin, not more than $5 ever," Logerfo said. "My chemical service price increases only if my product cost goes up. I don't want to price myself out."
Overall, pricing is a fine balance of being competitive in the market, matching your skill level, making a profit that supports you, and of course, being comfortable with asking your clients for that amount. While it might be easy to want to ask too little, remember you're worth it. But it's also important to remember money isn't everything.
"I love what I do too much and for me, yes, it's nice to make the money, but it's not about the money, but the satisfaction my clients get," said Logerfo.