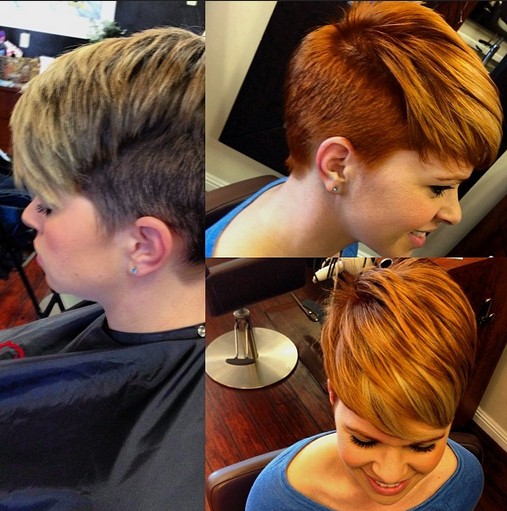 Winter hair idea for short hair
The colder the winter, the warmer your hair colour should be! This 'before' picture shows a mousey brown short hairstyle, with cool blonde highlights around the top layer. We see this not-very-flattering combination so frequently it's commonplace and totally unmemorable. Adding cool shades to a dark-blonde base is not the best way to add colour dimension, especially if you have a pale complexion.
The problem is that mousey hair can easily look dark-grey (like a mouse's fur) and if you add cool- blonde highlights, they just emphasise the brown-greyness of your natural shade. Choose a colour that will warm-up your winter skin-tone – not drain all the colour from your face.
This brilliant copper makeover on a short haircut really shows what I mean! The clipped back and sides are no longer drab and unnoticeable, after adding a deep, rich copper tint. The blonde highlights on top are still there, but in a brighter coppery-blonde adding lots of lively texture and style to this modern, short haircut!
So look at the 'before' and 'after' colours again and ask yourself, 'Am I a 'failed' blonde or a charismatic, once-seen-never-forgotten red-head?'
Do you like this hair color? Find the latest popular hair color ideas here: 36 Ombre Hairstyles for Women – Ombre Hair Color Ideas