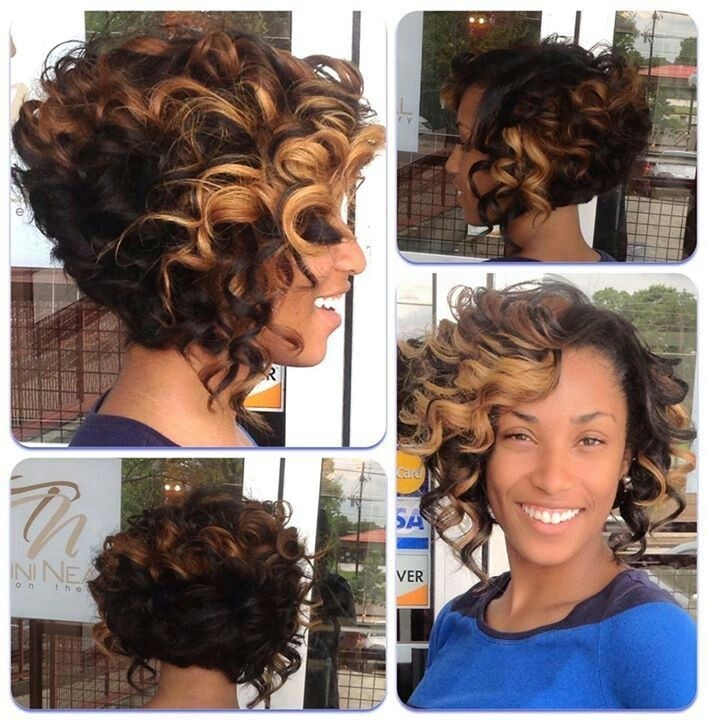 Cool stylish ombre hair for African American women – soft curly hair style
Here's an extravagant big hair look you can get on thick, curly hair. It uses medium-short hair to create a profile silhouette that echoes a curly up-style on long hair!
It's totally fresh for 2015-2016 and an amazing twist on the stacked-back, straight short bob! Stack layering at the back combined with big round curls set in a vertical direction creates that elegant 'wedge' of shape at the back, showing off the neck below.
The cut hugs the sides of the head until the extra-long, disconnected strands hanging on either side of the chin accentuate this happy lady's big smile! The shape shown here is a great way to balance out the length in a long face. It has tons of extra width around the face from the big, spiral curls and the diagonal fringe, accentuated in medium golden blonde, cuts the length and moves the eye out to the sides as well.
With three colours effortlessly employed to accentuate the lengthened up, up and away silhouette at the back, this is a beautifully bold look. Curls are definitely hot for this year and stacked, short, curly cuts suit many different types of curl and can easily be adjusted to flatter most face shapes, too!
Find more ombre hairstyles for short hair here.