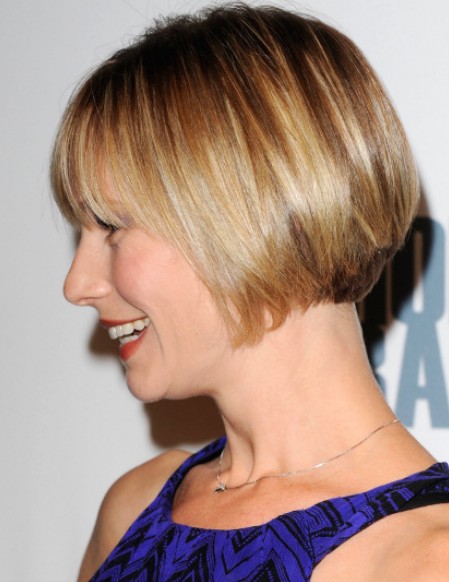 Meredith Monroe latest short haircut with front bangs
No wonder Meredith looks so happy and confident at this special event, she knows her hair looks fabulous in this super-trendy bob-cut!
The back is slightly stacked adding a nice bump of volume at the back that curves in beautifully to a length just above the nape. The centre-parting is hot this year and along with the light long fringe, adds a pretty detail at the front. And the expertly blended soft shades of blonde, honey and dark blonde create lovely reflections and texture in the hair for an easy-to-style look that's ultra-chic!
Start out with a smoothing product for your blow dry like Frizz Ease Straight Fixation Smoothing Cream. It has heat protection and helps create silky smooth blow drys. The Moroccan Oil Glimmer Shine Spray speaks for itself with its name. Micro beads lay on the hair like little mirrors that make your hair the definition of healthy reflection.
All face shapes can rock this chic short blunt bob hairstyle. Thick hair is a must to really get those bangs to look amazingly full. As with all sleek and straight styled bobs, the straighter your hair is, naturally the easier it will be to achieve. Find more bob hairstyles here.