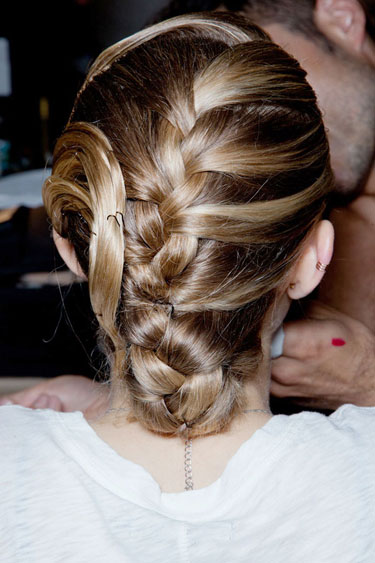 Hair Trends for Spring 2014
This is another exciting new look, bringing innovation and creativity together to produce totally original 21st century hairstyle!
The hair is woven into a braided chignon which ends just below the nape in a central position.  However, the highlighted strands brought back from the front create an ultra-trendy asymmetrical pattern.  One on side, there are four separate, sleek bands of hair incorporated into the braid. On the other side, the hair has been shaped into an amazing, two-stranded curve, also decorating the surface of the hair.
The hair is expertly highlighted in a mixture of trendy, caramel blonde shades which accentuate the intricate patterns and textures in this stunning, formal up-style to perfection! This updo is great for prom, wedding!