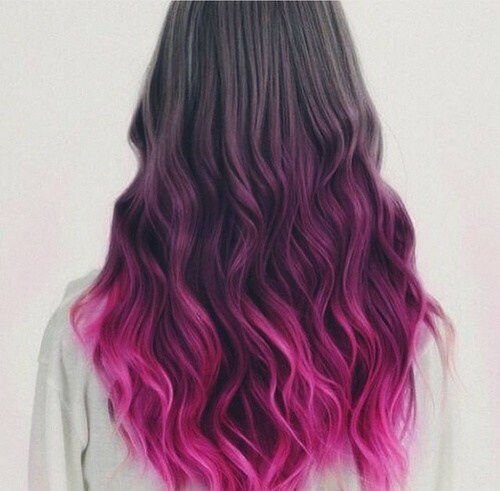 Pink hair is smoking hot for summer hairstyles and fortunately there are as many different shades of pink as there are different skin-tones! If you're planning a first-time pink ombre or balayage your colorist should definitely be the one to select the most flattering shade of pink for you. When you know which pink suits you best, you can always use Crazy Colour or a home tinting kit to keep you 'in the pink' for as long as you like!
Warm-up black hair with hot-pink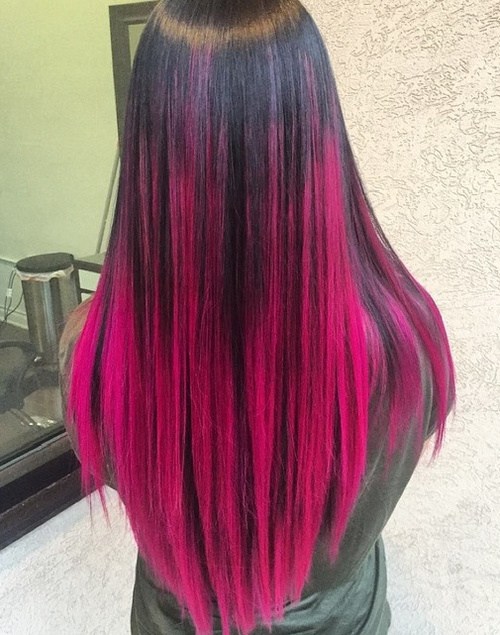 Dark hair looks better with vivid colors and this simple, long hairstyle is transformed into a highly contemporary look with a hot-pink ombré.  The thick hair is cut into sliced layers to create tapered sections and edgy, sharp tips on the layered, V-shaped back.
Fabulous pink & lavender fun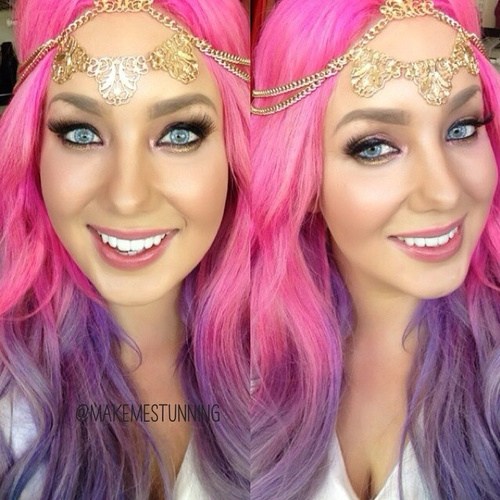 If going all the way with permanent pink and purple wouldn't find favor with your boss (!), get a fantasy wig and explore your fun-side with cute hair accessories!  The pink waves framing this model's face highlight her bright-blue eyes and the lavender ombré draws attention to her décolletage.
Fantasy white & pink with floral accessory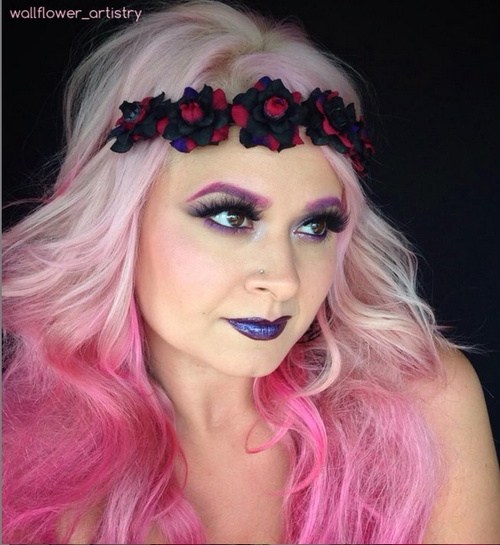 This boho special-occasion look is gorgeous and fit for fancy-dress as the Faerie Queen!  White-blonde top hair is highlighted by pale pink balayage, before deepening into raspberry pink in the lower layers.  Fine hair gains volume from the back-combing (teasing) which adds wispy texture and movement in this highly styled, fantasy creation.
Casual pink-lavender-beige fade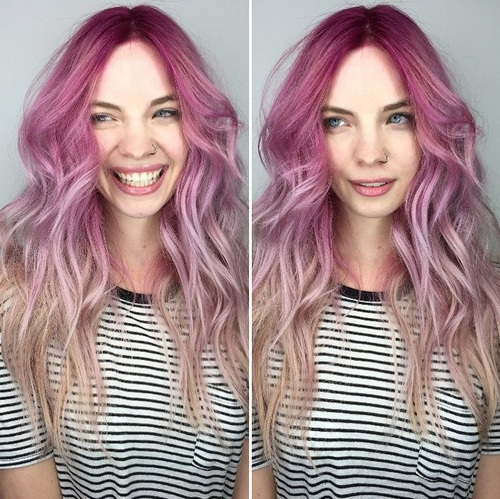 Raspberry-pink is a popular shade of pink to match skin-tones with a cool undertone and blue eyes.  Adding blue pigment changes raspberry-pink to a soft lavender shade that finishes in neutral beige-blonde tips.  The center-parting suits oval faces, but this is also a good style to add side-volume to a thin face.
Dazzling neon pink with purple ombré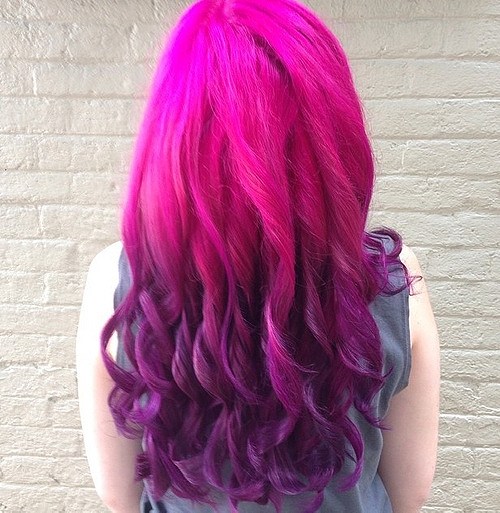 This daring hair-color choice is great for anyone who loves fantasy characters in online games!  With a neon pink top section curled into lovely, loose ringlets that fall almost to the waist, this model is set to be the center of attention wherever she goes!
Divine purple roots with white-blonde & pink ombré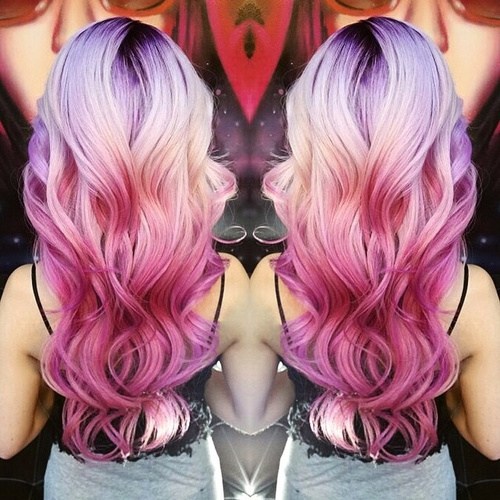 If you prefer a softer image, this romantic blend of purple and white-blonde with beautifully blended lavender-pink ombré is a gorgeous look.  It would make a stunning bridal hairstyle or a high-fashion style for a stage-performer and projects a chic, fashion-conscious image.
Daily 'do in pale-blonde with raspberry ombré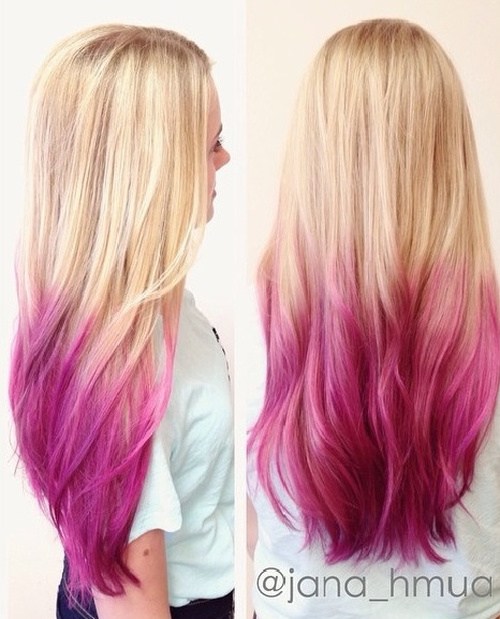 Here's a cute daily hairstyle in trendy light, golden-blonde blended into a raspberry-pink ombré that adds lots of personality to the stereotypical long, blonde hair look!  The thick hair is layered near to the ends and has textured tips creating lots of lovely feathery texture and wavy movement.
Chic brown & blonde with faded pink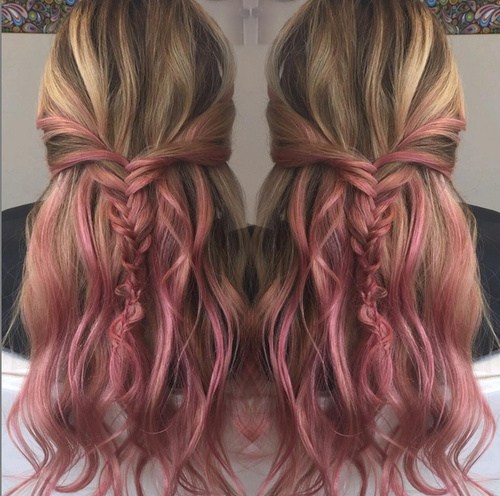 This is salmon-pink, which is pink with a touch of orange and it really stands out against the dark-brown base and wide bands of blonde highlighting.  The chic braided style and loose waves fit perfectly with the sophisticated color choice that creates fabulous tri-colored bands along the sides!
Vivid raspberry roots with coral-orange waves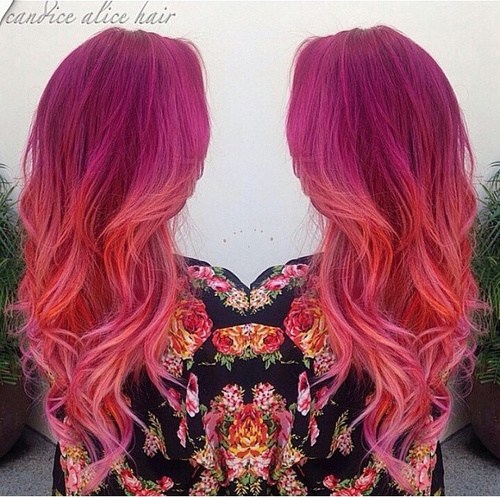 Music-festival hairstyles are lots of fun to wear at weekend leisure events and through the summer months if you have a relaxed work-place.  This vibrant colour scheme matches deep raspberry with flame orange ombré and faded coral in an extravagant look that's perfect for extroverts!
Cute coral-pink ringlets on purple-black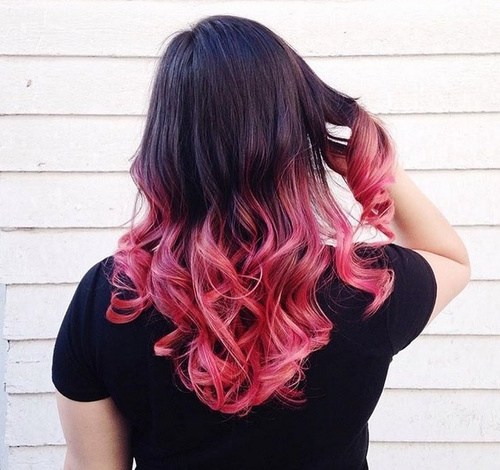 Black/deep purple hair looks lovely with intensely colored ombres, as you can see in this cute image.  Tousled ringlets add lots of texture and lively movement to this V-shaped long haircut.  It's also a super color combination to wear in a pretty pink ponytail or braid style!
Faded-pink with lavender & hot-pink barrel waves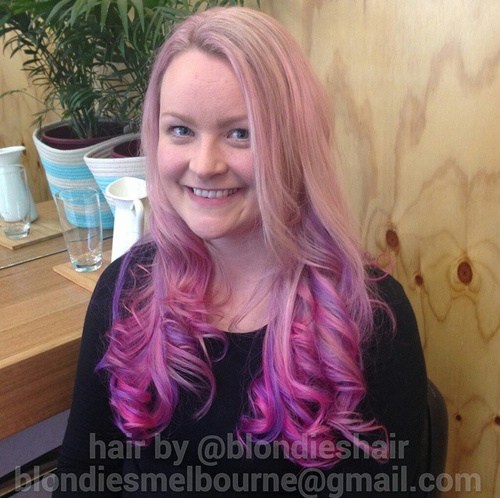 This model is delighted with her unique hair color and excited to attend a prom or party venue and show her friends!  The soft pink-blonde shade matches her skin-tone perfectly and vivid purple and hot-pink balayage-ombré create an amazing pattern on the casually draped barrel curls.
Stunning hot-pink & violet ringlets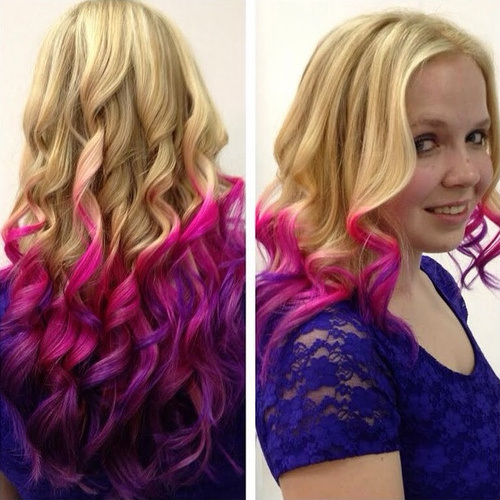 Here's a fancy ringlet hairstyle that's a prom/party look with a temporary hot-pink and purple ombré.  One of the benefits of having naturally fair hair is that you can stain it with bright wash-in/wash-out colours for special occasions!  The style has a center-parting with face-framing waves to suit oval faces.
Trendy ultra-pale blonde with soft pink curls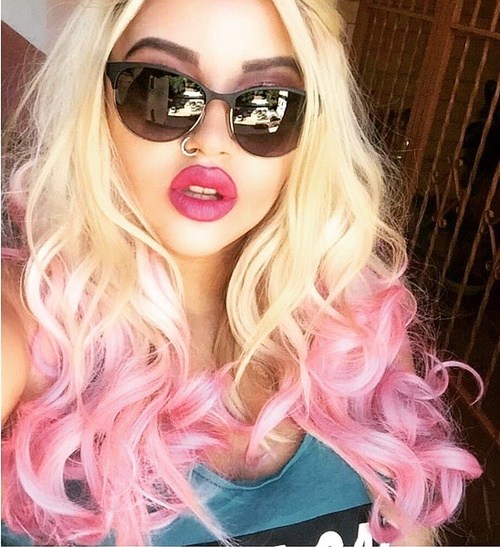 This pale-blonde and baby-pink hairstyle is a pretty and doll-like look you can wear with feminine clothes and make-up or as an ironic comment on how women are expected to be!  This model is subverting the girly image by wearing a nose-ring, casual T-shirt and heavy make-up, carrying off the (tough) Barbie-doll look perfectly!
Rich plum & raspberry waves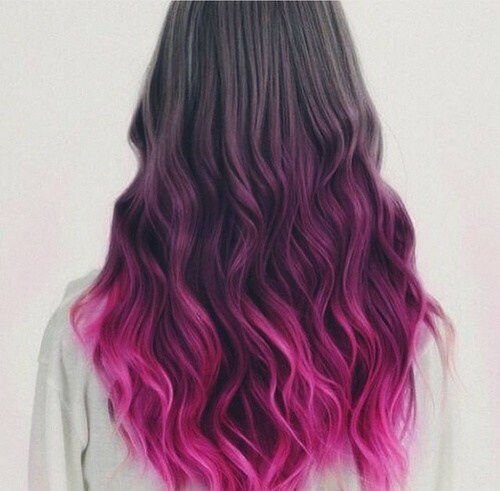 A neutral-brown base like dark coffee is transformed by intense plum/pink shades in a carefully graduated ombré that blends the colors seamlessly.  The dark top shifts effortlessly to a subtle shade of plum and then bursts into a lively raspberry-pink ombré that looks fantastic on the tousled, light waves.
Soft-orange base with pink twists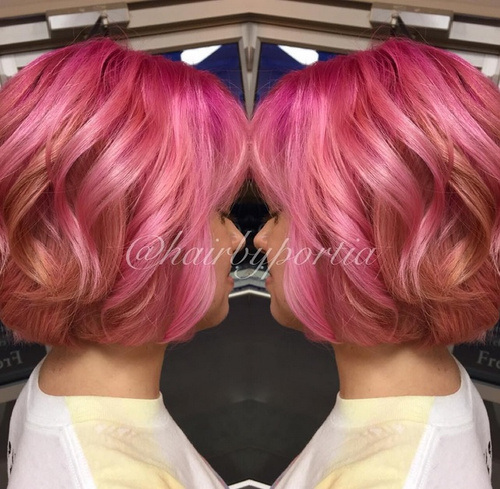 This bob hairstyle curled under at the ends is a great look for making fine hair look thicker. The cute pastel shades range from lavender in the bangs, to shell-pink wavy tips over a soft orange base. Volume is added with twisty waves and different layers of color combining to give a denser look to a pretty, feminine style!
Shocking ultra-violet with neon-pink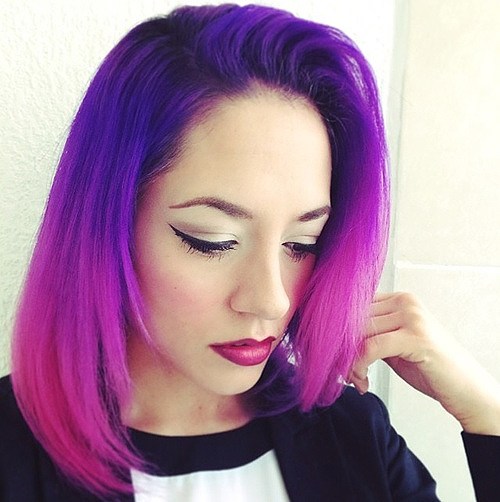 Look like a super-heroine with this medium-length bob featuring an intense, neon-purple top that changes to a shocking-pink ombré!  Worn with neutral eye-make-up and raspberry lip-color this fabulous, asymmetrical bob has extra height above the forehead and sharply textured tips framing the face.
Super-cute retro 50's look with a twist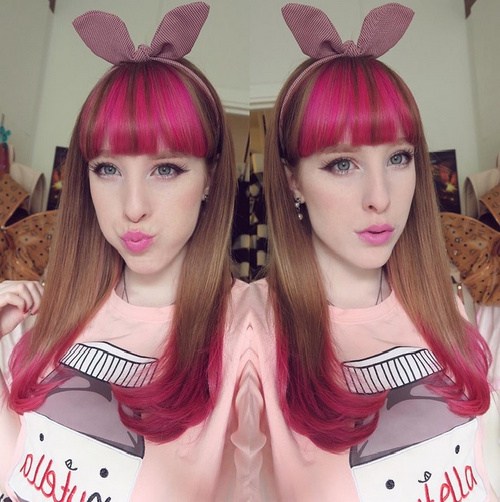 This cute 1950's long style with a pretty bow hairband has a fabulous contemporary twist in the vivid pink bangs and ombré.  The pinky-red shade suits this model's skin-tone and accentuates her grey eyes perfectly, in a playful look that's young and sweet!
Hi-fashion black, blonde and pink ringlets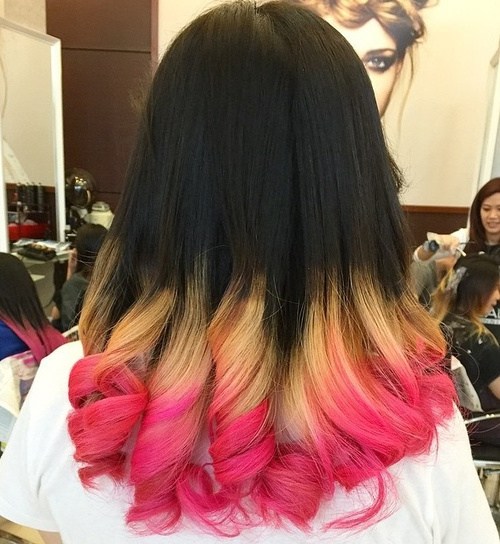 Here's another dramatic color design that's ready for a party or special occasion.  The hair is the same length all around and has a bright golden-blonde horizontal band above the lipstick-pink ombré.  Styled in ringlets at the ends, this eye-catching 'special date' hairstyle is a true high-fashion look.
Sophisticated lavender & white waves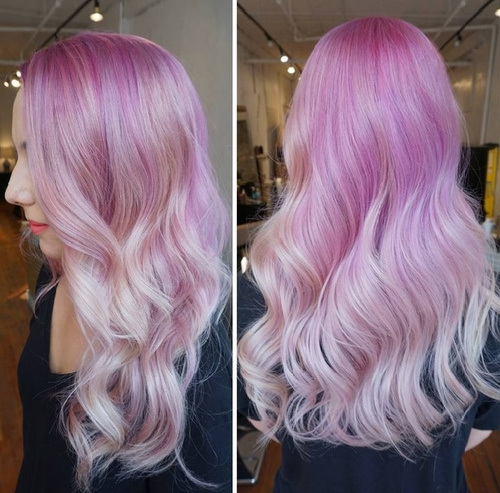 White-blonde long hair makes a great background for delicate fashion shades like purple, which add fashionable style without being brash.  Long hair looks so romantic in large waves creating a diagonal line at the back and framing the face and chest with soft curves.
Girly rock-chick with pink roots & ombré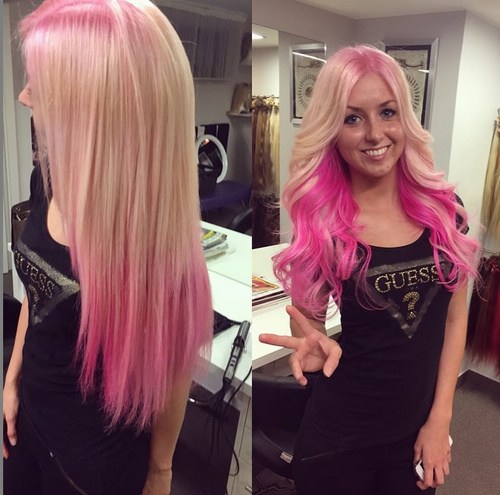 Here's the latest teen rock-chick look shown on straight and wavy hair.  The unique feature is pink roots instead of the traditional, 'grown-out brunette', adding a playful, Barbie-doll vibe.  On long, straight hair, the pale-pink ombré shows most, but with a wavy style you see that the layers underneath are hottie-pink! If you love short hair, here are some great short haircuts you may love.
So if you're here to choose a super style to wear for a party, prom or special occasion, I hope you've found some great inspiration!  And if you're looking for a funky, every day fashion style, you can't go wrong with one of these 20 pretty ways to style your pink ombré hair!