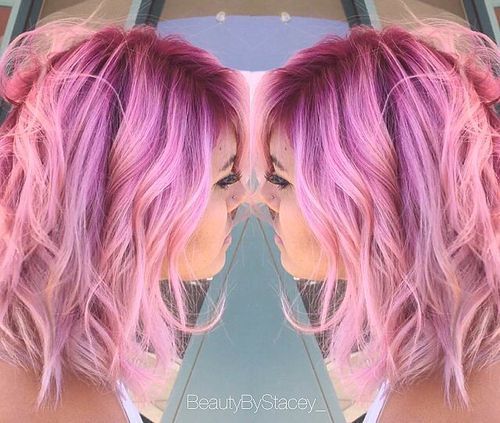 After a long, dark winter season, we all crave color in the spring!  And it's not only the baby lambs that are feeling lively and playful in the season of renewal, either!  Here are the latest ways to wear pink in your hair and express your personal fashion style through the range of pink-blends on offer right now. Pink's not just a summer fun-color anymore and this gallery includes many sophisticated and elegant combinations of pink from top hairstyle designers!
Cute curly angled bob & pink ombré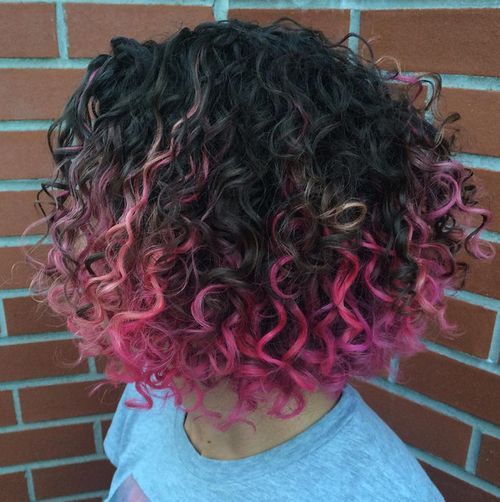 Naturally curly or permed hair looks lively and eye-catching in this angled-bob haircut left in free-form curls.  The hair is layered to create the trendy bob shape and can be straightened for a smooth look, too.  The varied shades of pink and blonde ombré lighten the look in all senses of the word adding a very playful and casual air!
Sophisticated waves with faded pink and lavender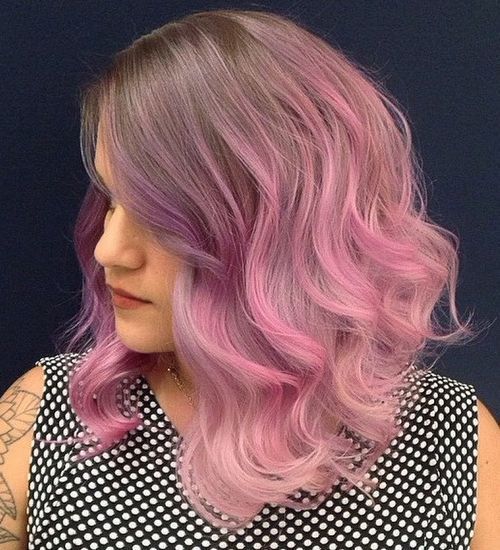 This is a gorgeous long, angled bob with just a hint of natural color in the medium-blonde roots!  The natural waves create a very feminine hairstyle that suits angular face shapes and helps hide a strong jawline.  The colors are gentle with a trendy faded look that keeps the hairstyle youthful and casual.
Lovely lavender-pink over purple & baby-blue stripes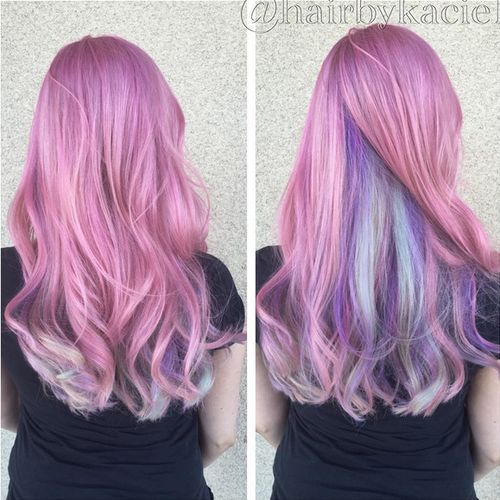 The natural waves and relaxed style of this lovely new look are perfect for wearing with a triple-colored fantasy hair color idea.  The hair is cut in long layers with a lightly tousled finish to show off the amazing colors which include a touch of white-blonde, too.  Just imagine how wonderful this color design looks in braid and ponytail hairstyles!
Exquisite pale gold & delicate pink ombré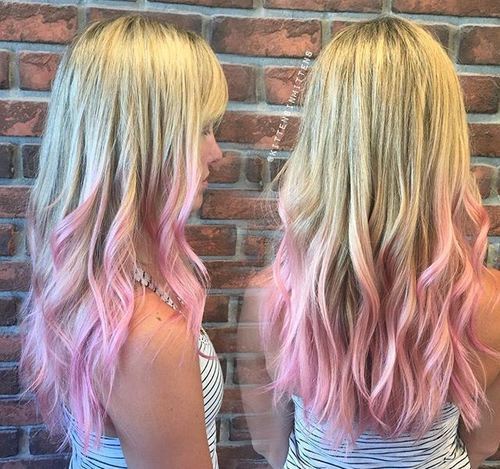 This golden-blonde and pale-pink look is an inspired combination that creates an ultra-chic and stylish look on long hair.  It's a 'grown-up' fantasy look, that's been popular with the underground, 'rock-chick', crowd for ages.  Long layers and light, twisty waves add attractive volume to medium and fine hair!
Cute & playful half 'n half style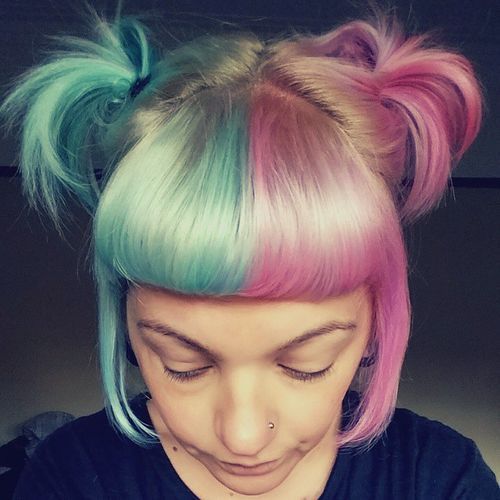 The little-girl bunches on this trendy hairstyle are the perfect complement for a playful look on blonde hair.  The base style is a chin-length bob with a short, straight-across fringe creating a smooth face-frame.  For a special event, you can color blonde hair with temporary hair dye to copy this high-fashion, funky sea-green and pink creation!
Brigitte-Bardot tousled waves with white & coral-pink ombré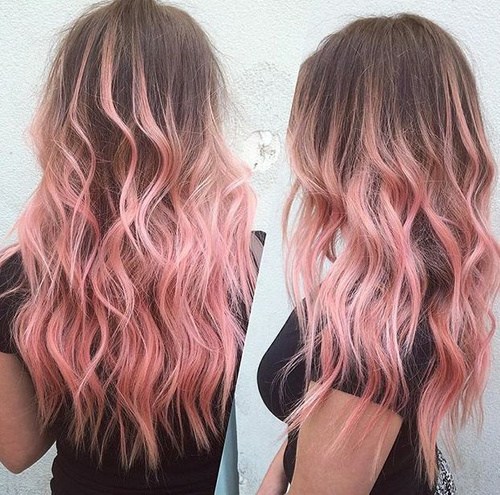 Brigitte Bardot's sexy fashion style is one of the key looks right now, so why not wear your hair in one of BB's favorite looks!  Brigitte was famous for her very long hair, which she often wore loose with a casual, 'bed-head' vibe.  This style brings the BB look right up-to-the-minute with a white-blonde and coral-pink ombré!
Funky fade in pink, white & gray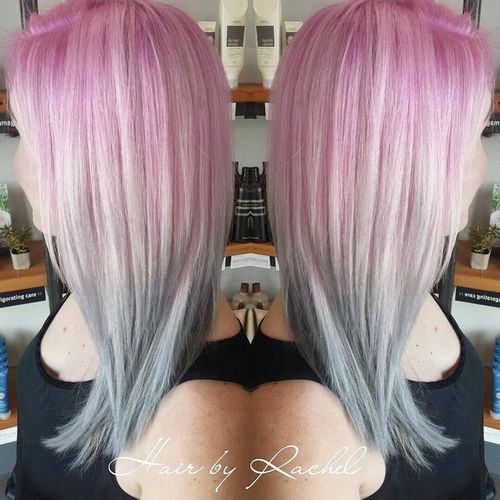 Here's a great way to add interest to long blonde hair, especially suitable for fine to medium hair texture.  The smoothly styled straight hair is lightly layered to shape the top and has choppy layers adding trendy textured tips!  The triple-shade color design is perfect for a fashionable spring makeover.
Fashionable coral-pink on blonde with coffee lowlights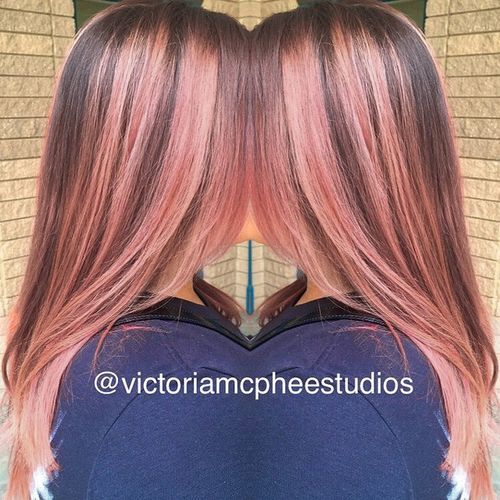 Coral-pink is a beautiful new shade that's pink with a touch of orange pigment.  I love it and it's a great way to wear pink on brown hair that has natural coppery glints.  This long casual style is a totally new look combining shades of coral and strawberry, and emphasized by warm brown lowlights.
Romantic pink fade with golden-blonde ombré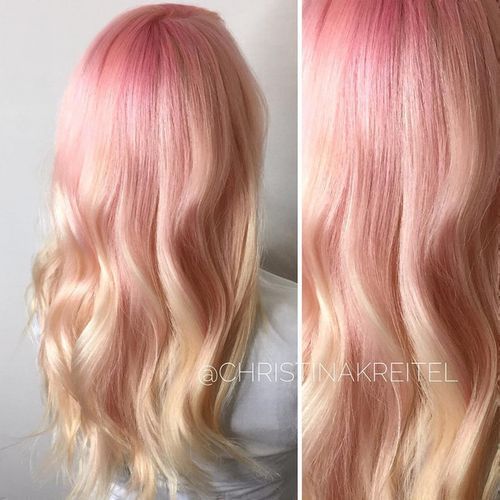 Or is it strawberry-pink roots on baby-blonde base?  However you describe this hair color design, it's one of those softly feminine, romantic looks that can capture a man's heart at first glance!  The waves are loose and carefully brushed through to ensure the finish is shiny and healthy-looking.
Pretty mermaid waves in pink & strawberry-blonde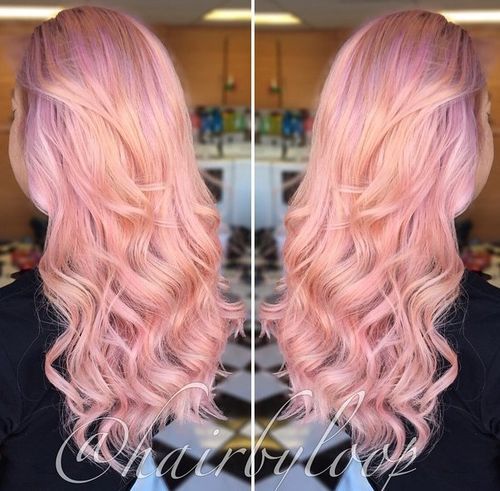 This is a pretty combination of lilac-pink and light copper blonde on rippling mermaid waves.  It's a hot look for spring and summer this year and more sophisticated than the DIY pink streaks that started the fantasy color trend!  The colors fade towards the tips in a very fashionable color and style idea.
Update your blonde angled-bob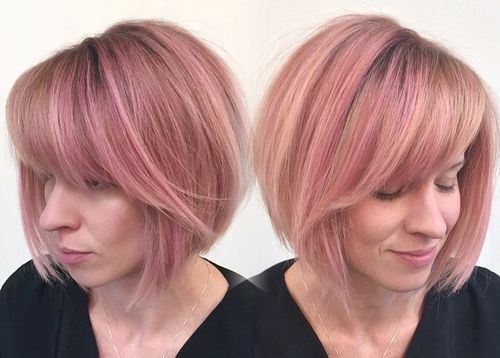 Pink and pale orange tones look super on this blonde bob with long, side-swept bangs.  The cut suits medium to thick hair and is expertly shaped with concave layers and sharply textured tips.  Layers of color add 3-D depth to make hair seem thicker, so dark roots through orange-blonde, smoothly highlighted with pink and white-blonde tips, is great on fine hair!
Amazing all-over pink on long blonde hair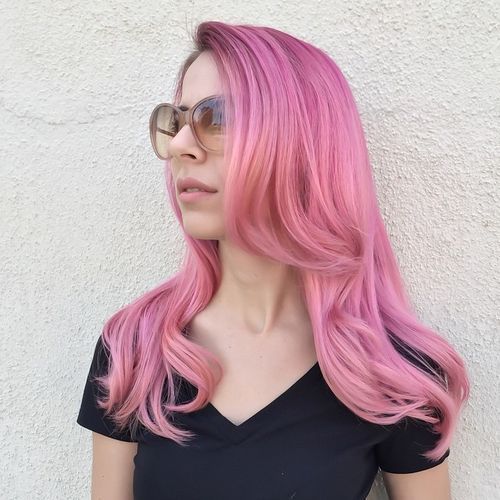 The face-flattering chin-length wave falls naturally from a little quiff/wave above, creating a softer line you can use to cover a strong jaw.  The asymmetrical side parting suits round and heart faces in this alluring and youthful look for springtime!
Sexy lilac-pink shaggy blonde look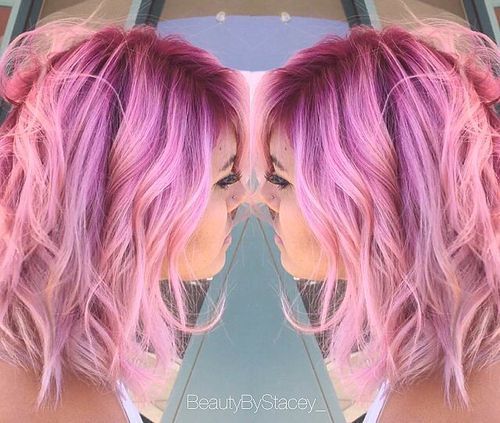 This gorgeously shaggy cut is a perfect spring makeover option for anyone with thick blonde hair!  The hair is cut in sliced layers, which create vertical movement with heavily textured tips removing bulk.  Darker roots fade to a fashionable shell-pink with white/silver tips!
Soft orange-blonde on daily hairstyle for fine hair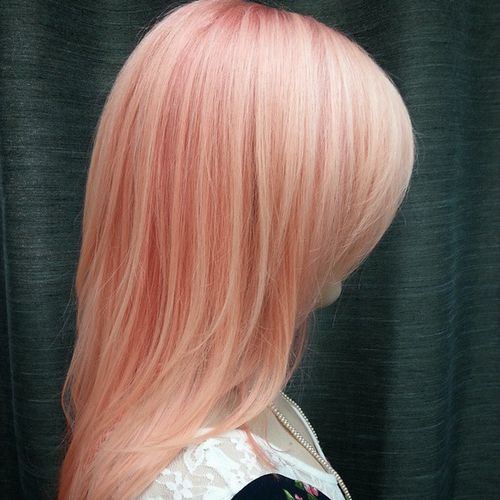 This style suits medium or fine-textured hair, worn in a simple style just past shoulder length.  To add the illusion of thicker hair, the underneath layers are tinted an attractive rose-orange shade, with paler blonde highlighting on top.  On a simple cut, the result is a chic and fashionable hairstyle that's easy-care, too!
Hot clubbing look in lilac & white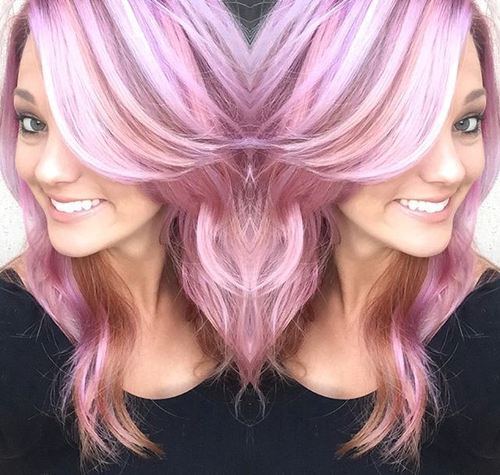 Here's a new idea to make your spring fashion makeover completely fresh!  Lilac is a great color for anyone with green eyes, and along with pink, white and honey-blonde your hair will look fantastic.  The asymmetric parting and long, side-swept bangs minimize a wide forehead and suit a heart face.
Multi-colored faded highlights on white-blonde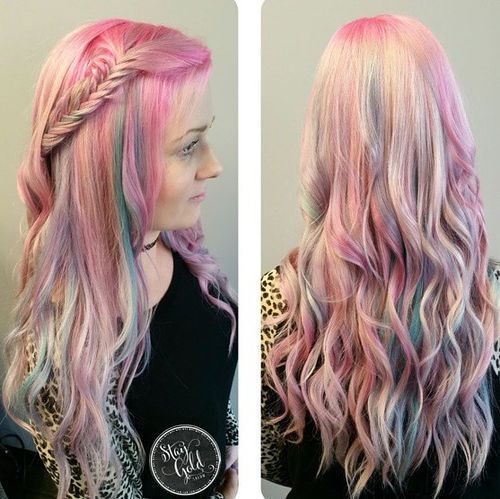 Multi-colored hair designs are really taking over in the younger style choices.  Teens/young women always have the edgiest hairdo's first and this blend of pinks and greens will launch a 1000 spring makeovers at least!  With a trendy fishtail braid and defined waves, choose colors to complement your own eye-color and skin-tone!
Full-on fantasy with lilac and blue balayage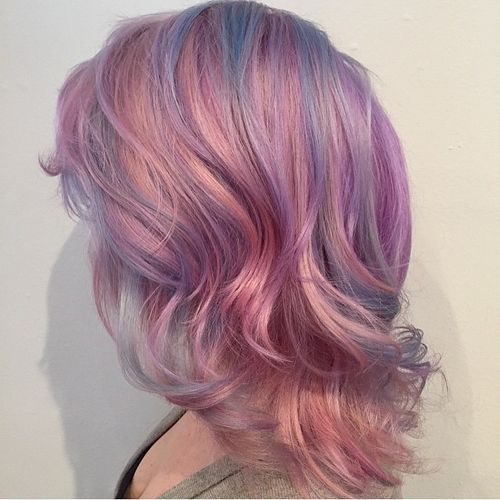 Here's an amazing new mid-length hairstyle idea for medium/fine hair.  It's more sophisticated than the multi-colored waves above, but still a daring trend-setter for spring!  Long layers create a rounded shape, ending in lightly flipped-up tips on the shoulders.  The pink base is deftly highlighted in fashionable blue, lilac and gray tones!
Warm coral-pink balayage on blonde bob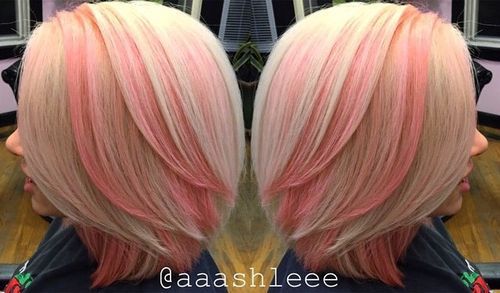 Here's a great new idea for fine or medium hair, cut in an A-line mid-length bob.  Simple styles can gain lots of extra style from well-placed highlights and coral-pink, in a symmetrical curved pattern, adds high-fashion flair to update a plain blonde bob!
Cute copper balayage on plum-pink asymmetrical bob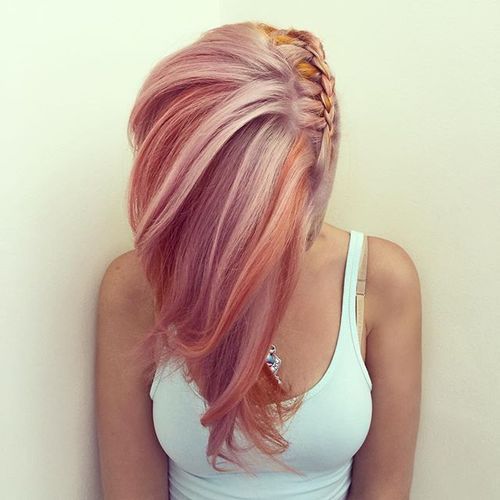 This fabulous hair color idea on an asymmetrical, long angled bob is a super-trendy new twist for spring!  The triple color plan adds 3-D depth, with plum-pink roots highlighted in neutral blonde and exciting flashes of bright copper balayage. With the cute braid detail, this is an outstanding spring look to try!
I'll bet you never realized how many different shades of pink there are on offer this season!  Whatever your skin-tone, you'll be able to find a lilac-pink, orange-pink, plum-pink or any other blend of pink to flatter your individual color palette – perfectly! So 'think-pink' for spring!