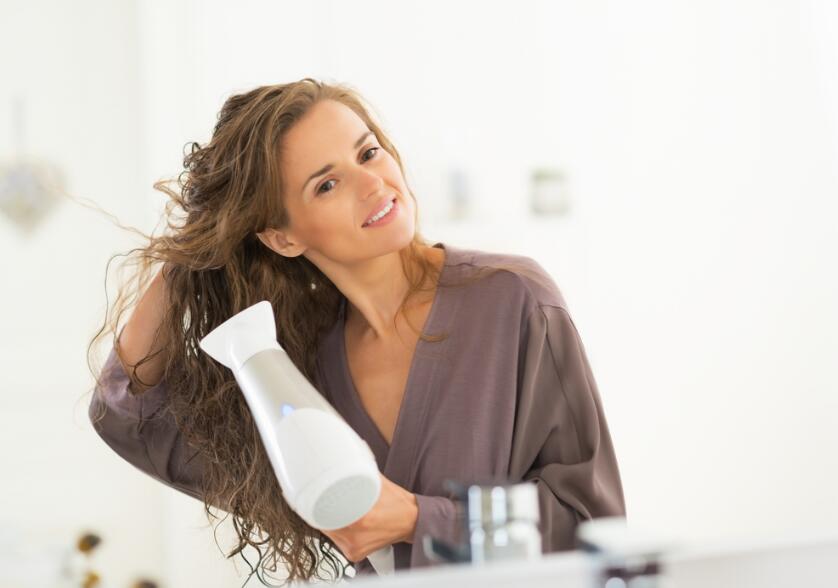 We rely on our beloved blow dryers, flat irons and curling wands to achieve our favorite styles, but a few less-than-best heat styling practices could be harming your hair.  
Read on to see if you're making these common heat tool mistakes and learn how to avoid them.
Turning It Up
Turning the heat up to the max by default is not the best move for your hair. Different hair types require different heat settings to prevent damage and get the best style. The basic rule of thumb for heat setting is:
Fine or damaged hair:360 and below
Normal to medium hair: 360-280
Thick, Coarse and Curly Hair: 380-410
"Completely dry your hair before using a heated styling tool and always use a thermal protector," notes stylist Mindy Stegall of Indianapolis. Whenever possible opt for stylers with numeric temperature controls and multiple heat settings so that you can adjust accordingly for your hair type. We're fans of the Kardashian Beauty 3-in-1 Ceramic Hairstyling Iron and the Paul Mitchell Express Ion Dry+ which has five heat settings.
Wrong Size
When it comes to heat tools, bigger isn't necessarily better. Bulky irons make it difficult to manipulate delicate areas like the hairline, increasing the risk of breakage and over heating. Choose the right size for you. Long hair? Choose a larger barrel curling iron. Arms get tired fast? Try a lightweight hairdryer like the Rusk W8less Professional 2000 Watt Dryer.
Not Using Protection
Always, always, always use heat protection. Not using a thermal protectant on your hair leaves strands more susceptible to heat damage. Before heat styling, reach for a protectant with multiple benefits like Chi Silk Infusion or Joico Ironclad Thermal Protection Spray to maintain your hair's general health, texture and elasticity.
Dirty Tools
Product buildup and dust left on appliances is a recipe for uneven heating and drying. Wipe your irons with luke warm water or iron cleaner after using them to remove residue. While you'are at it, get the dust and dirt out of your hair dryer. "Dust and lint particles get sucked through the air intake cover on the back on your dryer.
When built up, it can cause your dryer to work over time, creating excessive heat both inside the dryer and air coming out onto you hair. Twist the air intake cover off, and use a Q-Tip to clean out dust bunnies," says Stegall. Using proper care and caution with your heat tools will give you the best results with minimal damage.