Although rainbow hair color ideas have received a lot of attention this summer, I haven't forgotten those who want a fairly natural look that's suitable for work and play!  This gallery of fabulous brown hairstyles covers lots of attractive brunette designs often with trendy, subtle, highlighting.  Check out the lovely light brown hazel-nut shades, along with every new combination of warm browns, ash-browns, cute coppers and glorious golden-brown in balayage and ombré styles that really rock!
Gorgeous copper with dual balayage & flipped tips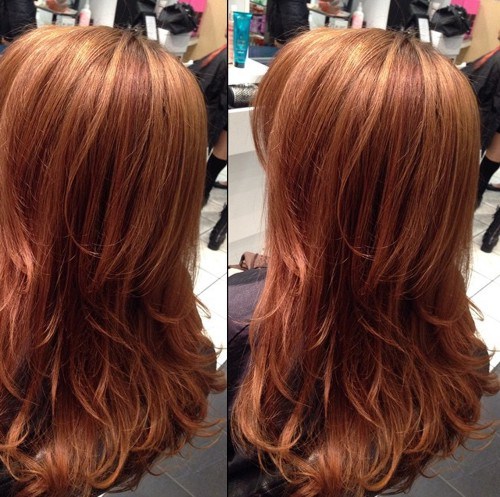 Who would guess that this is a hairstyle that includes three shades of copper?  Dual balayage highlights/low-lights adds extra dimension to hair making it appear thicker.  This is a great every day or casual evening hairdo with widely spaced layers and defined flipped-out strands over gentle waves.
Dark espresso softened with golden-brown sugar shades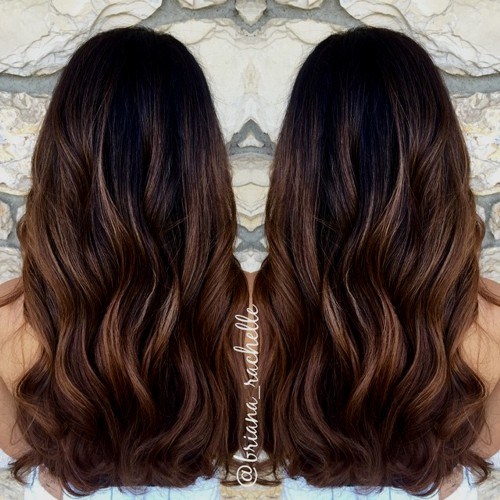 Although this hairstyle seems to have plenty of natural glints and shadows, there are once again three colors in the color scheme.  The deep-brown café espresso color around the crown creates 'shadow', and the soft waves are expertly balayaged in a golden shade that makes them stand out beautifully!
Hazelnut & creamy beige-blonde ombré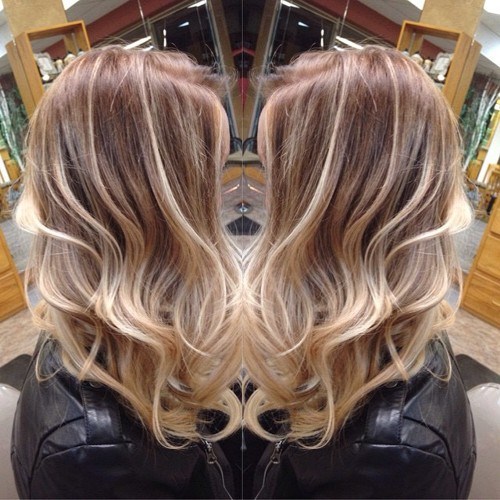 For a totally modern new look try this hazelnut-brown shade on the roots, rather than a dark shade.  This is a softer version of the brash, dark roots/platinum blonde 'rock-chick' look.  The balayage starts high and gradually becomes a hot beige, dual-blonde ombré on forward styled waves!
Mellow mid-copper-brown with chocolate ombré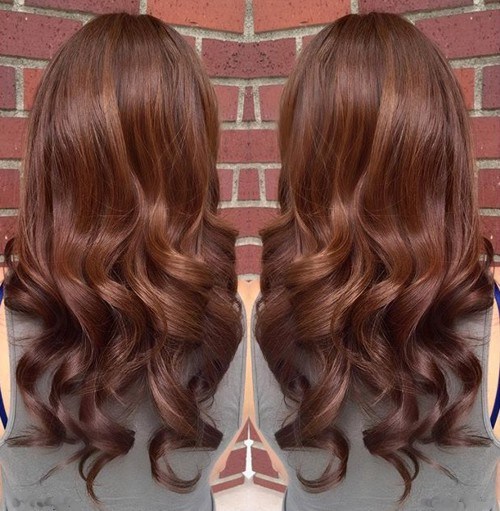 This hairstyle steers a line between bright copper and coffee-brown, for a subtle and sophisticated look.  Keeping highlights within one or two tones of the base color is the easy way to create a color scheme that copies and slightly exaggerates your natural color variations!
Awesome aubergine with chocolate balayage & light ash ombré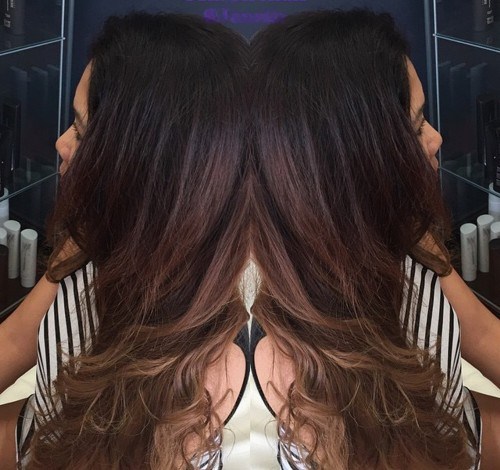 Violet tones add extra depth in this dark aubergine (egg-plant) color around the top and front of the long wavy style.  The sides and back merge into cocoa-brown with red undertone and finally, there's a fabulous contrast in the cool ash-brown ombré!
Wonderful wiggly waves in warm brown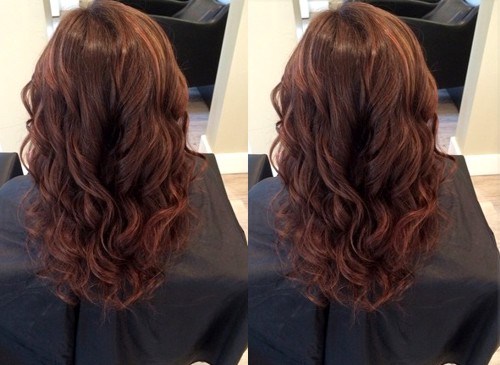 Chestnut-brown is a lovely, rich brown in the medium range of brown shades.  However, a lot of 'chestnut-brown' home hair dyes from leading brands tend to leave your hair almost black!  So if your base color is brown you just need a 'light chestnut-brown' or 'light copper' hair tint to get medium, warm brown like this.
Deep chestnut-brown with waves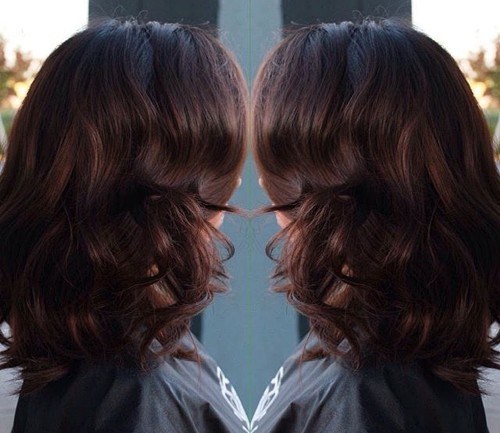 This medium-long, deep chestnut hairstyle is a few shades deeper than the one above, but still a warm brown shade.  The outstanding feature is the fantastic wave pattern that starts higher than usual.  It continues down to large, casual waves that add flattering volume between chin and shoulders for narrow chins.
Deep rich copper on thick straight hair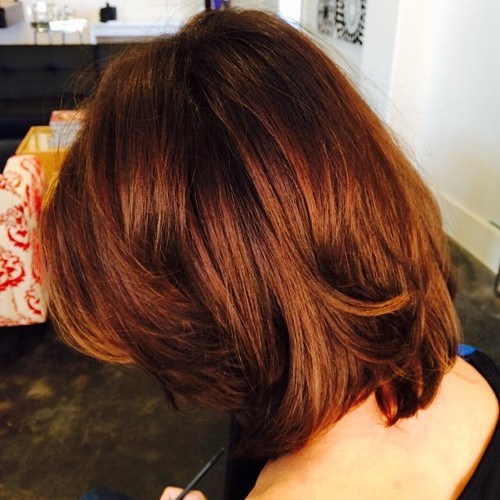 Here's a fabulous daily haircut that's easy-style and long enough to wear up in a variety of casual or formal hairdo's!  The ends are blunt-cut for a neat edge and the front is layered in extra-long bangs framing the face.  This gorgeous color doesn't need a lot of highlighting, but subtle touches of blonde keep it up-to-date!
Muted copper, cinnamon & nutmeg on fabulous angled bob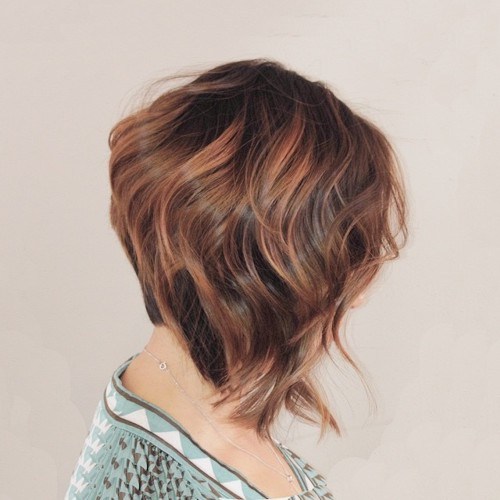 Here's a wonderful new angled bob shape that's suitable for fine and medium hair.  The back is carefully graduated to produce a bump of volume between crown and nape. Beautiful flat waves soften the lines with gentle copper and brown balayage creating fantastic texture and movement.  Wispy strands complete this lovely new style! And you can find more cool stylish balayage hairstyles here.
Amazing asymmetrical volume on natural hair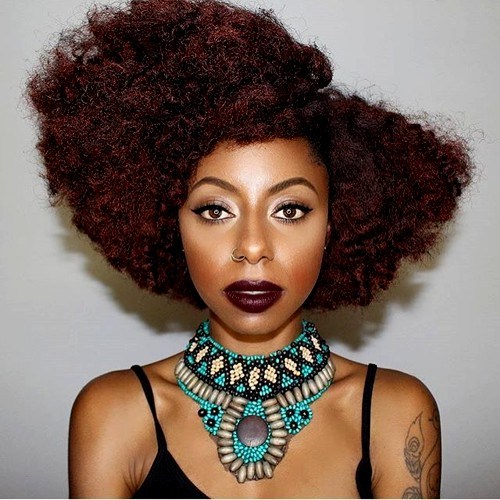 Exaggerated asymmetry on fluffed-up, frizzy hair has incredible modern style! Expertly graduated on natural hair this show-stopping hairstyle will make you the center of attention at any social event. Deep red hair colors are a good match for deeper skin-tones, which are complemented here by the model's flattering plum lipstick.
Vintage 70's 'tail' returns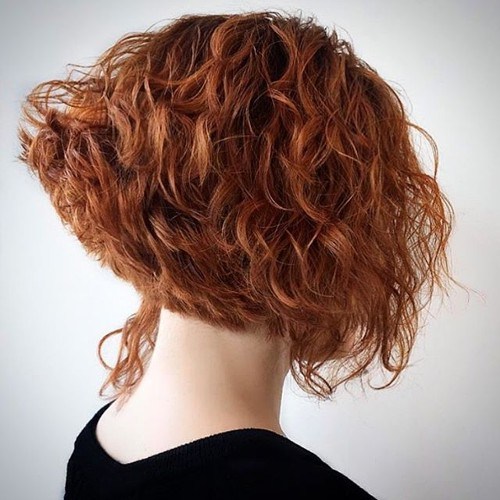 Thick hair with a natural wave looks totally trendy in this exaggerated angled bob.  The back is stacked to form triangular volume and longer, disconnected layers frame the face with wispy waves.  The disconnected layer to one side of the nape is an 'undone' version of the thin, braided 'tail' that was popular in 1970's men's haircuts!
Breakthrough boy-cut with parting at crown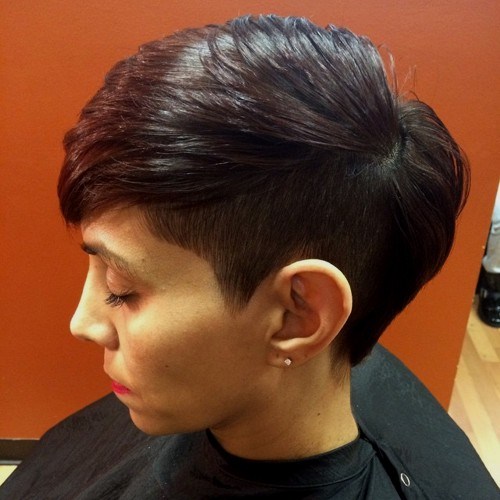 This innovative boy-cut has a couple of breakthrough features in the deep blue balayage on top, which changes to red-gloss on the bangs!  Forward styled hair is very fashionable right now, but this cut has a defined, horizontal parting just beneath the crown, emphasizing the front/back divide.  Fabulous!
Romantic copper ombré & medium-blonde balayage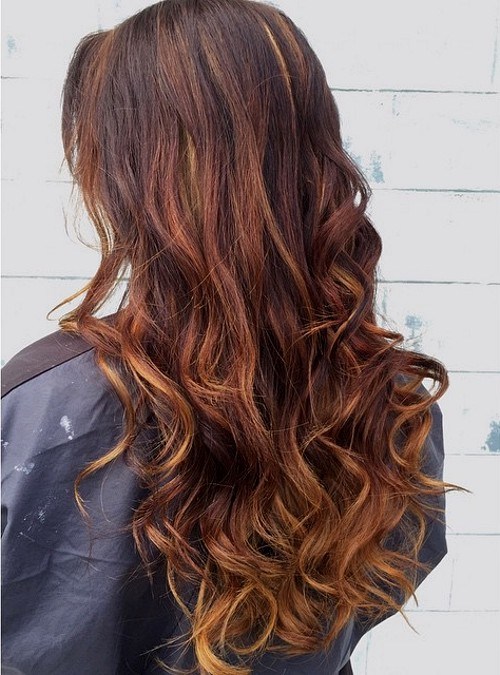 This romantic hairstyle has a cute ombré that's just a little lighter than the base color.  This makes sense if you prefer to look fairly natural and keep your hair in good health.  To really accentuate the lovely, rippling waves a clever colorist has also used low-lights and just a touch of blonde balayage!
Party/prom balayage ombré hairstyles for girls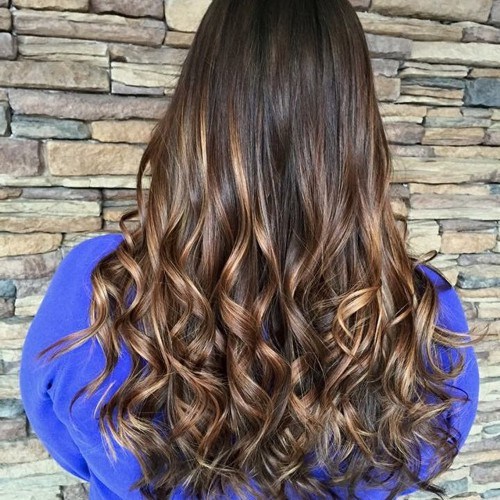 It's difficult saying 'no' to a daughter who's desperate to get a trendy blonde ombré for summer party wear!  But you can negotiate a compromise with a dual balayage ombré like this one.  It's not too bright for a teen and sticks closely to the natural base shade. It has high-fashion gray tips, too!
Fashionable low-lights on deep copper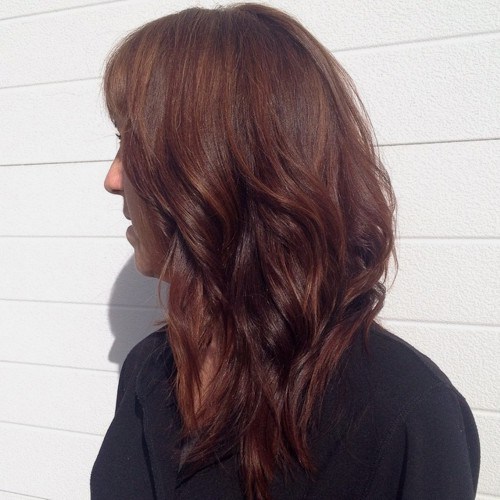 This trendy long hairstyle has an interesting shape in this ¾ profile and back pic.  It's actually a very long, angled bob making it super-contemporary and original!  The loose waves add attractive volume and carefully placed 'patches' of darker brown add richness and color depth to the gorgeous, deep copper base!
Black & tan a winning combo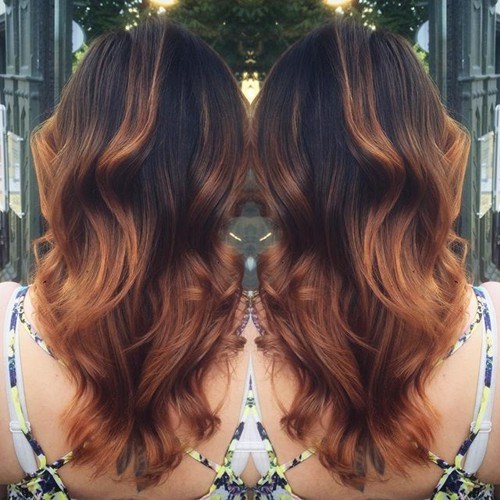 'Black and tan' is well-known as the official color of several pedigree dog breeds and a beer cocktail!  So it was only a matter of time before they appeared as a hair color idea.  Black or dark-brown roots with tan, copper or muted orange balayage/ombré is definitely one of the most popular new color ideas for brunettes this season!
Cute reverse pin-curls for a unique look on glossy chestnut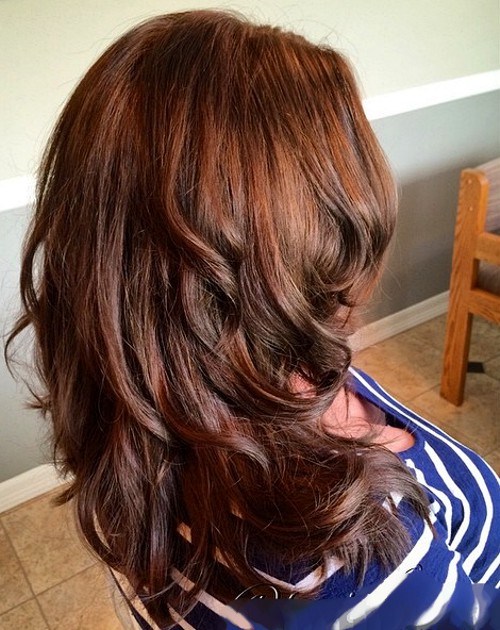 This model has fantastic chestnut-brown hair, enhanced with copper gloss highlights and brown lowlights! The casual, tousled hairstyles has an unusual wave pattern with reverse pin-curls and slightly waved tips, which make this hairstyle really rock!
Flip-out for added volume on quirky color blend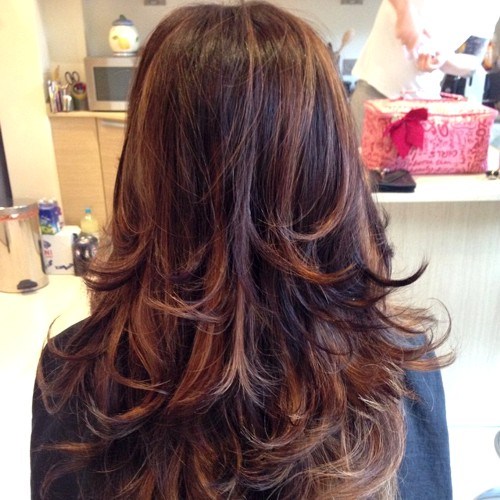 This party-ready, flipped-out style is more playful than carefully waved hairstyles and has a trendy blend of colors in there, too!  The roots are neutral brown and there's aubergine-brown balayage on some of the tips.  In addition, copper highlights gleam in random highlights and the bottom edge is a fashionable neutral-beige-blonde!
Simple & classy hazel-nut lob for fine hair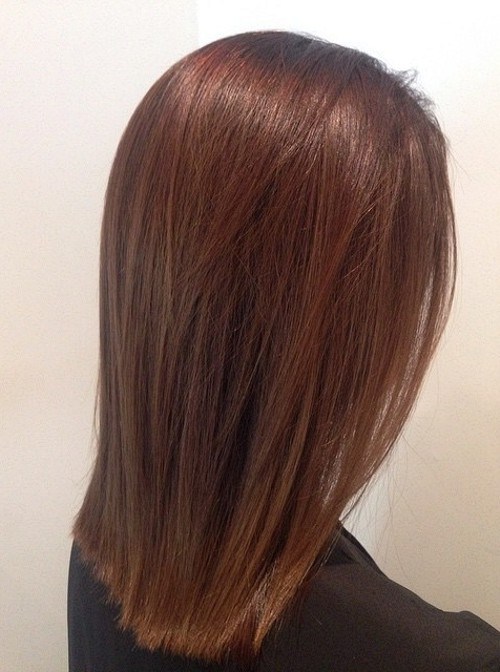 This simple long bob haircut shows off the model's glossy, fine hair and has heavily textured tips to add modern 'edge'. There's a subtle touch of coppery-red gloss highlighting the top and adding lots of contemporary style. The new light-brown shades are very flattering to a wide range of skin-tones!
Sexy waves & golden-syrup ombré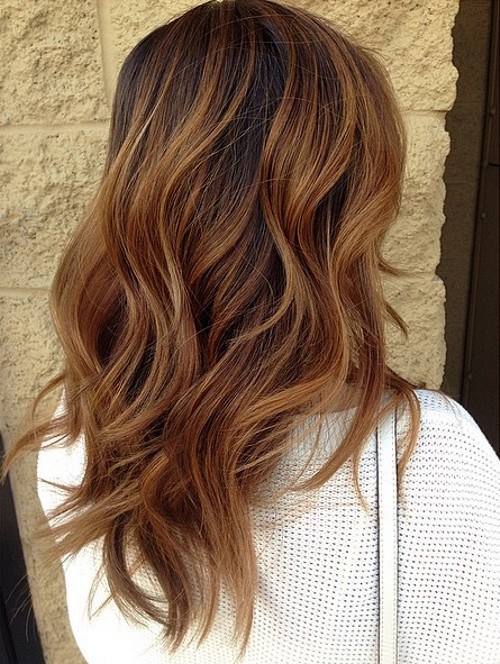 Here's a sexy, casual style in colors that suit women with olive and darker skin-tones so beautifully.  Deep brown roots become soft, old-gold waves with a few extra touches in ash-brown at the tips.  Waves that start higher on the head look more natural and frame the face in a flattering way!
Hope you're now feeling suitably inspired by these lovely colors and style ideas!